cómo palace se ha convertido en un gigante del 'streetwear' en tan solo 10 años
Del área de South Bank en Londres, pasando por una casa en ruinas en Waterloo, a la conquista del mundo; esta es la bonita historia de la firma británica que ha definido una época.
Este artículo aparece originally in 'The Homegrown Issue' , of iD, nº 355, primavera of 2019. In queoscos from del 25 de febrero. Puedes encargar you ejemplar aquí .
In 2019, Palace cumple 10 años. To make homenaje to uno de los mayores casos de éxito de la moda urbana británica, Paul Flynn has been with the fundador of Palace, Lev Tanju, para hablar sobre the sangre, el sudor y las cervezas that han hecho falta derramar to build the marca that todos conocemos y veneramos hoy. Mientras tanto, David Sims presented a portafolio with personalities that han formado from one of the fenomenos of the moda masculina en los últimos tiempos.

In the primavera of 2017, cuando los devotos discípulos of the firma of skate entraron por puerta de su tienda of Brewer Street, Palace solo disponía of a simple camiseta in addition estantes. Conviviendo con el resto of items, that included pruebas of gorras of beisbol, mocasines, sellos, pantalones and tablas, took it dura mucho tiempo. The camiseta mostraba una imagen of Elton John en todo su esplendor: mucho pelo, muchas joyas y una chaqueta repleta of brilliant mientras martillea el piano. Con a hábil dominio of Photoshop detrás, the slow ones of the fabulosas gafas of ground of Elton habían converted in back icónicas letras "P" sacadas of the logo of the firma that parecían that conversaban enters sí.
El artículo was convince in a clásico of Palace, codiciado al instante: descarado, británico, divertido, lujoso y callejero. It was decided that bordered on the limits of bad taste between the Palace disfruta jugando, to demostrar así the originalidad, the demografía y the audacia that define the marca. The original atractivo of Palace is a medio camino between su sólido ojo para ver qué ropa quieren llevar realmente los hombres y el idiosincrásico humor que esta puede brindarles.
Como will be costumed in the lexico of Palace, the camiseta of Elton nació of the honestidad. Así the British skate firma was created that nadie esperaba that alcanzase una global repercusión. Eso es algo that solo consigates jugando con los límites of the acceptability and pasándotelo well in el camino.
In the page of the marca, el título de la campaña decía: "No tengo mucho dinero, pero chico, if lo tuviese / Mataría has Ellie Goulding me fumaría an enormous porro", a referencia to the soporífica versión that hizo the cantante del clásico de Elton "Your Song" for a navideño anuncio de los almacenes John Lewis. It was rumored that Goulding también cantó "Your Song" in otro emblemático Palace (Buckingham) of London for the boda del Príncipe William y the primera civil in formar part of the familia real, Kate Middleton. The aristocracy and the calle fused. London, ropa, realeza, ingenio y buenos tiempos. If we forget the opulence of the visual seasons that conforms the casa Palace - as the neoclassical estatua in su tienda of Nueva York o las bolsas plateadas -, the verdadera historia that surge of todo ese ruido es tremendamente bonita.
Cuando prevented this art, seen at the wind of the camisetas of Palace / Elton por 299.99 libras (algo más of 340 euros) in eBay. Hace dos años, is selling for 35 (casi 40 euros); a market of 900% in favor of the vendedor 'online'. Cuando acabes of leerte el artículo, ya no estará.

In 2019, the marca cumple 10 años. Palace no es solo firma masculina predilecta of the industria de la moda. To the largo de su vida útil, sin apenas a tropiezo o a paso al margen, the global alcance of Palace coincides con su fantástica y temprana ambición.

Palace emptied siendo una marca para skaters. Ahora es una marca para todos. The modelos acuden a los castings vestidos de palace. Los Padres de Clase Obrera Glasgow Llevan Palace. Jay-Z goes from Palace. Y Rihanna también. The teenage girls dummy agarrando algo de Palace, so fucking with the chavales that han visto in Internet enfundados in takes of Palace. The finalistas of Wimbledon of 2018 jugaron in the pista vestidos de Palace. Los raperos of Soundcloud adoran Palace. El ICA of London expone Cosas de Palace. Los DJs serios that coleccionan techno adornan sus cajas de discos con pegatinas de Palace. Los 'raveros' is made of extasis pastilles with the Tri-Ferg de Palace logo. The sociopolíticas causas, incluidos los asuntos of Jeremy Corbyn con el pueblo de Palestina, han sido reversionadas con el famoso triángulo infinito de Palace.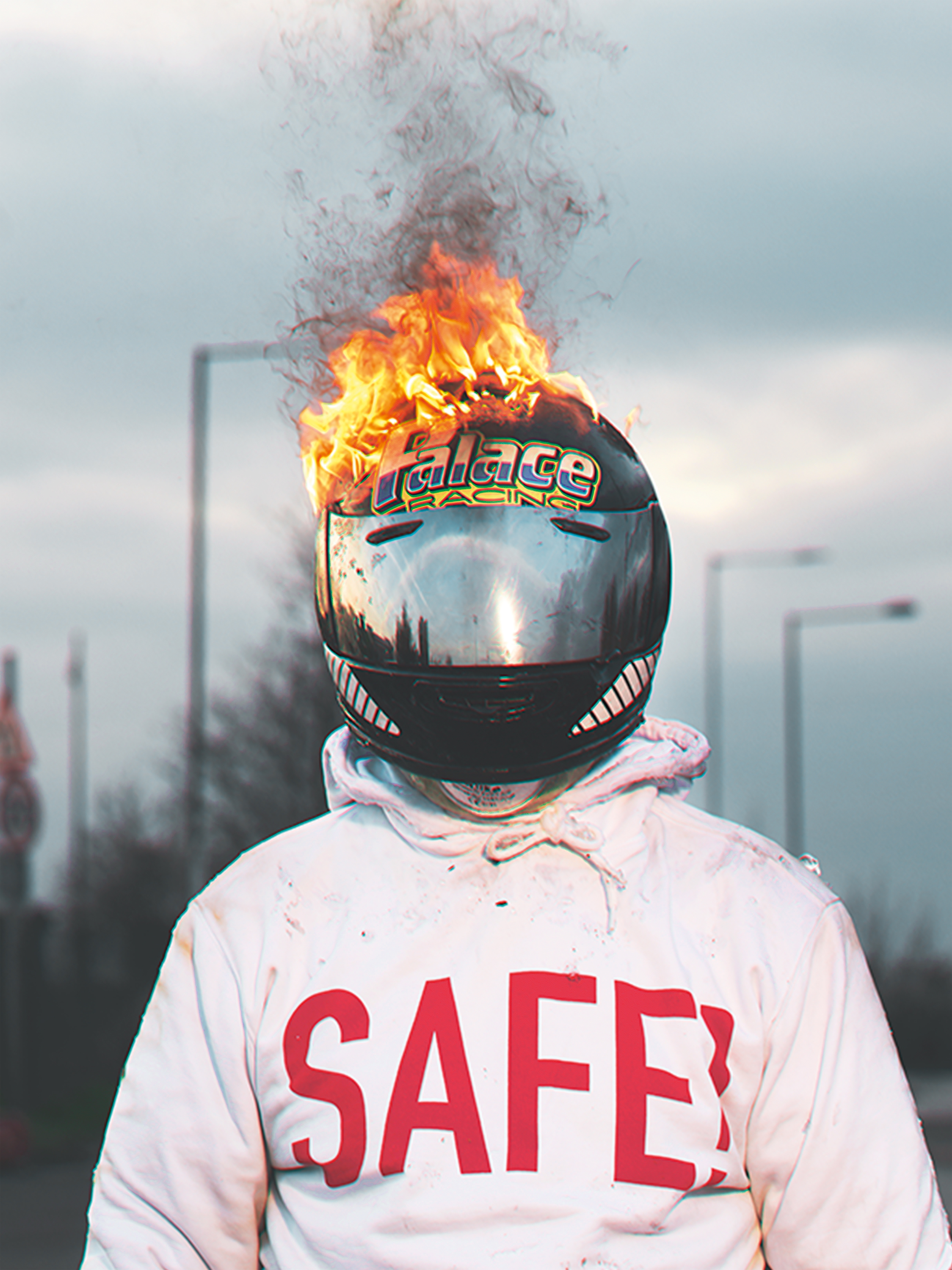 An architecture of mediana edad puede fardar that sus hijos molan más that the del resto of sus compañeros cuando will recog the algo to the tienda of Palace, aunque in the bolsa solo haya calcetines. Virgil Abloh and Marc Jacobs visten of Palace. Las paredes de las estaciones de metro de London estad adornadas por ununcios de Palace de una longitudinal infinita. Palace has a tienda in Tokio in the city of London, which is located in London and Nueva York. The pecs gordos in Ralph Lauren quedaron tan sorprendidos por el irreprimible ascenso of Palace that Palace is converted into the primera firma con la que han colaborado in addition 50 años de historia.
Los fotógrafos favoritos of the moda, como Alasdair McLellan, Juergen Teller and David Sims, disappeared for Palace. Silicon Valley is located next to the Palace. The photos of iD como of British Vogue contienen campañas de Palace. Madonna hijo su (Rocco) han sido retratados llevando takes of Palace con mucho orgullo. Mientras tanto, a group of chavales blancos and gordos fardan de estilo (there is really a lot of them) with the same looks of Palace mientras esperan su comida china domicilio y juegan in Fortnite.

Palace ha conseguido lo unthinkable. Al igual that Stone Island, Stüssy y Supreme antes that ella, Palace is a marca of moda masculina capaz of hacer that the great firmas of moda parezcan completamente desubicadas. A diferencia de sus formidable antepasados, the exito of Palace recae in the concepto of cosecha propia. More than ever, there was a great re-examination, which was a great opportunity to rediscover your country of origen. Palace Hecho que lo británico -en todo su sin sentido, maravilloso y tremendamente 'ratchet' esplendor- parezca the mejor cualidad del mundo, precisamente in a momento in that no podía ser menos así.

"No queríamos hacer nada grande para los 10 años", dice Lev Tanju, fundador of Palace, sentenced in uno of sus restaurantes italianos favoritos of Bloomsbury. "No queríamos lamernos los culos". Frente el, encontramos a thread of lenguado to medio acabar y una botella of Laurent Perrier. "Solo son diez años Hay muchas marcas de mierda que llevan 60 en esto" Sonríe "No es física cuántica, tío".

Presentar the culture juvenil británica in su máxima expresión ha sido siempre the mayor apuesta of Palace, su as bajo the manga. "No, there is a trick that is algo that is delante narras narices", dice Lev. "Es solo cuestión de cuidarlo. Nuestra cultura are the most important y jodidamente increíble del mundo. Es algo breathed. I am seated in London. Esta ciudad lo está petando. No es broma. Esta ciudad rezuma cultura, realidad, gente feliz, sad gente, hasta los capullos cuentan ".

Su sueño siempre fue traspasar esta cultura que lo rodeaba a una tienda. "Esto es lo que es Palace, Fuimos fieles in London.No tratamos de ser algo que no somos.No estamos diciendo que que den, esto mola.O te gusta o lo apartas.Basicamente, the firma represented in London the forma in which it is superseded that it would be represented by Somos honestos ".
Lev Tanju there, for extensión, Palace no one complejo rompecabezas that están esperando has that alguien los resuelva. "Soy a hombre sencillo", dice, "viviendo in the mejor ciudad del mejor país del mundo".
Lev Tanju empezed late to skate. Tenía 18 años cuando fue por primera solo vez skatepark 'of South Bank. "Mi mejor amigo en la escuela tenía una tabla." Thought that era the mier guapa of the historia there is simply copied it. "Y aprendió rápido." Enamored of aquello to otro nivel. Veía vídeos constantly, 24/7, aprendiendo esta movida, este arte ".
Es a tipo of natural gregario. "Me encantan las cosas", dice. "Soy más apasionado que obsesivo Cuando me gusta algo, quiero saberlo todo acerca de ello Quiero conocer gente que sepa de ello Respeto has the personas that saben de las cosas que me gustan".

The concept of the British skaters family was presented to him for the winners, cuando mudo a dilapidado piso junto a otro restaurante italiano, encima of a panadería Greggs in Lower Marsh, in the parte trasera of the estación of Waterloo. "Era muy raro", dice, "an auténtico agujero de mierda". For 100 libras al mes - an unthinkable alquiler in London of hoy-, no podía esperar mucho más. Lo primero that hizo al mudarse fue comprares a langosta azul in miniatura, to which llamó Larry.

The casa, una comuna rotatoria para skaters de todo el país, is caía a pedazos. Llamarla "El palacio" will be a verbal acto of ironía y orgullo juvenil. Una vez, una jovencita pija quedó to pasar the noche con uno of the intermitentes inquilinos del piso fue to the cocina buscar agua y, in lugar de eso, encontró a box of caviar y una botella de vino espumoso in the nevera. ("That robamos, obviamente".) Las tablas indicaban el camino hacia las escaleras that llevaban a las habitaciones. Podías abrir the main puerta con el hombro. Los chavales vivían de los platos precocinados baratos aptos para calentar al microondas que puedes encontrar en Sainsburys .
In spite of the fact that the women were forced to surrender, the chaplains, who were llamaron al fontanero, were desperate for cuatro mates duchandosis with a cortocircuito in the frente of sus narices. El fontanero identified a fuga desde el baño hasta the caja of fuses of cocina. "Cogió el lápiz that llevaba detrás of the oreja, señaló el daño y our dijo that teníamos suerte of no haber muerto" Solucionaron the problema tapando the fuga con a cortina de ducha.
Todos los que pasaban por el piso get stuck in the vida del otro. Al principio, the 'gang' is self-governing Palace Wayward Boys Choir, and algunos de los que siguen in Palace todavía llevan tatuajes con las letras "PWBC" in diferentes tipografías. A family of skilled, elegant skateboarders was convinced that they were able to convert to profesionales, vinculados por la genealogía of sus ruedas and no one of the sangre, empezaron a unirse. In the aftermath of the hecho that tenían las fiestas between semana con "copas gratis" cerca de casa, al otro lado del Támesis, iluminaban cualquier sala en la that entraban. Ah, y patinaban todo el día, todos los días.

The primera colección of Palace was composed of back camisetas: una that reinterpreted the emblem Medusa of the logo of Versace y that el mismo Lev diseñó, y otra con el original logo of Palace, and the endless triángulo of Penrose considered for the purpose of gran amigo and maestro grafista of the capital Fergus Purcell - that previaente había trabajado the identidad of back firmas de éxito, Silas y Tonite-. "Enchant me", dice Lev. "Fergus es mi puto ídolo. Íbamos a fiestas en casas y our metíamos setas juntos".

Fergus is envuelto of a espíritu of positividad psicodélica casi mística y buenas vibraciones, como a chamán del skate, o a Gandalf repleto of logos. "The most profundamente, me encantaban todos sus gráficos y sus camisetas.Is a jodido genio, tío.Me priviledged me to poder trabajar con el y de pasar tanto tiempo juntos trabajando in Palace El es el rey del diseño gráfico. nadie como el y lo he dicho a millón of veces.El our ha influiado a todos ".

Otro amigo y patinador, Will Bankhead diseñaba monopatines: había uno con a tío con cabeza de cabra, otro con el residente del Palace and skateboarder Joey Pressey, y otro con Bonnie Prince Billy, the cantante of Kentucky that graba bajo su propio sello, Palace Recordings. Ese era el único toque internacional. The primera tienda in hacerle a pedido fue The Hideout, the querida there is desaparecida tienda of 'streetwear' in the Golden Square del Soho propiedad del gurú londinense of the industria de venta al por menor Michael Kopelman. "Eso fue como: buah," recuerda Lev.
Palace was spent quickly in the conciencia of London. Debido has that the main medias of comunicación no mostraban interés aparente in the culture of the skate, it was automatically attributed to them the tip of sello anticultural momentarily subversive that las marcas is tiran toda the vida tratando de tejer su su patrimonio. Debido has the instantaneous familiarity and selectivity of Youtube, the increíbles video that hacía Lev of sus colegas skaters construcuyeron an ejército of viral fans, algo that the daba a valor of mercado añadido has esta por entona emergente firma of moda masculina of London.

Larry, the langosta, duró cuatro años in the original Palace. Lev Tanju lasted. At Lev the gustaría ver una placa azul sobre the puerta algún día. Tal vez suceda. Talk to Fergus about it. "Ó Cómo hace eso?", Pregunta. "Eso sería tan guay, tio, Eso seria la hostia". Cuando mudó, el alquiler había subido solo hasta las 130 libras al mes. "Our cuenta dimos that, básicamente, our habíamos ahorrado alrededor of 50 of the big por vivir allí".

Cuando Palace shelters skate tienda in the emblematic Brewer Street, is establecieron a series of normas básicas y sencillas para el personal. The primera regla para trabajar in Palace is am amable con los clients. Di 'hola'. Nunca olvides los "por favor" y los "gracias a ti". Pero no forma obsequiosa; es para asegurarse that to the gente the gust estar allí. Lev assegura eso es lo que decía su madre: "Eso es lo que hace el mundo funcione". "I hated myself in the cabeza desde that pequeño porque mi madre had modales. It is important for the audience to have a sound in it and to be kind to them, "said Lev.
The tienda lapped a hero of the skateboard of Lev, Toby Shuall, for the first time that cost the TV of su tienda of Tokio in which proyectan skating vizos. Lev decanted for a suelo of mármol, como a nuevo rico que está montándose a cocina de lujo. The statue of the Rolls Royce and the foto of the Reina las heredó del restaurante of Padre, Battersea.
Cuando the marca Palace comenzó to exponentially exponentimente, it was suggested that it was contracted to an external designer with experience in moda masculina. Lev optó por mantener el negocio familiar y le dio el puesto de jefe de diseño a otro patinador y colaborador habitual, Gabriel 'Nugget' Pluckrose, apodado así debido has that the forma of su cabeza is asemeja to the one of a nugget of pollo of McDonald's . "Dije, what sabéis? That no confidence in nadie to hack algo that yo no vaya to hack away from el. Hablemos of calcetines or the color of a camisa, see tener that sentarme knew lado. Confío in Nugget ", asegura.

The forma in which the Palace is adapted to the moda masculina is realmente simple, to the vez that revitalizante. "Our sentamos todos juntos", dice. "Miramos a great trot of papel y decimos: 'No, eso es una mierda. Eso es bueno. Eso is the hostia. Wow, eso is the hostia '. His cosas of familia. "The gusta jugar con los límites of the acceptability in moda masculina sin seguirle demasiado el juego." Nadie quiere parecer a capullo hortera ", señala Lev. The decisión of hacer the ropa that quieren llevar solo puede to come from a mirada compartida; algo that we do not know estudiando detalles en las pasarelas, sino viendo cómo mueven los hombres y que queda mejor.Haciendo el tipo de prendas que quieres robarle a tus colegas.
"You will be able to enjoy your stay in the Palace with your friends from 20 to 20 years old." The original familia merece a special mención. "Ni siquiera me gusta hablar de esto yo solo, porque no es solo mío. Todo esto es nuestro ".
Lucien Clarke is uno of the original miembros of the equipment of skate, of 2009. Nació in Jamaica, vivió in Queens (Nueva York) is mudó al londinense distrito of Victoria to the 11 años, donde bright todavía. Blondey McCoy fucks el primer modelo de las campañas de Palace. Chewy Cannon is one of the mejores skaters británicos del mundo. Rory Milanes es "ese tío that you gustaría presentarle has madre". Jamal Smith and Shawn Powers are his native landowners as Patinan para Palace. Heitor Da Silva is the última incorporación al equipo. Kyle Wilson united menos to the vez, in 2018. Will Bankhead and Ben Drury his clave figuras, intermingled profundamente in the palace jerarquía. Stuart Hammond, uno of the original inquilinos of the Palace of Waterloo, fue el primer escritor in publicar algo para Palace. El poeta laureado de Palace.
Dino Da Silva (sin relación previa) was converted into a representative of the protagonist of sus campañas publicitarias. In Dino, Torey Goodall, a Canadian who was associated with the sport of casualty, was nominated at the Familia Palace. John Knight worked in the palace tiempo desde el principio, tanto en el como in the pintura de las tablas. Toby Shuall ayudó has built the skate park of Palace in Peckham. Nugget will help el equipo de diseño. Danny Brady controlled the "uncontrollable" skateboarding team, and he was one of the world's best, with Gareth Skewis being one of the most talented and finest coaches in the world.
No parece casual, entonces, that no haya nor una band of British rock that haya arises in the 10 años of vida of Palace para ayudar to define the look y el sonido de su momento. Where do you go? "Em ... ¿One Direction?", Interviene Lev. "His una banda, ¿verdad? His, como, los mejores de toos los tiempos, ríe, mientras toma otro trago de champán.
In Menudo, Lev Tanju recibe divertidos recordatorios del alcance that tiene Palace, esa idea that arose mientras vivía in a zulo con sus colegas. Cuando contracted to Tim Westwood para tocar in the inauguration of the tienda of Nueva York in the club Cielo del Meatpacking District, the manager of Westwood the record that it is the first prize of the customer in Nueva York. Susan Sarandon has gone through all these things. Lev is not able to leave the noche charlando in a rincón con su madre y su hermana. At the end of the week the tienda fue blocked, there luego the policía acordonó. "Pura locura ...", recuerda.
Cuando ve una foto of Jay-Z llevando a look of Palace in the Daily Mail , encroaches of hombros. "The peña thinks that vestirse", dice. Cuando tuvo su primer encuentro with Ralph Lauren para hablar of the exitosa colaboración that lanzaron el año pasado, Lev the dijo has Ralph that llevaba 30 años con su number in el cuello. A day, a night in the heart of the Palace. The encantaría eso.
Cuando sacó el carné de condir -al tercer y último intento-, tuvo suerte con el instructor. Cuando the dijo that held a marca of ropa, noted a sincere interest for his part. "Las preguntas empezaron a resultar más fáciles. No me hizo aparcar in paralelo. You have an unrequited suerte.

Palace puede that sea el mejor recordatorio contemporáneo de lo genuina que puede llegar has been the british esencia, in a momento in el that precisely lo necesitamos más than nunca. "Pensemos en eso, hombre", dice Lev, the lover of the buena vida, hombre de negocios and gurú del skate. "Agh, libra ha ha ido a la mierda por culpa del Brexit Me dan ganas de pegme a tiro. Eso afecta mucho a nuestro negocio Pero no nos quedamos ahí sentados rascándonos las pelotas diciendo: 'Ay, mierda, what hacemos ahora?' Our sentamos and decimos: 'Vale, vamos to say the puta equipación of Wimbledon'. Meet Ralph Lauren in his despacho, Vamos to hack our pasen cosas buenas ".

The camarera llega has the mesa con la cuenta. Lev the coge discreetly antes of volverse to fumar. "¿Pub?", Pregunta.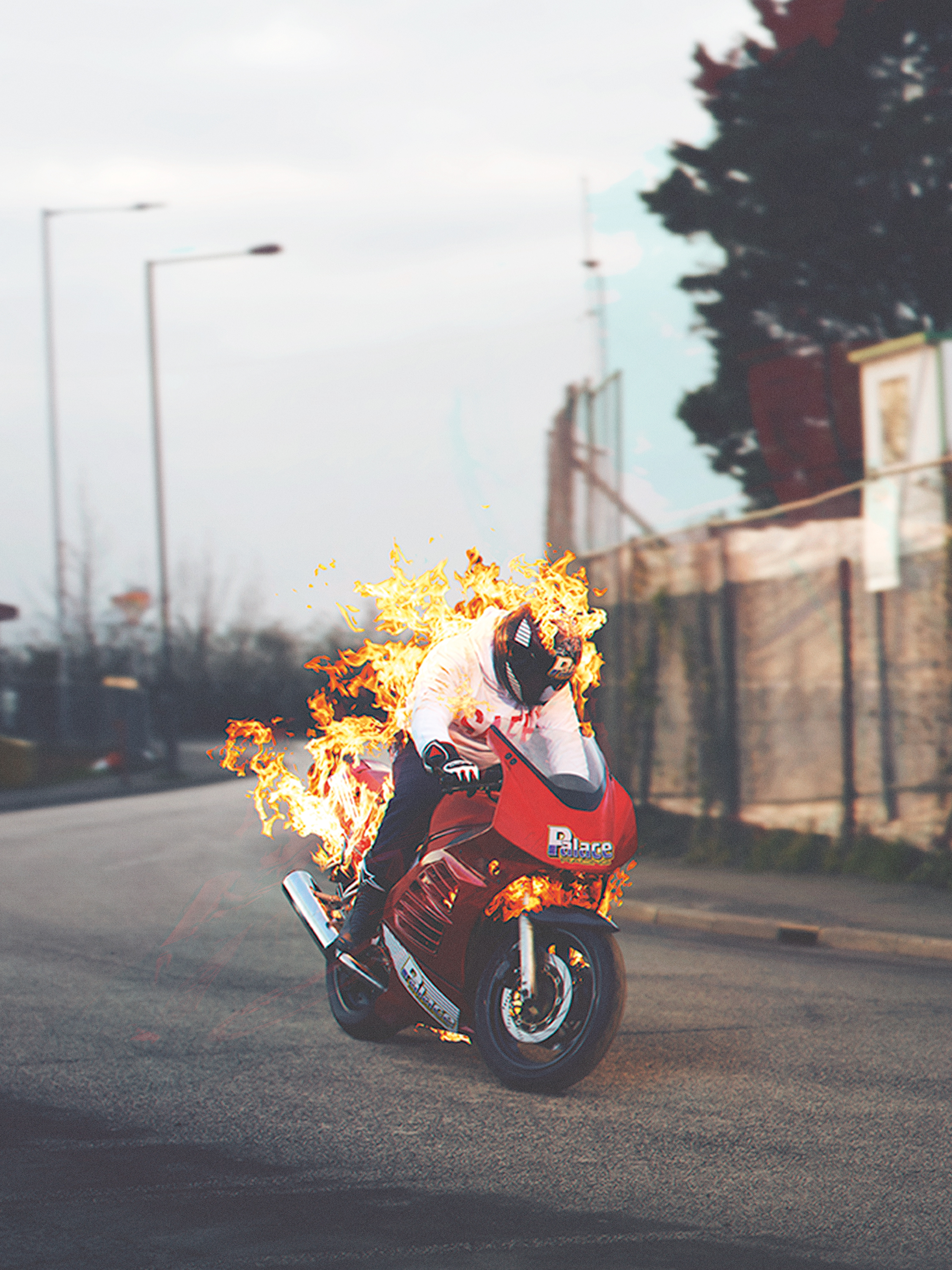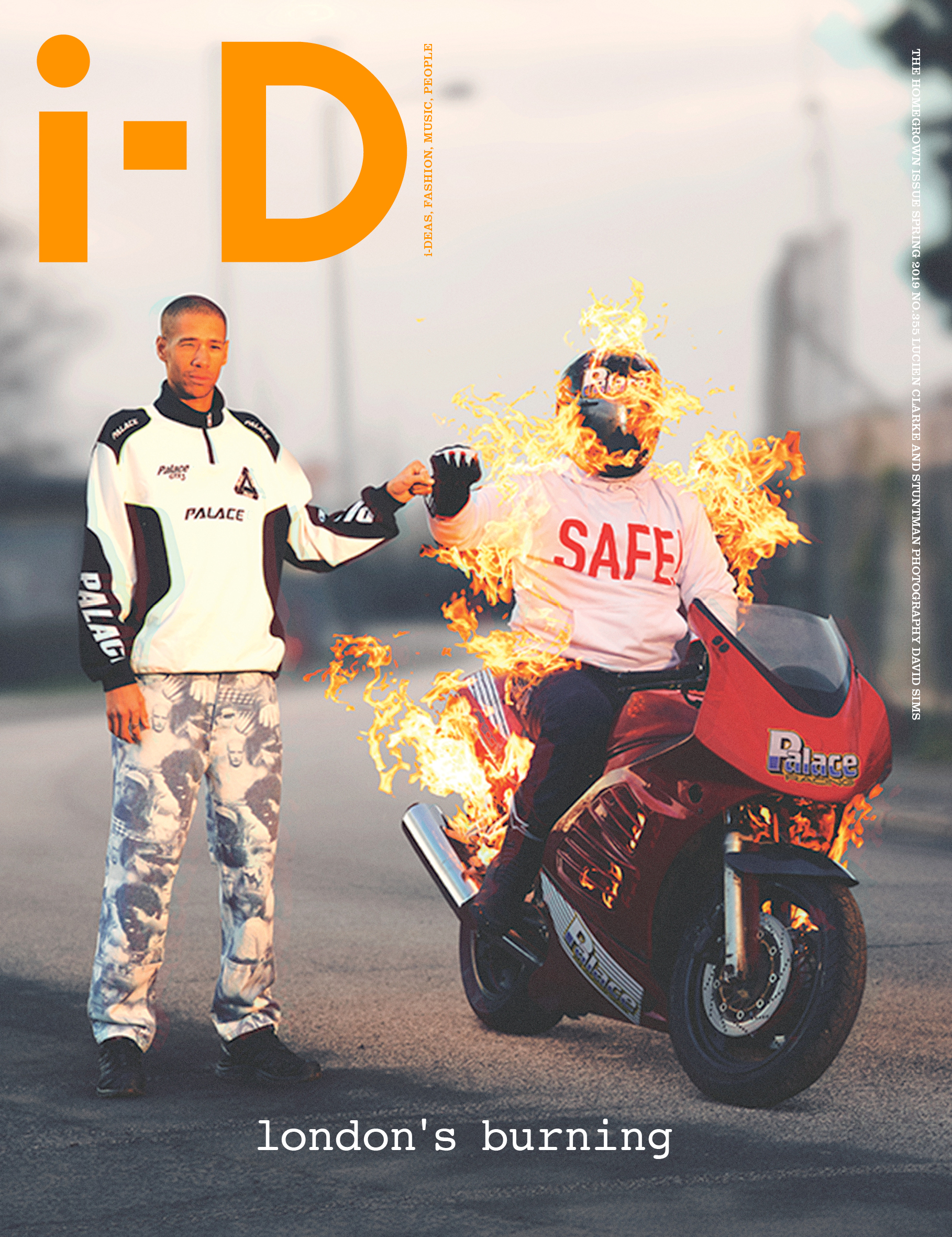 Créditos
---
F otografía David Sims
Lev Tanju director
Estilismo Gabriel Pluckrose
Texto Paul Flynn
Peluqueria Paul Hanlon of Julian Watson Agency. Maquillaje Lucia Pieroni of Streeters. Diseño de set Poppy Bartlett of Magnet. Color Bradley Baker. Asistente of Estilismo Dino Da Silva, Julie Velut, Clemence Rose, Giulia Bandioli and Francis Plummer. Asistente of peluquería Andrea Martinelli, Konstantinos Vrettakos, Nathan Jasztal. Asistente de maquillaje Mirijana Vasovic. Asistente of Roxy Walton set, Daisy Azis, Mitchell Fenn and Caspar Bucknall. Construcción del set Cineco. Posproducción SKN-LAB Ltd. Producción y casting Art House Agency. Model Rory Milanes. Jamal Smith. Heitor Da Silva. Kyle Wilson. Fergus Purcell. Toby Shaull. Jon Knight. Chewy Cannon. Lucien Clarke. Derek Lea. Anna Pearson. Hannah Ferguson from IMG. Special Agradecimientos Ben Reardon, Sarah Dawes and Docklands Riders Club.
Todos los modelos Llevan Palace.
Este artículo apareció originally in iD UK.