meet the only mexican women's ice hockey team
Elena Parasco's trading card series and film celebrate the badass athletes.
Images Elena Parasco.
In a basement roughly 2,000 miles from where I'm writing this, my brother's old World Cup albums and leftover player cards sit in a white plastic container collecting dust. Every four years for as long as I can remember, my brother and my dad's favorite hobby (obsession) became acquiring the cards of each soccer player in the World Cup to successfully complete the album before everyone else. It wasn't about how many packs of cards you could afford. True skill was filling in the album from trading: in the classroom, during lunch, on the bus ride home.

Sports culture and patriotism in Mexico is insane. I can say with all honesty our victory against Germany several weeks ago was the proudest I've felt to be Mexican in my recent memory. I love soccer, and still somehow never felt entitled or compelled to purchase and fill in my own album.
In the U.S., girls weren't even accepted into the culture of card-collecting until the 1990s and the few cards with images of women on them were shot and produced by men. For her newest project, filmmaker and photographer Elena Parasco was motivated by what she saw as a lack of accessible female heroes represented in sports imagery. Parasco grew up in a family of basketball players with a #33 sweatband of Patrick Ewing permanently attached to her wrist. When the WNBA launched in 1996, she remembers sitting in her basement with her group of girl basketball players wondering why the number on her wrist wasn't that of a female player.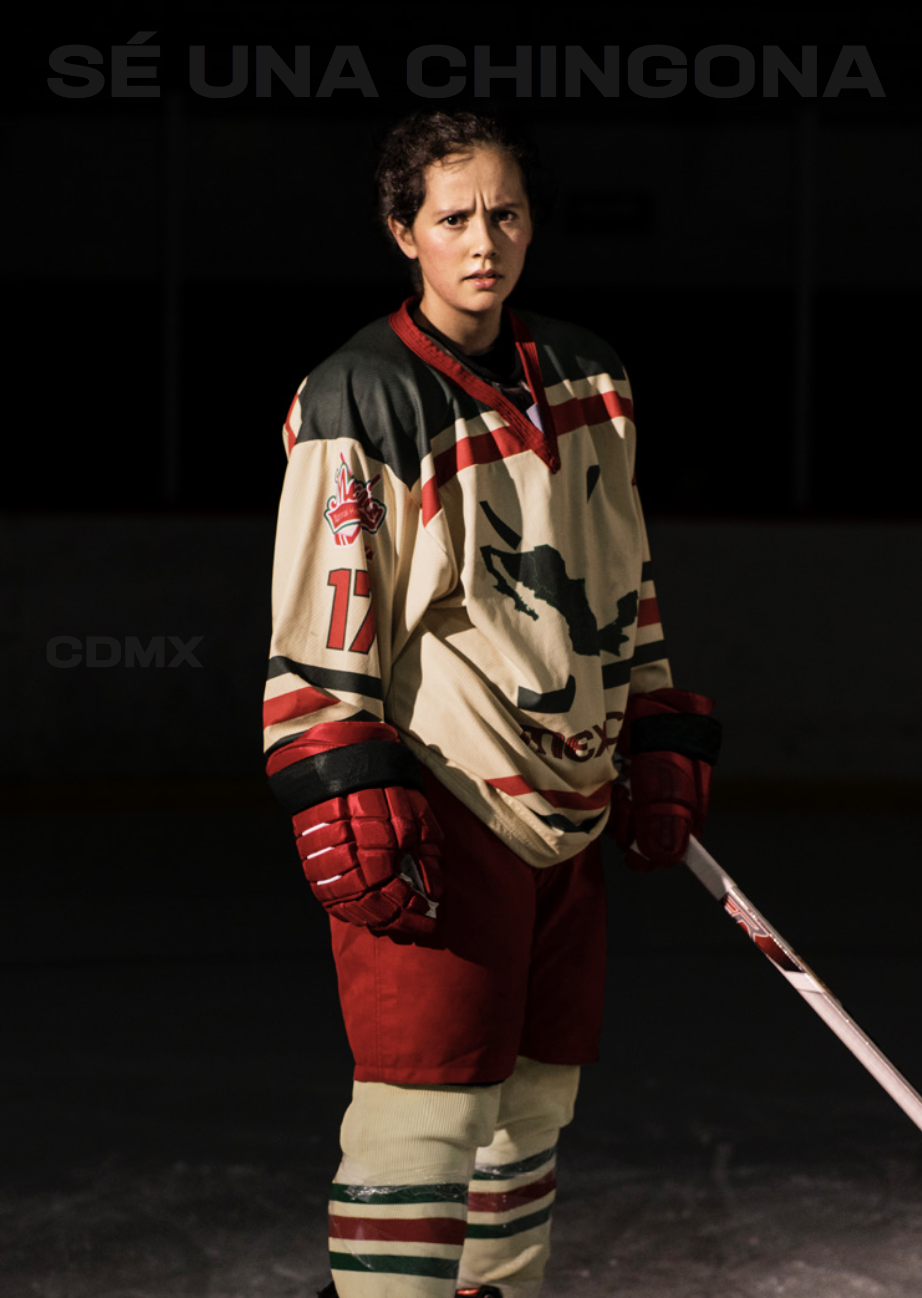 Her short film, downtowngirlsbball, which premiered on i-D two summers ago, chronicled the sweaty practice sessions and post-game vodka gimlets of her all-girls Chinatown basketball team. For the first time, it felt like a film about its female characters and nothing else. The girls were the story. In 2017, Parasco released Locker Room Talk, a short film about intersectional feminism and female empowerment told through a female locker room in a post-election America. Parasco has also creative directed videos for brands like Nike, Calvin Klein, and Redbull, each of her projects hinging on a rejection of a male permission for women to be involved as protagonists in sports films.
"I still think about all the ways that cinema, photography, and other mediums of culture could benefit from a change of gaze," Parasco said. "So I decided to look for a crew of inspiring role models that we wouldn't hear about so readily in the media."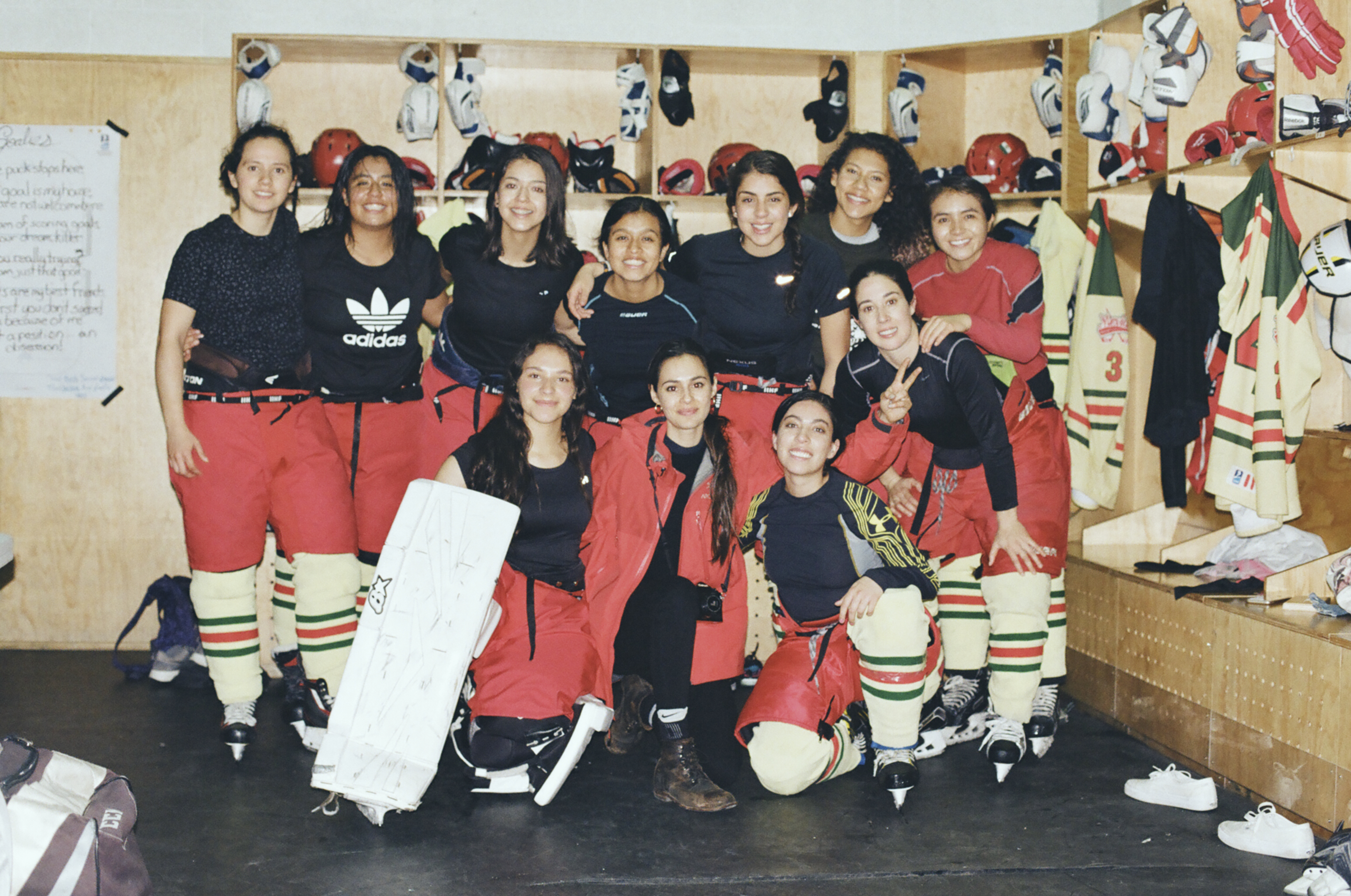 She found that group of inspiring women athletes on an ice rink in Mexico City.
The Mexican Women's Ice Hockey League was founded in 2014 by Macarena Cruz, Fernanda Chávez, and the now retired Melissa Arroyo. Cruz, who was denied the opportunity to play in a male league because there weren't enough women on the team, gathered a list of girls and with Chávez and Arroyo founded Mexico's first National Women's Ice Hockey Team. When Parasco met them at the Ice Dome in Mexico City, they had just beat the Men's National Team in a friendly game and advanced further than any other Mexican women's sports team in the Winter Olympics. In 2017, they won the Women's Ice Hockey World Championship in Iceland. Despite many of them having been on the ice for only a few years, they are now the highest-ranked national female sports team in Mexico. And still they have to fund their ice rink time themselves (many of them still underage and juggling a full-time job).
"Their energy was incendiary," Parasco said. "I knew it was a story that needed to be told."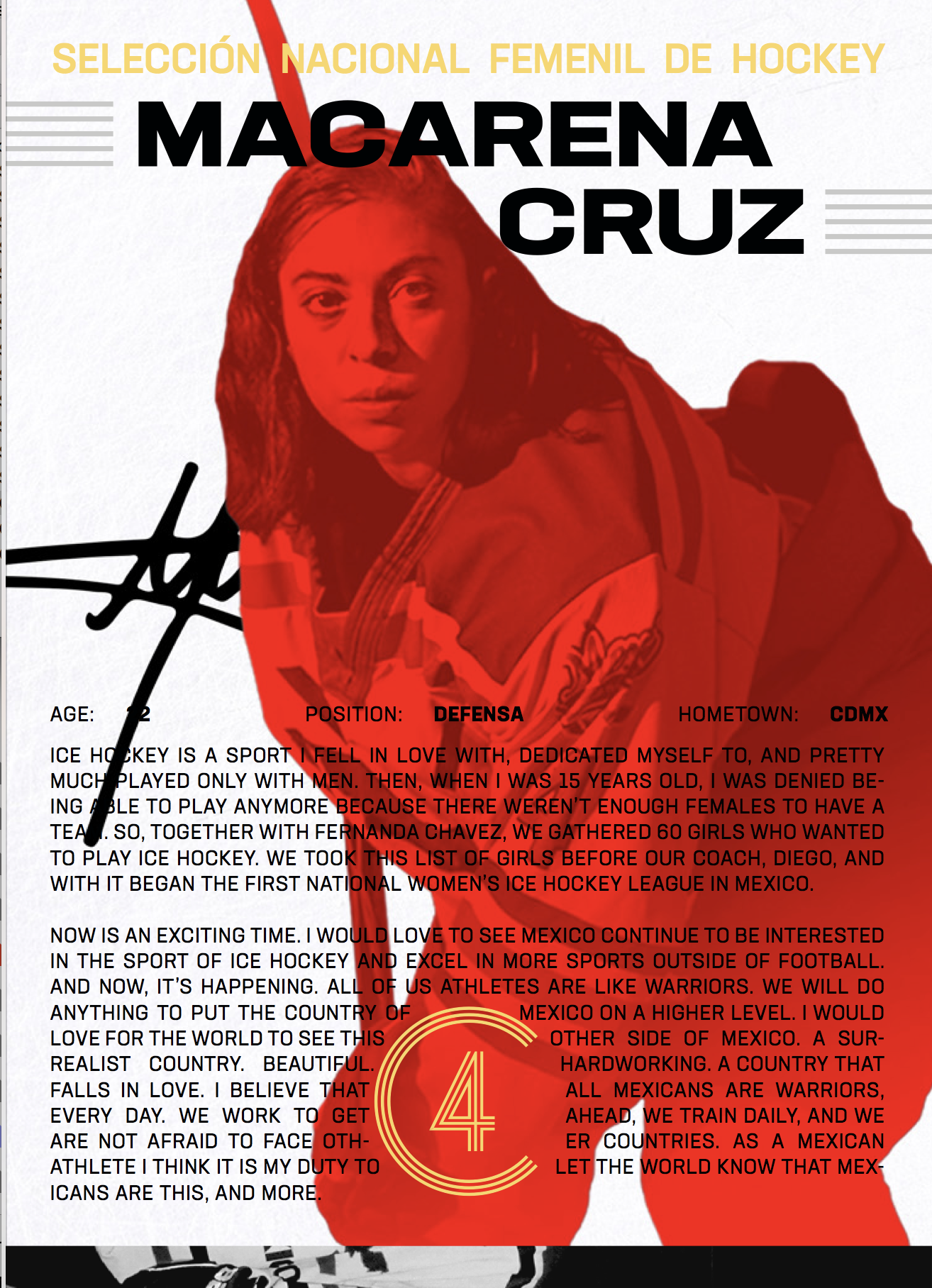 To bring these female sports heroes into our vernacular and literally our front pockets, Parasco created the limited-edition 500 trading card series Trade Your Hero for Mine. Made by women down to the typeface, Trade Your Hero tells the story of Mexico's National Women's Ice Hockey Team through each of its players. On the front of the cards, the Mexican phrase, "Se una chingona" ("Be a badass") looms above a color photograph of each girl on the rink. On the back, each player relates their favorite part of the sport, their pre-game ritual, their biggest triumph, their story. Like Giovanna and Joanna Rojas, 17-year-old twin sisters from Puebla who hug each other for good luck before every game. Or Thelma "Cookey" Escobedo, who almost left the sport forever after being badly hurt playing against guys. Dany Castro, the goalie, brags about her 90% deflection rate.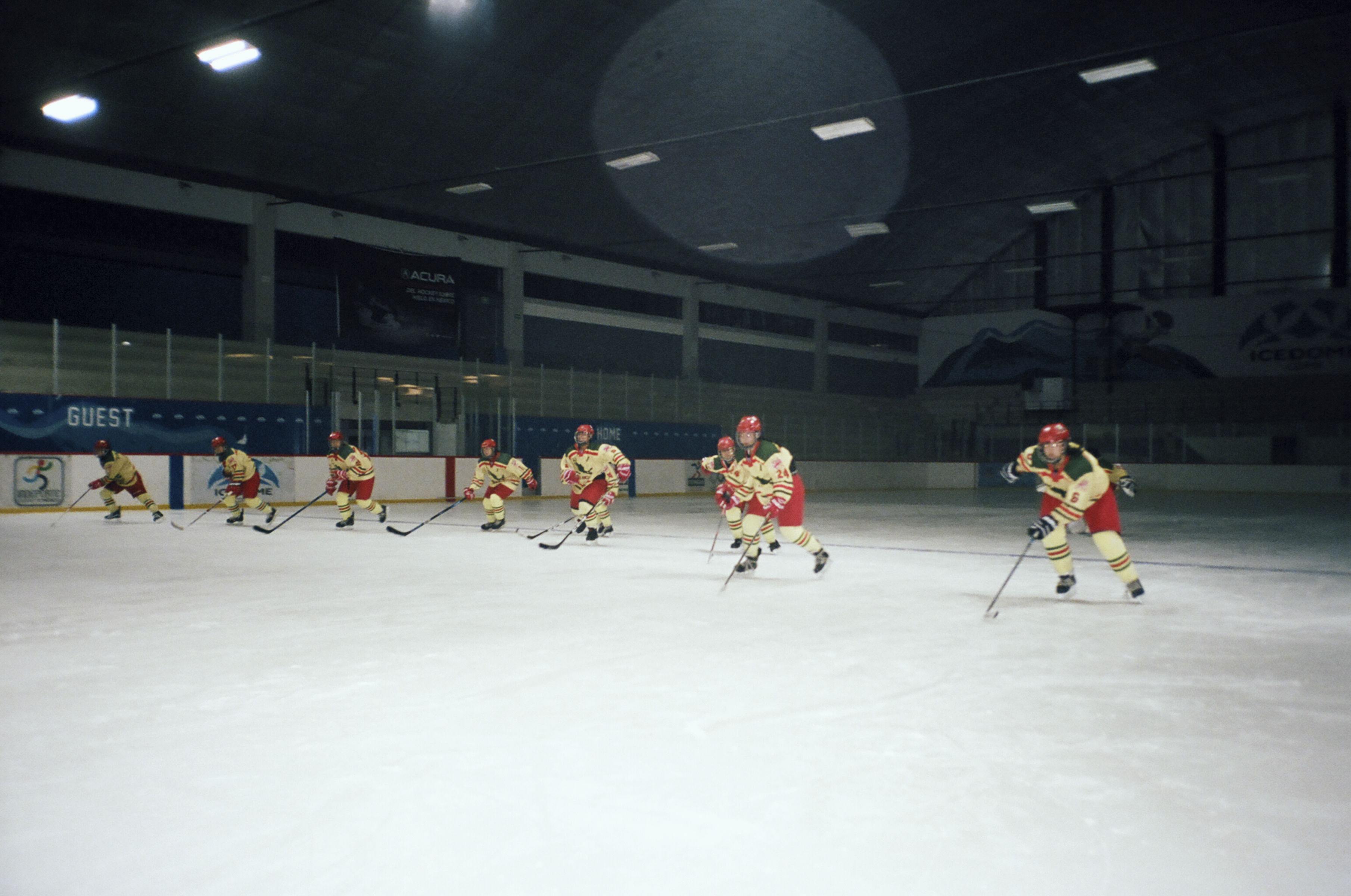 The final card of the deck is an "art" card with the words "Sí se puede" ("You can do it") on the top, with "Make the Impossible Possible" embossed on the bottom. This card is made of a reflective gold material that, for a brief moment, reflects the card—holder's face. Purchase of each $65 card, now for sale on Victory Journal's online shop, goes toward funding the girls' ice rink time and helping them get to the Olympics in 2022.
Trade Your Hero is accompanied by a short film meant to introduce the team and the concept behind the trading cards. Inspired by Mark Leckey's use of the announcer voice in his art film Fiorucci Made Me Hardcore, it ends with a female announcer voice saying the name of each girl as the camera swipes past their respective card. Like Parasco's earlier work, the film shies away from an intrusive gaze and lets the characters' stories speak for themselves. Watch it for the first time below.
"This is a completely female project meant for the little girl sitting on her carpet watching a game to be subconsciously informed by a female gaze that doesn't over-masculinize or over-feminize women athletes," Parasco said. Maybe Trade Your Hero will become a seasonal project, each series highlighting a new guard of underrated female role models that we all maybe could be.
For now, it begs for inclusivity in Mexican sports culture of more athletes that represent everything the country is at its best: hardworking, resilient, creative, and beaming with pride.
"I love listening to our national anthem and singing it at the top of my lungs," Frida Cárdenas Castro says on her card. "I love surprising countries who have a low expectation of us when we play."
I'm still trying to figure out why it's taken us this long to pay attention.