watch sza give a motivational pep talk at her old high school
"Daydreaming is actually where this whole thing starts." You're damn right it is.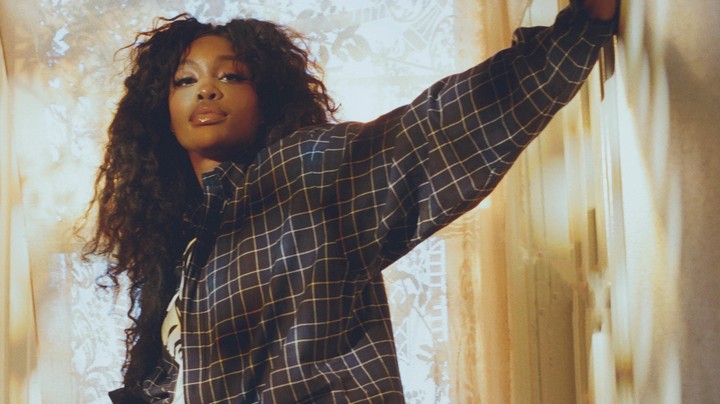 Photography Petra Collins. Styling Carlos Nazario. Shirt, dress and trousers Balenciaga Prefall 18. The New Fashion Rebels Issue, no. 352, Summer 2018.
We know SZA the chart-topping, i-D fronting, intoxicating music churning powerhouse that she is. So it's easy to forget that once upon a time, Solana Rowe was a regular student, zoning out of class to daydream away the hours like rest of us. It's this mental make believe she argues is a underrated tool, in a recent speech at her old high school. "It's where you find the details and inner workings of yourself and figure out what you actually want to do, who you actually want to be," she says. "Daydreaming is actually where this whole thing starts."
The pep talk comes on the back of her induction to her high school's Hall of Fame, and it's the kind of motivation we wish we all bore witness to in our heady days of teenage angst. She talks about how she was an "unpopular kid", having a "whack experience", and reportedly didn't go to prom because she wasn't invited. And while she's clearly U-turned in the popularity stakes, that's not to say she doesn't face setbacks. "In high school, I thought that failing defined what was going to happen to me. I got nominated for five Grammys, and I didn't win. But I wanna tell you something -- it's not about winning. We cracked a billion streams. We sold more albums than people who did win. All these things -- you have to pay attention to how that is working in your life in tiny tiny ways."
While we wouldn't exactly call a billion streams 'tiny', nor think that every high school student suffering hard knocks has that hefty achievement to pick them up from a Grammy loss, it's a worthy sentiment: success isn't always measurable by conventional barometers, like accolades and shiny awards. It's the cumulative power of the little things that make up the whole.
SZA topped off the appearance with a performance of
The Weekend
, a heartwarming sight on the back of the frankly
devastating news
that she's permanently damaged her vocal chords. As the thunderous student singalongs evidence, they were also pretty ecstatic about the whole thing. And who knows, if we listen carefully, we may be hearing to the next music star in the making, given the school's past Hall of Fame honourees: Lauryn Hill graduated Columbia High School in 1993, and was inducted in into the Hall in 1999. Must be something in the water fountains.

Read more:
SZA says her voice is permanently injured
SZA battles Kendrick in her new video