watch the opening scene for ex-studio ghibli staffers' first film
Studio Ponoc's first film, 'Mary and The Witch's Flower,' feels like the sister film to 'Kiki's Delivery Service.'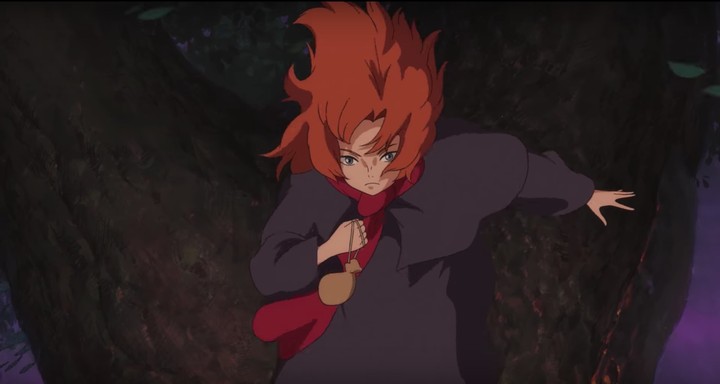 Still via YouTube
Studio Ghibli has a stellar alumni. A number of the studio's former animators banded together in 2015 to create Studio Ponoc after Hayao Miyazaki's first retirement. Two years later, the studio's first film, Mary and The Witch's Flower, is finally getting released in America this month. We only have two weeks until the film hits theaters. And Studio Ponoc has given fans something to us hold over until then: the first action-packed three minutes of the film.
Directed by Hiromasa Yonebayashi (When Marnie Was There), the film dives into a complex fantasy world immediately. A gang of mysteriously shaped creatures — dressed in what looks like scuba outfits — turn into flying squids. Mary is a fiery redhead able to summon a broomstick and zoom through the air. And her magical blue seeds suddenly sprout into giant lush trees. It quickly becomes clear: Hayao Miyazaki taught his former Studio Ghibli animators well.
"At Studio Ghibli, I learned how to make things move in a certain sort of way, a way of thinking about animation and characters, working under Miyazaki," Hiromasa said in an interview, speaking on Mary's similar animation style to Studio Ghibli films. "So I'm sort of steeped in that background. Many of the creators who worked on this film also were people who had worked at the studio. So we all are sort of infused with the spirit of Studio Ghibli. Maybe that was coming out."
Mary opened in Japan last summer to rave reviews, so the adventure is sure to be a grand one. The film will open in US theaters January 19 with English-language dubs (Kate Winslet voices the sorceress, Madame Mumblechook). Watch the breathtaking opening below.