listen to jaden smith sing acapella on 'syre' remix album
Looks like the eccentric creative is already coming out with a new album — while hunting for the perfect Bollywood role.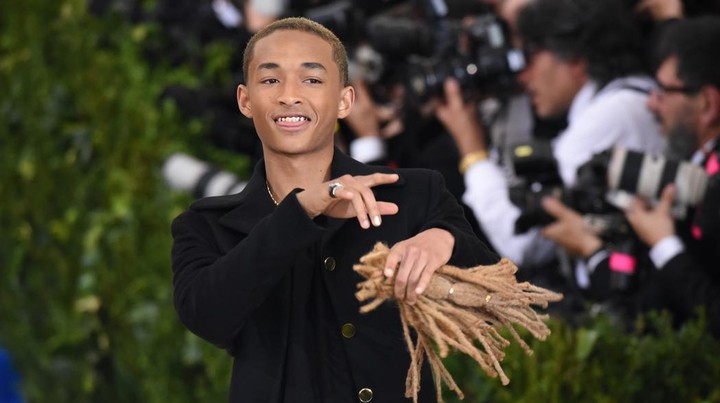 It looks like Jaden Smith has his eyes set firmly on 2018. Only a few months after releasing his experimental rap album SYRE, the crossbody bag-lover is releasing an acapella version of the project. He uploaded a sneak peek of it on Twitter, his reverberating vocals possessing a haunting, ghostly quality. Jaden said the acapella version of SYRE will accompany his follow-up EP ERYS ( SYRE spelled backwards, duh). "Full Acapella Bonus Album Coming Next Year Along With ERYS," he wrote, sticking to his signature habit of capitalizing every word.
This year saw Jaden Smith continuing to redefine himself as an artist — challenging societal expectations of what a young black creative can be. He voiced the lead character (a person of color with bubble gum-pink dreads) on Netflix's Neo Yokio, he brought his chopped off dreadlocks to the Met Gala, and acted in Crystal Moselle's upcoming film centered on female skateboarders.
Well, it doesn't look like 2018 will be any less exciting for Jaden. Earlier this week, he tweeted that he wants to star in a Bollywood film. And today he tweeted that he might wear a skirt in his next video (flashback to his studded skirt in the spring/summer 16 Louis Vuitton campaign). Add this to his repeated tweets about wanting to become a K-Pop star and Jaden Smith is sure to give us many more iconic moments.
Tagged: