the concept of "surviving" fashion week is absurd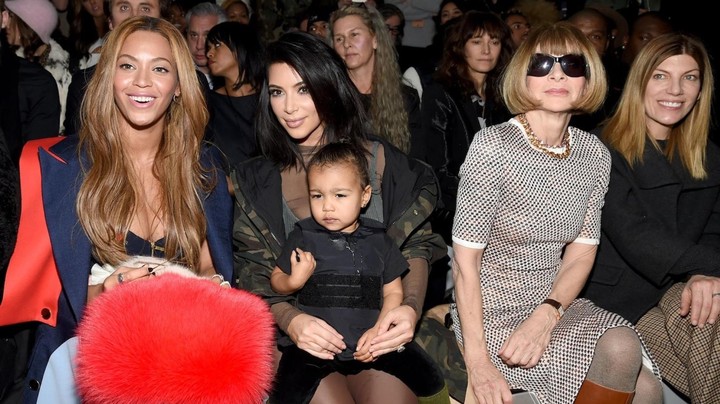 It's that time of year again — when, according to some, the fashion industry gears up to "survive" fashion week, as if going into battle. What follows is a by-no-means-exhaustive list of what editors, models, stylists, and designers need to endure the week (which, to be fair, in reality lasts a full month): 12 shots of espresso, several Mophie chargers, giant sunglasses, 23-karat-gold-flake blotting papers, a plethora of high heels, a driver who was trained in the Russian military, green juice, green juice, green juice.
In fashion media, the expression has become as ubiquitous as the question, "Who are you wearing?" is on the red carpet. In seasons past, well-meaning publicists have sent endless "fashion week survival kits" stuffed with band-aids, water bottles, KIND bars, and Tide To Go pens, and I'm sure I, too, have earnestly asked celebrities in the front row how they "survive" the shows, knowing full well they have a glam squad, two assistants, a driver, and no more than an event or two scheduled per day. But just as we've pushed journalists to "ask her more" at the Oscars, perhaps it's time we phased out this particular turn of phrase.
In an age when my phone has, in the past 24 hours, notified me of North Korea's most recent nuclear test, rising death tolls from Hurricane Harvey in Houston, raging wildfires engulfing California and the Pacific Northwest, and President Trump's intent to end DACA, the program that protects 800,000 undocumented immigrants who came to the United States as children, speaking of "survival" in anything but the most literal of terms feels tone-deaf at best, and willfully ignorant at worst.
Still, it's easy to understand the temptation to do so. For editors, models, designers, PR people, event coordinators — in fact, just about everyone involved — this time of year can threaten a person's sanity, bank account ($500 in Ubers and cab fares is no joke on a freelancer's budget, and if you're, say, a street style photographer, hotels and airfare are coming out of your pocket, too), sleep schedule, and emotional equilibrium — even physical safety (I once got carted away from a Ralph Lauren show in an ambulance, but that's a story for another day). Plus, to be fair, one person did die at a show a few years ago — the legendary Zelda Kaplan. (She, however, was 95.)
During fashion month, an editor or buyer might have up to ten shows and five appointments per day for 30 days straight with no days or weekends off, all the while preparing trend reports and, in the case of digital editors, filing stories. Models have castings, fittings, and callbacks on top of the shows themselves, often from early in the morning until well after midnight. Event photographers might shoot for twelve hours straight, and then go home to edit until four in the morning. And invariably, at least in New York, this all goes down during either a heatwave (September) or a blizzard (February).
When she first started going to the shows around a decade ago, stylist and editor Shiona Turini considered the oft-repeated mantra "a comforting inside joke" during a punishingly busy month of going in and out of shows (the process of which, she says, "bears a striking resemblance to going through the TSA check in at JFK the day before Thanksgiving"), attending three events a night, and traveling to four countries back-to-back. Today, however, she says, "the reality is, the term bothers me — especially in this current political climate. Are we surviving or are we doing a job we signed up for? You survive police brutality, you don't 'survive' fashion week."
In the past, the phrase might have been easy enough to write off as "just an expression," but as the industry makes strides towards political consciousness and meaningful equality, from the slogan T-shirts that were so popular at February's shows to the far more essential shifts behind-the-scenes to diversify positions of power, using such flippant language feels regressive and out-of-step with efforts towards inclusivity.
Talking about "surviving" the week also gestures at a negative attitude that, while perhaps unavoidable after a few days of aching feet and too-little sleep, isn't exactly productive. Instead, we might all be better served by focusing on the positive aspects of the experience: the creativity, vibrancy, and community omnipresent from city to city, the excitement of seeing a talented upstart designer like Snow Xue Gao or Matthew Adams Dolan recognized on a major stage, the opportunity to see fashion history in the making, such as Helmut Lang's impending revival under the vision of Shayne Oliver, or Raf Simons's sophomore collection for Calvin Klein. Hey, even just the fact that you might get to see Rihanna in the flesh.
Rachael Wang, a stylist and creative consultant, understands the ambivalence fashion can provoke, but offers a reprieve, too: "When I went to North Dakota to pray and stand in solidarity with the Lakota, Nakota, and Dakota people whose treaty-granted land had been taken away from them, whose water was being threatened with contamination and whose sacred burial sites were being demolished by the construction of the Dakota Access Pipeline; when travelers were detained in American airports for their ethnicity and religious beliefs; when day after day innocent citizens are shot and killed by the very people who vow to serve and protect them; when institutional racism seems more implicit than ever — yeah, those are the times when I feel pretty apathetic about fashion," she says. "But when I'm at work, I choose to engage just as actively. I love my job and I'm grateful every day that I have the ability to make a living working with my hands, collaborating with other creatives and turning the fantasies in my head into realities. I could choose to leave the industry that sometimes leaves me disenchanted, but I know that there is power in fashion media and I would rather put my energy to good use in a space where I can leverage my experience."
"For me, it is of the utmost importance to remember that fashion week is a celebration of creativity," says Turini. "Street style peacocking, social media engagement and pristine after-party attendance is secondary to supporting the craft of the most talented and disciplined artists in our field. If you find yourself posing the question of how you will survive it, you may be attending for the wrong reasons."
As for how did the idea of "surviving" fashion week became so common, anyway, I have a theory: in the past decade, as online fashion media has undergone seismic shifts, with more and more publications competing for readers' clicks, there's been an insatiable need for content. As a former digital editor, I remember the struggle every season to figure out what fashion week stories would appeal to readers who weren't themselves attending shows. If run-of-the-mill reviews didn't appeal (and they didn't), maybe a story about what Alexander Wang's squad eats, drinks, and carries to make it through her grueling week would? And since my fellow editors and I were rarely thinking about anything else in the lead-up to the week, why not turn it into a story about our survival essentials? It's not a terribly difficult formula to rehash, which may explain how it's endured season after season.
Whatever indignities the week may bring — racing to the subway between shows in a heat wave, a cell-phone battery going from 50% to 6% right before an important interview, filing stories from an otherwise-empty coffee shop at 11pm on a Friday — I aspire to channel some of the sheer enthusiasm I had for the industry in high school, back when I joined a Facebook group called "The Only Holiday I Celebrate Is Fashion Week" (which, in retrospect: LOL) and obsessively refreshed style.com for photos from the Marc Jacobs show.
It's a privilege to experience fashion week. It's a privilege to have the platform to talk about it. And it's a privilege to be able to not only "survive," but create, collaborate, and celebrate — with or without the aid of gallons of green juice.