michelle wolf's satirical new movie skewers the 'strong female lead'
"These blueprints are green, I said Tokyo time!!"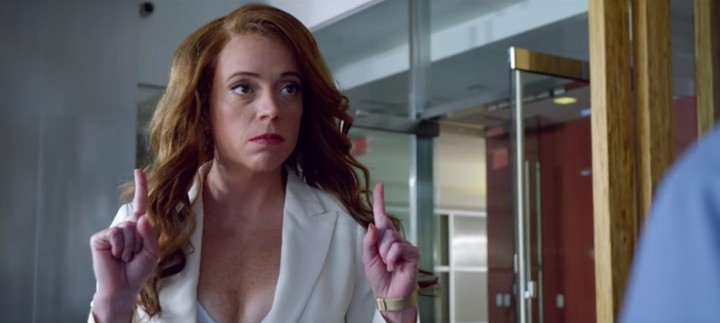 Still via YouTube
Michelle Wolf brilliantly skewered America's weak male leads at the White House Correspondents' Dinner last month, but her comedy is truly bipartisan. Today the comedian teased her highly anticipated Netflix special The Break with a satirical trailer for a film spoofing strong female leads, aptly titled Strong Female Lead: The Movie. It's a play on Netflix's literal Strong Female Lead category, a depressingly necessary way of filtering out films starring various Hollywood Chrises. Wolf's character is more badass than Pratt, Pine, Evans, and Hemsworth put together. The mock trailer shows her taking on the CIA, having emotionless sex with male escorts, fielding mysterious calls from Tokyo, yelling about green blueprints, getting indicted, and even battling testicular cancer, all while not actually doing anything at all. No one appears to know what Cassandra Flex actually does for a living — other than being strong and female, of course.
"This character is as strong as any man, because it was originally written for a man, and we did a find-and-replace with the name Cassandra," notes the (male) voiceover. The trailer is a pretty artful parody of an increasingly common character trope, but like most of Wolf's comedy, it also gets at a deeper issue. A study recently found that the 100 top grossing films of 2017 saw even fewer female protagonists than the year before, proving Wonder Woman was the exception rather than the rule. Which seems silly, as Wolf shows, when strong female leads make compelling cinema even when they exist purely for Bechdel Test points.
Stream The Break every Sunday beginning May 27.