Photography Cameron McCool.

Jacket Berluti. Trousers Lemaire.
meet spencer boldman, future cinema idol
A new era James Dean.
Photography Cameron McCool.
Jacket Berluti. Trousers Lemaire.
This article originally appeared in i-D's The Superstar Issue, no. 354, Winter 2018
When an actor graduates from the House of Mouse, they tend to find themselves staring out onto a Hollywood no man's land, taking shaky, Bambi-like steps towards their next project. But Spencer Boldman, who spent four years playing a bionic superhero in the hit teen series Lab Rats, had mapped out his future before he'd even signed on Disney's dotted line. "I always said that it would be the most important time in my career," he says, of the months following the show wrapping. It's not surprising that his subsequent role would put his muscular acting skills and matinee idol looks to good use. After nearly half a decade of being the all-American teen, he shook that image and slipped into a bad boy persona to play the arresting lead in Cruise, an indie thriller directed by The Wrestler writer Robert Siegel. "When I read the script, I realized it was the closest I was ever going to get to playing a Rebel Without a Cause, you know?" he says of his unruly character Gio, who finds himself falling for a Long Island girl played by Emily Ratajkowski. "He's that classic American cinema throwback you don't see anymore: someone cool, but also incredibly vulnerable and layered too."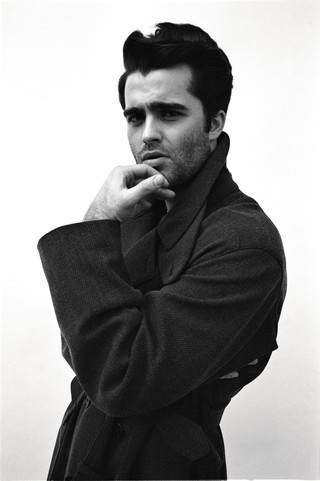 We ask a lot of our actors, perhaps now more than ever, when it comes to choosing progressive roles that will have a long-standing, encouraging impact. That's something Spencer is conscious of: a short word of advice from Phil Lord, who directed him in the 2012 buddy-cop comedy 21 Jump Street, has stuck with him throughout the years. "I ran into him in a cafe in Los Angeles not long after we shot the movie, and he came right up to me and said something about being a guy in the business –– in this day and age –– that made perfect sense," Spencer reminisces. "He said, 'You have the ear of young people — particularly young women. Teach them to expect more from the men in their lives.'" Since then, Spencer has chosen to navigate Hollywood with a little more agility than some of his peers might; choosing roles that affect him –– as well as the 1.3 million people peering into his life via Instagram –– positively. "I just want people to think I'm a good person, but without having an ego." he stresses with a smile. "Or, you know, acting like I'm the Pope!"
Credits
---
Photography Cameron McCool
Styling Melissa Levy
Hair Dylan Chavles at Art Department using Oribe. Make-up Holly Silius at Lowe and Co Worldwide using Giorgio Armani Beauty. Photography assistance Olivia Rosenberg. Styling assistance Mei Ling Cooper, Emily Diddle and Rachele Antjuanette. Production Richie Davies.
This article originally appeared on i-D UK.