Photographer Jorge Anaya, Stylist Angela Kusen, Model Kobe Delgado
floyd hogan is the label inspired by extreme body building
Parsons MFA grad Madeleine Hogan takes the masculine ideal and subverts it to reveal a soft and silky side.
Photographer Jorge Anaya, Stylist Angela Kusen, Model Kobe Delgado
At Parsons MFA show in September, Madeleine Hogan's collection was a standout for a number of reasons. For one, it was the only menswear offering, shown under the decidedly 70s moniker Floyd Hogan. More importantly, however, it was a tour de force in exaggerated tailoring, drawing inspiration from WWE and extreme body builders to create a complex questioning of masculinity. Hogan's jackets may have been huge, but the shirts beneath them were decidedly not — as if in mimicry of bulging pectorals, her slim models were bursting out of their even slimmer shirts, while pants were decidedly on the skinny (and satiny) side. This was punctuated by the designer's "muscle" outfits, which used sagging, deflated sports canvas to look like punctured, well, muscles. There was also leopard print. Hogan's collection served as a timely critique of our obsession with bulging biceps as a mark of masculinity.
As you can see, the model for this story, Kobe, is perhaps no He-Man, but shot by Jorge Anaya and Angela Kusen he definitely imbues the collection with a kind of masculinity we want to know more about. i-D caught up with Hogan from her new home in Portland to talk about her singular vision.
Hi Madeleine! Congratulations on the collection, how has your life changed since your debut show in September at NYFW?
Thank you so much. It's actually been nice to stop for a moment. It's an intense two years leading up to the show, but that moment when it's finally walking, you can let go a little, which is probably healthy. But I usually find I don't sit still for long, and after graduation I was offered a job with Nike on the West Coast, so I've recently just made the move from New York to start work with them.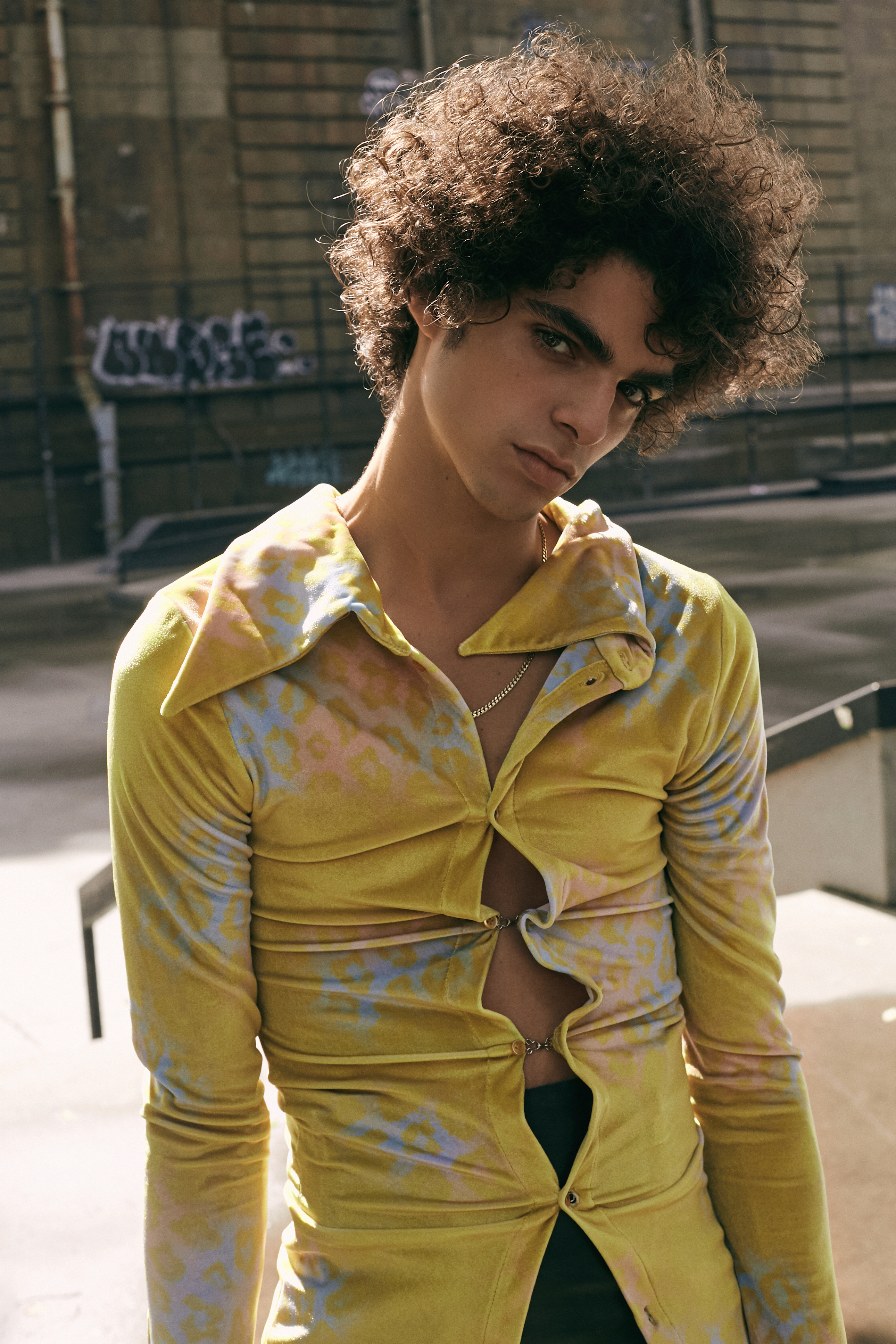 What's the biggest challenge you have had to overcome in 2018?
Learning to be open and patient to the opportunities that may not reveal themselves straight away. I think when it seems like disaster has struck, in actual fact it usually gives way to better results or possibilities.
What's the main message you expect to convey with Floyd Hogan?
Specifically with this collection — I think for us to challenge society's creation of the male ego without pitting male and female against each other. One of the biggest take-aways I found during my research was that it's time we let young boys develop emotionally at the same rate as young girls. This might help solve some of the toxic issues we're in talks about.
With Floyd Hogan going forward, my intention is to continue the celebration of both male and female style and the perfect interplay of those styles. I love to see a man look strong and sensual in what might be a feminine cut, and vice versa, when a woman wears my pieces made for men.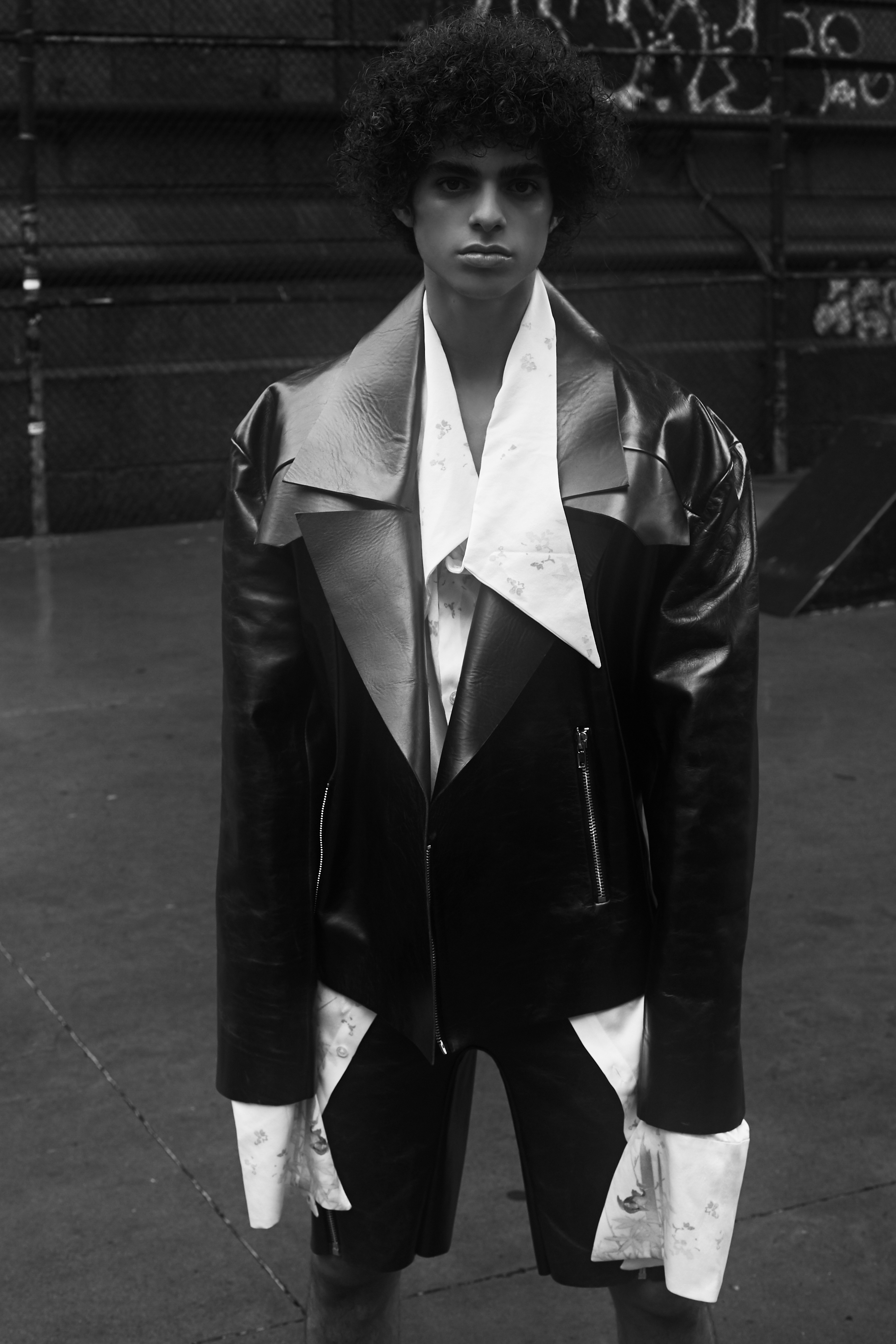 It looks like you needed an army of seamstresses to create those exaggerated silhouettes… what inspired you to make them?
[Laughs] This is true, the seamstresses that helped were a godsend. One of those jackets alone has 160+ pattern pieces. I ended up sewing the majority of them though, it would've been cruel to those sweet women otherwise!
The reason I went that far was because I really wanted to capture the size and definition these extremes body builders work so hard to create. They see their bodies as a work of art, they're the sculptor and they have to know what muscles to target to create shadows, highlights, mass etc. It's fascinating.
They're so proud and so serious about their work and I wanted to take the same approach to find the most technical way to replicate this "unnatural" (by society's standard) silhouette.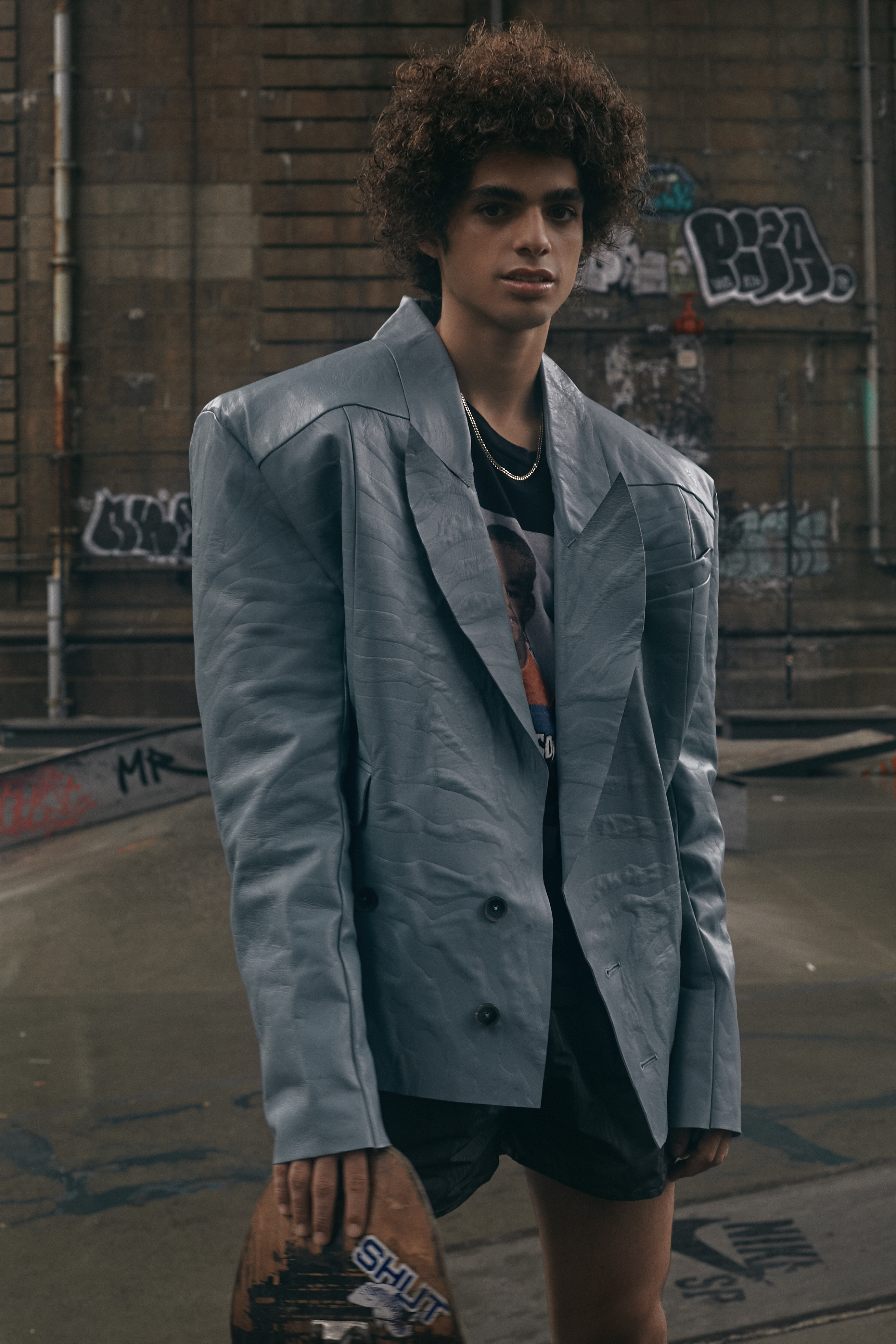 What makes you investigate the old idea of masculinity for this collection? How did you translate it to modern perceptions of menswear?
I found my research kicked up a notch when I looked at the 70s and 80s. It seems the common thread was the introduction of mass media and how at the time young boys couldn't help but be conditioned to think true masculinity was dictated by size, strength, and aggression, through this onslaught of ultra masculine influence. From He-Man and G.I. Joe to every action blockbuster with a male lead it's this testosterone filled mayhem.
But with all that said I tried to find a balance in my work, where this unpacking of masculinity was occurring alongside this sort of celebration of groups created within masculinity. The ones that society has pushed to the fringes, because as usual it doesn't adhere to what we deem the norm. Extreme body building and as mentioned their artist mindset, and the phenomenon of the WWE circuit which is really just hyper masculine theatre.
There is so much depth to these worlds, good and bad, it just naturally fed into my pieces. The conversations around masculinity happening right now as well as the blurring of men's and women's fashion all seemed appropriate in a modern setting.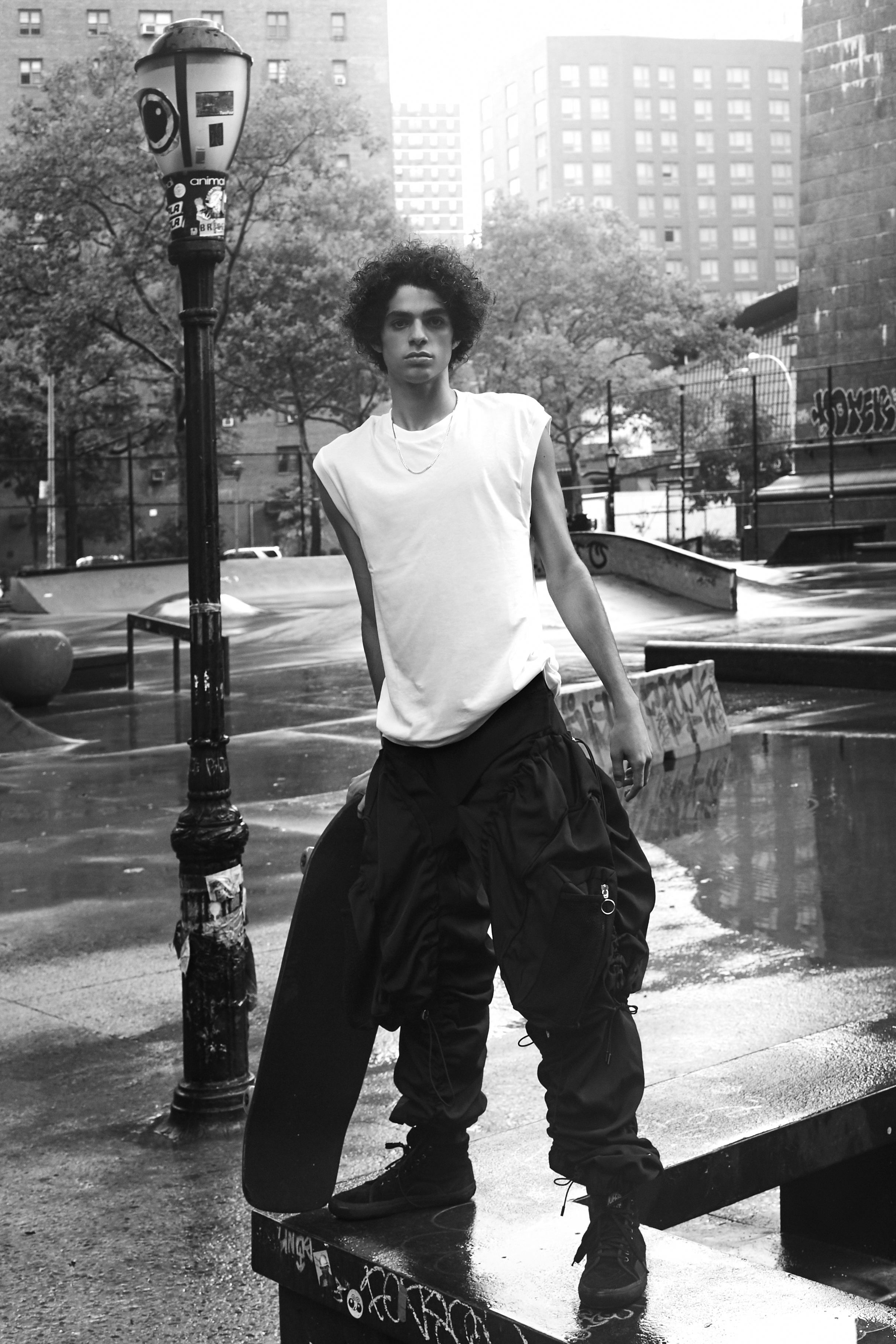 A lot of your textile choices are what used to be considered "tacky" or "too flamboyant," why did you decide to integrate them as part of your fashion statement?
A lot of my fabric and textile influence and decisions came from the fact that when you start to look at the WWE and extreme body building — their costumes, their textile choices, and embellishments — I'm like, yeah this is pageantry at its most hyper masculine, and its fabulous! The textiles spoke of this 70s/80s era when these men were so macho, but also had a very soft and silky side.
For me I love finding a balance, or maybe its a tension, between totally garish and extremely sexy. Something you might look at and go "Too much?" but when it's on it just oozes sex. I like to get a little weird, make my men a little fabulous. It's pushing that idea of taste, but always doing it in a thoughtful considered manner, usually that means you'll hit that mark between both extremes.
The really tight mustard shirt seems to be about to burst open, what was your idea behind that?
I still wanted to create a kind of tension against the body even with the finer pieces. Almost as if their physiques were straining against conventional clothing. I loved the stress the straining buttons and slim cuts created even when standing alongside those massive forms of the muscle looks.
It would have seemed mismatched if the story didn't carry the whole way through each piece, for instance the backs of the suit jackets kick up and gather as though the broad shoulders are pulling against the normal silhouette.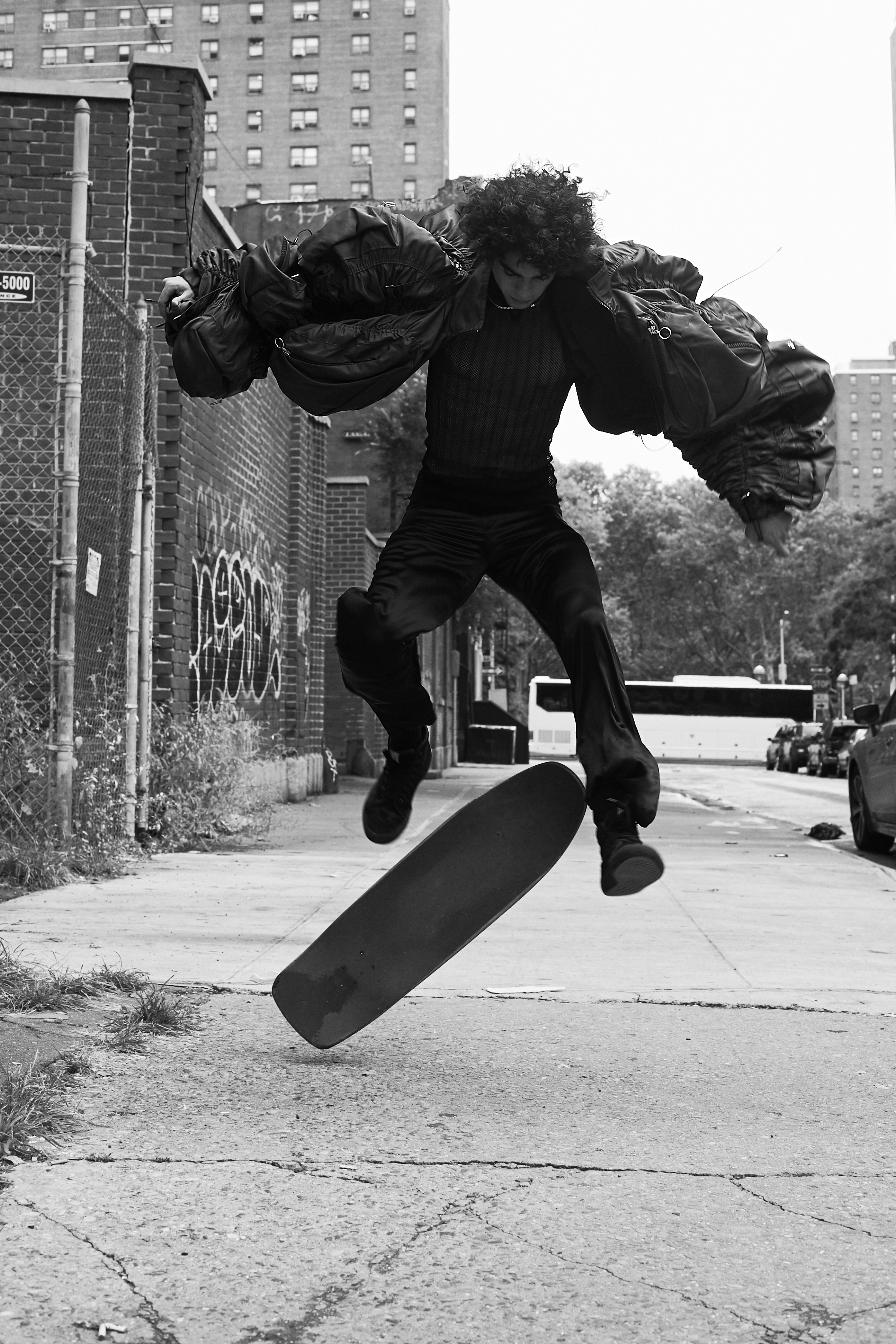 Tell me about these photos, how did you know Angela Kusen and who decided to put the collection on the skater Kobe?
Angela and Jorge reached out to me after the show and proposed the shoot. They both do amazing work and the way they were bringing together a group of Peruvians locals that work in NY was pretty lovely. The skating concept was one I hadn't though of but it looked great and Kobe was a champ.
Which photo is your favorite and why?
Kobe in the Zebra Embossed Blue Suit Jacket or in the Brown Velvet Suit while he's skating are great. Also just him, as is, in the mustard leopard shirt is quite beautiful on its own, the way the sun was hitting at that moment.
What are your plans for Floyd Hogan in 2019?
I think once I've settled into my new role as a Materials Designer for Nike NSW Mens Footwear, I'll start to look at where I could take my work. There are so many creative people within Portland and Nike. I definitely think there are some opportunities to collaborate, even outside of a fashion framework. Collaboration has been something I've been wanting to tap into more.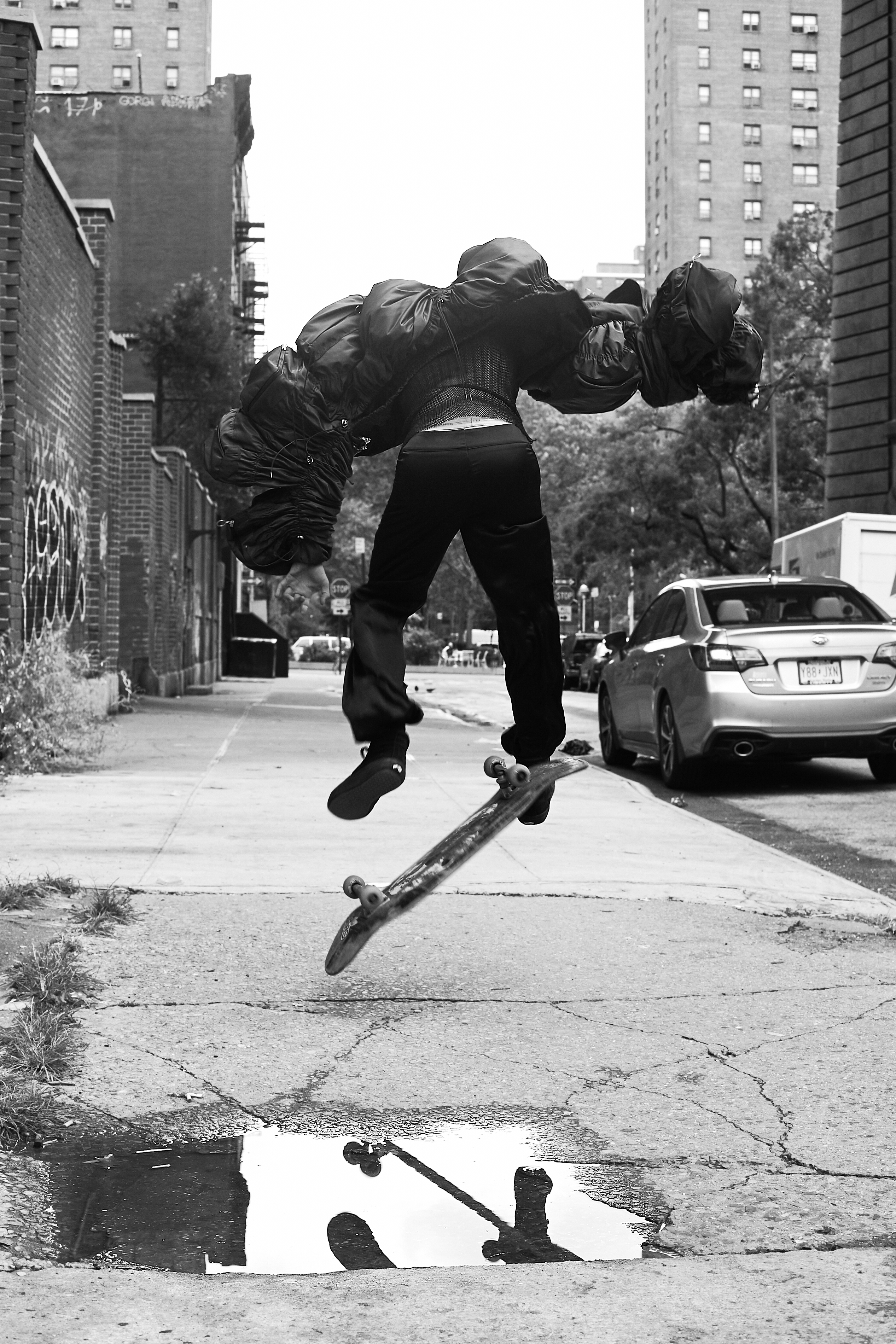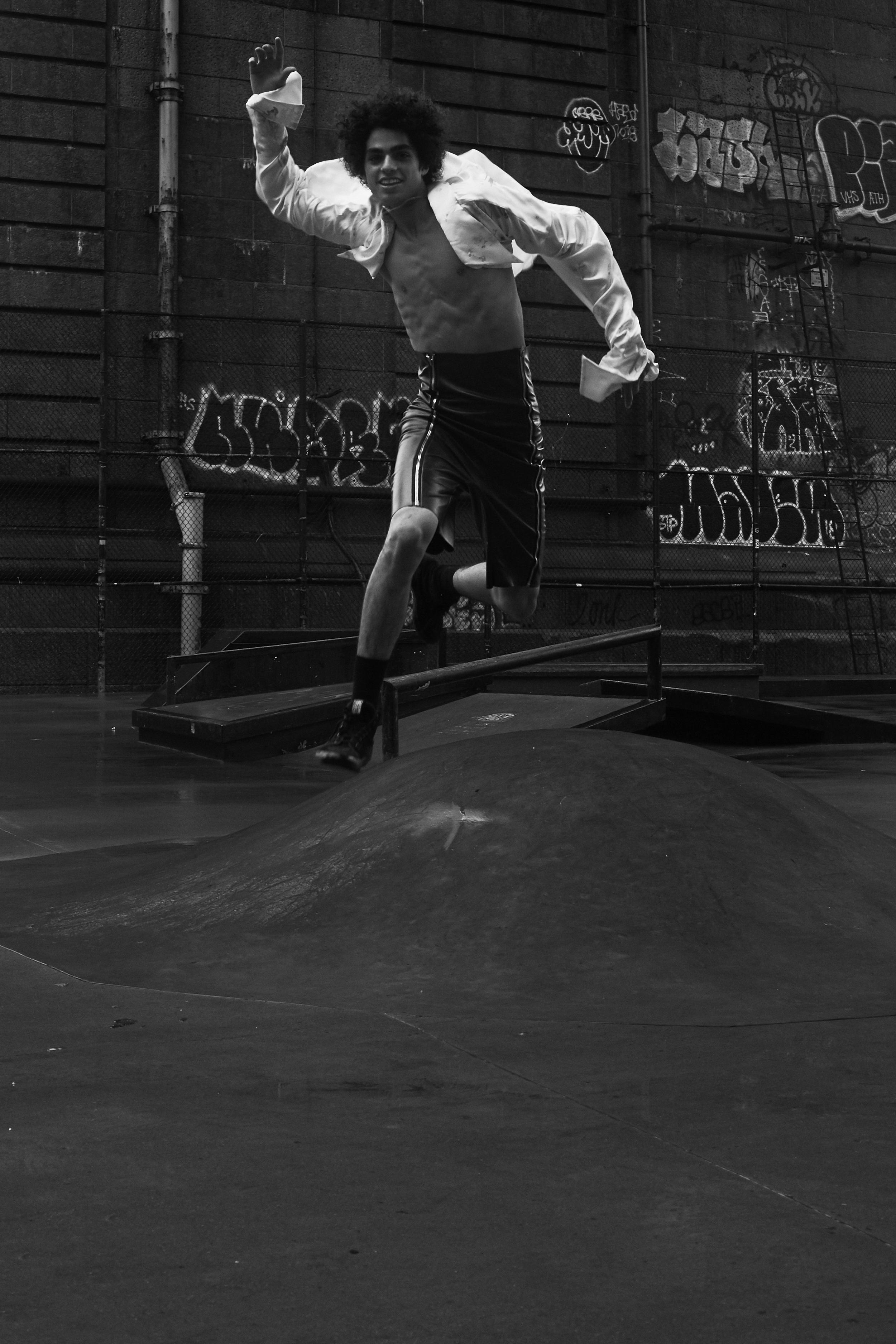 Credits
Photographer Jorge Anaya
Stylist Angela Kusen
Hair stylist Kelsey Adams Barber
Makeup Marco Castro
Model Kobe Delgado