A new queer high school show is coming to Netflix
Finally, what the gays and the girls have been craving.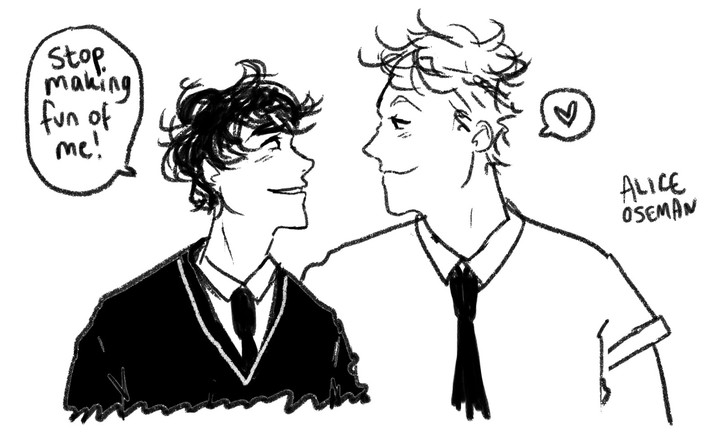 After what seemed like a truly crap year for LGBTQ+ representation on streaming platforms, Netflix has kicked off 2021 with the news we've all been waiting for. Yep, they've just announced that they've landed the rights to adapt Heartstopper -- a beloved, queer YA comic book -- into a new television show.
The source material started its life where all great teen stories do: Tumblr. Artist and writer Alice Oseman, whose first novel Solitaire famously earned her a major book deal at 17, had been uploading the comic book onto the platform since 2017, and its plot-line was catnip for teen queers and allies everywhere.
Heartstopper is set in a British all-boys grammar school. Charlie, its protagonist, is an openly gay uptight teenager; Nick is a happy-go-lucky rugby lad with a nicer streak than his mates. One day, they're made to sit together, and that encounter soon blossoms into a friendship, which then transforms into something more as Charlie's feelings for his new classmate develop. But the feelings he thinks might be unrequited may, deep down, be mutual. According to Deadline, the show will encompass "all the small stories of Nick and Charlie's lives that together make up something larger".
This new show, the scripts for which have been written by Alice, will be produced by See-Saw, who made Top of the Lake, Ammonite and Steve McQueen's thriller Widows. It's being produced under Netflix's family banner, which in itself is game-changing. The few series aimed at queer audiences that Netflix has released to date -- 2019's Tales of the City being the most recent -- have been aimed at adult audiences.
But now young people, particularly those the same age as Heartstopper's protagonists, will be able to see queerness isn't something one shifts into as you grow older. You are born queer, simply waiting for the right time to vocalise it. Perhaps Heartstopper will help a new generation come to that conclusion, and get that bravery, a little earlier than they've been afforded thus far.