watch timothée chalamet's relatable reaction to frank ocean watching his movie
'I think this reaction should say it all.'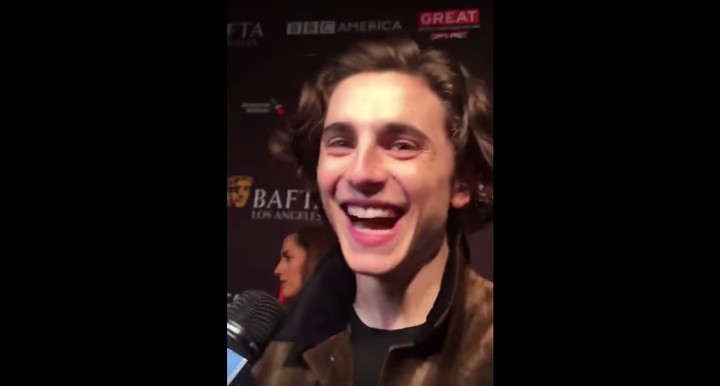 Still via YouTube
In between hints about the new album he's maybe (probably) sitting on, Frank Ocean's Tumblr has revealed something about his activities of late. "Michael Stuhlbarg is my new dad now and that's that," Ocean wrote over Christmas, referring to Stuhlbarg's devastating performance as the father in Call Me By Your Name. The brief review was satisfying enough for people who were not in the movie — Frank Ocean thinks the same thoughts you do! — but for Call Me By Your Name's breakout star Timothée Chalamet, it proved quite overwhelming.
Chalamet was asked how he felt about Ocean seeing his film at the BAFTA Tea Party over the weekend. "I think this reaction should say it all," he finally managed to tell a reporter after stuttering and hyperventilating into her mic for a good few seconds. Asked if he would share Stuhlbarg with Ocean, Chalamet responded enthusiastically, "I guess that makes us brothers, huh?"
"I'm the biggest fan of his in the world," Chalamet continued. "He has shown all of us what it is to have, beyond artistic integrity, fresh artistry in a time where just because of the digital landscape, it can be hard to maintain a mystery, a freshness and he's done it."
Chalamet tells the reporter he's "no musician," which is an outright lie, TBQH. He took daily piano lessons for a month and a half ahead of playing Call Me By Your Name's Bach-savvy protagonist, and he moonlighted as a rapper before finding his acting groove, spitting bars about Chex Mix and his teacher Mrs. Lawson under the alias Lil' Timmy Tim. (He's a big fan of fellow New York breakout rapper Cardi B.) Here's hoping Ocean hasn't sent that new album off for mastering quite yet...