echkaus latta is opening an nyc store in a chinatown mall
The radical brand is hosting a holiday pop-up in its no-frills neighborhood mall.
Photography Thomas McCarty.
Mike Eckhaus and Zoe Latta have keen eyes for cool spaces. The duo's recent New York Fashion Week shows have induced disciples to willingly venture to a Midtown department store, an industrial warehouse in Bushwick, MoMA PS1 in Queens, and Ralph Pucci International's Chelsea furniture showroom. Eckhaus Latta's first-ever retail store in L.A. is a converted cannabis dispensary, which is pretty hard to beat. But the brand's new NYC pop-up comes very close. "Temp Shop" is a typically atypical holiday shop housed on the second floor of Chinatown's East Broadway Mall. The latest Eckhaus Latta threads will be displayed as an installation featuring repurposed church pews, a fitting detail considering Eckhaus Latta's history of curating divine experiences. Unfortunately this one won't be soundtracked by a sublime custom score from Dev Hynes, but if the L.A. store is anything to go by, the in-store playlist will be pretty sweet.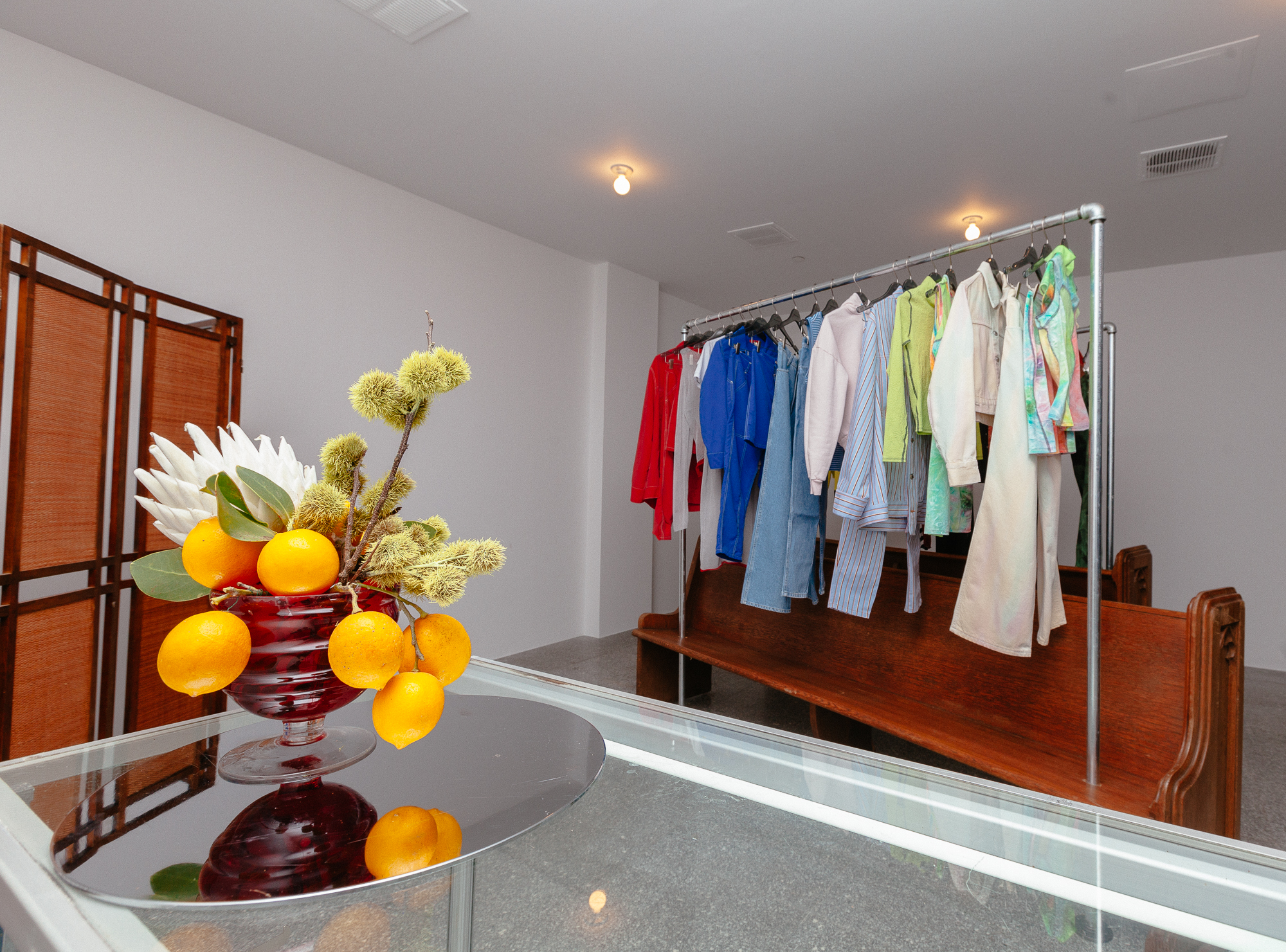 The Temp Shop, obviously, won't be around forever. It's only open from December 9 through December 17. But if Eckhaus Latta is feeling the effects of the IRL retail decline, we'll eat our (knitted Salad Bowl) hats. The brand is proving it knows what sells while doubling down on its experimental roots. Ironically, the collection being sold in the pop-up was one Mike and Zoe jokingly called their "Going Out of Business" collection, a comment on New York's constantly morphing retail landscape. Props to fashion's downtown dissidents for always shaking things up in a good way.
Temp Shop will be open from 12pm-7pm from December 9th to December 17th. The store is located at 75 E. Broadway, Unit 202B.