skepta's new video is an homage to mad 90s tv show 'eurotrash'
Co-directed by BBK mate Matt Walker, the video for "Hypocrisy" is unexpected nostalgic fun.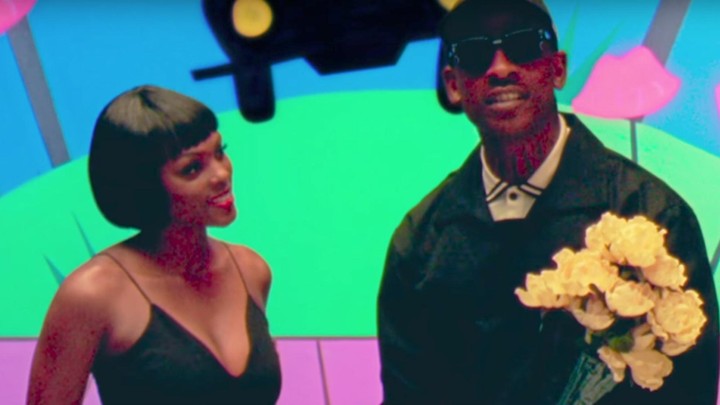 This article was originally published by i-D UK.
Hypocrisy is the practice of claiming to have higher standards or more noble beliefs than is the case, and the title of Skepta's latest standalone single. According to the track, which was shared via SoundCloud last month, Skepta is shitting all over this hypocrisy. He might have 15 different iPhones, but he is so not phoney.
Last night, the grime icon put out the accompanying video, which majorly references cult 90s late night TV show Eurotrash, a weird sexy lol-fest presented by a total dream team comprised of actor Antoine de Caunes and corset fan/designer Jean Paul Gaultier. With the same brightly colored Eurotrash-style set, the music video was directed by Skepta and BBK friend Matt Walker who worked on Skeppy's last video "No Security" as well as last year's Apple documentary Greatness Only.
Though Skepta is styled in looks from his debut Mains collection, for those who might have missed the wildly obvious stylistic references to the cult show he also sports a striped Breton top a la JPG and proceeds to douse himself in Gaultier's classic Le Male fragrance. Things soon descend into a solo dance party, with Skepta breaking out the moves he learned from Drake as he watches a karaoke lyric video that he also stars in. J'adore.
The video isn't dissimilar to the short Eurotrash-inspired film we made with French duo Jean Paul and Antoine back in 2014 to celebrate an exhibition the designer had at The Barbican at the time.
Credits
---
Text Frankie Dunn
Screenshot via YouTube