watch jaden smith discuss science in a forest
The rapper and Just Water entrepreneur stars in "STEM10," a new documentary series about the importance of diversity in science.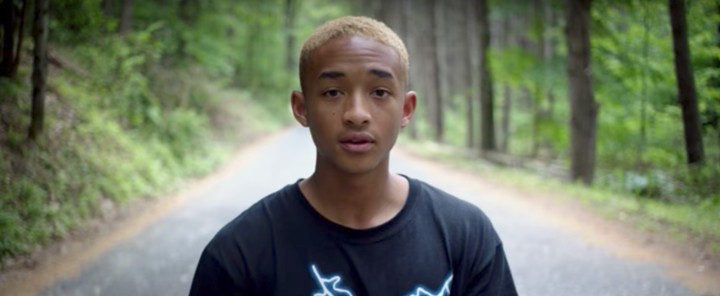 Still via YouTube.
Jaden Smith is no stranger to STEM. His favorite text is The Ancient Secret of the Flower of Life. His preferred form of math is the multidimensional kind. When he's not protecting Hollywood from evil, the 19-year-old actor and rapper likes to hit up MIT to sit in on Professor Jeffrey Grossman's 3.091 (Introduction to Solid State Chemistry) classes. But Jaden's involvement in a new documentary series about the STEM curriculum stemmed, so to speak, from something less complex: noticing that there are far too many plastic bottles littering Earth's roads and beaches.
It was this observation that led Jaden to co-found Just Water, an eco-friendly brand of boxed drinking water sourced and packaged in upstate New York. Jaden has discussed his involvement with the brand for STEM10. The series premiered on Amy Poehler's Smart Girls platform today, and aims to show the importance of diversity within STEM education. Other young entrepreneurs in the series include 13-year-old Emma Yang, who created a breakthrough A.I. facial recognition app for Alzheimer's patients at the age of just 12.
"The reason I wanted to start Just was because I saw so much plastic out in the world," says Jaden. "I saw what happens when plastic goes to waste in our environment and how it affects us. That's when I really felt like I needed to do something and make a difference. I'm trying to eliminate as much plastic as possible." While his original goal was environmental progress, Just Water is also attempting to switch up the social landscape of Glens Falls, NY. "We really wanted to help the jobs and infrastructure of the city, and really bring life and a sense of community," he says. Maybe Mystery School isn't a bad idea after all.