the trailer for amandla stenberg's 'the hate u give' is here
The powerful movie tackles the story of a black teen getting shot and killed by a police officer.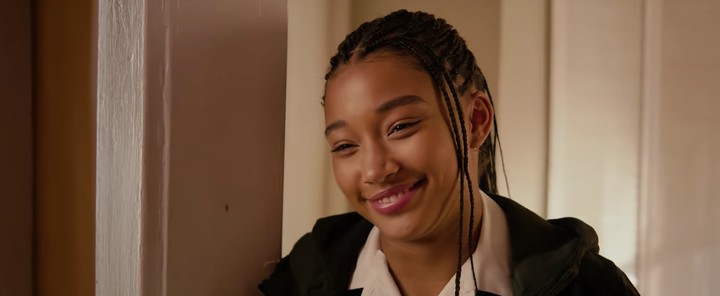 Screenshot via YouTube
Black teens across the nation have eagerly anticipated the film adaptation of Angie Thomas's 2017 YA novel The Hate U Give. The trailer was released last night and brilliantly captures the empowering nature of the book. Amandla Stenberg plays Starr Thomas, a 16-year-old a teenager who witnesses her friend get shot and killed by a police officer. What follows is a powerful story about a black female finding the courage and strength to speak out against the nationwide epidemic of police killing unarmed black men.
The film boasts a fabulous lineup of black stars: Insecure star Issa Rae plays a confident lawyer and activist who mentors Starr, while Common and Sanaa Lathan play Starr's parents, and Riverdale's KJ Alpha acts as Amandla's boyfriend. The role was originally played by Kian Lawley, but the YouTube star lost the role after a video of him using racial slurs surfaced.
Sadly, The Hate U Give is a timely work. Young black men continue to be unfairly targeted by the police. Protests have sparked this week over the killing of 17-year-old Antwon Rose, who was shot three times in the back by police.
The Hate U Give will arrive in theaters October 17. Watch the trailer below: