watch princess nokia sip 40s and get pierced in 'bart simpson' and 'green line' double video
The radical New York rapper drops a two-for-one visual for her '1992' tracks "Bart Simpson" and "Green Line," and announces a GoFundMe drive for hurricane-stricken Puerto Rico.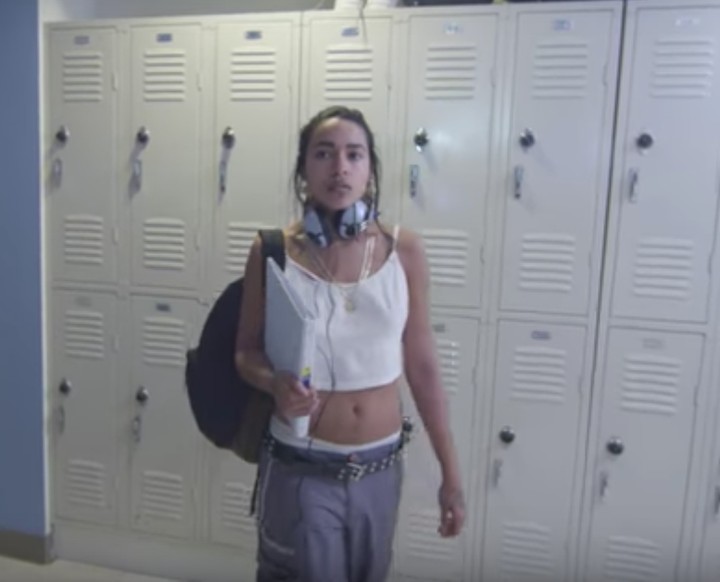 Destiny Frasqueri is not your average New York City tour guide. Earlier this month, the radical rapper known as Princess Nokia staged a subversive remix of uptown opulence in the form of "Flava," an empowering self-love banger addressing the cultural appropriation of urban beauty. The latest visual gift from Destiny's 1992 album is a two-for-one video for her blissed out bedroom jams "Bart Simpson" and "Green Line." Both parts are directed by Destiny and her friend Milah Libin.
The first half shows the 25-year-old Hood Girl and Smart Girl going back to school, getting picked last for dodgeball, and eventually cutting class to hit up the ultimate 40-fueled dorm rager. Hazy footage of Destiny and her girlfriends hooking up and passing out is the perfect complement to the unbothered rebellion of her "Bart Simpson" lyrics. "Ay caramba / Bart Simpson with the shits," she drawls in the chorus, "Ay caramba, man, you can go and suck my dick / Skating down the street, being mischievous as shit."
In the second video, the "green line chick" rides the 6 train down to St. Marks Place for a impromptu piercing session. Destiny also swings past Crif Dogs and pays a visit to the East Village's beloved Sock Man, the decades-old retailer that made a triumphant return to St. Marks last year after being pushed out months earlier. The video is a gritty tribute to Destiny's 90s NYC upbringing. As a kid, she split her time between Spanish Harlem and the Lower East Side, riding the 6 route along the length of Manhattan.
New York, however, isn't the only place Destiny has had on her mind lately. Yesterday the Afro-Puerto Rican rapper announced a GoFundMe for her Caribbean Island home country, which is on the verge of a historic humanitarian crisis following hurricanes Maria and Irma. As she explains, it is estimated that 1.6 million households in Puerto Rico have had no electricity for over six days, 11 of the 69 hospitals on the entire island have only some sort of power, and 56% of the island's population has no safe drinking water.
"As a musician I am looking to use my platform of notoriety to bring awareness as well as contribution to this relief," Destiny says. "In awareness of the catastrophic events that have recently occurred across the world, specifically in the Caribbean and Mexico, I send my deepest and sincerest sympathy to those who have been affected dearly by global devastation. I have chosen to direct my focus and efforts on island of Puerto Rico as to be a better service to the people of my country and ancestors."
100% of funds raised will go to hurricane relief, purchasing bulk clean water, medical supplies, non-perishable food, and trauma counseling. Destiny also plans to organize volunteer charity trips to Puerto Rico over the next year to bring direct support to the island.