brian hill and his noh starrs are reviving nyc's no-wave scene
Meet the blue-haired ringleader of New York's coolest music experiment.
In the late 1970s, New York was a laboratory for musicians, poets, filmmakers, and performance artists. Together, they created communities rooted in bold collaboration and exploration. One of these hives — the no-wave scene — has proven particularly influential in spite of its short lifespan. No-wave brought together a generation of young visual artists, who discovered music to be a more urgent, liberating outlet for ideas.
The scene incubated in then-decrepit downtown, where dirt-cheap rents and a complete lack of surveillance afforded these artists the physical space to experiment, and alleviated the financial pressures that impede many young creative people today. There was real freedom to make all kinds of work, so that's what people did. "You painted, you were in a band, you made films, you wrote songs. It was just all so interconnected. We were all friends and freak-by-nature outsider artists," said no-wave icon Lydia Lunch. In the process, they changed what music can be and do.
Inspired by no-wave's cross-disciplinary ethos, emerging musician Brian Hill sought to form his own band guided by experimentation, community, and freedom. The result: the Noh Starrs, a rotating ensemble of epic players. Cherry Glazerr's Sasami Ashworth, her brother Joo Joo (who fronts Froth), Joo Joo's former Froth bandmate Jeff Fribourg, Feels's Laena Geronimo, and Mr. Elevator's Tomas Dolas have all — at some point — called themselves Noh Starrs. So have model and Film Hooligans co-founder Lida Fox (who currently plays keys), and saxophonist Matt McAuley.
"Every show we play, the songs are different. We never play to any sort of track, we're always experimenting, changing instruments, trying to do different versions of the song," Hill explains over the phone from L.A., where the Noh Starrs have just concluded a month-long residency. Each Monday in August, the band performed at the Bootleg Theater, and programmed its own lineup of supporting acts from across the musical spectrum.
In the studio, the Noh Starrs's approach is similarly fluid. Refreshing pop-rock song structures with elements of glam and minimal drone, the band plays with production techniques, improvisation, and one-take variations. Sonically, things feel akin to spiritual predecessors like Television, T. Rex, and Lou Reed. But the Noh Starrs's unique alchemy results in a sound all its own. Here, Hill explains how it came to be.
What kind of music did you listen to as a kid?
I was into a lot of what my dad was into: The Kinks, Neil Young. My grandma listened to a lot of doo-wop and country stuff; she was kind of a rock 'n' roller in the 50s. She'd always tell me about going to dances, and listening to Little Richard or The Miracles. One day, she whipped out this crazy felt poodle skirt she used to wear; she'd embroidered a poodle with sequins and stuff all over it.
Amazing! You moved to New York when you were 14. Had you developed an interest in the city's 70s underground scene before? Or was it a result of living here?
I had heard stuff like the Velvet Underground, the New York Dolls, Patti Smith, Blondie before I moved to the city. But I got super deep into the no-wave scene of the early 80s while living here, which was really exciting for me. Over the years, I've been able to experience some of those things for myself, too. James Chance, for example, still plays live. I saw Lydia Lunch's RetroVirus tour a few years ago. I ended up meeting her once at The Roxy and hanging out for a while; she's really rad.
The first-ever show that got me super excited about music and really wanting to be in a band was Sonic Youth. I don't remember what year it was, but I know I hadn't moved here yet. It was one of the first times I visited New York before living here. They played at Central Park, at Summerstage. I was so close, and it was so loud, my nose was like vibrating to the bass. I just remember being in complete awe. We're playing there at the end of next month, which is just insane — really cool for me to be playing on that stage after having that experience.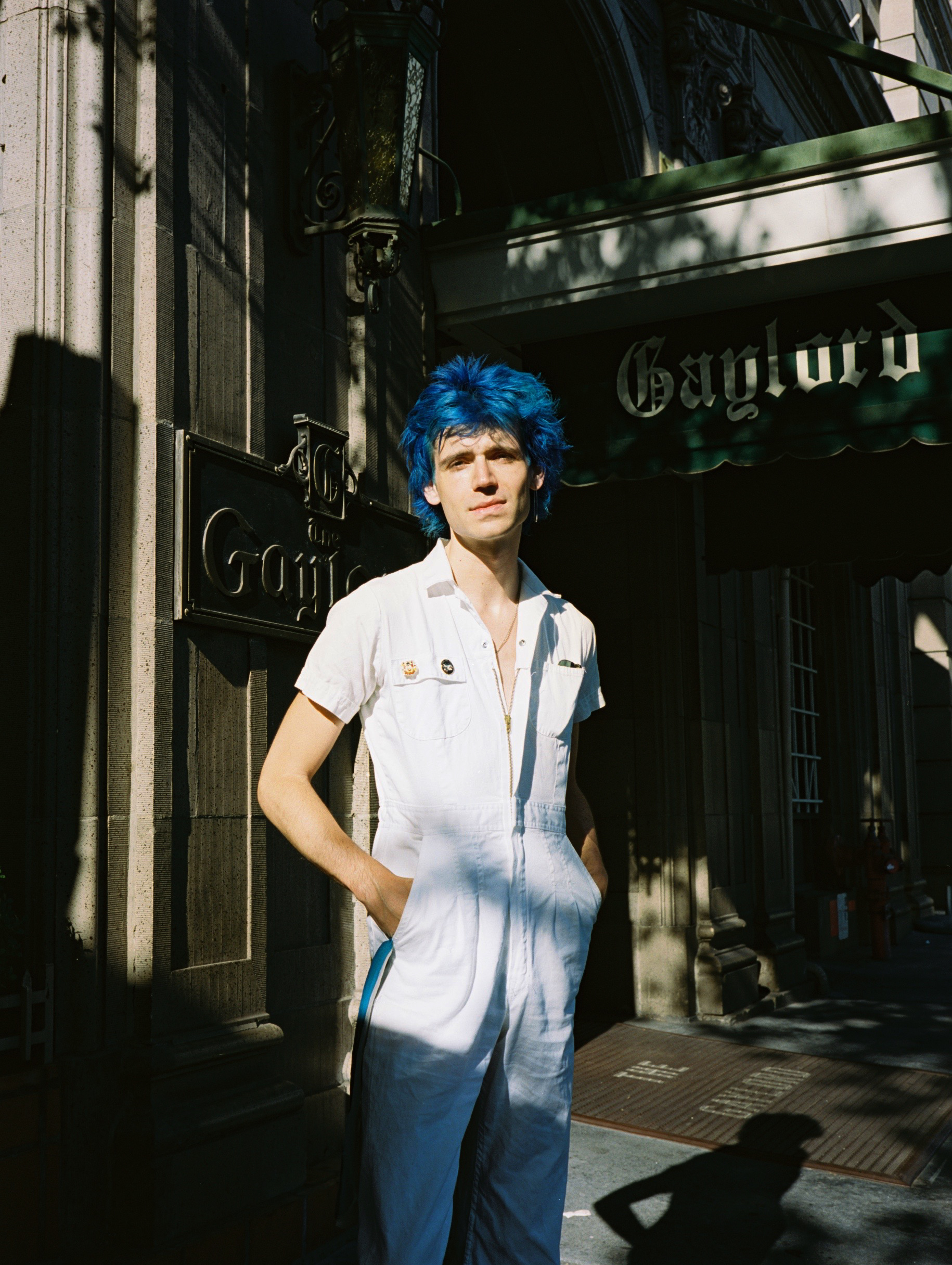 What's so cool about the no-wave scene is the convergence between experimental art, film, and performance.
And that's gone now; it's just not there. Part of what we're doing is trying to focus on that aspect of things, and bring that back to the forefront. That's what excites me about music. It kind of blows my mind that people don't take those risks anymore. Everyone wants to be this streamlined, my-band-sounds-the-best thing. But the whole point of being in a band is experimenting, and making something new together.
Tell me more about that — about collaboration and community.
Anybody who's interested in playing with us is interested in playing with us because they find that aspect of experimentation [compelling]. And we make pop-rock 'n' roll music. So the thing that's kind of special for us is that we're all trying to expand on what we understand about music. But we're also trying to play with each other, be involved with each other, be excited about what everyone's interested in collaboratively.
You've got people who have been in very successful bands.
I'm so fortunate to play with these extremely talented people. We've been doing this residency in L.A., and Laena from Feels is playing with us live. Seriously, she blows me away all the time. Every practice, every show. She's always doing something new and interesting. She's one of the best guitar players I know.
How did you end up with an L.A. residency?
We're putting this record out, and I didn't immediately want to go out and tour really heavy, because we're actually going to London in October to record our next album. So I had a chat with our manager and decided that, as far as the States go, we should do a big residency in New York and a big residency in L.A. I was lucky enough to pick a bunch of bands that I love to play sets with us in both cities.
I noticed Shannon Lay was on the L.A. lineup. Her solo work is so good!
While I was watching her set, the woman sitting next to me was kind of chatting with me like, "Oh, this is so good." About three-quarters of the way through, I looked over and she was bawling her eyes out!
I believe it! How did you approach programming each residency?
The whole point of our band is that we're touching on a lot of different areas. So I'm not interested at all in playing shows where we're on a bill with three other rock 'n' roll bands. I always want to play shows with projects I find interesting no matter where they land on the musical spectrum.
Are you looking forward to getting back to New York?
Whenever I'm gone, I always miss New York. But L.A.'s amazing because there's a total fantasy aspect of it to me. I love the weird, dystopian elements of the city. One of my favorite books of all time is The Wild Boys by William Burroughs. To me, the landscape he describes in that book is like Los Angeles now, in my mind. There's so much here, it seems like it goes forever.
But the biggest aspect I enjoy is the people and the musicians who live here. The band is a bit transitory, there are revolving members, but it is a very tight-knit group. People are coming and going all the time, but we all are on the same page — thinking in the same way. Which is kind of incredible. When I say I'm so fortunate to be playing with so many talented musicians, I don't mean talented as in virtuosity, or in the solely technical sense. I also mean people who are really free-thinking.
What's bringing you out to London?
We did some touring over there recently, and went to this studio which I've always, always wanted to record at. I can't say what it is, but we got this incredible opportunity to record there. To put it lightly, it's an absolute dream of mine.
Okay so Abbey Road, got it.
[Laughs] The Noh Starrs: now recording at Abbey Road! Nah, but [the studio] is almost as legendary.
What's your advice for someone who's young, making music, and is feeling those kinds of pressures to streamline or be a certain way to be successful?
I'm still trying to figure that out! The only thing that keeps coming back to me is that I just want to keep on the path that I've set. Really the only advice I could possibly give anyone: don't get distracted from what you're doing, and what you care about. My entire life at this point is dedicated to working on music, and I don't really care about anything else. [Laughs].
'And The Noh Starrs' is available now via Modern Sky.