Dior Haute Couture asks: What if women rule the world?
Maria Grazia Chiuri collaborated with Judy Chicago to create the set for a Dior Couture show that celebrated the power of femininity.
'What If Women Ruled the World?' That was the question posed by Judy Chicago, the iconic American feminist artist, who collaborated with Dior on the venue for its latest haute couture show. 21 banners asking similar questions — 'Would There Be No Violence?', 'Would Old Women Be Revered?', 'Would The Earth Be Protected?' — lined the show space, which was a giant tent in the shape of a woman's torso, its carpet laden with millefleur florals. The overall atmosphere was that of a temple, a matriarchal holy place so different to the usual minimalist white walls or baroque splendour of couture shows. Judy called the work, which she first had the idea for in the 70s: The Female Divine.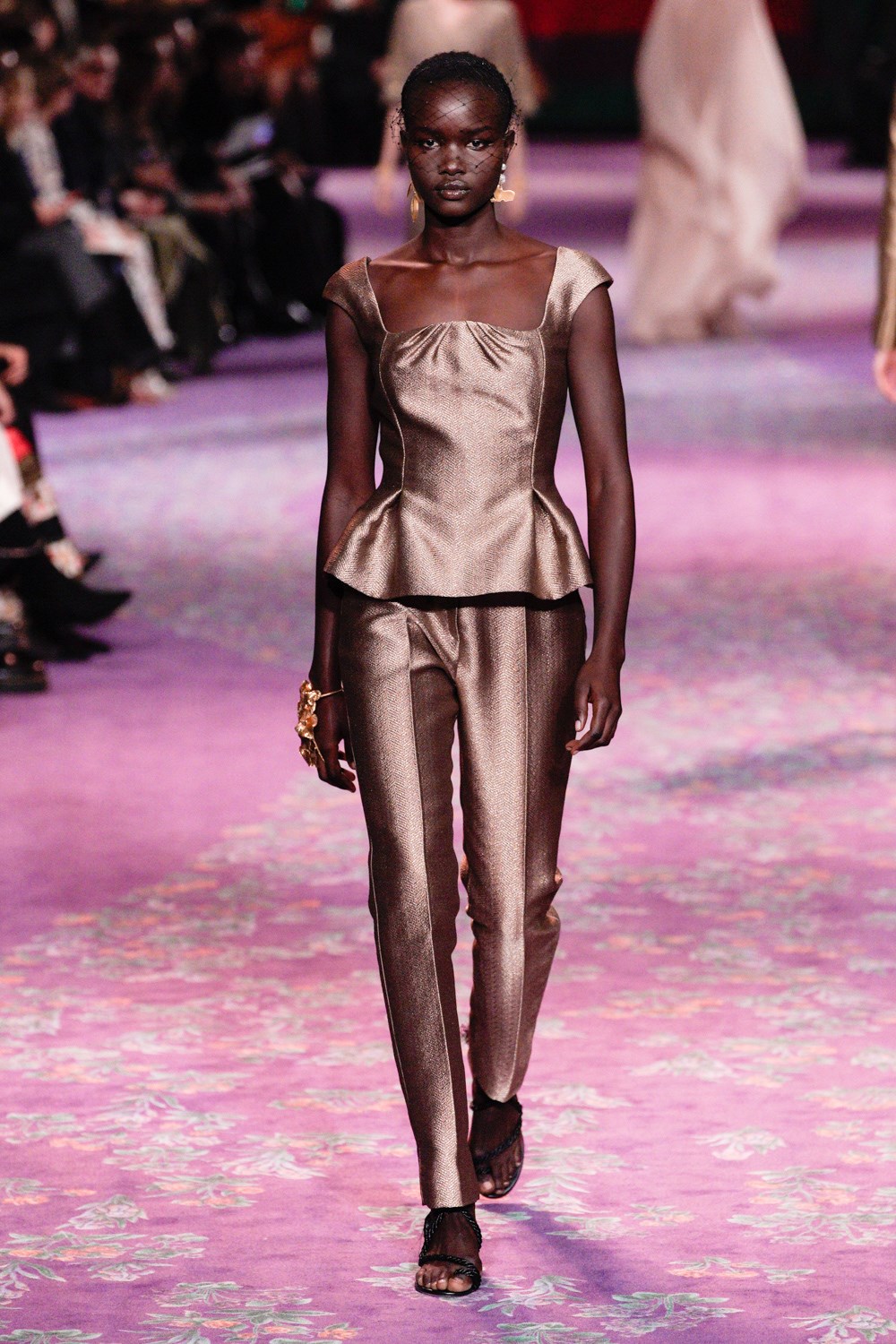 Of course, Maria Grazia Chiuri has made female empowerment and feminist slogans her major contribution to Dior, which she became the first female artist director of in 2016. She sees her shows as "a space in the culture, like a gallery" where she can bring in female artists, writers, choreographers and offer them a platform for their work.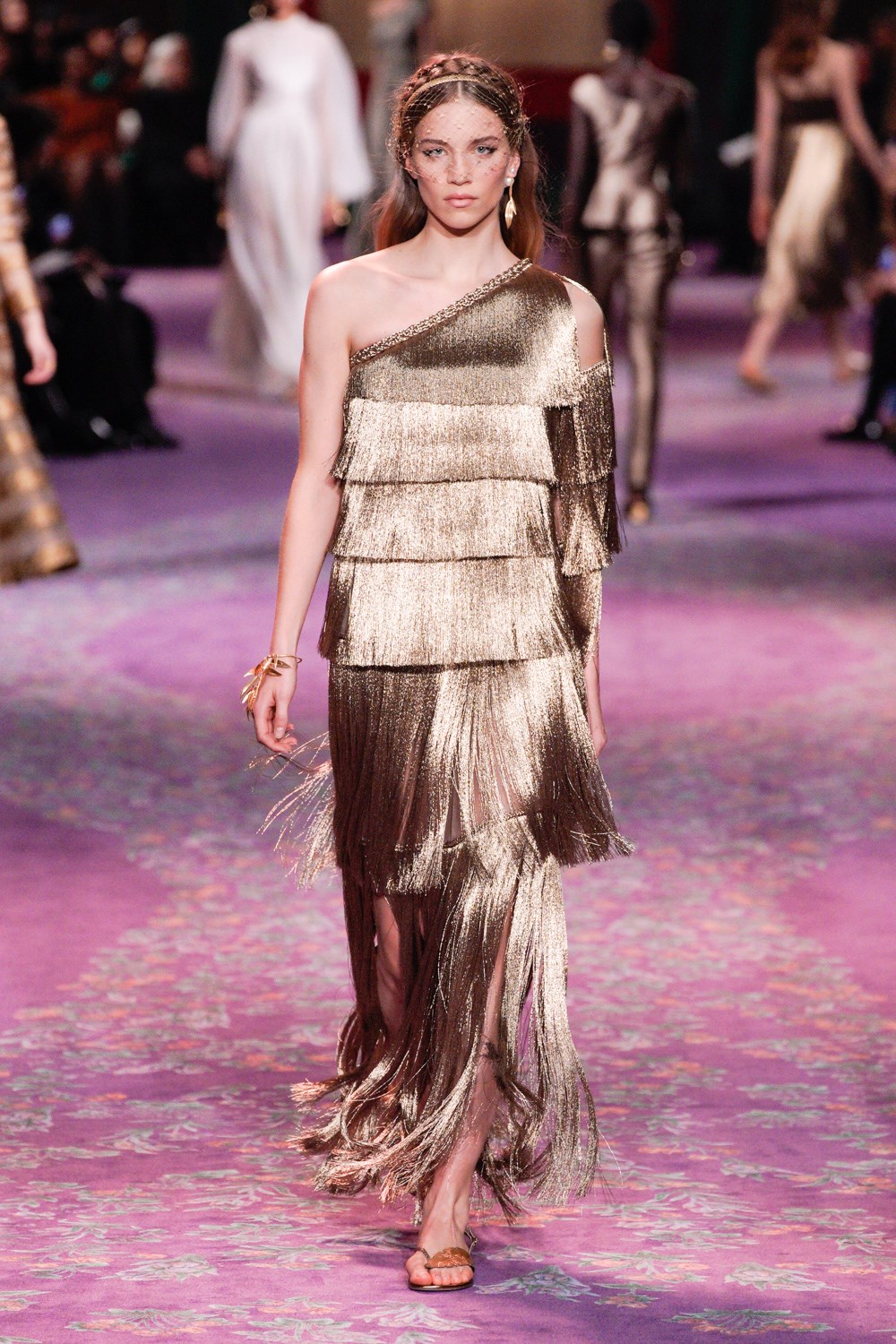 "I think we are living in a time where it is important to contaminate your world and work with other creative people," she said in a preview before the show. "You can just have a conversation. I don't like to reproduce art in product, so I never did it. Each one has to speak their own language… You have to maintain that I am designer and they are a dancer, a writer, an artist."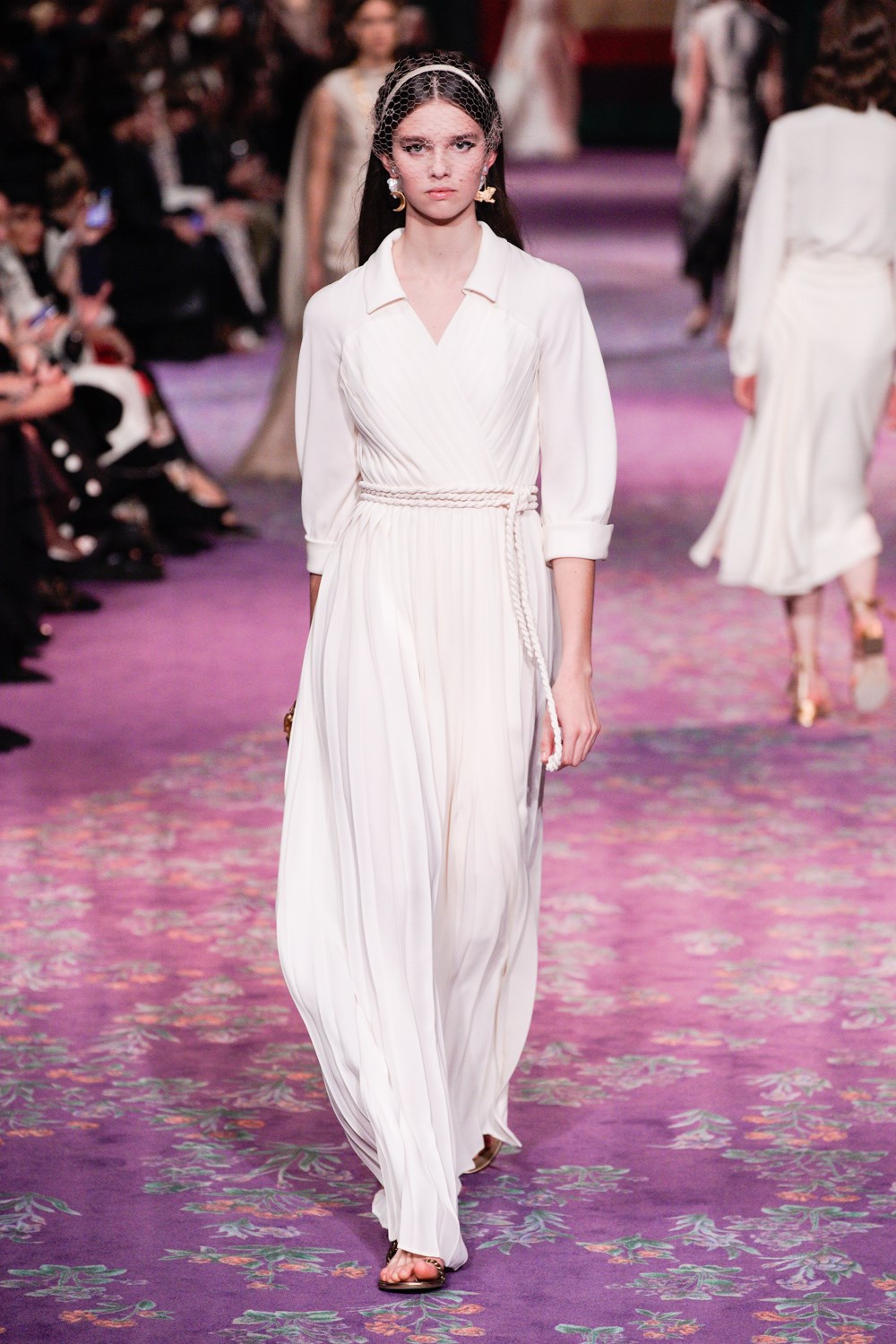 So you can see how Maria Grazia Chiuri was led to the idea of classical goddesses through working with Judy, all draped in pretty wisps of chiffon and wasp-waisted gold suits – totally resembling Botticelli chicks, to quote Cher Horowitz. Her collection riffed on her own ideas of goddesses informed by the statues she grew up in Rome — rather than the artist's, which would probably be more colourful and kitsch.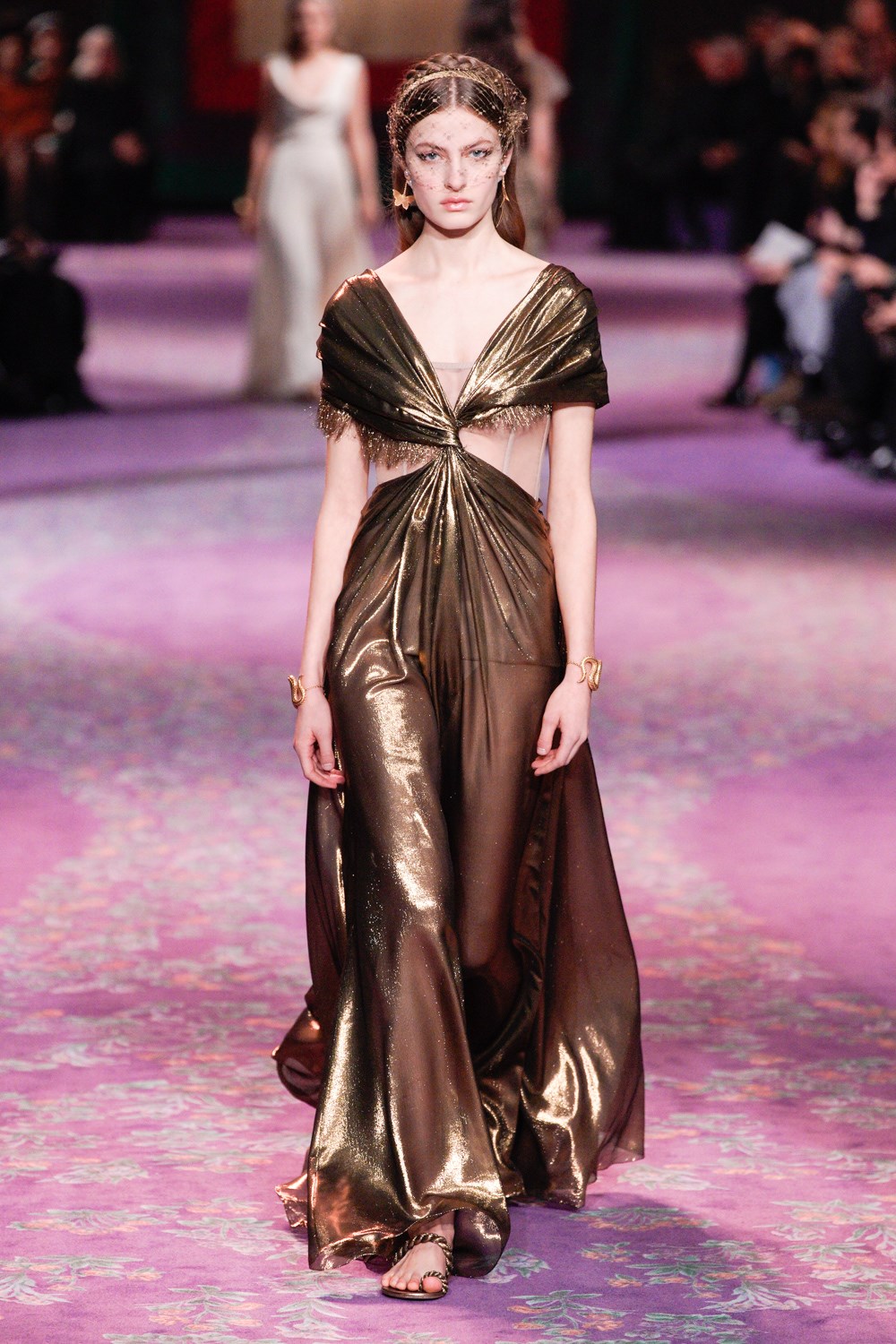 The look was classic antiquity — flowing Delphic pleats and asymmetric gowns that took their cue from simple Grecian tunics, worn with flat sandals and golden headbands. Gold and marble-white were the colours du jour. One got the sense that if Athena, Hera, Aphrodite etc were walking among us today, perhaps these are the clothes they would be wearing.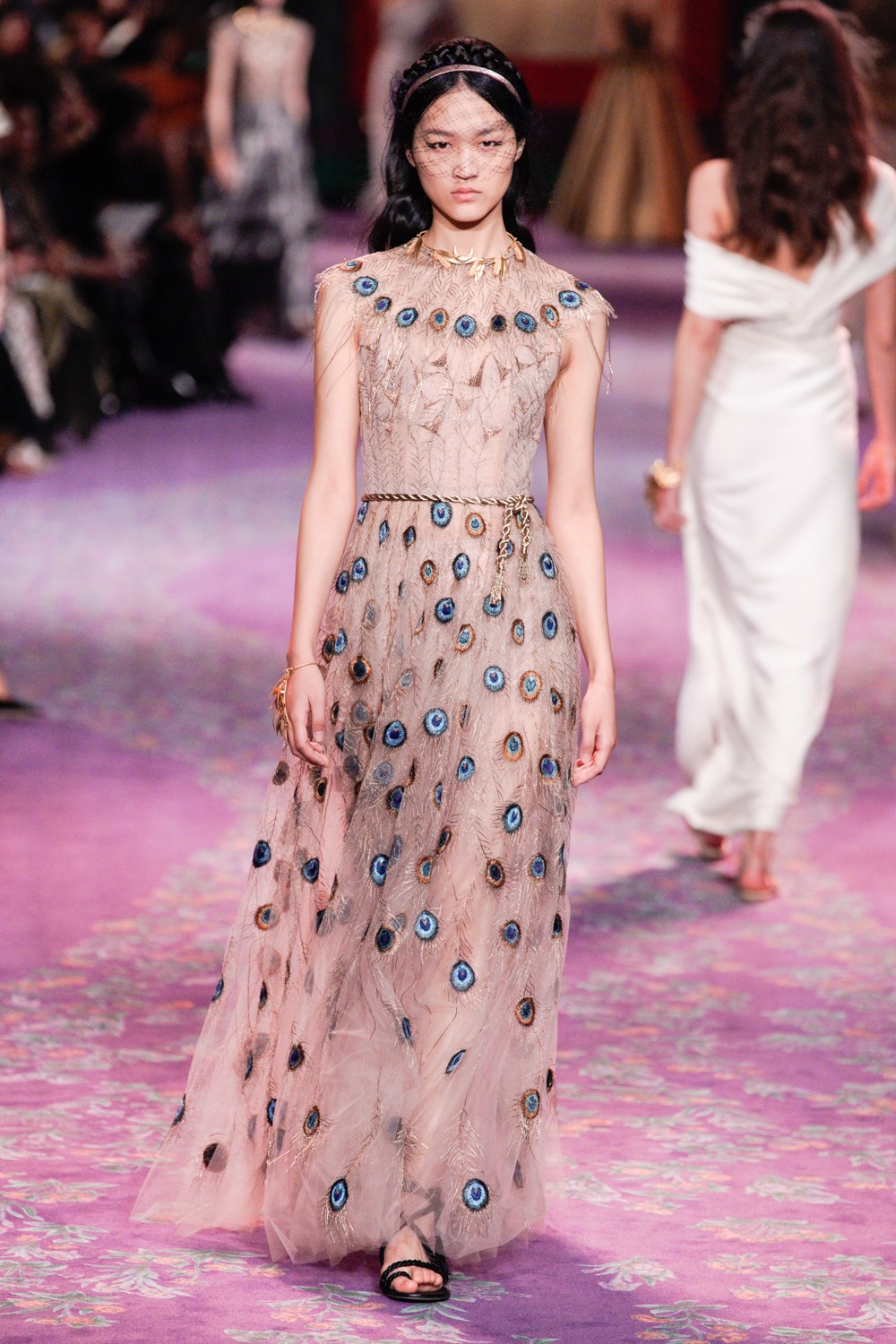 But it was Judy Chicago who was the real star of the show. In some ways, the world has caught up with the 80-year-old artist. At a time when Gwyneth Paltrow is selling that vagina candle, Janelle Monae appeared in Duran Lantink's labia-esque trousers in her Pynk music video, and millions of women protested against Donald Trump in pink "pussy hats" — Chicago is still considered the "godmother of vagina art". Early on, she understood how identity, as well as the anger of women at being excluded, could be impetus for political and structural change. You could say she anticipated the questions at the core of the #MeToo movement, or the conversation around gender-equality at awards ceremonies and salary tribunals."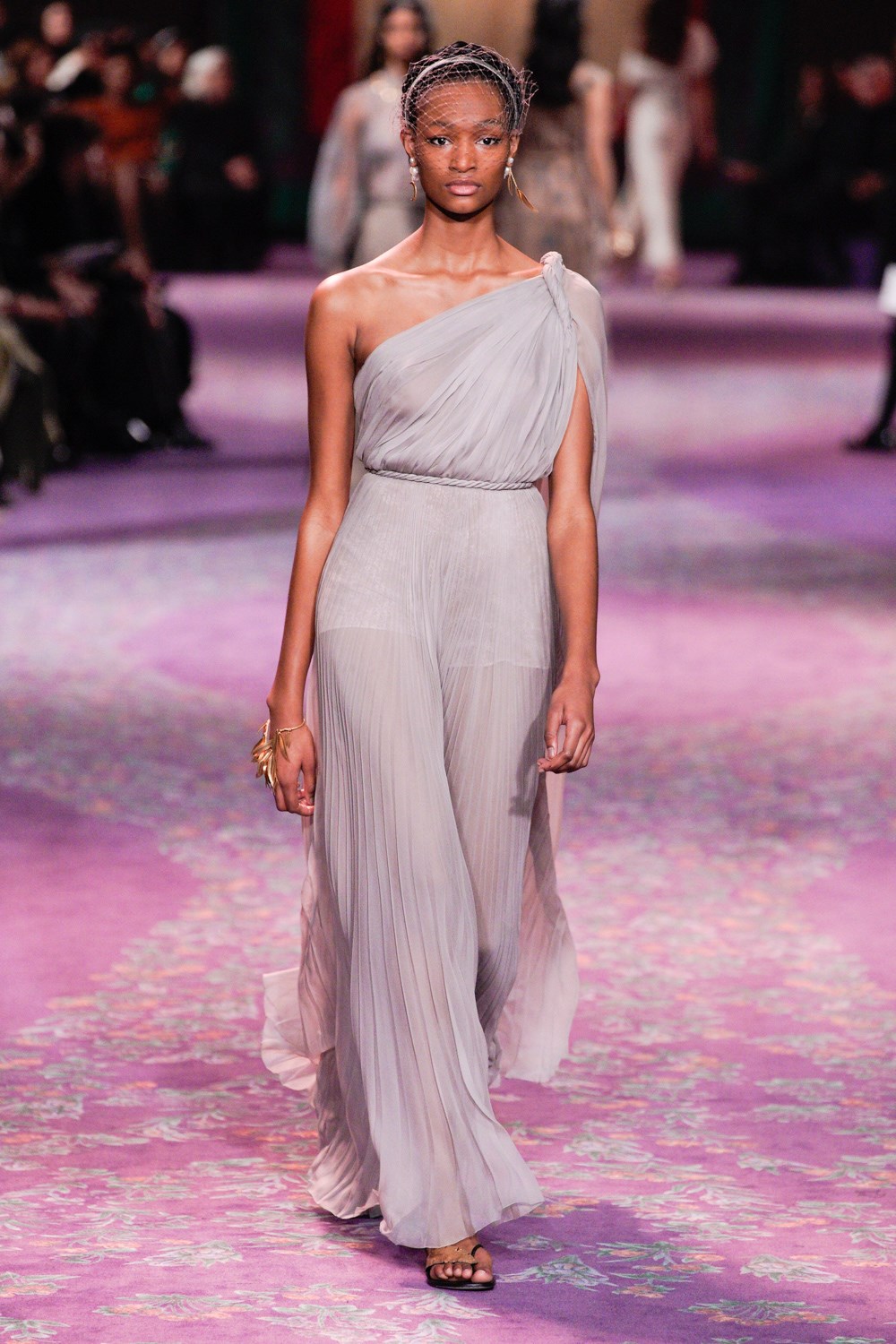 Judy's most famous artwork, The Dinner Party is a triangular table with 39 place settings, each one featuring an ornate hand-painted, hand–sculpted plate with variations on yonic motifs. The place settings are embroidered tablecloths, each one unique, with the names of women forgotten or erased by history — as well as 999 other names accomplished women from centuries past who are rarely spoken of. The work is now permanently housed at the Brooklyn Museum, which is where Maria Grazia Chiuri first discovered it.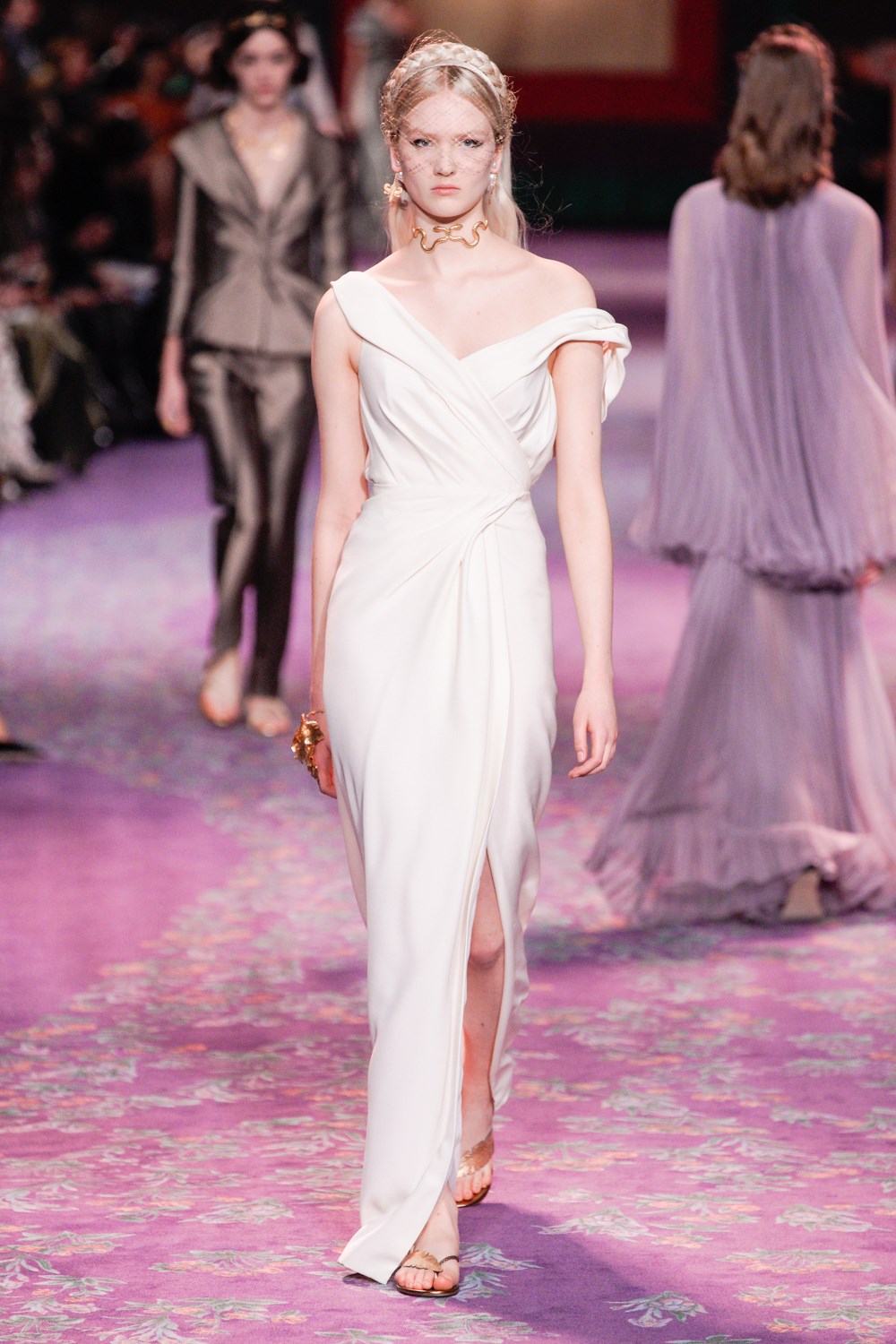 The Dinner Party was Judy's way of making sure that women are not left out of the history of Western civilisation. Although Maria Grazia Chiuri's work is not for everyone — and indeed it should be noted that some of her biggest critics are men — one cannot accuse the designer of being half-hearted when it comes to spotlighting her sisters in the arts. She is making sure that women are at the centre of Dior's story, both on the catwalk and behind-the-scenes. Beyond the clothes, that will be her lasting legacy.