watch wes anderson's 'the life aquatic' as an 80s video game
Complete with a synth-heavy soundtrack.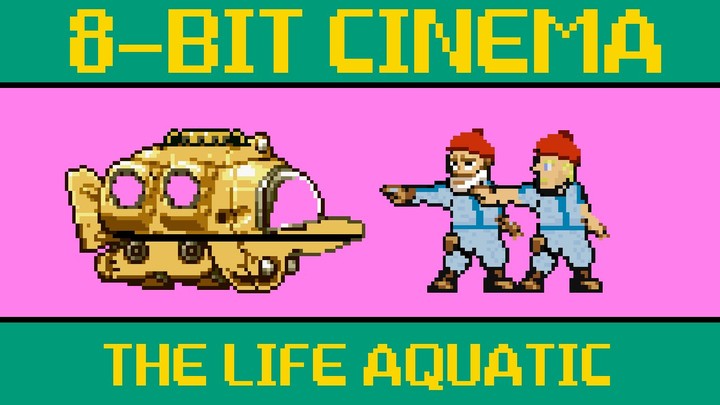 Screenshot via YouTube
Turns out you don't need a 1080p HD television to enjoy Wes Anderson's magical color schemes. They look just as stellar in the nostalgia-inducing 8-bit format too. Cinefix, a dedicated YouTube channel for film buffs, has transformed The Life Aquatic into an old-school video game, scored with Sonic the Hedgehog-esque theme music. The three-minute clip is a charming reimagining of the iconic film, with popup dialogue boxes, flashing animations, and multiple levels (including a submarine adventure).
Cinefix has been converting a library of cult, visually distinct films into 8-bit. There's a Kill Bill clip that feels like Quentin Tarantino meets Street Fighter. And, much like The Sims, the aimless brooding of Donnie Darko is captured by having the pixelated characters wander around different 8-bit rooms. And our personal favorites are the super cute recreations of Studio Ghibli films Spirited Away and Princess Mononoke.
These videos are fun and novel, but also extremely familiar. Partly because, not too long ago, practically every TV show and film really did get turned into a playable 8-bit game. Who can forget classics like Lizzie McGuire: On the Go! or Mary-Kate and Ashley: Get A Clue? And raise your hand if you spent way too many hours playing Cory's Money Maze in your "computer room."