Photography Kara Kochalko Daprile
giu giu's gender-neutral knits are beloved by grandmas and kanye west
We chat to Giuliana Leila Raggiani about her timeless turtlenecks, and reveal an exclusive photo series starring hip-hop vocalist Topaz Jones.
Photography Kara Kochalko Daprile
Giuliana Leila Raggiani only started designing her label Giu Giu in 2012, but her signature piece was created back in 1967. Giuliana's effortless rib-knit "Nonna Turtleneck" is a homage to a coveted design originally masterminded by her Sicilian grandmother, Palmira Giglia, the owner of Settebello boutique in Boston. Giuliana wasn't always a willing spokesperson for her nonna's knits. Last year she wrote an essay — published in the inaugural volume of the Giu Giu brand zine — about being forced into them by her first-generation Italian family when she was growing up in New England. A couple of decades later, Giuliana realized Nonna knew best. She moved to New York to study at Parsons before heading to London to complete the knitwear program at Central Saint Martins. She has also lent her talents to Calvin Klein and Alexander Wang.
Giu Giu, while nostalgic, is hardly stuck in the past. Giuliana's line — which also comprises leather-trimmed grandpa cardigans, mohair kimonos, tube skirts, and slouchy leisure pants — is suited to the streets of Bushwick as much as the suburbs of New England. Nor does it conform to a specific gender. Last spring, the Giuliana's entire backstock was snapped up by none other than Kanye West. Her new campaign stars Topaz Jones, New York's own prince of funk, and Giuliana's IRL friend. As i-D exclusively reveals the new images, we speak to Giuliana about what else inspires her designs.
How did you meet Topaz? How does he embody Giu Giu?
My brother first introduced me to his music, then he came to one of my presentations during New York Fashion Week. We talked about our love of turtlenecks and it felt like our universes just meshed well together. There's something humble and human about his energy that inspired me. So, one sunny day Topaz and I met up on Venice Beach, and voilà.
What is your earliest memory of knitwear?
Being forced to wear my grandmother's original turtlenecks at the age of three. I actually wrote a little memoir on how I hated them at the beginning of the NONNA book (vol. 1) I launched this year in Paris. Life can be funny in the way things resurface. Something I considered the worst, circled back and became my life.
Why is knitwear so special and timeless?
I've grown to have a huge appreciation for knitwear. It started from my background as a dancer, bonding with a flexible fabric that follows to the form and movement of your body. Then eventually studying knitwear, I learned how forgiving the technique can be, and the endless possibilities available between stitch, fiber, gauge... It's an ancient craft. Sweaters hold so many memories, and can last lifetimes.
Your Nonna sounds like one awesome lady. What is the most important lesson you learned from her?
Only reveal the depths of your sensitivity to people who deserve it.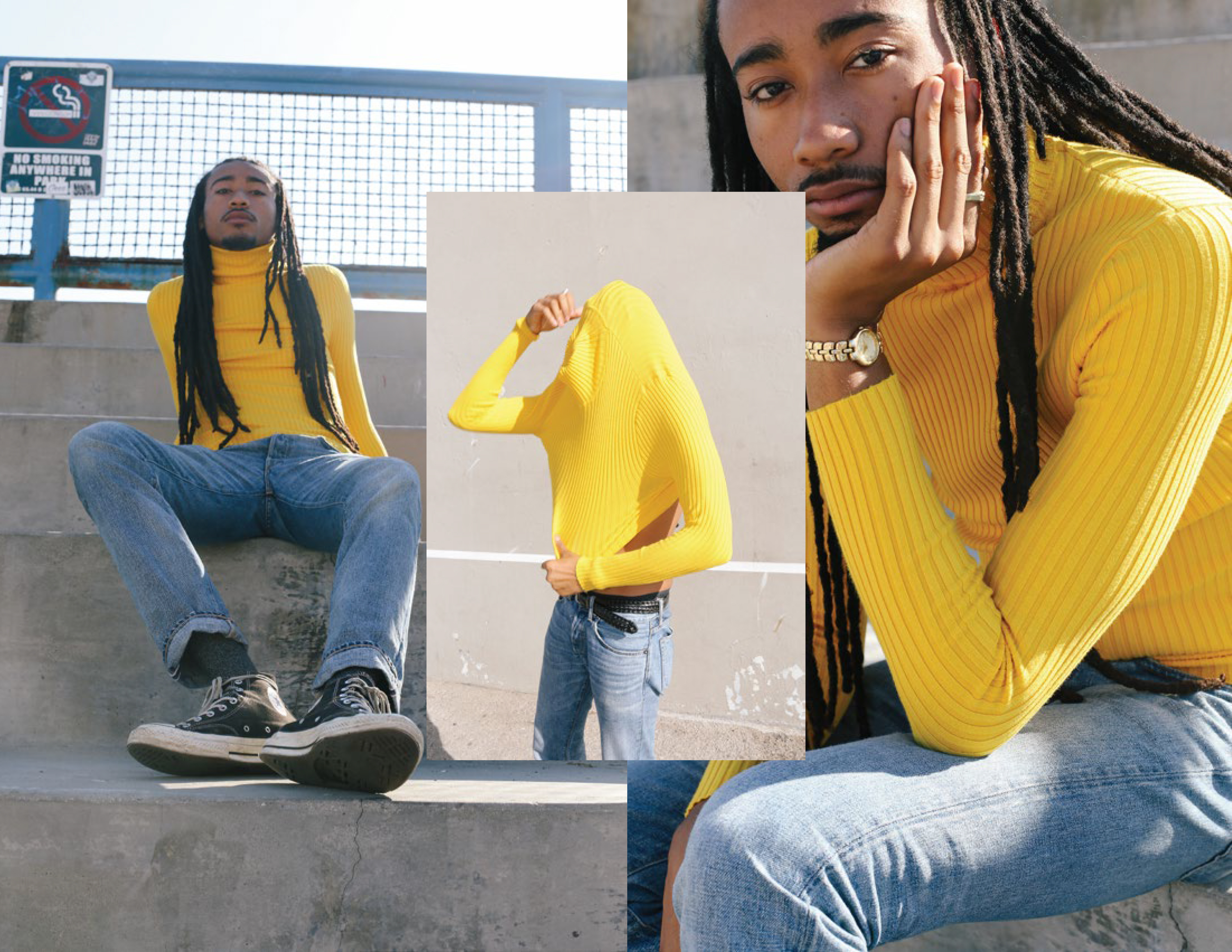 What else inspires your designs?
Traveling. Expanding my environment when designing a collection, gives me a fresh perspective. Spending time floating around in Mallorca last spring, or the winter months in Paris, wearing never-ending layers inspired fall/winter 18 ...The colors and energy of that city gets infused in my collection somehow, in a really effortless way.
Why does Giu Giu not believe in gender?
Because I want it to serve as a blank canvas for people. Something that's not pre-labeled for a certain type of person. So whoever you are, or however you want to label yourself, you can still wear Giu Giu and feel unbound. It's less about how you look and more about feeling good in your own skin.
I read that Kanye West purchased a whole bunch of Giu Giu pieces. Who else would you love to see wearing your label?
Onto the next sensitive rapper: Drake. Or Oprah.