we talk sneaker collabs in a rare chat with skepta
"Ohhh, god. I've got so many trainers. So many trainers. You just said the word, and I just pictured all my trainers in my bedroom and they're just – they're everywhere."
This article was originally published by i-D UK.
Let's talk trainers. Let's talk streetwear, doppelgangers, and the Boy Better Know festival Skepta's putting on on Sunday at London's O2 arena. Let's talk about the pressures of social media, Skep's hidden rollerskating talents, and the exorbitant number of sneakers he has. "Ohhh, god. I've got so many sneakers. So many sneakers," Skepta begins. "You just said the word and I just pictured all my trainers in my bedroom and they're just — they're everywhere. I need to move and have a Nike room. A museum."

He's going to have to pop down to the museum letting agents pretty soon, because there'll be a few more sneakers taking up precious floordrobe space after his latest collaboration with Nike. The pair have just produced a brand new Air Max 97 Sk, dropping September 2, with a campaign shot by longtime Skepta collaborator Dexter Navy. They're major. They're iridescent red and green, they're embroidered, and they're at the very top of our shoe wishlist.
Chatting to Skepta about the collaboration is like watching a kid in a candy shop, if the kid was a genre defining, Mercury Prize winning, grime pioneer, and the candy shop was one of the most legendary brands in the world. "It's one of the biggest moments in any kind of designing I'll ever do." Skepta's gone from saving up for his first pair, at seven-years-old, and drifting off with them on his bedside table, to designing his very own pair with his very own logo, to dishing them out on his home turf to the kids with a bottle of champagne under his arm. "We were just giving out shoes, spraying champagne. It was a dream. It felt really good to go back to Meridian Walk where I grew up, and give them to my brothers and sisters and aunties on the estate. All the moms came out. They're proud of Junior."
Rightly so. We chatted to him about what this collaboration means to him, what exactly happens when you sit down in the studio with Mick Jagger, and his signature roller skating tricks.
What do you think of the whole streetwear movement?
It's got more of a name now, but I did this when I was young. We were doing it to look good at the party, rather than to post online to people that we don't know.

Do you find that hard? Having to keep up appearances on social media that might not necessarily reflect how you're feeling in real life?
I don't really care about that kind of stuff, because I've lived a time before it was important. But I can imagine the pressures of a young person in an estate today, who's like 15 -- the pressures of his Instagram looking so hype. Like, fuck, he's got his moped, his tracksuit, his phone, his car. But the ones who can see past it — at any age — those are the ones that are really happy and successful, and they end up standing out. We all end up liking them, because they don't care.
Any advice for people trying to deal with these pressures?
Life's a journey, so I don't jump into people's lives and tell them what to do. But I think one by one, stage by stage, anybody who is online for totally materialistic reasons — something will happen in their life where they'll learn. They'll realize it's not the most important thing.
Streetwear is all about comfort — including pieces like tracksuits and sneakers — not super dressy, impractical clothing. Why aren't we all wearing tuxedos?
Your intelligence isn't what clothes you're wearing. You don't have to put on a suit to have a big meaning. People are choosing comfort and practicality over bullshit. Back in the day, people were wearing shit to look like they do shit — now we don't have to look like we do shit, we can just do shit, and wear whatever we want, and be as comfortable as we want. And sneakers are very, very comfortable.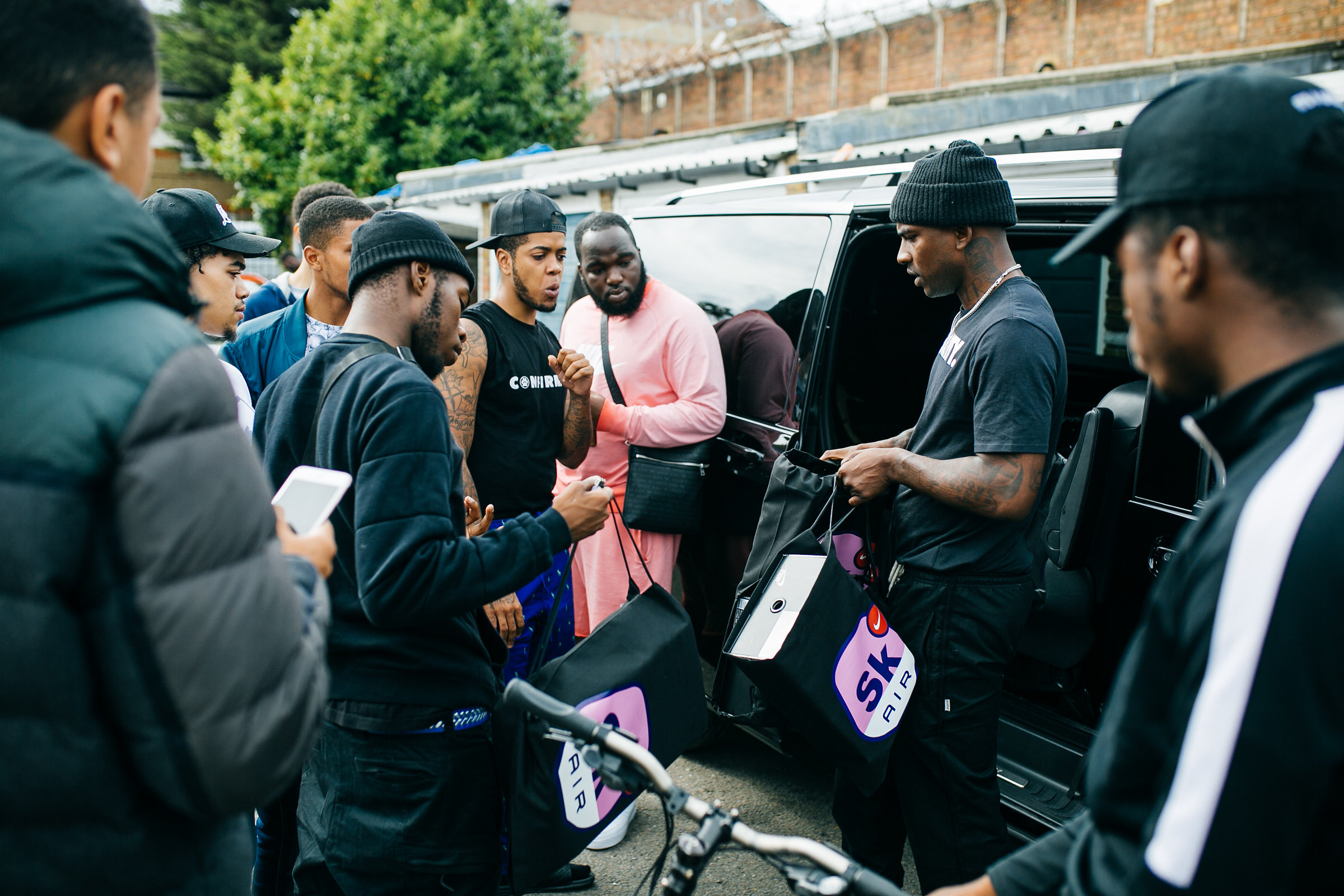 You also talk about using the embroidery and colors of Morocco in the shoe, to elevate them and bring royalty to the streets. Why was that important to you?
I've felt how insignificant you can feel out here on the street. You can shout as loud as you want, scream on the mic, and feel like no one can hear you. But I also felt how royal everybody looked in Morocco. I felt amazing just by the embroidery. It made me flashback to Nigeria and how that embroidery was always in family. It didn't matter what the family's going through, the fact that we've all got this African attire with the embroidery on our necks means we look good at the party that day. So I'm thinking — shit. I'm gonna put this in the hood, I'm gonna put this in the streets, I'm gonna put this on tracksuits and Air Max's and make everyone feel royal. Have you seen the sneaker?

Not in the flesh unfortunately. You're not wearing them?
Nah... I've got a pair, but I'm just like, everyone I delivered them to yesterday was like, [whispers] "I can't wear these man. Because if I wear them and get one scratch on them…" They were talking about them like they're a car or something. A museum piece.

But that's the thing with a lot of streetwear. People might have it but then they'll feel really nervous about wearing it, because they don't want to ruin it...
Yeah, but a lot of time with streetwear, it's who wore it, then it becomes some crazy grail piece. But in this instance, it was when everyone saw the actual shoe — they were like OK, I'm not wearing this.

Do you want them to wear it?
I do want them to wear it, but I mainly want them to treat it like they feel it should be treated. If they want to wear it once and then put it in a glass cabinet, that's up to them. That's probably what I'm going to do with mine. Well, I need a couple of pairs, 'cause I need to do a couple of things.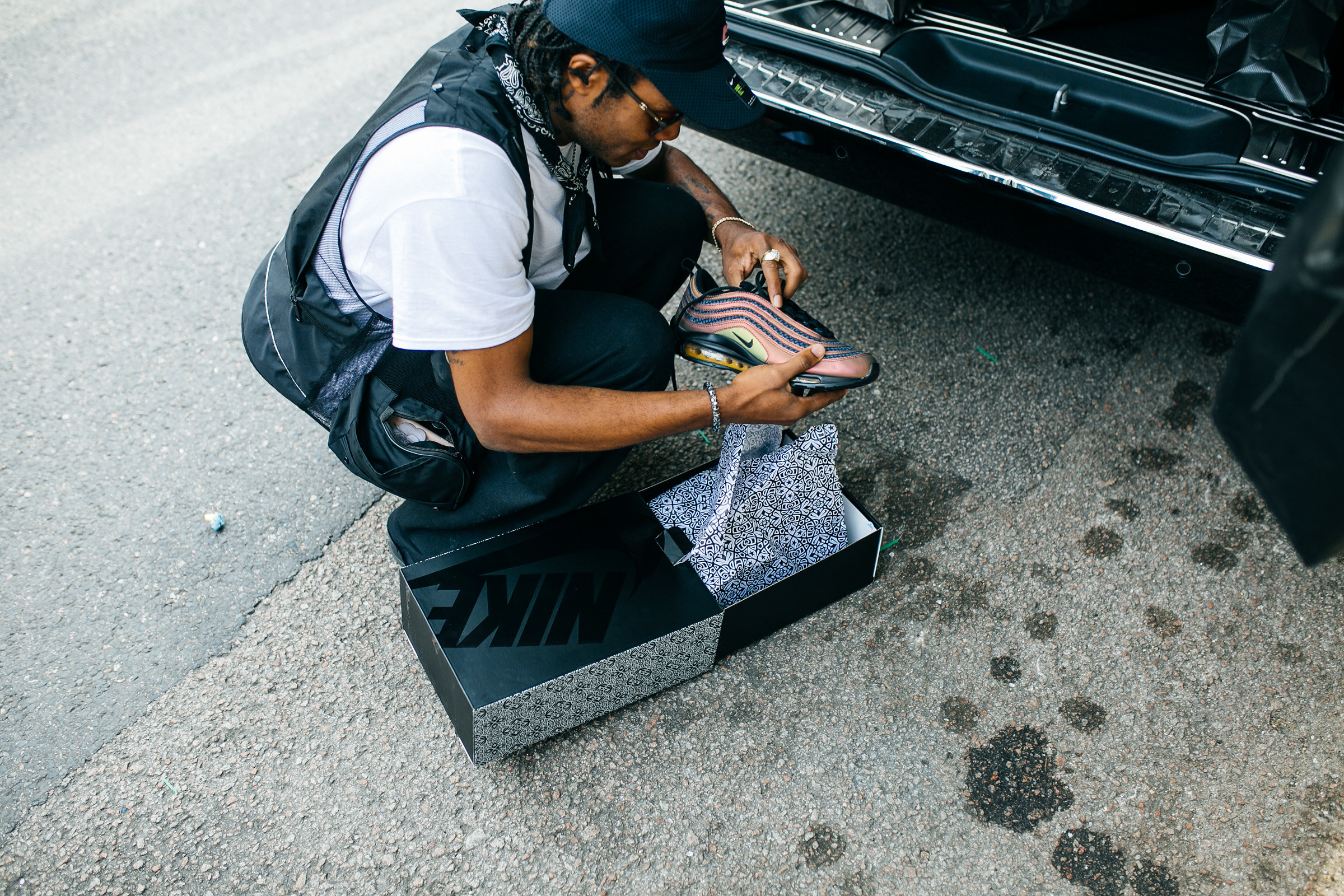 Yeah, you've got one that you wear...
One for the cabinet...

One to stick on the front of the car.
Then one hidden away, that I'll give my kids one day.

You're planning ahead.
Yep.

I'm sure you'd be able get like, 50 pairs?
Ha! Did you hear that, Nike? Nah, I can get pairs, I can get pairs. But they're not at my disposal. Mainly I'm just happy people are gassed, and get that same magic that I got with my Air Max's when I was younger. Giving the box to people yesterday... everybody would open it, then close it straight away, then look at me. Then they open it, close it, and just look it me again. Like I've just solved the fucking maddest quiz in the world.
You've cracked it.
I'm just happy people weren't just like "Oh is it yeah, oh these your new tings yeah, aw thanks man, yeah I might just rock these now," and put them on and never wear them again. Because I've definitely got that reaction from my friends before.
Really?
Yeah, where I realize I'm not an out and out genius. Or that sometimes things are a bit in my head… But this was the best start that I could ever imagine. I couldn't imagine a better start to my shoe making career.

So it's going to be a career then?
Well I look like Michael Jordan a little bit, don't I? I think it's the ears. Nah, I don't know what it is, but before this time everyone used to tell me that I look like him. So I'd be a fool to not follow in such a great person's footsteps. I'm definitely trying to build up my SKAir collection.


Will you keep doing Air Max's or will you try say, a running shoe? A dancing shoe?
Apart from the SKAirs that are out right now, I'm not going to put anything into a box.

Why's that important?
Because I'm very fluid — I'm like water, times change, I adapt, and stay the same.
Speaking of not putting things in a box — you've got the Boy Better Know festival this weekend, where you're taking over the O2 with a ton of different things, not just music.
We've got gaming, football, skating, roller skating... And then we'll end the night with some good music. Just loads of different shit for people who listen to us who like to do activities. Within Boy Better Know, we all do so much different shit. We do stuff together, stuff individually, and we all have these different pockets that we're in. So it'll be good for everyone to see what we're like — not just on stage. Have time to be with the fans, and the supporters, and the people. Just have a good day of activities. I love that word — Activities. Activities.
So what activity are you specializing in?
I'm good at roller skating, and I consider myself a bit of a good midfielder at soccer. And I think I'm alright on the stage as well...
You're good at rollerskating?
Yeah, I'm really good at roller skating.
The blades?
Na, the quads.
Do you play...
Hockey?
Oh, you play hockey?
Nah, we don't play hockey, I was just trying to help you.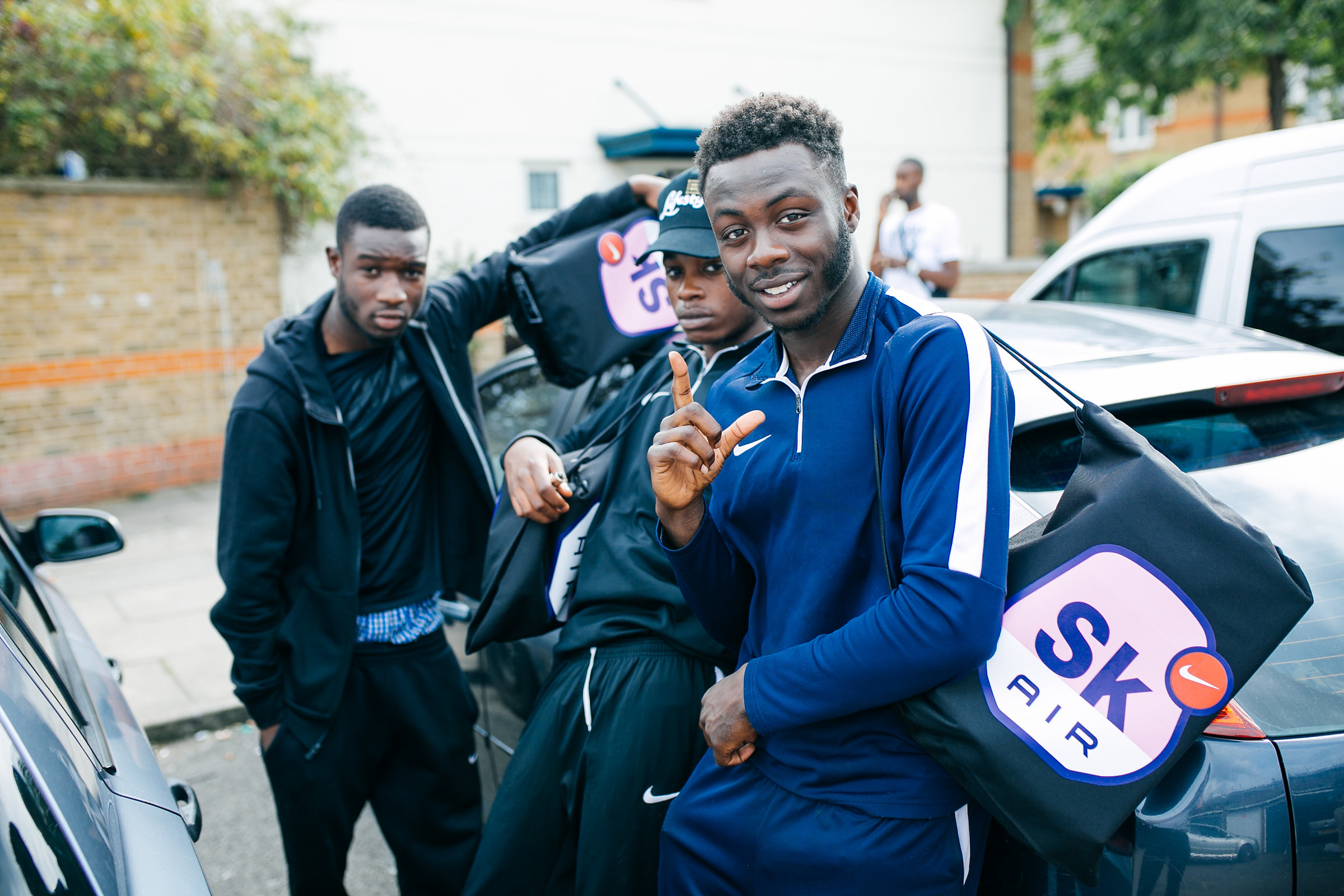 I need the help. Do you do tricks? Spins?
I can jump things, spins, skate backwards, side surf.
What's side surfing?
When you skate to the side, with your feet the side.
As well as your BBK Takeover and your Nike shoe, you've also had another pretty massive collaboration — your track with Mick Jagger. What actually happens when you're in the studio with Mick?
He said that he needed a rapper on one of his songs and that he wanted me on it. So he showed me the song that he wanted me to be on. And I just kept saying loads of ideas to him, and he was just sitting there, like a scientist. Very chilled, but very assertive. Very on point. Like a detective — just waiting for you to say the right thing. So I was throwing all these ideas out, and he just guided me along the way. It was a good session.
And how does the creative process differ, when you're designing a shoe with an icon versus making a song with one?
I'm glad you made that comparison, because I was saying the other day the way that somebody is with one thing is the way they are with everything. The way that somebody rolls... A roll up, say — it's the same patience, the same attention to detail, the same ability to ask people for help — that's how they do everything. So making the shoe was just like the Mick Jagger collaboration. These people at Nike have made so many shoes, so I'm throwing ideas out waiting for them to say yeah that will work, that won't, this will. I did have a kind of clear picture of how I wanted the shoe to look like in the beginning. And how I wanted to feel like like I felt when I was younger, when I saw Air Max's...
What was that feeling?
You can't even explain it. To anyone. That feeling that you get is very personal. I went into Nike not knowing the ins and outs of making a shoe, but just knowing the magic. I said, this is all I've got guys, I've got this box of magic. Tell me when it's right. And I'm hoping that at the end, that it looks like what I saw in my head. And when I saw it — when I saw it…
Fuck.
The Nike Sportswear Air Max 97 Sk launches on September 2nd, find out more by downloading the Nike Sneakrs App or visiting Nike.com/Skepta.