ubu: the young arts collective celebrating all things monstrous and beautiful
A collective of young actors and artists are putting on an electronic opera at the V&A. You'd be mad to miss it.
New play UBU, directed by Chloée Maugile, Peter Price and Kalvin Rimpler Dinh, is, on paper at least, a reinterpretation of Alfred Jarry's Ubu Roi. A piece of French absurdist theatre that resulted in a riot when first performed in 1896, it's been tasked with filling the V&A's hitherto empty tunnel entrance for the next week and, while the eight or so others who joined me for this evening's dress rehearsal seem fairly game, it's only as I'm being led through the belly of the V&A that I begin to wonder whether I'm really in the mood for a night of "immersive electronic opera". "Performances will contain nudity, flashing lights, loud music and haze/smoke," reads a disclaimer on the website. "Please note there will be no cloakroom or toilet facilities at this event." Mamma Mia this is not.

As we enter we're handed a waterproof poncho (the reason why never quite becomes clear) and led into a short, tiled chamber in which we're advised to stand up against the wall. On the floor are a number of bodies, dressed in what looks like head-to-toe tights, and a figure in a mask not dissimilar to the "creepy king" character of 00s Burger King commercials. Over the microphone, a man shouts "cunt" at increasingly rapid intervals.
UBU, the art collective of the same name that's putting on the play, formed when Peter, Kalvin and Joscelin Dent-Pooley, who handles the production's soundtrack, were students at Cambridge University. "There was a lot of theatre going on but it's incredibly conservative, not much excitement to it," 21-year-old Peter says. "We kind of wanted to push it a bit further."
The trio made a name for themselves at university, performing a version of Samuel Beckett's Krapp's Last Tape, followed by a kind of "weird comedy show", in which Peter played a character, Pablo Price, that he describes as being like "the Kanye West of directing". "Jocelyn was involved, being pulled out on a leash butt-naked, vomiting milk and throwing gammon," Peter describes. "And I pretended to be drunk, heckling the play and making it fall apart." The pair were quickly banned from the university's main theatre.
"I dropped out of Cambridge after that because it became something I continually struggled with," Peter says. "Jocelyn started playing as [experimental south London songwriter] Jerskin Fendrix and from there we assumed we'd give up. There was this assumption that it was a nice period of life, but that we were done with performance in that sort of way."
UBU the play, then, came about following a chance meeting with Geoffrey Marsh, who runs the Theatre and Performing Arts department at the V&A. "He said he wanted somebody to take over the space because they hadn't done something in it for years," Peter says. "And we thought it would be really fantastic to do. Even if it wouldn't be as wild, we'd have some of that bizarre narrative and energy and seriousness, and bring in the kind of ritualism and intensity of Jocelyn's music."
The music here is a mix of live singers, vocal samples, synthesized instruments and warped field recordings. It reaches an ear-shattering peak when the bodies burst to life, dragging audience members to the floor, bumping and grinding with them like at some sort of wild and debauched night club (with the added awkwardness of the lights having just come on). "I think there's something really interesting about working as a cast in an age in which notions of privacy and space and sexuality have become such an interesting debate," Peter says. "To actually try and create this bizarre space of openness and trust among the bodies is really interesting in that effect."
Interesting, yes, but very beautiful too. While there's definite awkwardness in the second act (I even tried sitting the dance out, only to have one of the cast come and put their arms around me), it makes for an infinitely more emotional third. A kind of intimacy formed through vulnerability. Turns out I was in the mood for an immersive electronic opera.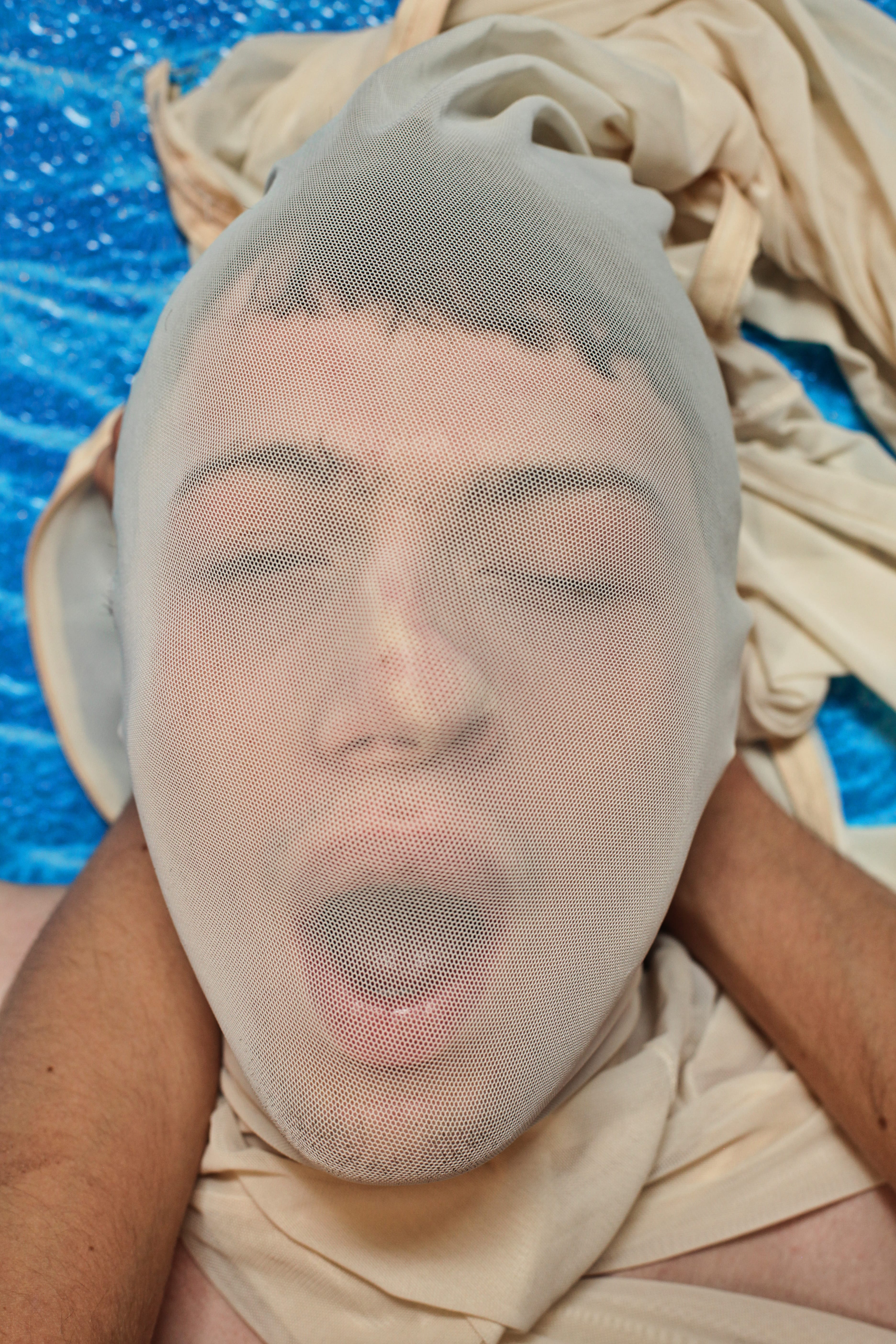 "To be honest I'm just excited for the next one, to keep moving with it," Peter says of the group's expectations. "It's kind of unbelievable that we've got this collaboration started up. We're lucky and I hope we can expand from it and use it as a platform for all this kind of collective work. To make increasingly weird and intense performance pieces and try to put on gigs or happenings all under that 'UBU art collective' banner.
"We've been collaborating for years, doing pop up shows in London, weird art nights," he continues. "But this is our debut really. It can't be a one-off. It has to be the beginning of something."
UBU is at London's Victoria and Albert Museum until 8 September.
This article originally appeared on i-D UK.