rotten tomatoes is not here for alt-right sabotage of 'black panther'
They also took issue with 'The Last Jedi' for including "too many women" and "turning" Poe gay.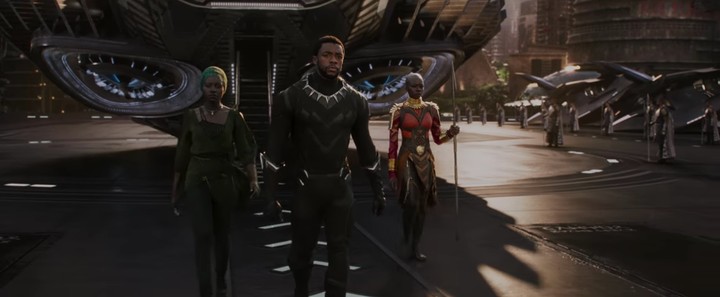 Screenshot via YouTube
Black Panther has not even come out yet and it's already broken records. The black blockbuster's pre-sale tickets are officially the highest ever for a solo superhero Marvel film. This is a major win, considering Black Panther is the first ever Marvel flick to focus on a black superhero. It diminishes the outdated notion that "black movies" don't sell. However, a notoriously bigoted group is attempting to bring down Black Panther's score on Rotten Tomatoes. The alt-right group calls itself "Down With Disney's Treatment of Franchises and its Fanboys". The group has also targeted Disney franchise films like Star Wars: The Last Jedi in the past. Members took issue with The Last Jedi because the film had introduced more female characters into the Star Wars world and they believed Oscar Isaac's character, Poe, was at risk of being "turn[ed] gay".
The Wrap reported the group had created a since-deleted, Facebook event titled "Give Black Panther a Rotten Audience Score on Rotten Tomatoes". The viritol-filled effort was set to begin on February 16, Black Panther's release date. When The Wrap reported the story, around 3,700 people had said they were "going" to the event and 1,700 said they were interested.
The move comes at time when inclusive, diverse films have been i amassing perfect scores on Rotten Tomatoes with increasing frequency. Lady Bird and Get Out both earned 100% scores last year, illustrating that audiences are more than ready to see films not directed by straight white men. Rotten Tomatoes does not dictate box office success — see The Emoji Movie and Baywatch — but ratings are representative of a film's critical standing. Both Lady Bird and Get Out scored Oscar nominations for Best Picture this year.
Rotten Tomatoes is not here for the hate speech "Down With Disney's Treatment of Franchises and its Fanboys" is delivering. The site immediately issued a statement codemening the group's actions and promising to closely monitor hate speech. "We at Rotten Tomatoes are proud to have become a platform for passionate fans to debate and discuss entertainment and we take that responsibility seriously," the site said. "While we respect our fans' diverse opinions, we do not condone hate speech. Our team of security, network, and social experts continue to closely monitor our platforms and any users who engage in such activities will be blocked from our site and their comments removed as quickly as possible."
To combat the negativity, let's focus on Black Panther's increasing influence on pop culture. Kendrick Lamar executive produced a banging soundtrack album featuring music inspired by the film. The film has added diversity to fashion too. During NYFW, a Black Panther event — featuring designs by Chromat and Fear of God that draw from the world of Wakanda— will take place. So a note to haters: we can't be stopped.
Read More: A 'Black Panther' Film Was Almost Made in the 90s, Starring Wesley Snipes
Tagged: