Photography Grace Pickering
cellist patrick belaga scored lady gaga's documentary, and models too
The LA-based musician is redefining what it means to create classical music in 2017 (and still finds time to model for Eckhaus Latta).
Photography Grace Pickering
At just 26 years old — with blond hair and boyish looks that make him appear younger — the contemporary cellist Patrick Belaga is part of a new generation of artists who are breaking the classical music mold and recasting their instruments in progressive new ways.
This fall, Belaga scored the soundtrack to Gaga: Five Foot Two, the documentary film that followed Lady Gaga as she recorded her album Joanne while preparing for the Super Bowl halftime show. The score featured a half-dozen pieces that were written by Belega specifically for the film, along with several songs taken from Belaga's recently released debut album, Groundswell.
For a musician whose work is still largely known only in art and underground circles, the opportunity to create something for an artist of Gaga's caliber did not go unappreciated.
"I never imagined I'd be scoring a Lady Gaga documentary," Belega says, still trying to wrap his head around the magnitude of it all. "It demonstrates how seemingly disparate things, like classical music and Lady Gaga, can be brought together into a wonderful combination you would not expect."
Belaga submitted his music on the suggestion of his partner, Chris Moukarbel, who shot and directed the film. Gaga didn't see the complete film until its premiere at the Toronto International Film Festival this past September. Though she didn't say much ("She sort of casts a spell over everyone," Belaga muses), she did tell him that she liked the music. "I have a lot of admiration for her musical abilities, so for her to say that meant a lot to me," Belega says.
Much of Belaga's interest in music can be traced back to his older brother, who passed away from a heart disorder when they were both young. Because of his condition, Belaga's brother wasn't able to play sports, and so their mother signed him up for violin lessons. Belaga followed suit, but quickly discovered his rambunctiousness was not a good fit for the delicate instrument. He switched to cello shortly afterwards ("It's an instrument you have to sit down to play," he explains).
After enrolling at UNC for music, Belaga reached a turning point toward the end of his sophomore year, when he started writing his own music, instead of just playing established classical sets. "Once I started composing," he says, "I realized that there's a huge openness to music; I don't have to limit myself. I really found myself and my identity within the music I was making because it was sounding like my voice, instead of me trying to replicate someone else's voice."
Following a brief stint in New York after college, Belaga moved to Los Angeles in 2014, where he soon met the performance artists Wu Tsang and Boychild at a house party in Venice. The three performers began collaborating together as a sort-of modern art collective — Belaga playing the cello, Boychild dancing, and Wu directing them, while contributing vocals and visuals.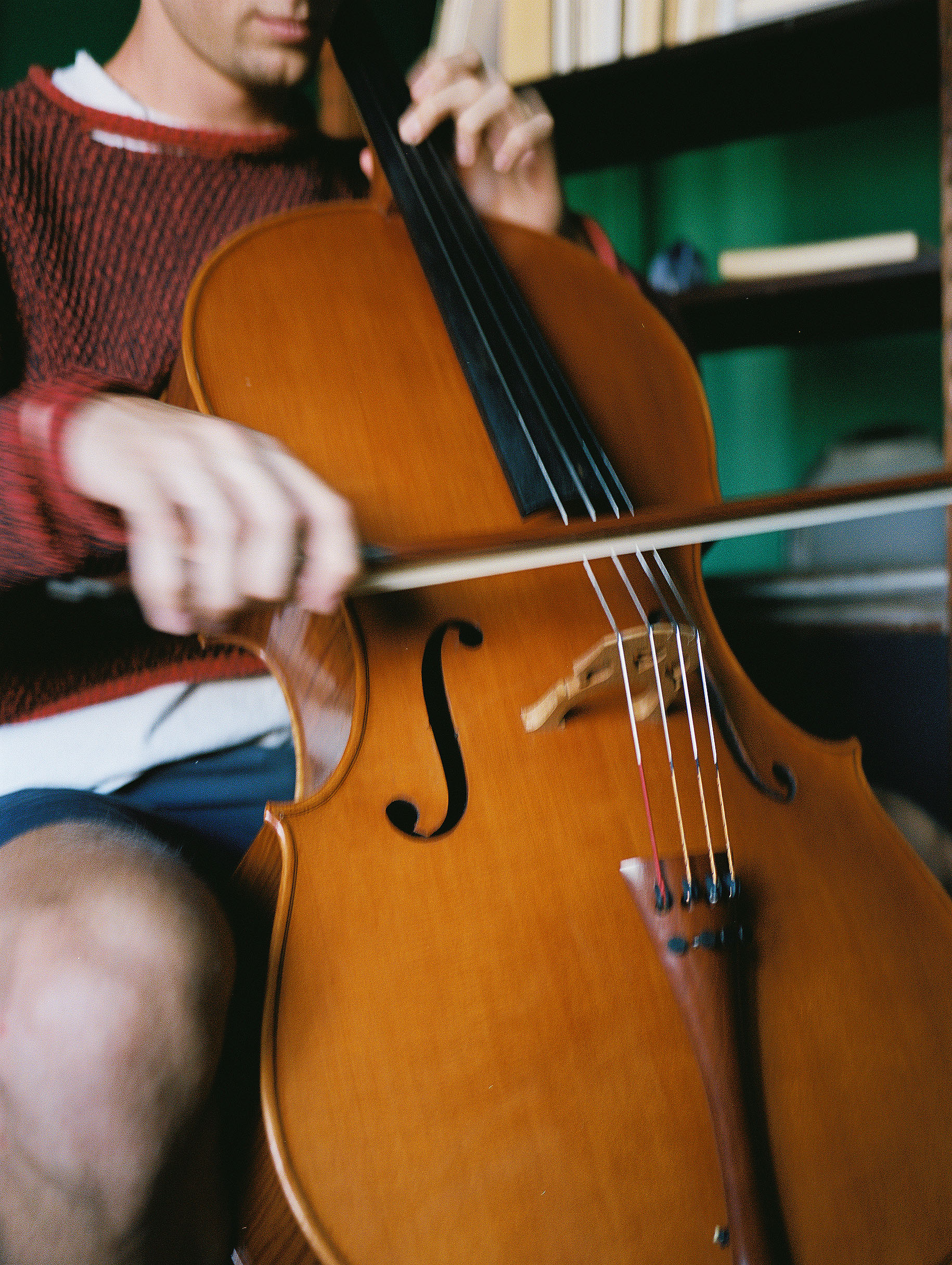 The trio has since given more than a dozen public performances, including site-specific installations, where the largely improvised movements and music create something more like performance art than a recital.
In Austria, Belaga performed in an old cathedral for 500 rapt people. In Greece, he performed at an exhibition opening where "people were literally walking around and bumping into me," he recalls.
But that is perhaps, the peculiarity of music, with its innate ability to move people — sometimes quite literally — in different ways. In the same manner, a song or instrument can take on different codes and meanings depending on the listener and the environment.
The cello today is no longer a formal instrument restricted to canonical classical music. Along with Belaga, there's the German DJ and producer LCAW, who's been playing cello since he was three, and is known for combining classical with EDM. The Croatian duo 2Cellos gained prominence a few years back for its string covers of everyone from AC/DC to Michael Jackson. And Kevin "K.O." Olusola is an American cellist and beatboxer whose solo performances are quickly eclipsing his work as a member of the popular a cappella band Pentatonix.
Belaga's work is decidedly less commercial, though equally engaging. On Groundswell, released this summer, the influences run the gamut, from Greek composer Iannis Xenakis to 20th-century classical musician Benjamin Britten. There are also traces of jazz, pop, new age, and Middle Eastern music. The titles of the songs, meanwhile, all reference geological terms, a nod to Belaga's "mild obsession" with rocks and mountains. ("A lot of my music is inspired by places like Joshua Tree and the desert," he explains).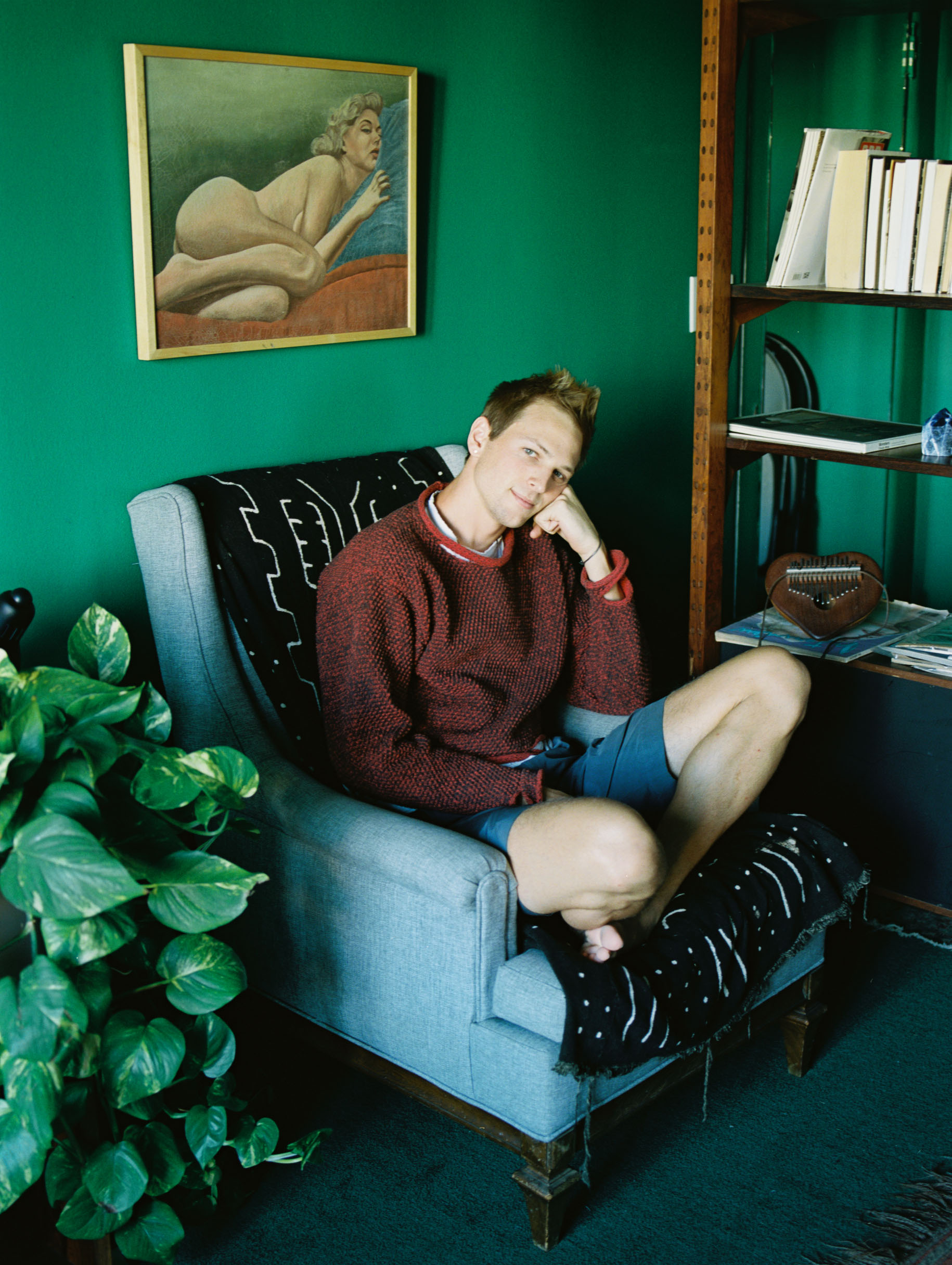 Belaga wrote, mixed, and produced all the tracks by himself. The result is cooly evocative, like a slow burning flame that begins as a source of light then becomes a beacon of warmth. It's music you'd more likely hear at a fashion party than an afternoon concert at Lincoln Center; more MoMA than Yo-Yo Ma.
With more than 15,000 followers on Instagram and a sizeable following in the art and fashion worlds, it's clear Belaga is already making an impression. Tall and stylish, Belaga is signed to the modeling agency IMG and has appeared in campaigns for clients like Eckhaus Latta and the Swiss watch brand Tag Heuer. But the humble and soft-spoken multi-hyphenate says modeling is just a way for him to keep busy, and he'd rather not take work that detracts from his main pursuits.
Scoring the Gaga doc has helped him find a new audience, and Belaga is keen to capitalize on the film's success to further expand the way people perceive the cello — and instrumental music — in popular culture.
"The cello is a super diverse instrument and there's this very antiquated idea of it. Still," he says, "I'd like to add to the conversation of contemporary music in general, not just classical music."
How will that conversation continue? The new rules are that there aren't any rules. "With music," Belaga says, "you can write your own narrative."
---
Photography Grace Pickering