Image courtesy of Shanel Campbell
Bed on Water demonstrates the productive potential of randomness for AW21
New York-based Shanel Campbell's latest collection strikes a skilful balance between eclectic references and sharp execution.
Image courtesy of Shanel Campbell
Though what follows is a review of a fashion collection, to call New York-based Shanel Campbell a designer and leave it at that would be reductive. With equal footings in fashion and fine art, her practice is led by "media research on subjects concerning time, spirituality, Black history, Afro-futurism, and music". She also delves into art direction, graphic design, and even -- as we saw in her contribution to last year's GucciFest -- film. If braiding the strands of her various research interests into a cohesive narrative sounds like a challenging feat, you're not wrong. Shanel's response to the task at hand, though, isn't about funnelling a sprawling network of thoughts and motifs into a rigid structure. Instead, "I wanted to see what I could come up with when I let go of all the structure I was taught," she says of the collection she's just released under her brand moniker, Bed on Water. It's her second since graduating from the Parsons MFA programme in 2017.
You may be bracing yourself for a jarringly eclectic body of work; the reality, though, is anything but. Instead, her "holographic projection of universal thought with specific regard to Blackness", which is how Shanel describes it, is an incredibly deliberate, holistic proposal. It manifests in the form of sexed-up hyper-feminine silhouettes as naturally, and with as much care, as it does genteel elegance.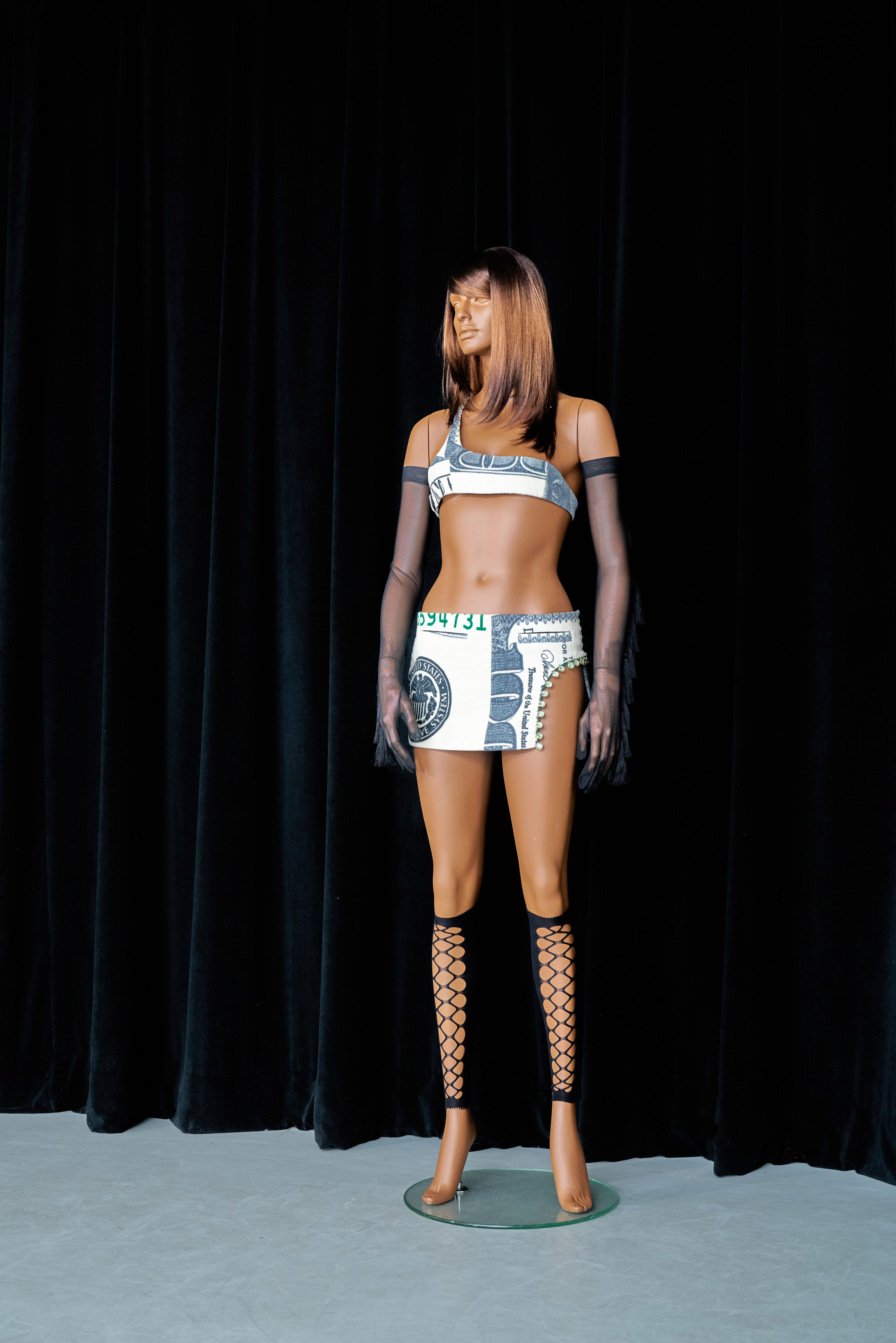 Sinuous dresses in stiff petrol-hued satins slink around the body, framing the upper torso or the curve of a hip. Waisted skirts flare out into a thigh-grazing, ruffled hem, suggesting a Carnival-ready flare. This is reinforced by oblique ra-ra skirts, a cut-out dress printed with the image of $100 bill, and a block-heeled, hot-pink crushed velvet knee-high boot that criss-cross laces up the shin.
Balancing out this carnal spirit is a suite of looks that see those sculptural cutting skills flexed on a princess-seamed grey wool blazer and a peak-lapelled cropped jacket. Their button plackets are concealed, "inspired by a dress I found at a thrift store in Texas," Shanel says. Elsewhere, the hook-and-eye-fasteners on an ankle-grazing panelled pencil skirt create a silhouette that verges on demure. An emerald satin evening gown is given a hybrid neckline, fusing off-shoulder and classic jewel shapes to bold graphic effect. And a column dress composed of black, crimson and forest green velvet (a combination that calls to mind David Hammons' African-American Flag (1990), and to Marcus Garvey's Pan-African tricolour before that) is draped with garlands of beads.
"Growth, soul, colour, randomness and wealth are just some of the keywords Shanel suggests you keep in mind here. "The collection as a whole is supposed to feel like a party rather than something developed from a single idea," she continues. Of all the parties on our post-lockdown list, this is one we can't wait to attend.