Photography Mitchell Sams
prada just made name tags and rain boots fashion
"My excuse for the show was the freedom of a woman in the night, super-sexy without being bothered. Being both powerful and feminine."
Photography Mitchell Sams
This article was originally published by i-D UK.
Who?
Miuccia Prada has always been more than a designer. She's a thinker, a nonconformist, a challenger of convention and norms. Before taking over the family business and revolutionizing not only the company but the wider fashion industry too, the fashion intellectual completed her PhD in political sciences. She might have left socio-political academia to work at her parent's leather goods company in the late 70s but her passion never left her, instead, it has propelled her to persistently probe relationships between dress, gender and power. From introducing the notion of ugly chic in the 90s as a rebuttal to Milan's seemingly one-dimensional presentation of luxury beauty to showing men's and womenswear side-by-side on the runway, she systematically shifts aesthetics and the system itself. After declaring that "we have to change the world — especially for women, because there's so much against us still," after her cross-generational female artist-fueled spring/summer 18 collection, she delivered another call-to-arms for autumn/winter: women should be free of harassment however they dress. While spring/summer 18 was shown against the backdrop of the Women's Marches — a day of solidarity, defiance, and peaceful resistance, as millions of people across the world joined together to protest — this collection follows the #MeToo movement and the wider social awakening that behaviour needs to radically change. Miuccia Prada's sartorial solution fused extreme protection with extreme femininity as sheer neon pussy bows contrasted with padded tech nylon and tweeds, cocktail dresses with corporate ID tags.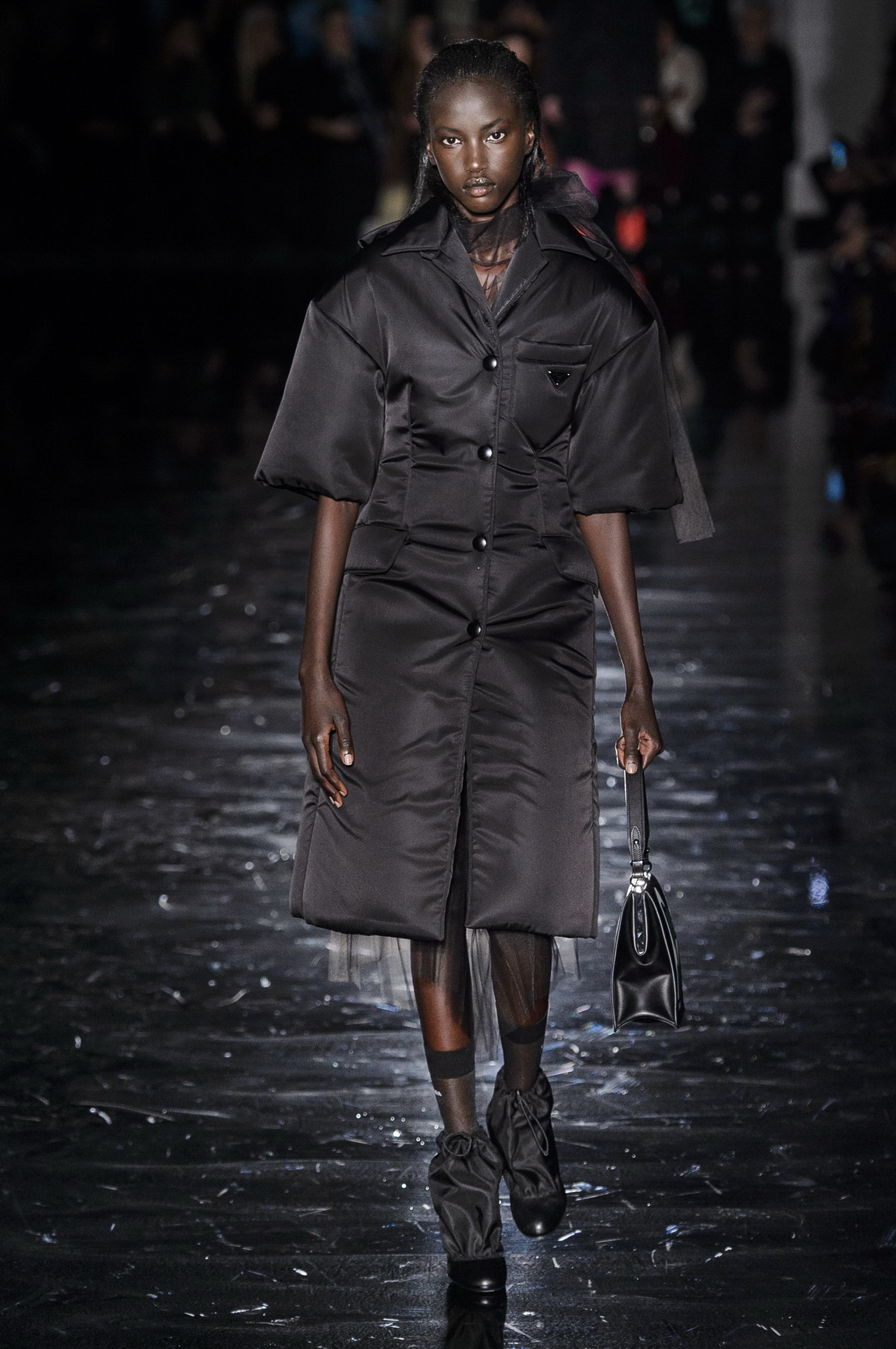 What?
"I imagined that a woman could go out looking super sexy in the street at night without being bothered," she explained while surrounded by a crowd of iPhone and dictaphone wielding editors. "It's about the freedom of women to go out in the night. I always say, if you want to go out at night naked you should be able to. It's part of the individual freedom and I wanted this freedom exaggerated." As Prada is in the business of clothes, there was no nudity but the garments shown were just as head-turning and freedom-fulfilling. In a collage of contrasts and dazzling dissonance, utilitarian workwear met elaborate eveningwear, digital prints met tweeds. With was so much to unpack, this was Prada at her best.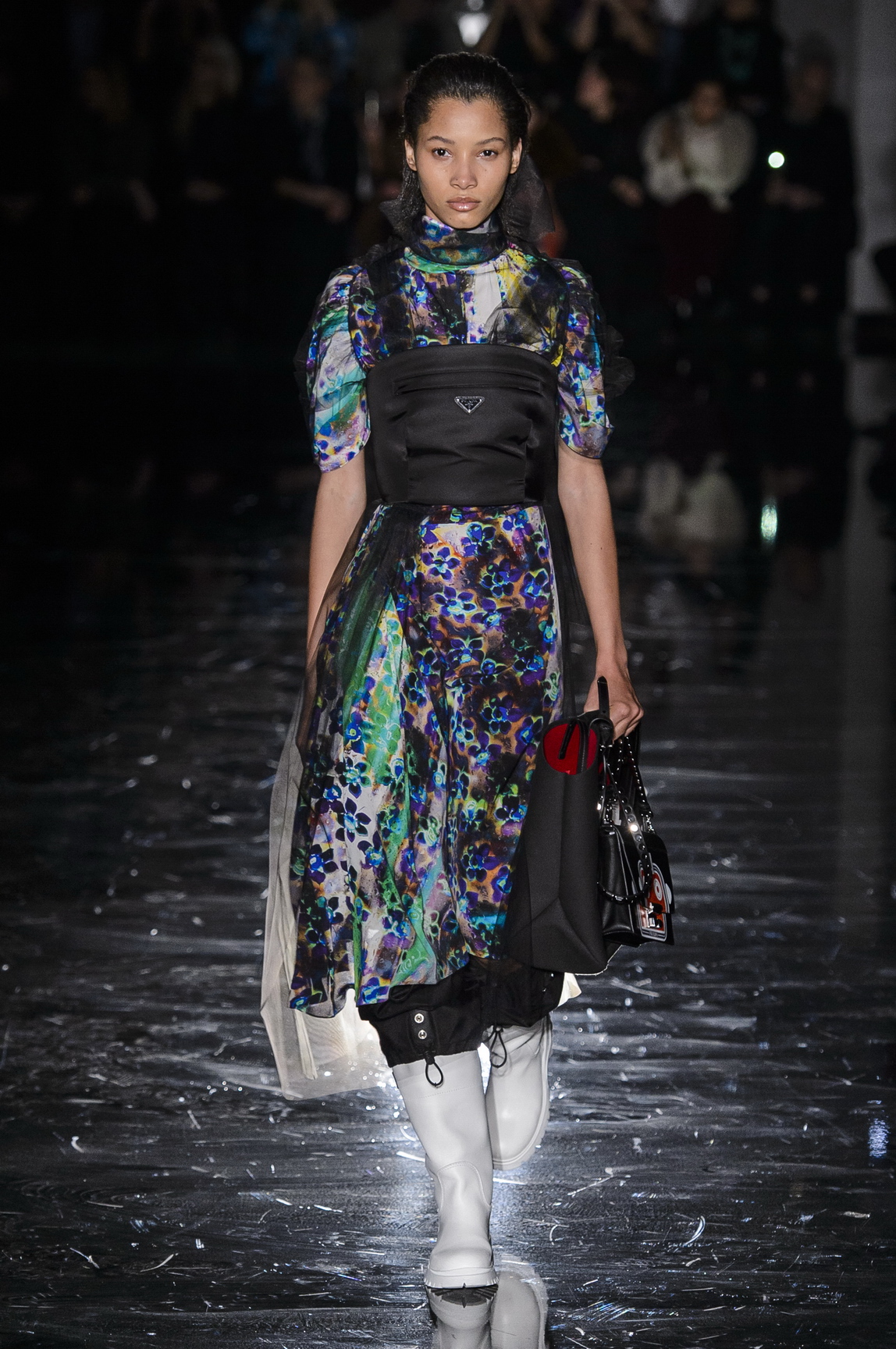 Where?
Prada invited us to climb to the top floors of the recently completed tower in the OMA-designed Fondazione Prada. Its floor-to-ceiling windows offered views of the industrial landscape that had been peppered with neon Prada iconography — the bananas, the flaming heels, the alien, the monkey. These same motifs had been transformed into GIFs in a collaboration with GIPHY and Instagram which was announced just before the show by CGI-generated Instagram influencer Miquela.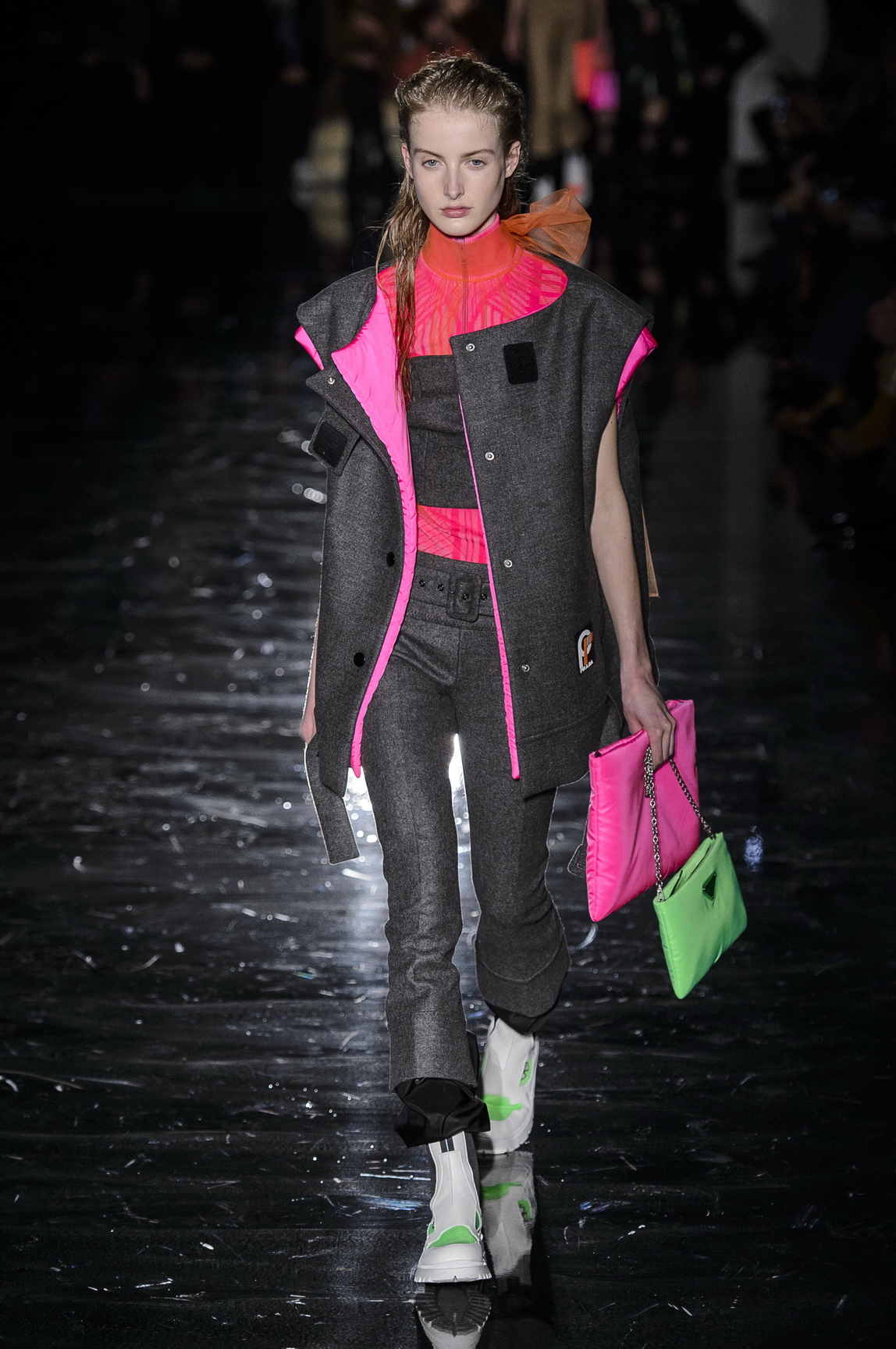 Wow!
From the moment newcomer Anok Yai — the Sudanese model who was discovered after her streetstyle image went viral late last year at the famed homecoming weekend at Howard University in Washington D.C. — stepped out onto the black lacquered floors in padded nylon right through to Yorkshire-born Fran Summer closing the show in a flash of fluoro, there was so much wow. While the return of the red stripe of the once discontinued Prada Sport label and the reintroduction of the spring/summer 12 flame-kissed Hot Rod heels, once again proved that Miuccia Prada isn't afraid to look back to move forward and meant that those of us who missed out the first time have a second chance.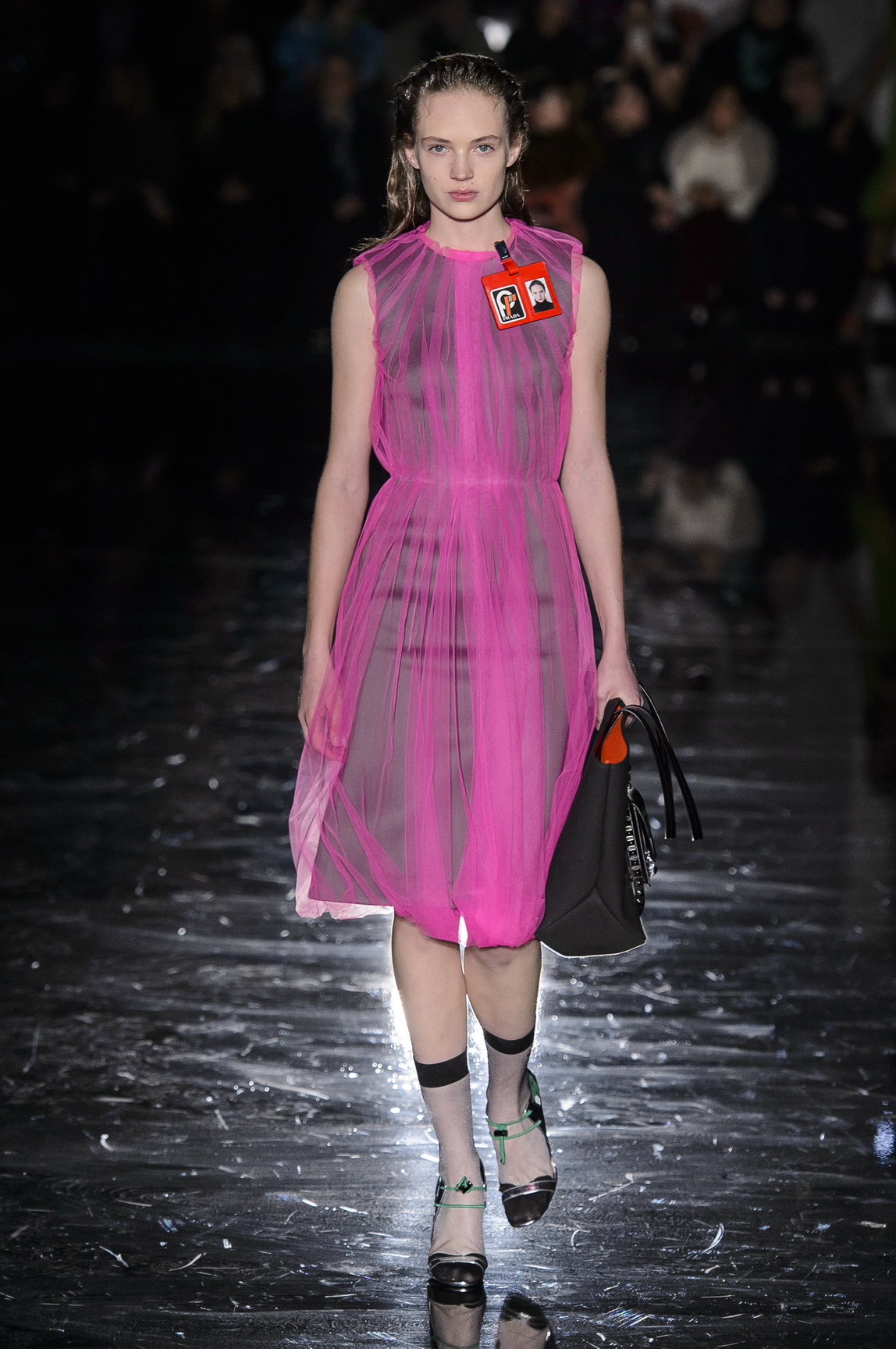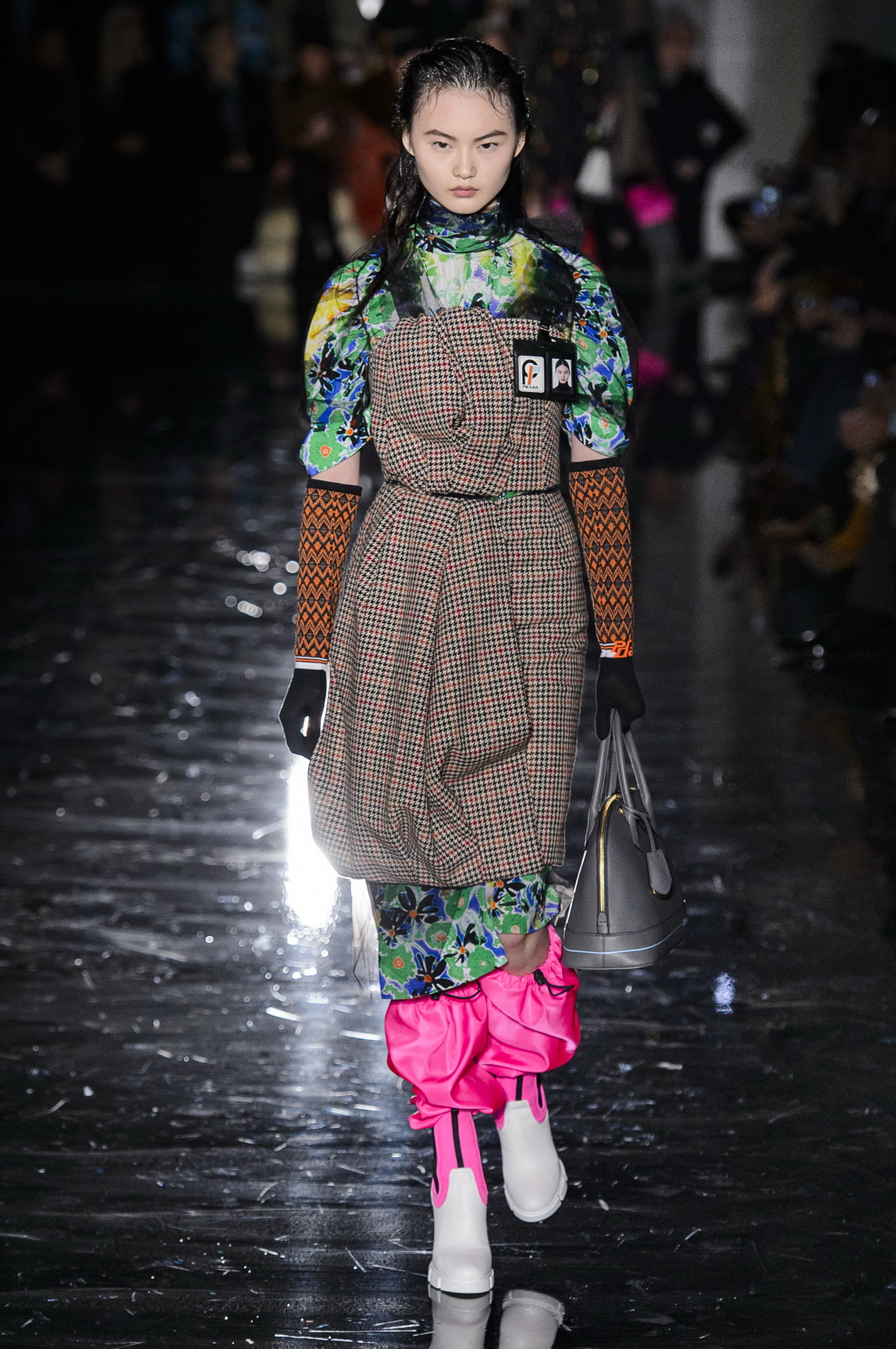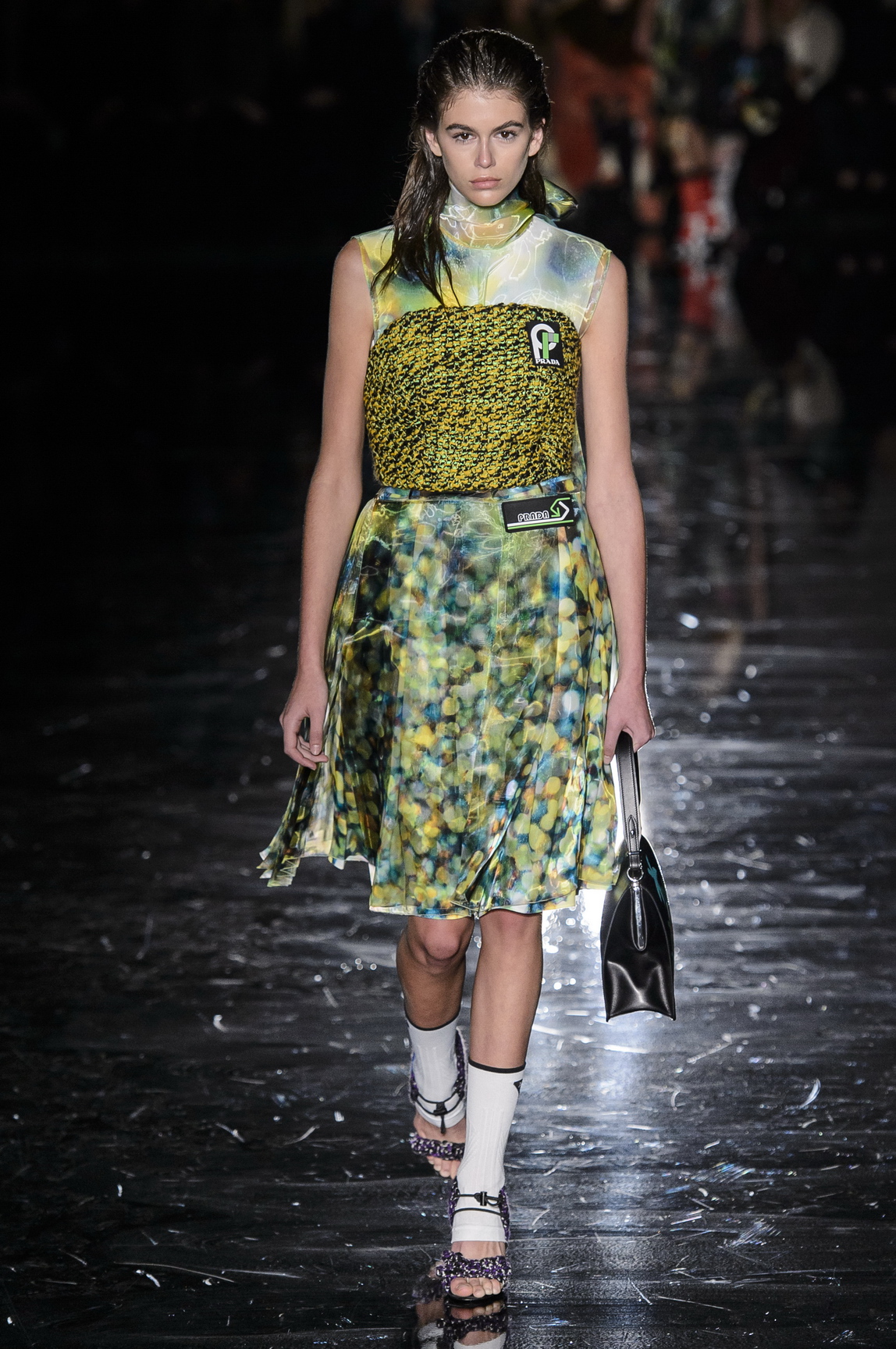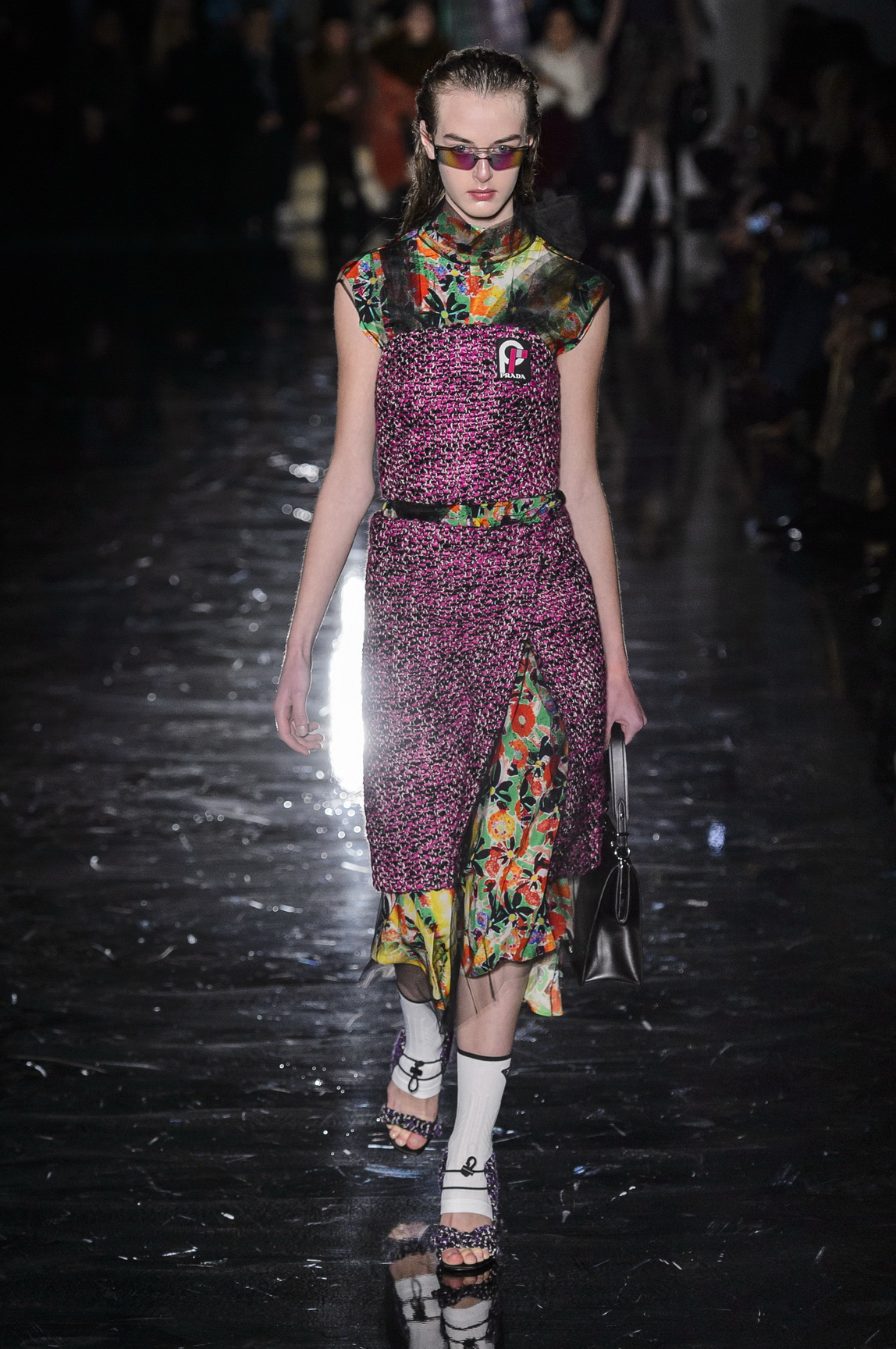 Credits
---
Photography Mitchell Sams
This article originally appeared on i-D UK.