everything we learned from beyoncé in vogue
Her troubled family tree, the inspiration behind her Coachella performance, and accepting her FUPA.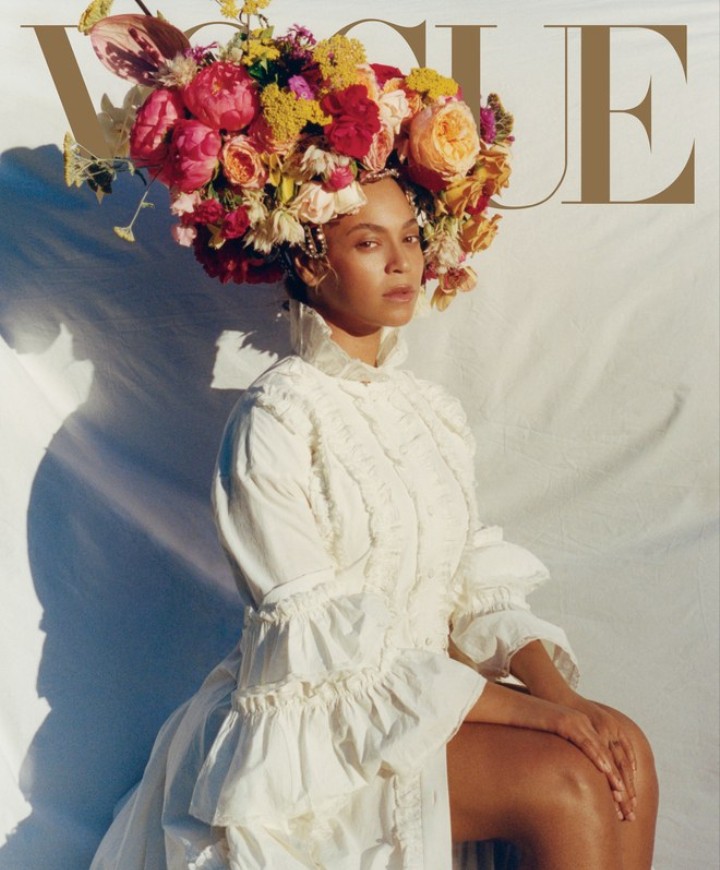 This is in fact Beyoncé's second September issue US Vogue cover, but incredibly it's the first time in the magazine's history that it's been photographed by a black photographer — the 23-year-old Tyler Mitchell. Alongside the raw, sensual photos of Beyoncé sans big hair, and with stripped back makeup, the artist also gets to speak in her own words. It's a departure from the usual celebrity interview, and allows us to see a glimpse of the woman behind the icon. Here's some of what we learned:

Singing to her daughter inspired Coachella/
One of the most incredible moments in Beyoncé's set was when she led her band in a rendition of "Lift Every Voice and Sing", otherwise known as the black national anthem. The idea first came to her while singing it to Rumi as she put her to bed.
"One of the most rewarding parts of the show was making that change. I swear I felt pure joy shining down on us. I know that most of the young people on the stage and in the audience did not know the history of the black national anthem before Coachella. But they understood the feeling it gave them.
It was a celebration of all the people who sacrificed more than we could ever imagine, who moved the world forward so that it could welcome a woman of color to headline such a festival."
She's made a discovery about her family tree.
Evidently, the birth of her twins has had Beyoncé in a contemplative mood, looking into the Knowles/Beyincé family histories.
"I researched my ancestry recently and learned that I come from a slave owner who fell in love with and married a slave. I had to process that revelation over time. I questioned what it meant and tried to put it into perspective. I now believe it's why God blessed me with my twins."
Her and Jay-Z have never been stronger.
Beyoncé references her much remarked upon marital troubles obliquely — it seems like having released an album about the subject, she's thoroughly done with thinking any further about the subject. She does however offer this insight:
"I come from a lineage of broken male-female relationships, abuse of power, and mistrust. Only when I saw that clearly was I able to resolve those conflicts in my own relationship. Connecting to the past and knowing our history makes us both bruised and beautiful."
She's found peace with her new body.
Beyoncé gave birth to her twins via C-Section, in what sounds like quite a traumatic birth (though how delivering twins wouldn't be traumatic, we don't know).
"I was in survival mode and did not grasp it all until months later. Today I have a connection to any parent who has been through such an experience. After the C-section, my core felt different. It had been major surgery. Some of your organs are shifted temporarily, and in rare cases, removed temporarily during delivery. I am not sure everyone understands that. I needed time to heal, to recover."
Aside from the glorious arrivals of Rumi and Sir, the birth also gave her a new understanding of her physical form, after a lifetime of pushing herself to the limit.
"To this day my arms, shoulders, breasts, and thighs are fuller. I have a little mommy pouch, and I'm in no rush to get rid of it. I think it's real. Whenever I'm ready to get a six-pack, I will go into beast zone and work my ass off until I have it. But right now, my little FUPA and I feel like we are meant to be."
You hear that? Your little FUPA and you are meant to be.
Beyoncé's journey hasn't always been easy.
One looks at Bey and imagines her as some kind of living goddess, which couldn't be further from the truth. Her success, and legacy, are built on hard work. "I've been through hell and back, and I'm grateful for every scar. I have experienced betrayals and heartbreaks in many forms," she says of the road to becoming the artist known as Queen Bey. Happily, however,
"I now feel so much more beautiful, so much sexier, so much more interesting. And so much more powerful."