"Crowned"/ "Off the Charts"
these glittery queer paintings confront the toxic masculinity of black barbershops
Devan Shimoyama is making the hypermasculine space a little more gay.
"Crowned"/ "Off the Charts"
Going to a black barbershop is a distinct experience. Hypermasculine rap songs blare from the radio, smutty magazines with titles like Vixen are on the stands, and boisterous jokes about guys having some "sugar in the tank" abound. You stick out like a sore thumb if you would rather have The Wendy Williams Show play on the television instead of a basketball game. Or if you don't really know how to give a complicated "pound hug" before sitting down in the barber's chair. Which is why getting a haircut can be an awkward, burdensome errand for Devan Shimoyama, myself, and other queer black men. As Devan aptly puts it, we have to "re-enter the closet" during the half-hour experience.
A Yale MFA graduate, Devan has created an inclusive, psychedelic black barbershop in his paintings. In this attractive fantasy — filled with glitter, lime-green cans of olive oil sheen spray, and Powerpoint-esque gradients — young boys are allowed to cry Swarovski crystals and queerness shines unfiltered. "The paintings came out of having conversations with other queer-identifying black men," the Philadelphia-based artist says to i-D. "A friend of mine had to go get his haircut and we felt bad for him because we all could relate. Changing the cadence of your voice, trying to speak as little as possible…"
Devan's paintings have struck a nerve in the black community. They were exhibited at Chelsea's Debuck Gallery and The Studio Museum in Harlem right before the historic space closed for renovations in January. Devan also received a special shoutout from art world activist Kimberly Drew.
Devan tells me he doesn't want to villainize black barbers, as he recognizes barbershops can be safe spaces for some black men. They can let their pants sag, vent, and be unapologetically black. "I know some of the things I hear black men telling their sons in barbershops are ways to guard and protect themselves," Devan says, a deep sense of understanding in his voice. "I don't wanna judge them for that — because there are dangers in portraying yourself as visibly queer sometimes."
Here, Devan talks to i-D about revisiting memories of his uncle cutting his hair and learning how to do a mean shape-up himself.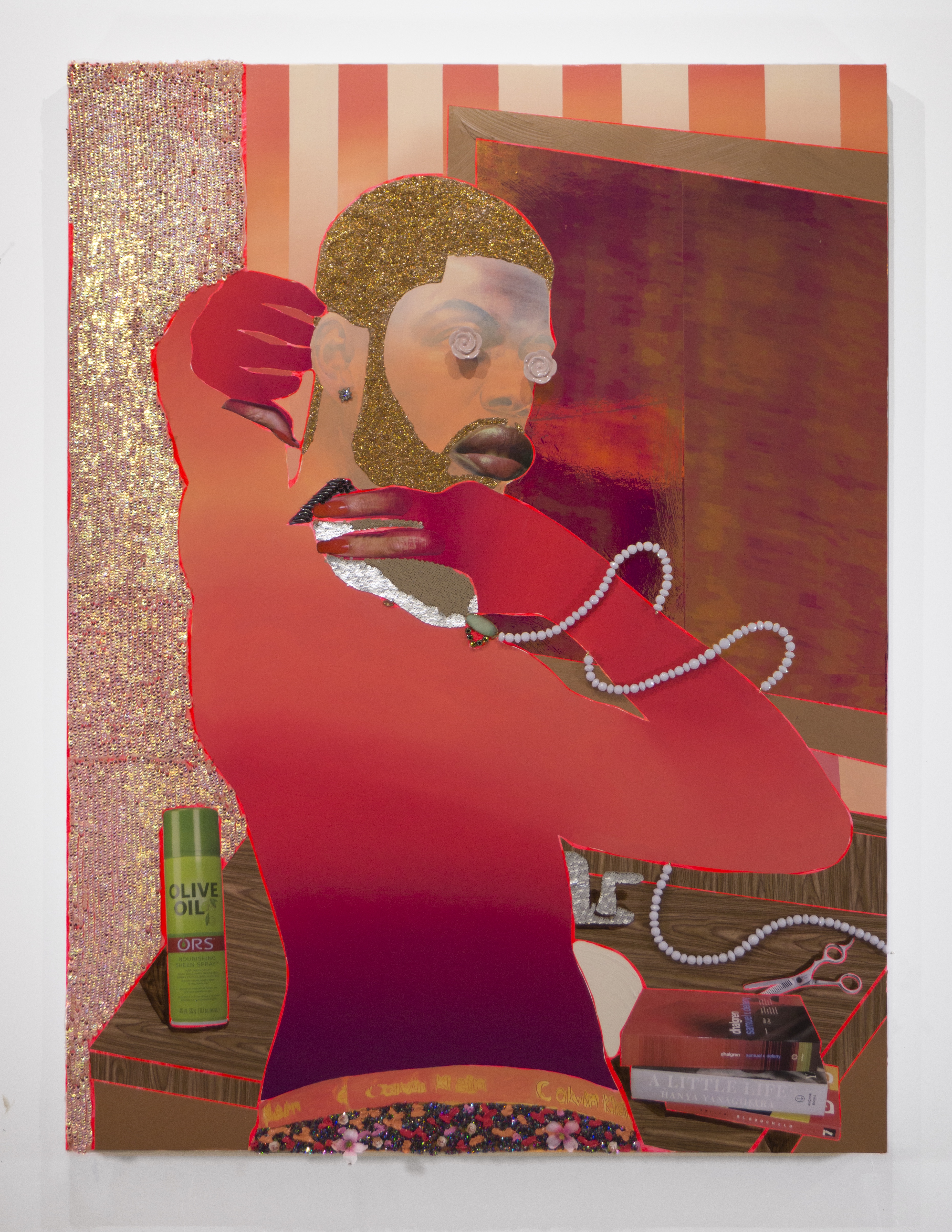 What has been your relationship to black barbershops been like? Has it ever matched up to what you thought it should be or expected it to?
Luckily, I had an uncle who cut hair, so I usually get my hair cut by him. But if he was out of town I would have to go into the barbershop. And when that happened I would always have this hesitation… It felt like a certain type of masculinity was being performed in the space. One in which women weren't necessarily welcomed. They were kind ogled at or mocked and certain programming was always on the television where certain types of masculinity were being performed. You'd have people like Steve Harvey on. I would hear negative comments directed at gay or effeminate-acting men. It never felt like I truly fit in. So, as I've grown up, I always felt like I needed to recloset myself when I went to the barbershop.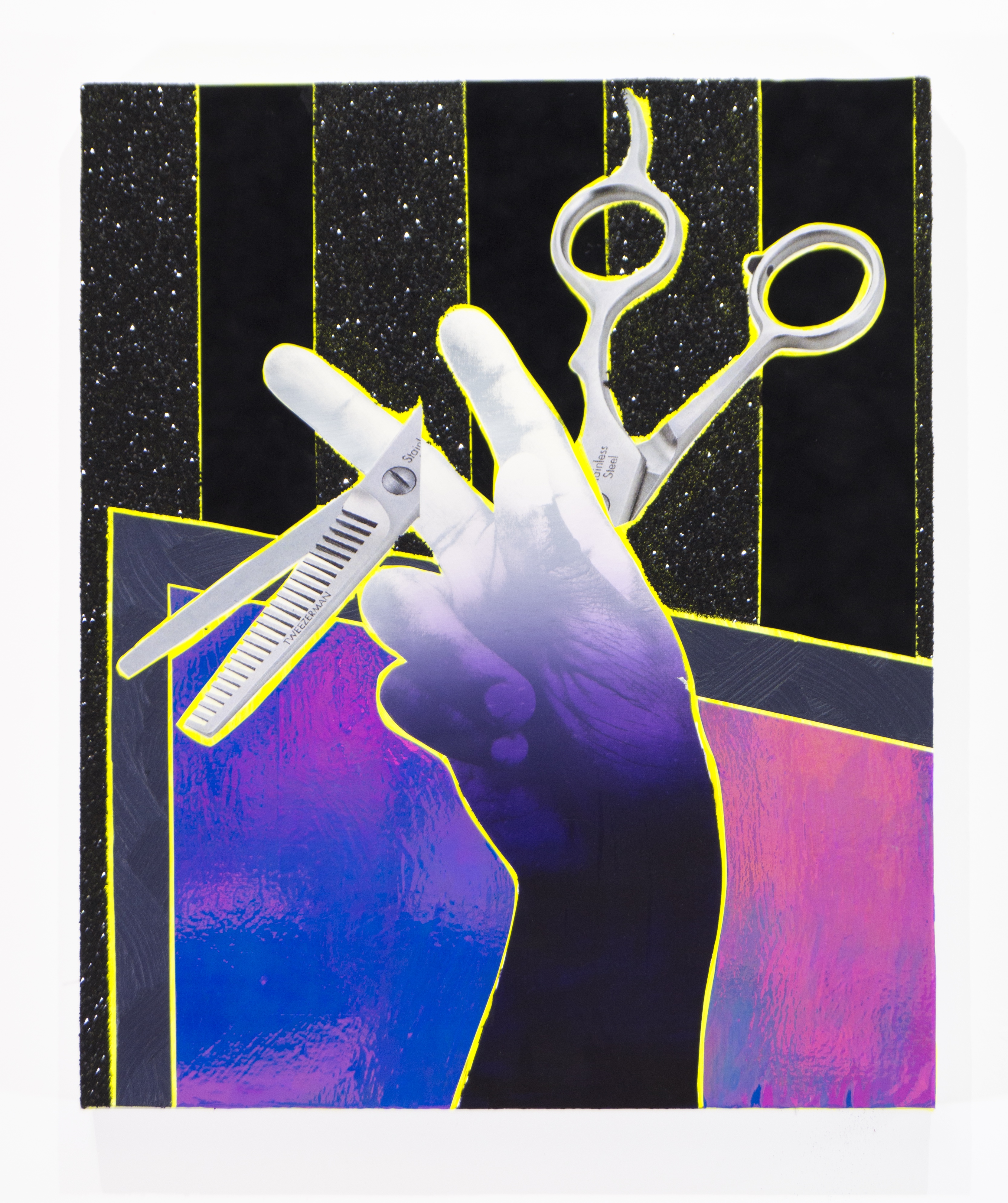 So do you still go to barbershops today?
Every now and then for a touch up. But I've actually learned how to cut my own hair. So I go maybe two times a year. I've found a shop in my town that I feel somewhat comfortable in. I stay at a safe distance and keep to myself and go to the same exact barber inside there.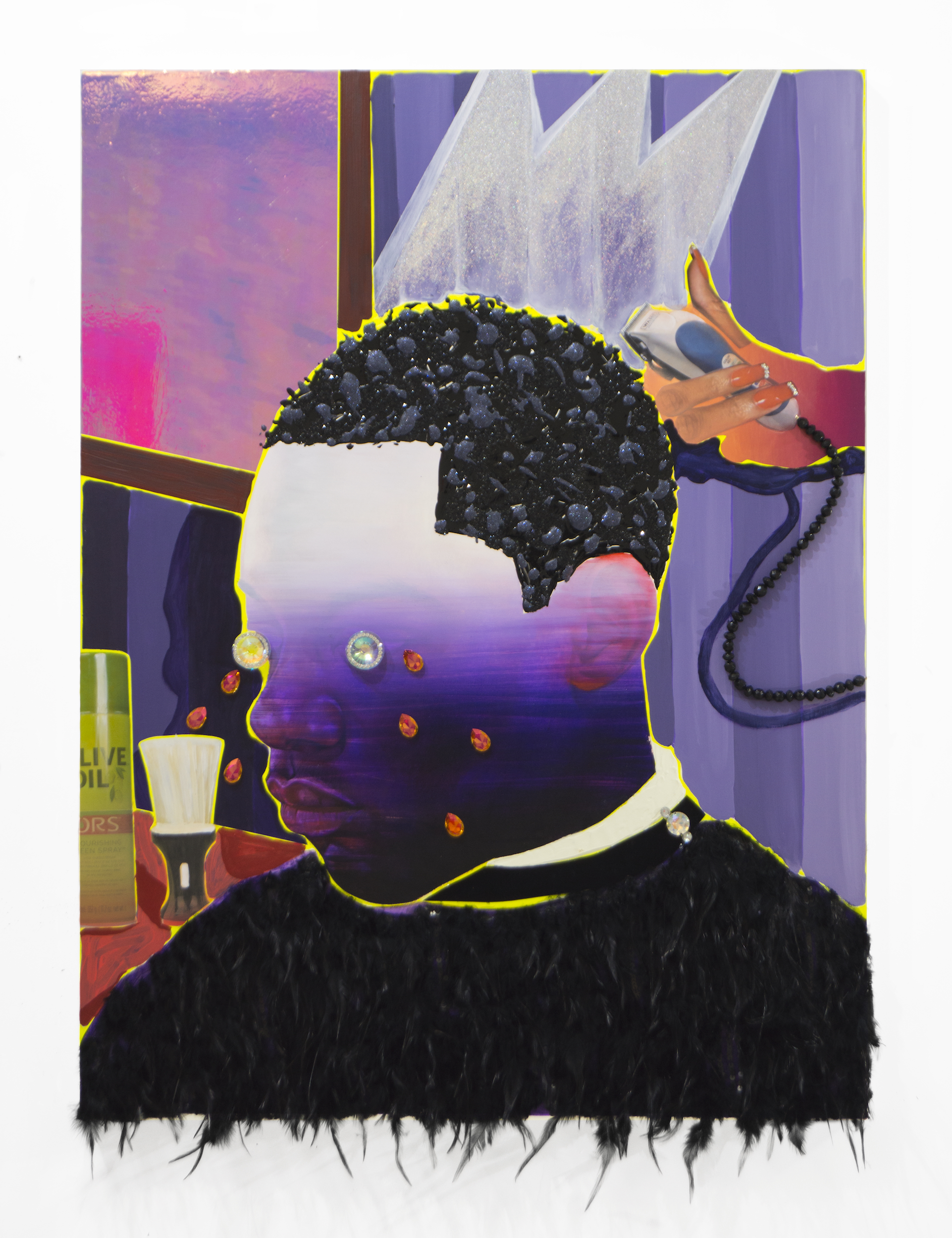 Why did you decide to paint such a flamboyant vision of barbershops?
In a way, it's right in line with some of the other paintings I'd been doing prior to these works. They are sort of a fairy tale and mythological space. I wanted to ground that into something more relatable or realistic — so I went towards something that was familiar to me. Because I am a black male and yet barbershops are still not quite the right fit. I wanted to augment the space to become something that could fit me.
The jewels are thinking of spaces in which gender roles are challenged. Where queer communities feel most at home. I was thinking of performative drag. So some of the feathers are the turkey feathers you'll see on drag queens a lot. Then other things like the glitter, the swarovski crystals, and the beading.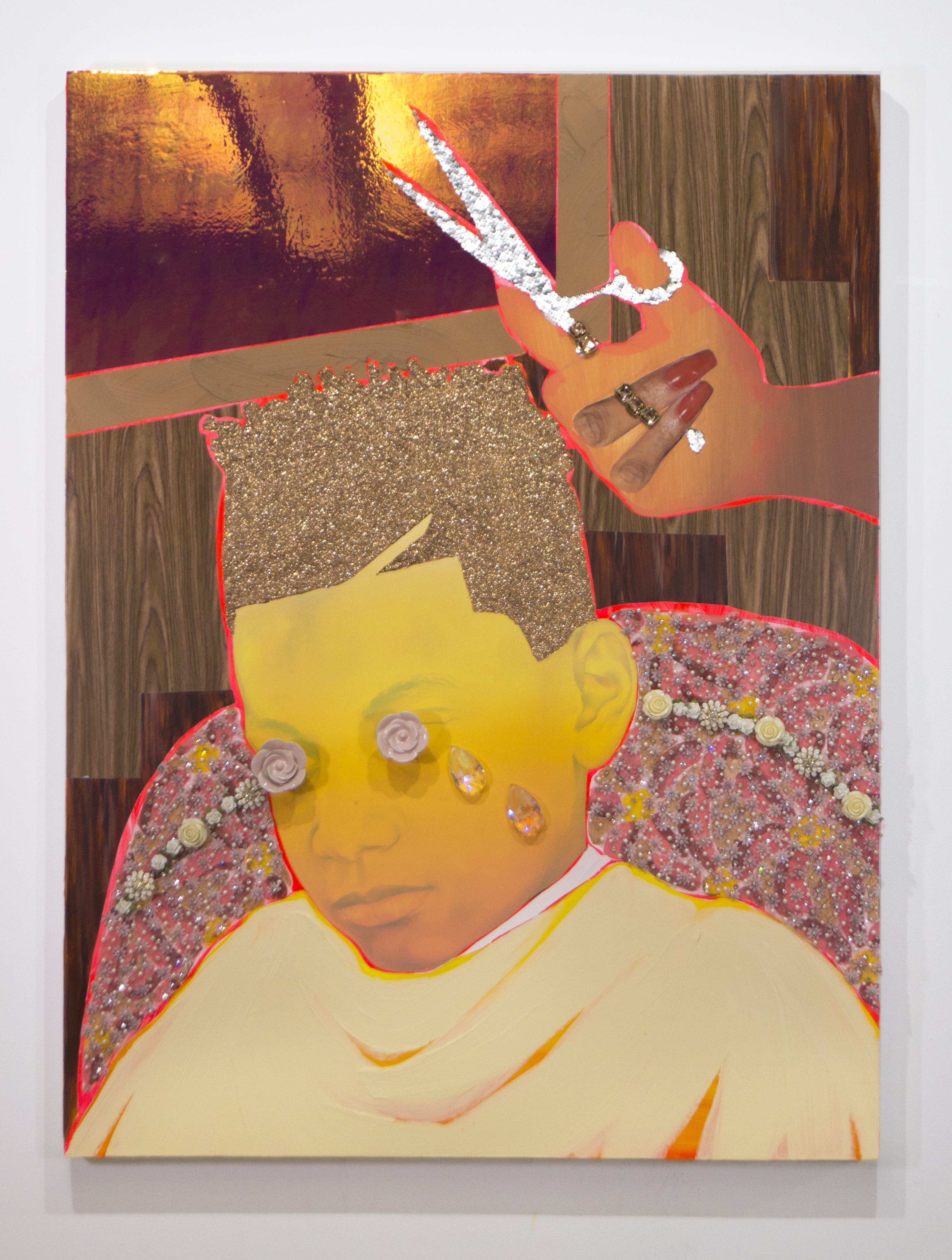 Are the black boys and men in these paintings directly pulled from real life?
All the portraits are hybridized people — subjects I've photographed or found stock images of. Building fictional communities where we can go to this place together. The wood paneled walls and the silk flowers, all of those things are reminiscent of my own experiences. The wood panels are exactly from from where I would get my hair cut at home by my uncle, in my grandmother's basement.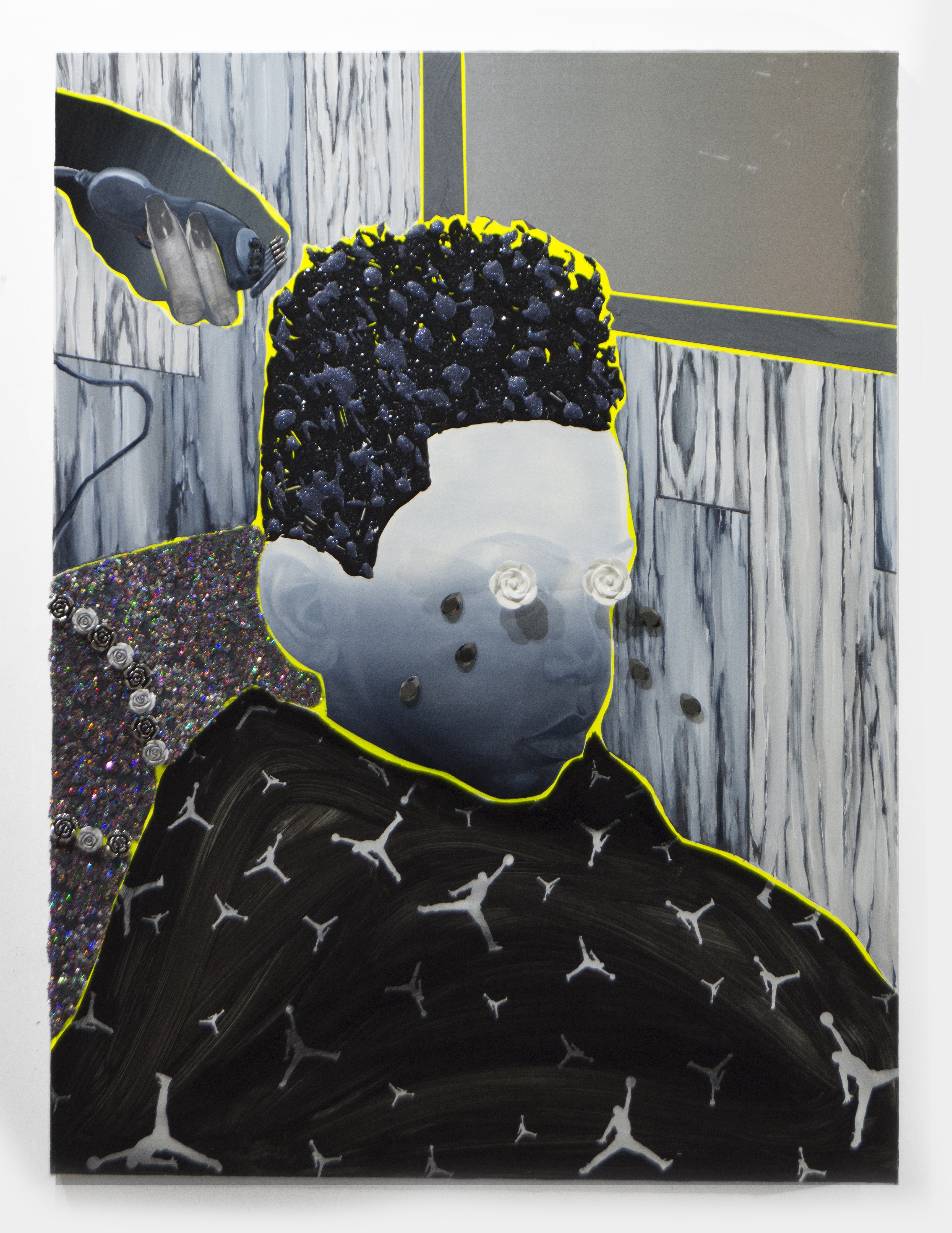 The paintings incorporate a lot of 3D materials, like jewels and glitter. What is the technical process of putting the works together?
The portraits are all done in color pencil. Then I usually glaze over them with oil paint for that gradient effect. I'm a huge collector of materials. Sometimes I visit craft stores and fabric stores in New York City whenever I'm there. I spent a month in LA for a residency and I would go to estate sales and collect stuff. I think of the paintings as a collage almost. I always start with the portrait and then construct the space around them. I try to use glitter or really thick glossy paint to sort of mimic the texture of black hair. When I sweep up the floor after a painting, it feels like I'm sweeping up the debris from getting your hair cut.
What are you trying to highlight about black masculinity?
I've been thinking about how the black male is so much more complex than has been perceived in media. When I started making some of these paintings, I saw a lot of images of black men in the media just being a statistic. Another black male was shot by the police. And then they'd find out that he smoked weed five days before and that that sort of regulates him into being a "certain type" of black man. Or seeing queer blackness performed almost to an extreme in media and used for comedic purposes. I thought of people like Martin Lawrence acting as Sheneneh and Tyler Perry still doing this with Madea. This idea that queerness is only acceptable when it's being used for comedic purposes and the actor identifies as straight. So I tried to give a range of what black masculinity can be.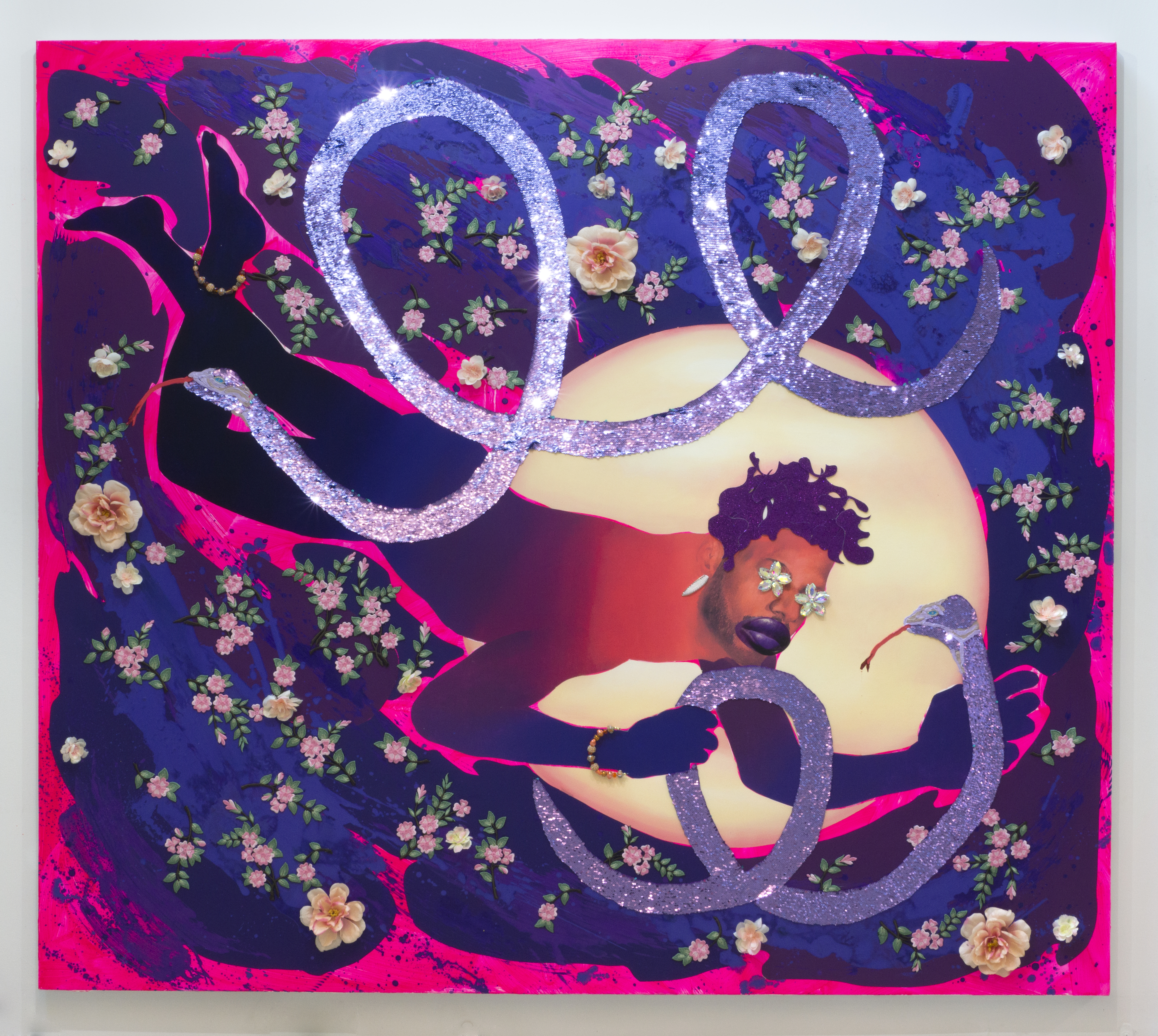 How do you come up with your titles? They're so beautifully simplistic, like Hushed , Finesse , and A Shape and a Trim .
There's a bunch of different ways. Some of the ones I have in there are from the music I was listening to while making the painting. So there's some named after Kelela music or SZA or Rihanna. I think there's a bond between black women and black queer men that is really special.
And titles like "Hush" are things I've heard in barbershops. A boy came in with his dad for a haircut and he started crying — because I guess the blades weren't sharpened — and his father told him to "hush" and stop embarrassing in his barbershop, his space. Not allowing your children to emote or forcing them to presenting themselves as a harden black man is reinforcing ideas of what black masculinity is supposed to be. I want to think of the black barbershop as a place where they can decompress and escape the realities of the world together.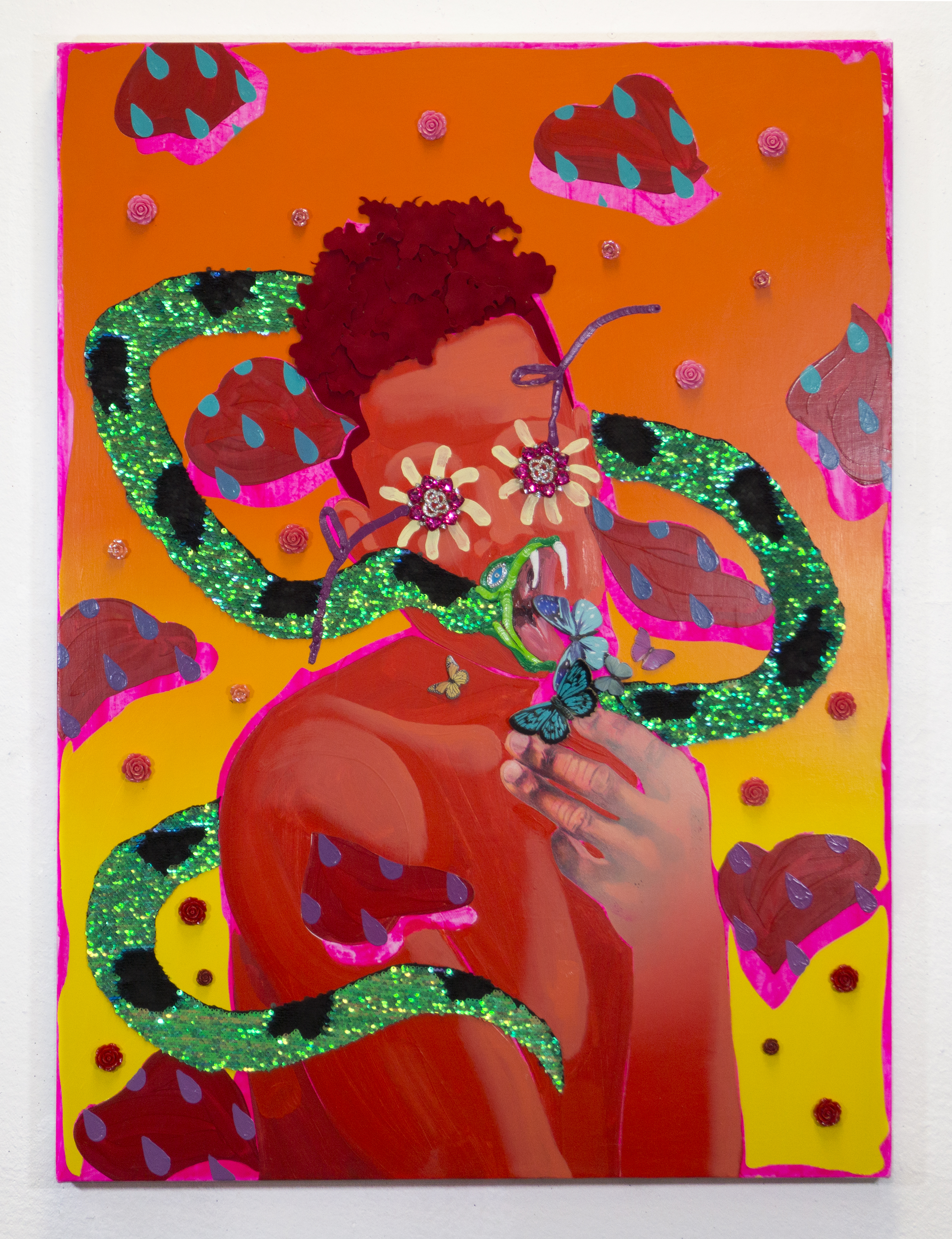 You attended Yale's esteemed MFA art program with black creatives like Jordan Casteel and Awol Erizku. What was your experience there like?
I was there from 2012-2014. I was one of the youngest people in my class and kind of playing catch up when I got there. I went to a state school and I only majored in art the last year-and-a-half (I was a science major before that). At Yale, I really learned how to create the work I wanted to make and find my own voice. Certain people would give me technical advice, some people would come in and purely talk about moods in the painting. And I learned a lot from the really negative critiques. Some of the worst feedback I got that was so off the mark was really frustrating. However, it was really important for me to hear so I could avoid certain things.
Once, one of my professors recommended I remove all the glitter and 3D materials and glitz from my work and really focus on what I wanted it to do. To not use the materials as a crutch. Because I think at the time I was using them as a distraction. When I re-introduced the 3D elements, I felt like I was smarter with each action I was making.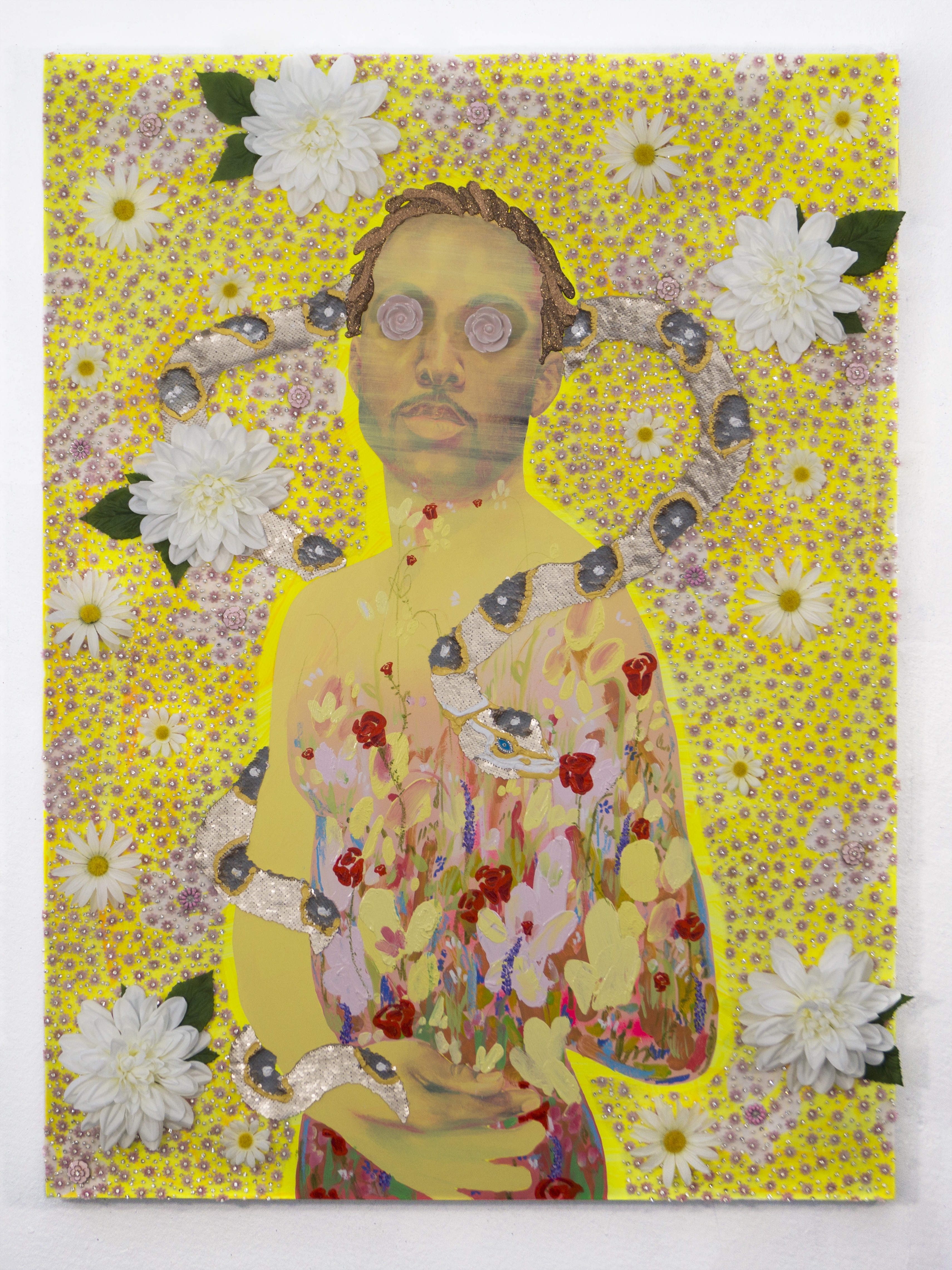 You teach art at Carnegie Mellon University. What has that experience been like?
It's really interesting because I'm not that much older than a lot of the students that I have. I feel like I really understand where they're at right now. It's incredibly diverse here, so when there are black students I've never felt more kind of proud. I never had a black professor until I went to Yale, so really being able to understand where someone is coming from is great. Just seeing someone who looks like is really important. It gives me more drive to do well in teaching and my own art career.
All images courtesy of artist.