Clothing Some Ware. Jewelry and shoes models' own.
this is the rad la diy label making all inclusive clothes for all bodies
Some Ware, by Cali Thornhill DeWitt and Brendan Fowler, is for everyone.
Clothing Some Ware. Jewelry and shoes models' own.
This article originally appeared in i-D's The New Fashion Rebels Issue, no. 352, Summer 2018.
"I think we're lucky because of where we come from culturally," muses artist and Los Angeles underground stalwart Cali Thornhill DeWitt. He's talking about a lifetime of punk shows, record releases, art exhibitions, and sticker making that has culminated in Some Ware, the label he designs with musician and artist Brendan Fowler. With Some Ware they've captured the moment with a simple but beautiful idea — that clothes should fit and, beyond that, look good on everyone regardless of race, age, size, or gender. "We've thought, for 20 years or more, that if you have the belief in something, you just do it… I forget that most people don't know that you can pretty much do anything you want."

It's this attitude (or "radness" as Brendan might say) that produced one of the highlights of the spring/summer 18 shows — the Some Ware happening in Paris. Sporting their three silhouettes — a huge long-sleeve t-shirt, knee-patched trousers, and a dress — friends, including No Vacancy Inn's Tremaine Emory and Japanese actress Kozue Akimoto, slouched out to the experimental sounds of fellow LA-dwellers Odwalla 1221. "The summer before, we were in Paris during menswear season," Brendan says. "We were having such a fun time living on planet fashion, and we were like, we should do a show!" Some Ware's is the kind of DIY ethic markedly missing from Paris. "I think of all the DIY shows Brendan's played in basements and laundromats," Cali says. "Knowing all of these things will take on a life of their own that you can't predict. You can control as much as you can, but what you can't predict is the vibe."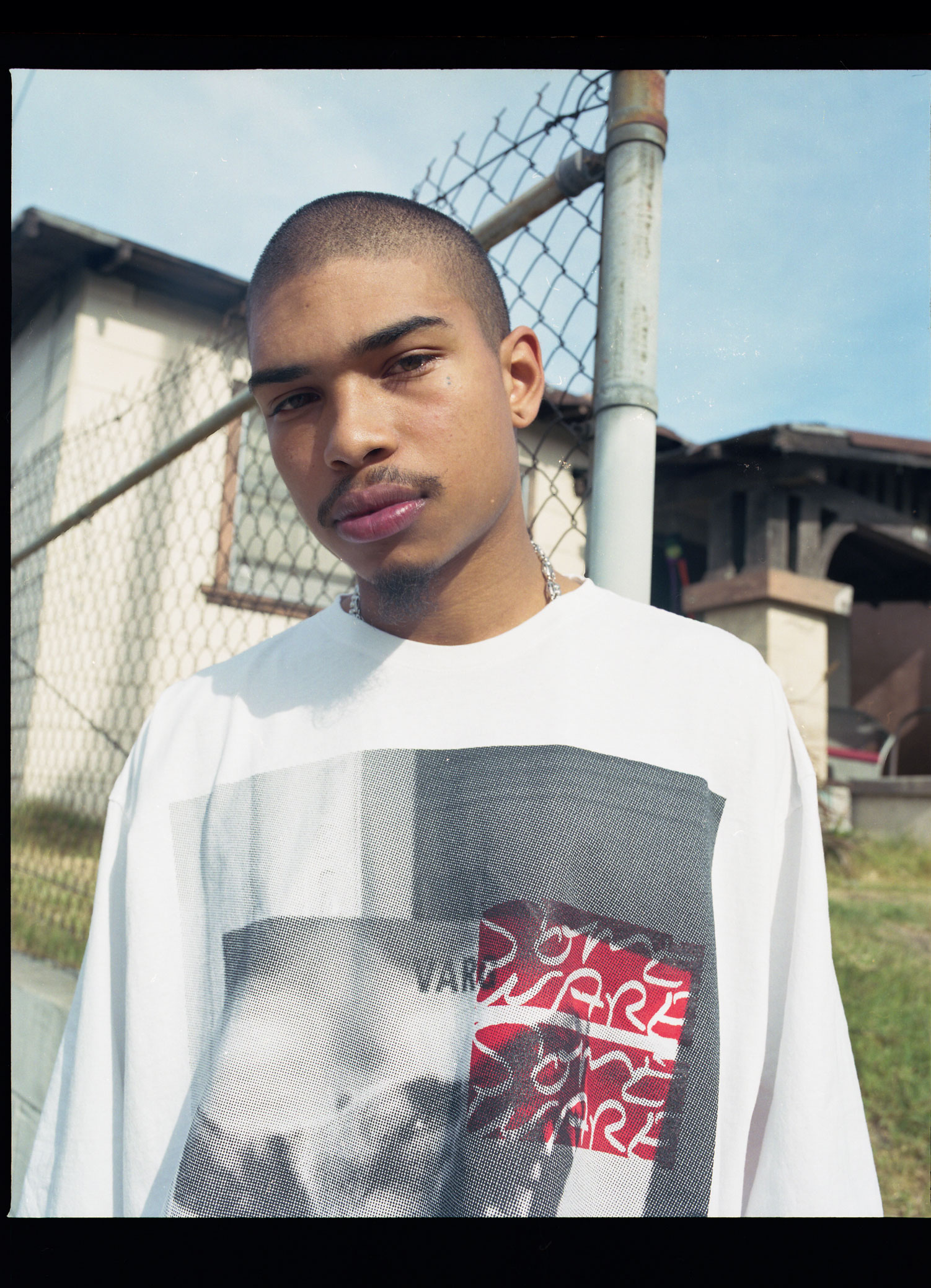 Both took long and winding roads to fashion. Brendan had a solo musical project, BARR, and toured incessantly before pursuing sculpture. His Election Reform project, which started as a sculpture exhibited at LACMA, turned into hoodies embroidered with text and graphics highlighting failures in the American electoral system. Cali's had a similarly eclectic path. He was a babysitter for Frances Bean Cobain, had a record label ("I mean it was never great — I didn't send out promos or do ads") and also works as an artist. We are all talking at Cali's studio, surrounded by political figures with their horrid, gaping mouths obscured by bands of thick neon paint. A lot of Cali's art has involved sweatshirts and tees reminiscent of the ones made locally by the Latino community to commemorate friends that have passed. It was these that caught the eye of Kanye West. Yes, Cali was responsible for the much imitated, moment-defining Life of Pablo tour merch. "For me, the T-shirt has always been there," he grins through gold teeth. "Punk T-shirts were super important. Even when I was ten years old I wanted a Screamers logo on a jacket." Brendan adds, "Sometimes people say, 'It's weird you're doing clothes now,' but it's like, 'No, this is the least weird thing possible.' As someone who's done performance and also made sculpture, it's satisfying a lot of the same urges."
"When I'm dying one of the things I'll like thinking about are the many friends I have around the world. That may sound silly, but it's true. There are all these cities I can go to filled with people I know and love."
Some Ware's T-shirts, made of recycled fabrics, feature a seam down the back and another across the chest, lending them sculptural form. "We got the shirt and knew we wanted it a little wider, so it's the width of the entire roll of fabric, with one back seam, which gives it this rad drape too," Brendan says, pulling huge amounts of fabric out of his enormous Election Reform bag (his next project). "We call it "the new body," which is fun. The silhouette is a bit of a carry-over from when Cali designed the Kanye West merch, but the shape was a subtle act of genius." The genius he's talking about is that they suit all types of people and body shapes: big, small, and somewhere in between. "The shirts are bigger, it's inclusive of all genders and all bodies," Brendan smiles. "We did these shirts that were XL, but I had a couple of heartbreaking instances where larger people couldn't fit into them, and I was so bummed! So I said, we just need to go bigger, and say, all bodies, all people. It's a shout out to everyone!"
As you might be able to tell, Brendan has an infectious, breathless energy, while Cali is more wry and laconic. The perfect design team combination. "The clothes stuff," as Brendan calls it, "has been so fun. Just getting to interact with people. I spent most of my life touring by myself, so I could be really fluid. Then I went into the art studio for years, which was solitary as well." he says. "Doing this now — working together, working with the people we work with — is so enjoyable." After the success of their Paris show, and the fact that most of their wares seem to be sold out, they have big plans. "A big thing for Some Ware is that there are more than clothes. Even as the clothes increasingly become the main focus, they're also becoming a means to collaborate. Clothes, parties, records... they are all a kind of physical body for housing people." What are clothes, parties, or records, after all, apart from a way to declare yourself part of a community, a way to get together with other people like yourself, whether they are into grunge or gorgeous blouses?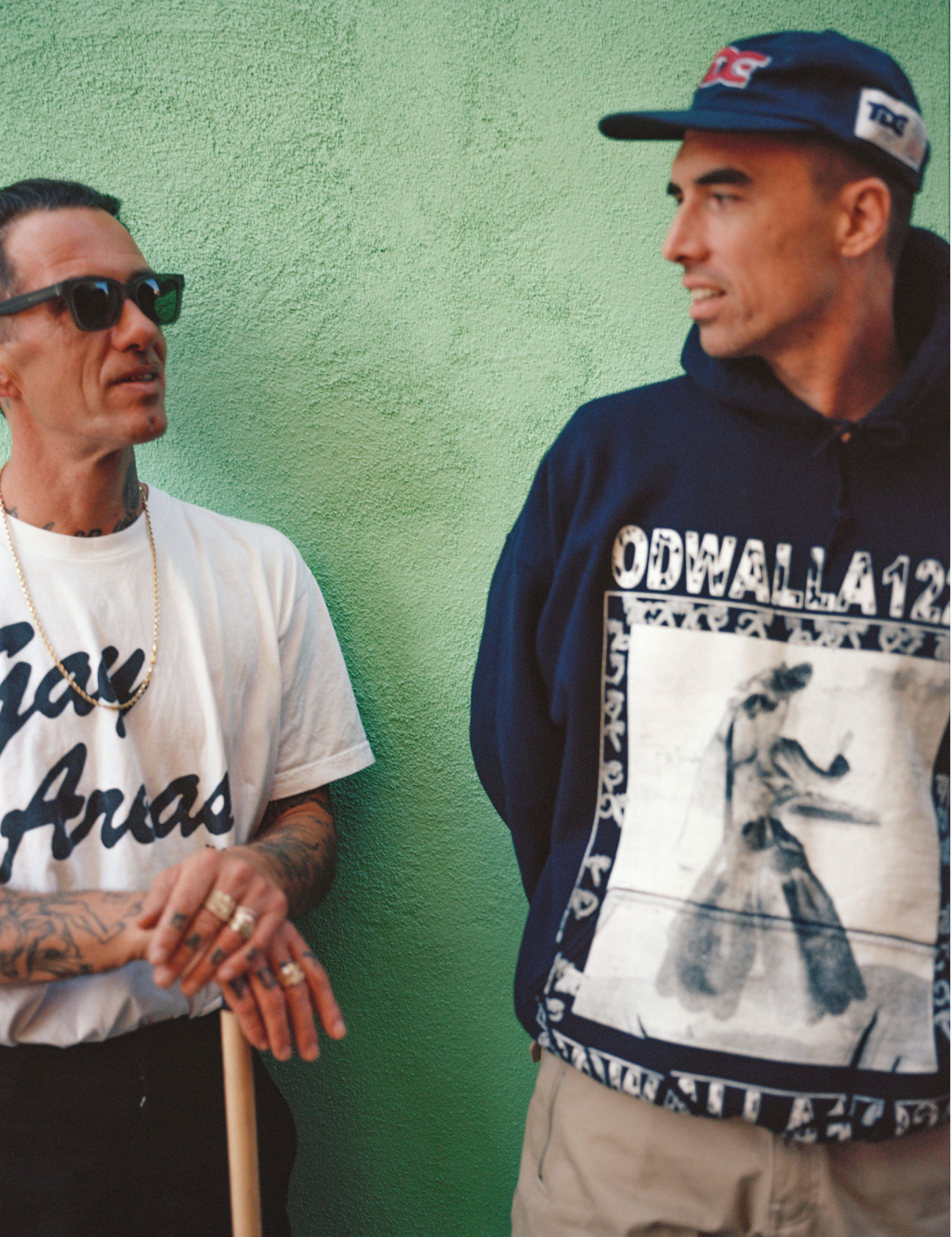 As Cali puts it, ending Brendan's excited train of thought, "I love community. When I'm dying one of the things I'll like thinking about are the many friends I have around the world. That may sound silly, but it's true. There are all these cities I can go to filled with people I know and love." He pauses to look at Brendan. "And to me, whatever we do should have that." Clothes that are respectful of the planet, friendly to all bodies and look, as Brendan would say, rad.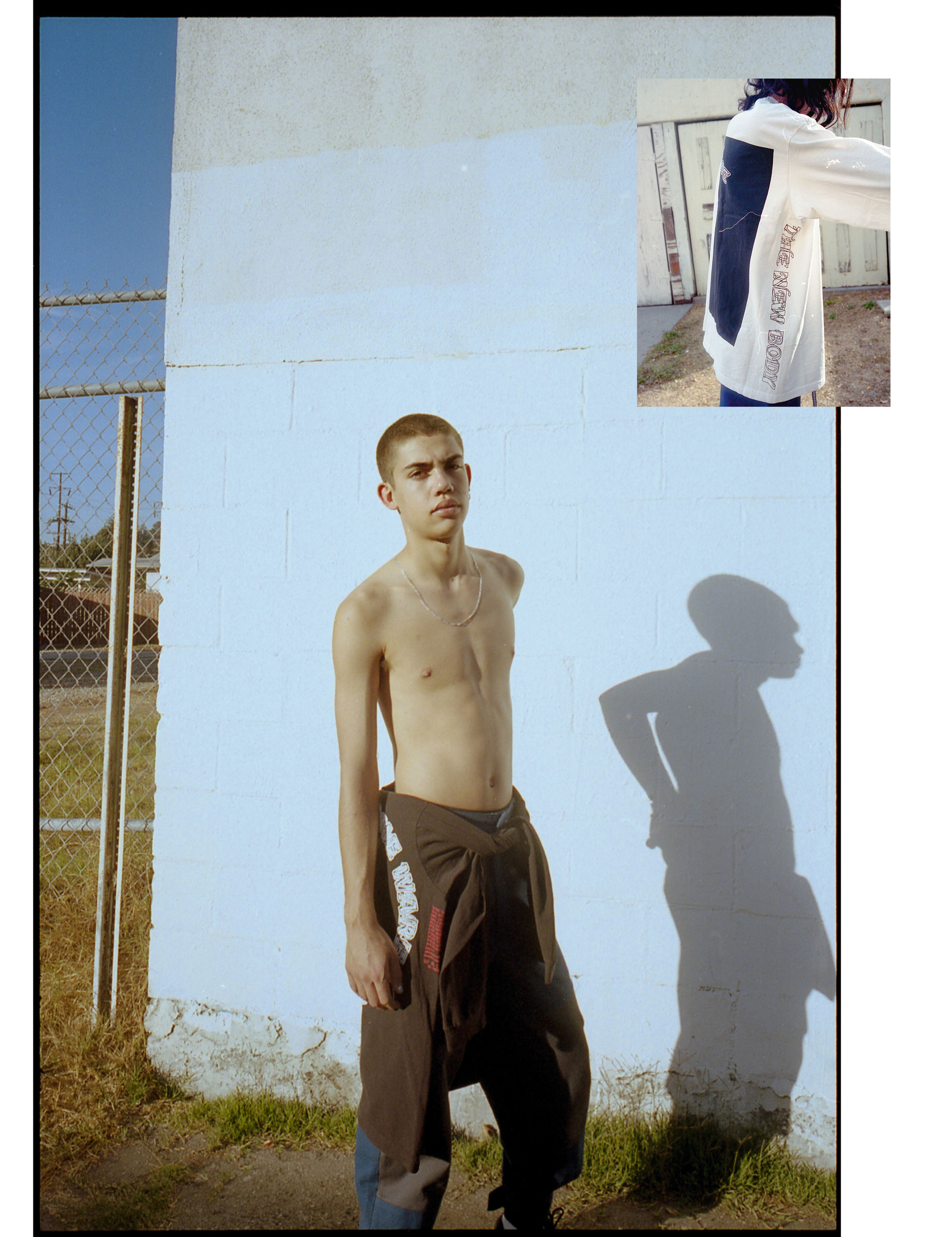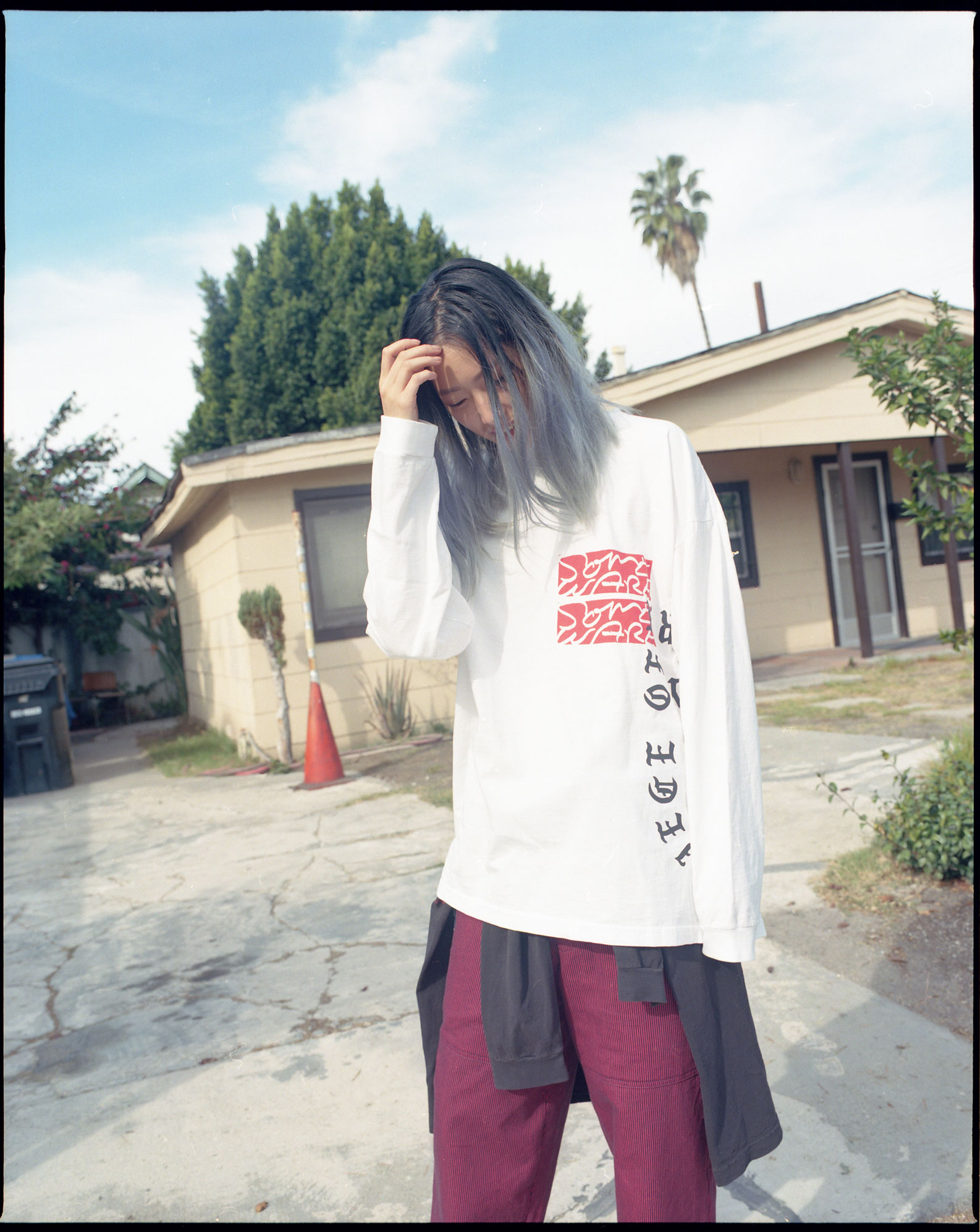 Credits
---
Photography Daniel Regan
Styling Caroline Newell
Photography assistance Larry Burns
Styling assistance Mackenzie Grandquist
Models Nathaniel, Elle, Mariah, Jerald, Phoenix, Sunny, Marley, Riley.

This article originally appeared on i-D UK.