daily horoscopes: october 24, 2018
Today's Full Moon is major.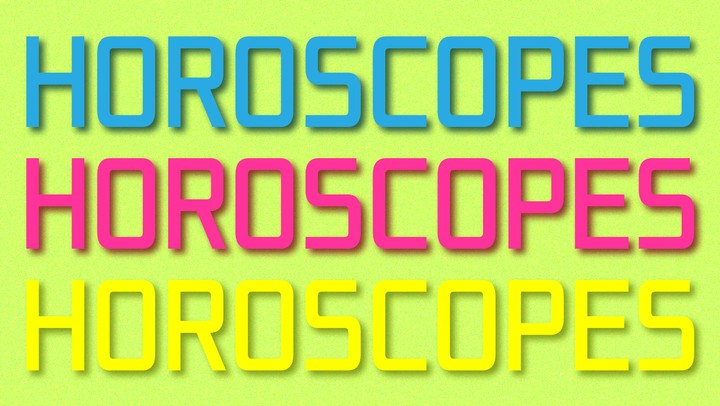 A Full Moon in Taurus arrives today and it's here to shake shit up.

Read the horoscope for your Sun, Rising and Moon signs below to fully understand how it might affect you and what you might want to do about it.
Scorpio
(Oct. 23-Nov. 21)
A Full Moon in Taurus is where you feel the full sting of your season. It just happens to be happening very soon, this year. This culminating moment, today, will show you where you have been unwilling to grow. Where the safety of your comfort zone is now suffocating and the status quo in your life uncomfortable to maintain. Why are you still holding on? Do you really think success will be more difficult to accept and sustain than the painfully mundane nature of what you're doing now is? Think about it and regardless of your conclusion, make a choice as to what you are committing to now, and be ready for the world around you to mirror it.
Sagittarius
(Nov. 22-Dec. 21)
Your instincts are an important part of your survival, but they don't all come from a place that supports your highest good. Some of your instincts to flee situations that challenge you, that create fear to keep you from the potential of rejection, that attempt to convince you to avoid situations that are vital to your growth, should be questioned. The primal part of being human is just that, primal, and often needs to be filtered through your intuition and logic. Safety is important, but this Full Moon, it will do you little good to just opt for whatever is safe and comfortable. That's not what you're here for, Sag. Take the risks necessary to secure as much love, happiness, trust, and compassion in your life and stop running.
Capricorn
(Dec. 22-Jan. 19)
We work so that we can live, not the other way around. This Full Moon will push you to re-prioritize if these lines have been blurred for you, lately. It's time for you to just give in to joy and pleasure in ways you haven't been allowing yourself to. To get present in the now of being in your body and your feelings rather than anywhere else. When you practice this, your life will begin to change and the balance of where you spend your time will begin to shift to what feels good instead of just obligatory.
Aquarius
(Jan. 20-Feb.18)
True gratification and satisfaction come from being in your body, in the present and being willing to feel whatever comes up, regardless of what that might be. This Full Moon, your only task is to find things that make you feel grounded and satisfied. When you get the cash you've been wanting or the house you've been dreaming of, it's what those things provide for you that satisfy you, the objects are just what make the experiences possible. Experience the experiences and feel into the moments that make life worthwhile. That's all.
Pisces
(Feb.19-March 20)
How connected you are to the universe and the people around you is your specific gift. It is an incredibly overwhelming one that places a lot of social and emotional responsibility on your shoulders that you never asked for, but it's more than that burden. This Full Moon, it's time to let the heavy side effects of this gift go. You don't owe anybody your help, kindness, or compassion, you only owe it to yourself to be authentically you and offer those things as they become necessary to you to give. Once you change this narrative, which is part of your task this moontime, the weight that everyone else has put on your shoulders will be lifted and you will be able to, again, discern what to take on and when, therefore getting a step closer to your liberation.
Aries
(March 21-April 19)
Taurus is your financial guide. Its energy gives you your sense of taste and craving for what you love and directs you to material manifestations of your passion and pleasure. But Full Moons are about letting go. Right now is about contemplation over where you have been over-indulgent and/or pushed your resources (material, emotional, physical) to their limit. A time to understand and act on how you can slow down and re-implement strategy and intention into your investments. This Full Moon can be incredibly abundant for you, but abundance does not have to mean excess. It's about the level of gratification, not the amount of stuff. Find the sweet spot of spending (material, emotional, physical) that gives you that "yes" feeling, nothing more, nothing less.
Taurus
(April 20-May 20)
A Full Moon in your sign means that you're halfway through your Solar Return (birthday year). Congratulations on making it here. Today, for you, is all about longevity. What feels out of sorts and disorderly in your life? What needs to be put back on track and find its place? Spend time determining the sets of values and intentions your life runs by. How can you re-align everything in your life to meet these things and cut out what doesn't adhere to these standards? You've got work to do, Taurus. It's time to go.
Gemini
(May 21-June 21)
You spend a lot of time in your rational mind, finding new concepts and ideas to toss around the ol' noggin. What would it look like if you experienced today completely by feel? You decided whether to turn corners, make calls, go out or stay in, what book to read, and movie to watch based purely on what felt right? How long would you be able to tolerate being out of your head and in your body before you second-guess your choices in your mind? Indulge in this little experiment, even if only for an hour, this Moon and see what it teaches you about yourself.
Cancer
(June 22-July 22)
As much as it often feels like you need the people around you, you serve just as much of a purpose in other people's lives as they do yours. This Full Moon highlights the breadth of your connections. This Moon, think through what role you play in the lives of those around you; how do you think they see you? What do you provide to them? What do people ask your help or opinion on? You are a valuable thread of a larger web. Understand your broader role in your community and let it re-enliven you, boost your self-esteem and understanding of your usefulness, and help you to do the work you do with more ease, confidence and grace.
Leo
(July 23-Aug. 22)
If some sort of social, financial, or career-based obligation seems to be coming to an end, or is taking up valuable space that something more fulfilling and long-term can fill, it's time to let it go. The scarcity mindset that to let something go means you will have less or be without will never serve you. Holding tightly onto something that is barely nourishing you is not good for anyone. Let the natural cycle of opportunity and life take place and trust that if something falls away it will soon be replaced with something better. Your stagnancy is your choice, Leo.
Virgo
(Aug. 23-Sept. 22)
When was the last time you tried something new? Exposed yourself to an environment or idea that challenged you and helped you either grow into or out of a prior perspective? This Full Moon wants to inspire and help you sustain new growth, but it will only happen if you consent to and initiate change. This could be through physical or intellectual travel, going to a party, a new country, a new part of the city you live in, to a lecture, or an event you wouldn't usually attend. Your evolution depends on your willingness to evolve and expose yourself to people and places that encourage you to understand the world better so that you can more easily define your place within it. This Full Moon, give something new a try and see how it goes.
Libra
(Sept. 23-Oct. 22)
When are you going to fully give in to believing that you are enough, Libra? No one else should have to convince you, and even if they tried, their impact would be temporary. It's up to you to love, trust, believe, decide for and support yourself through life. Nothing and no one else should be the sole source. This Full Moon will float some things to the surface you may not quite feel "ready"to deal with, but life is about molding what you do around how you're doing, not the other way around. Take time out to reflect on the narratives that are keeping you from stepping into your full power and find out what will allow you to finally let them go for good.
Jaliessa Sipress is an astrologer, writer, and artist.