from runway to reality at the menswear shows
From all-over prints, to cowboy chic, to outsize tailoring, which trends will make the jump from designers' imaginations to real life in the coming months?
The joy of fashion week is seeing a designer's pure, undiluted vision on the catwalk, with every aspect tightly controlled by them, from the clothes, to the casting, to the music. Real life, however, is definitely not a runway. Honestly, it's a mess, and while we can see as many neon lace suits as we like, the likelihood of them making it onto the streets is low. While there isn't an exact science to predicting what will make the jump — who knew we'd all be wearing monstrous sneakers when we first saw them at Balenciaga — you can make an educated guess based on years of sitting through thousands of fashion shows. Here, then, are i-D's exceptionally informed guesses as to what we'll be wearing this coming spring, and rejoice if you've ever been intro dressing up as a fireman or cowboy.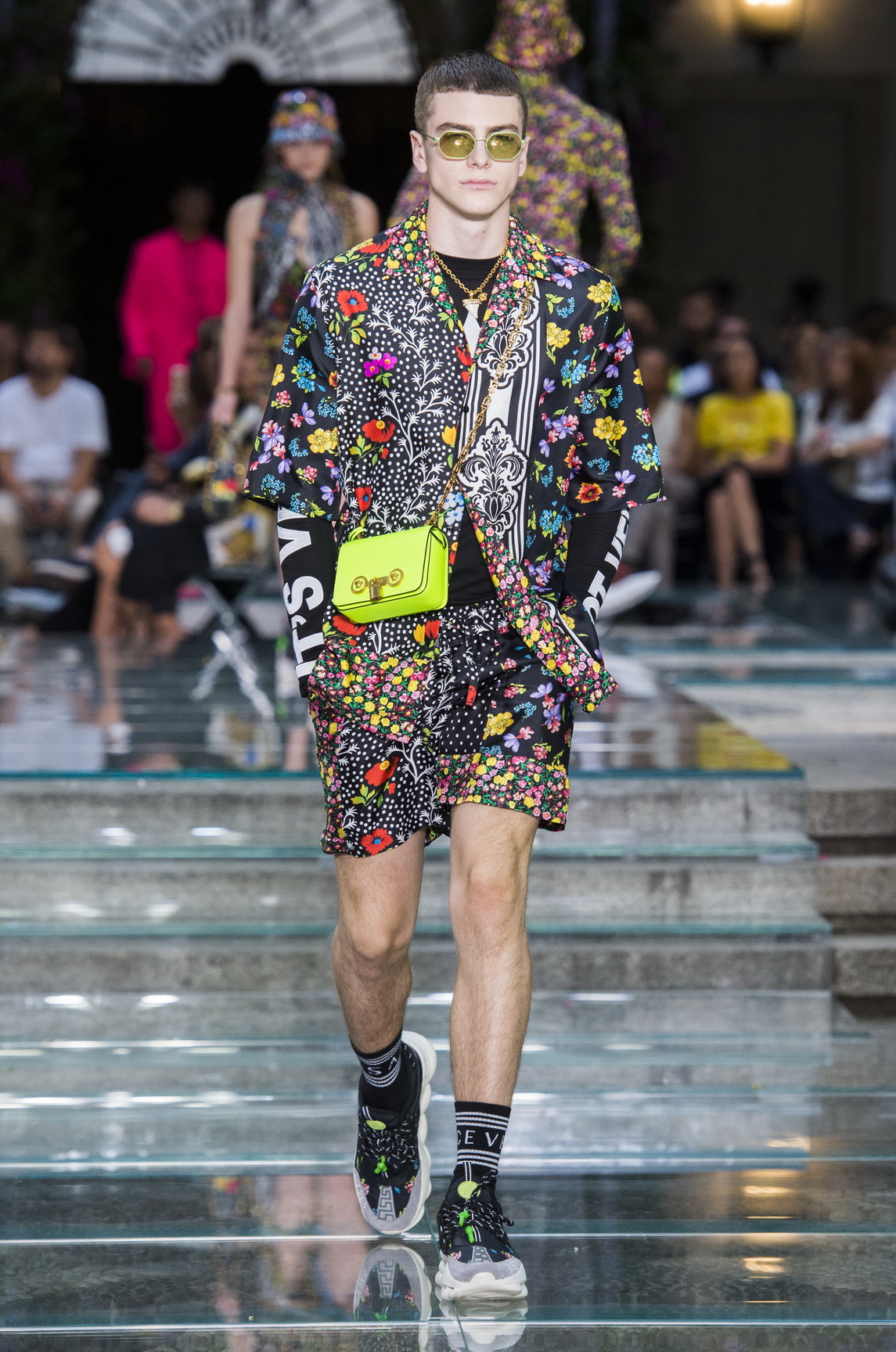 Printing Money
Prints for spring — how novel. Really though, this season saw a continued focus on mismatched patterns, and gone are the days when a monochromatic look meant you worked in fashion. Now it seems like every style obsessed man worth their salt is head-to-toe in clashing prints, a trend spearheaded by Prada over the last couple of seasons. For spring, Miuccia Prada showed an array of digital designs, resembling cityscapes and nudes, and paired them with tiny shorts in geometric patterns (for the confident, the micro-short is making quite the comeback, reinforced by Air's "Sexy Boy" on the soundtrack). Miuccia also brought back some archive florals in neon shades, giving a fresh take on the now ubiquitous roll neck. Versace, of course, also took this trend and run with it, being the House that print built. Snakeskin competed with florals and newspaper headline designs, looking particularly fetching on bucket hats. The message seemed to be one of sexuality — Donatella Versace has never been afraid to have her men appear as flamboyant as her women. Valentino, under the direction of the great Pierpaolo Piccioli, took a more restrained, but still colorful, approach to the trend. Models looked like they were wearing the tiles of a particularly grand palazzo, or the garden in full bloom just outside the window. Whether futuristic (Prada), floral (Valentino), or just fabulous (errm, Versace), we're going to be seeing a lot less black in the coming months.
Even Cowboys Get the Blues
Goodbye lumbersexuals, and hello rodeo boys. The American Midwest might seem a strange source of inspiration, at least for designers in Paris and Milan, considering fashion's fraught relationship with our nation's political climate. But here's to throwing out the rulebook. Raf Simons has been looking to the Wild West since he first took the helm of Calvin Klein, delivering timeless denim and western shirts with already-iconic contrast pockets. As Raf doubles down on the trend, Saint Laurent's Anthony Vaccarello has leaned in to a high western aesthetic with velvet westerns and gold embroidery. Dries van Noten — another sucker for cowboy shirts and pointy boots — offered ranch flair embellishments to jacket shoulders and trouser hems, and for a less flashy option, brown leather piping over navy bombers.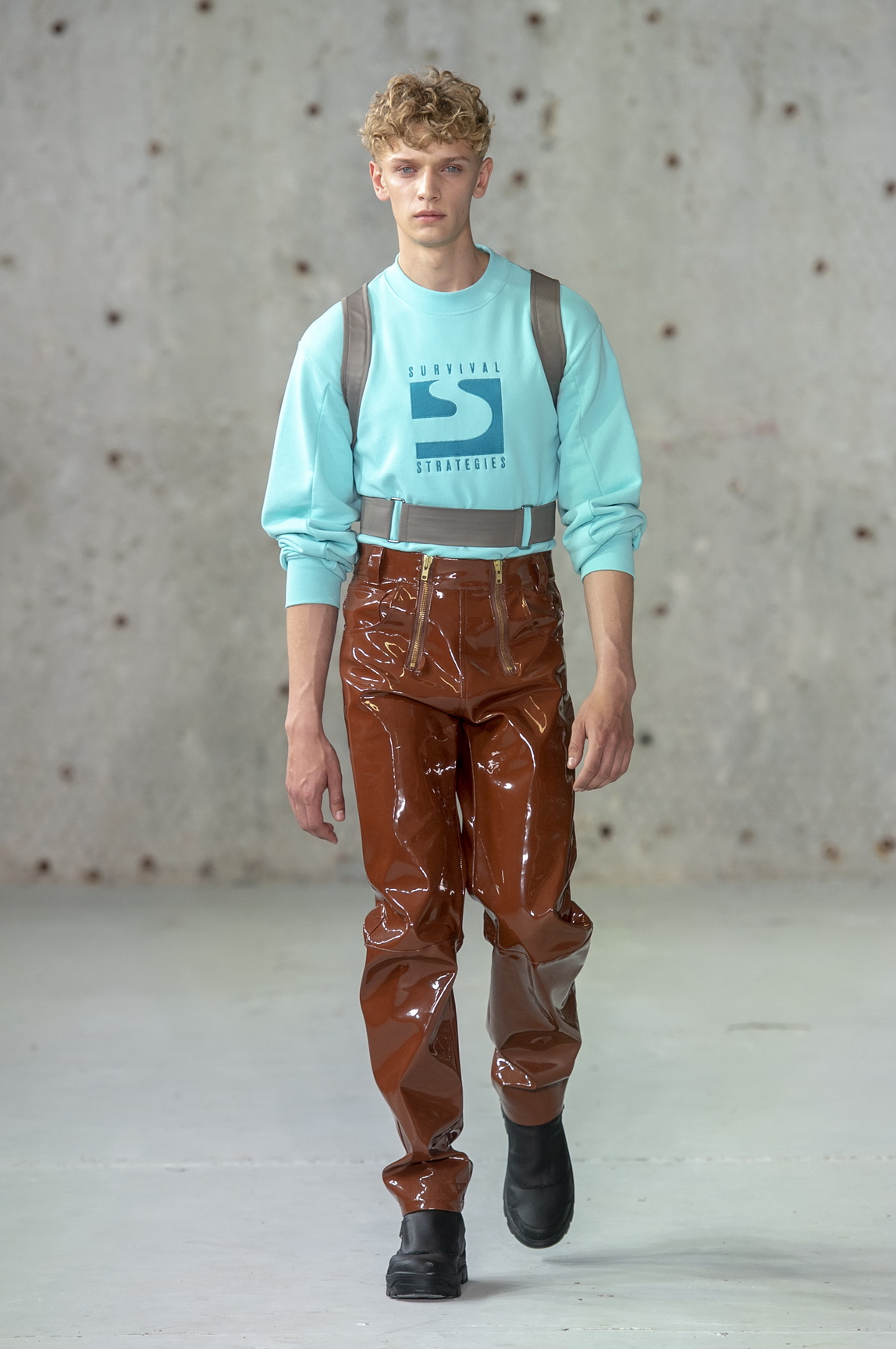 New Leather
Rejoice, fans of both motorcycles and Tom of Finland, for leather pants are back in a big way. Not that they're particularly rugged looking, however, or even black — this is a new take on the classic. Spearheading this look was Hedi Slimane, in his first collection at Celine. Slimane's men wore slim leather pants under strong shouldered, monochromatic tailoring, and above pointy boots, giving them their air of particularly disaffected 80s artists (or maybe Yakuza In training). Slimane's slim silhouette is back with a vengeance, and bound to make the jump into reality shortly. Elsewhere, Martine showed a looser style befitting her exaggerated silhouette, while GMBH put out pants with two zips up the front, perhaps reflecting the brand's Berlin heritage (it's seemingly impossible for leather to lose its air of kink). If leather's not your thing, for vegan reasons or otherwise, Raf Simons showed neoprene wetsuits at Calvin Klein, while John Galliano's first menswear show for Margiela featured patent PVC heavily.
Fireman
Is it hot in here or is it just this industrial strength coat complete with thick reflective panelling? New York streetwear king Heron Preston is making fireman looks part of his brand DNA, following equally testosterone-packed collabs with NASA and the New York City Department of Sanitation. Burberry recently caused a few double in the frow when the brand added full-on fireman looks to its typical lineup of trench coats and plaid knits, and stirring even more surprise among actual firefighters. Calvin Klein's Raf Simons had firefighters on his fall moodboard of all-American heroes, delivering handsome rust and mustard-colored jackets with enormous pockets and spread collars — even pairing them with rubber boots. Reflective panels have also shown up on the runway at Louis Vuitton, Junya Watanabe, and Y-3.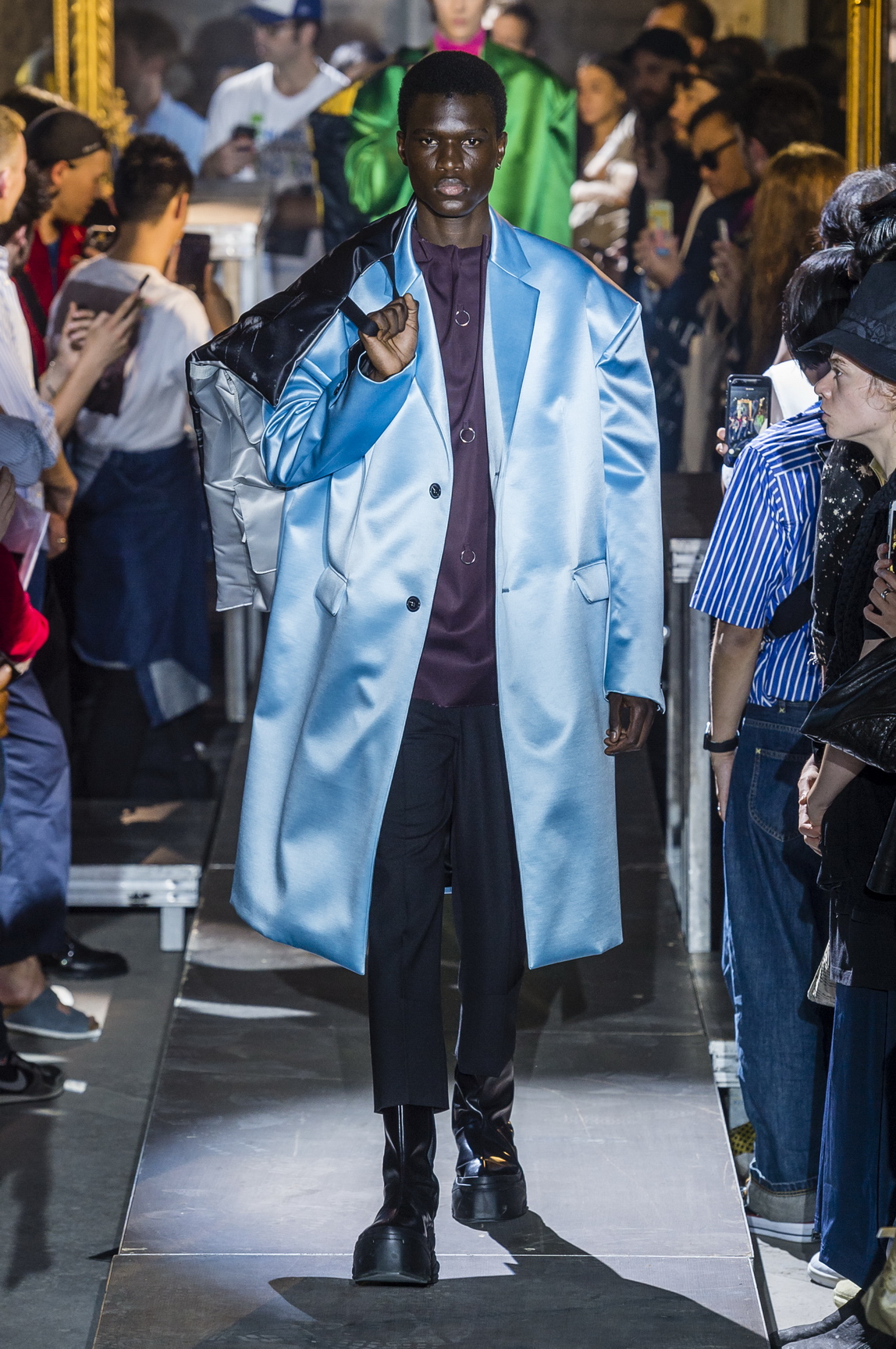 The return of elegance
Ever a leader, this season Raf Simons turned his back on the street wear and hoodies that he's focused on for the past couple of seasons. In their place, he envisioned a gang of boys in almost couture-like outfits of stiff, vibrant colored satin and oversized knits. Maybe it was his return to the Paris schedule that inspired the change, or maybe he'd just got bored of hoodies (very possible). While we're not suggesting that men will suddenly be wafting down the street in opera-coats, there is something to be said about cleaning up our acts a little in crisp, oversized tailoring.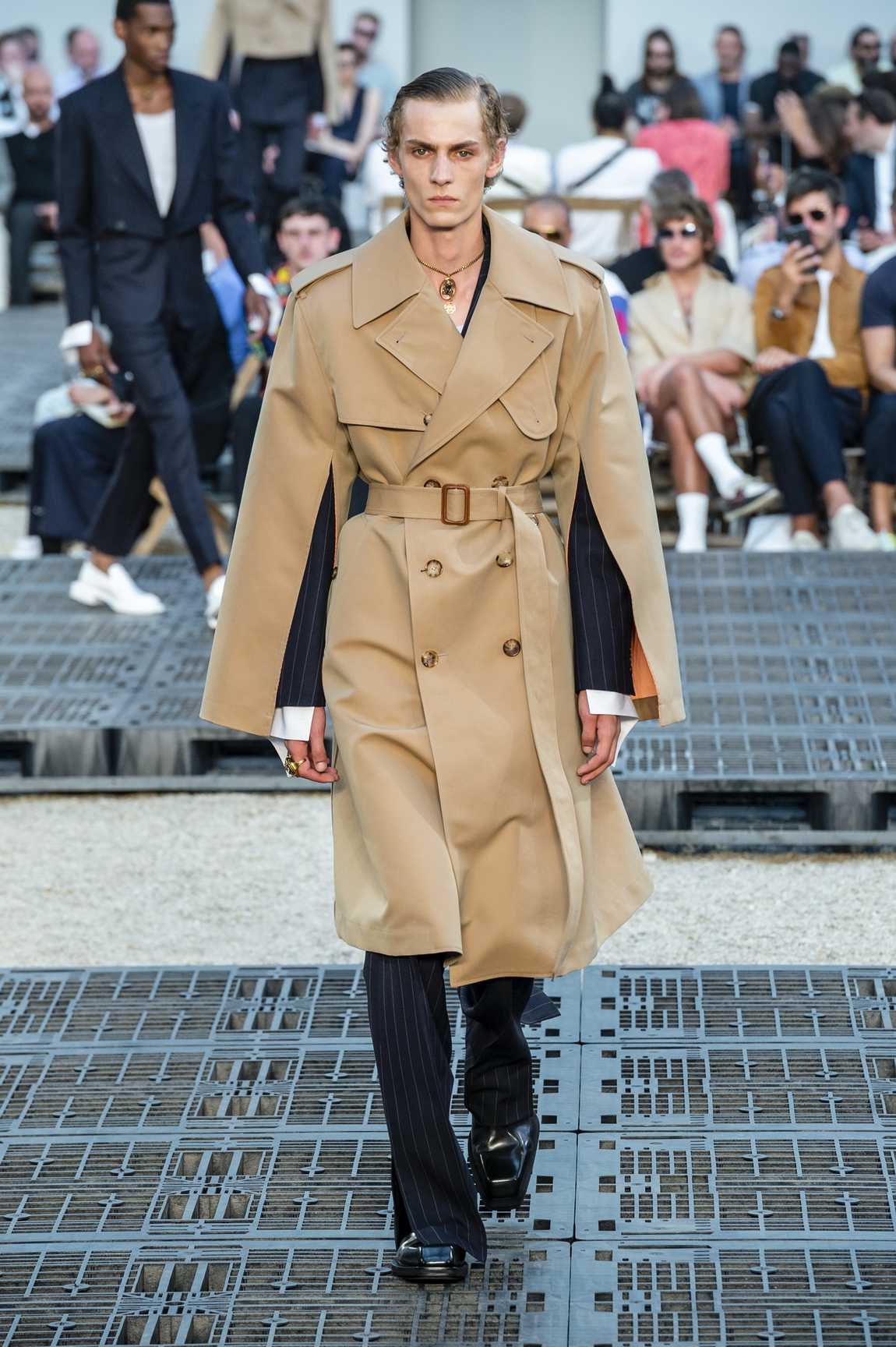 Speaking of which… oversized gets oversized-er
As evidenced by Mr Simons, both at his own label and at Calvin Klein, the trend for everything oversize isn't going anywhere. As mentioned above, however, it's not about a knee length hoodie baggy and track pants, but crisp, wide shouldered suits and homespun knitwear. At McQueen, Sarah Burton's gentlemen wore shirt sleeves that brushed past their knuckles, young, 70s inflected Edgar Allen Poe's in their sooty tailoring. Marni's runway was a sunnier affair, with Dennis the Menace style stripey sweaters and white shorts making the models look like they'd borrowed someone much bigger's wardrobe.