Images courtesy of Converse
hello kitty on frank ocean, rei kawakubo, and her new converse collab
The Sanrio superstar talks us through her new collection of sneakers and reveals what's on her summer playlist.
Images courtesy of Converse
Since first appearing on a purse in 1975, Hello Kitty's face has graced everything from pens and mousepads to a sphygmomanometer and a quesadilla maker. It's not just Japanese schoolgirls who can't get enough of the cultural icon — she even played conductor at Frank Ocean's Lovebox Festival headline slot last summer. It's this amorphous quality of Kitty's that connected her to another icon of self-expression: Converse. The cartoon cat and the sneaker brand have collaborated on Converse's new fall and holiday lineup, available August 16 on Nike.com.
"Hello Kitty is whoever we want her to be," Converse says of the collab, "and Converse sneakers are worn however we want to wear them." One Stars show Kitty's face peeking out from an underlay. All Stars come in baby pink canvas adorned with tiny red bows, while a white pair features Kitty's best friends and her famous catchphrase, "Say hello to me when you see me." There are hoodies, long-sleeve tees, and all-gender accessories, including a canvas crossbody in sturdy Cordura fabric.
The new line sees Kitty join an esteemed line of Converse collaborators, including Rei Kawakubo, Missoni, Jonathan Anderson, and Virgil Abloh. So why has it taken so long for the merchandising icon to lend her face to such famous sneakers? Is it because she has paws for feet? Has the big pond been keeping the American brand and the British schoolgirl apart? And most importantly, what Frank Ocean tracks has she been bumping while sketching designs this summer? For all this and more, we turned to the famous feline herself. Turns out she's pretty chatty for a mouthless cat.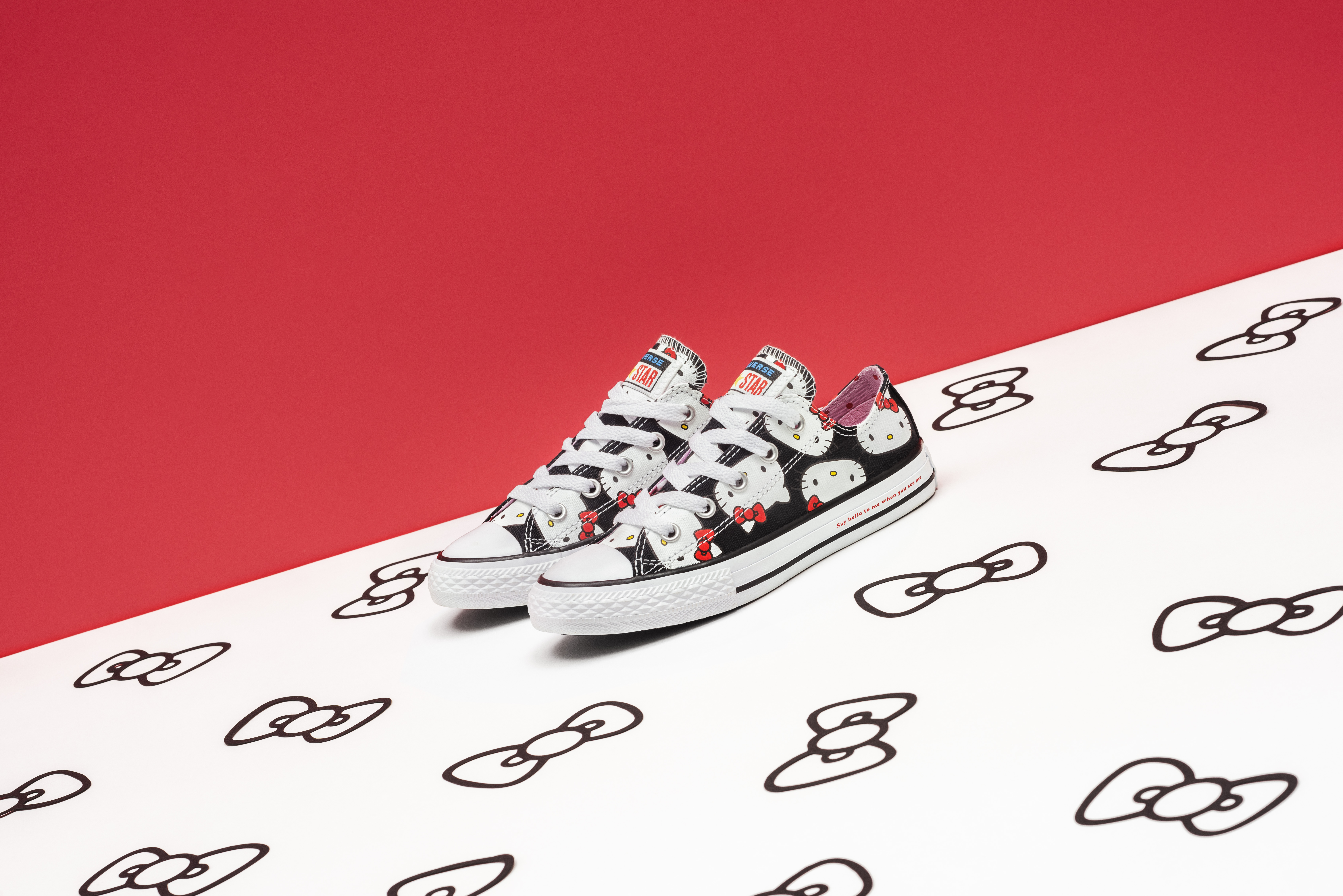 What does being iconic mean to you?
Hello Kitty: Being iconic means inspiring others and bringing happiness and friendship to the world! Connecting with people of all ages and making them smile!
What's your favorite item from the Converse collab?
Hello Kitty: Everything from the collection is supercute! The pink high tops are especially sweet!
You've been around for nearly 45 years now. What's your secret to maintaining such a youthful look?
Hello Kitty: Making people happy, having fun with friends and family, taking time to smell the flowers, and enjoying life to the fullest!
Converse is such an legendary American brand. As a London-bred girl yourself, what do you love most about this country?
Hello Kitty: There are so many great things, including visiting different cities and eating apple pie!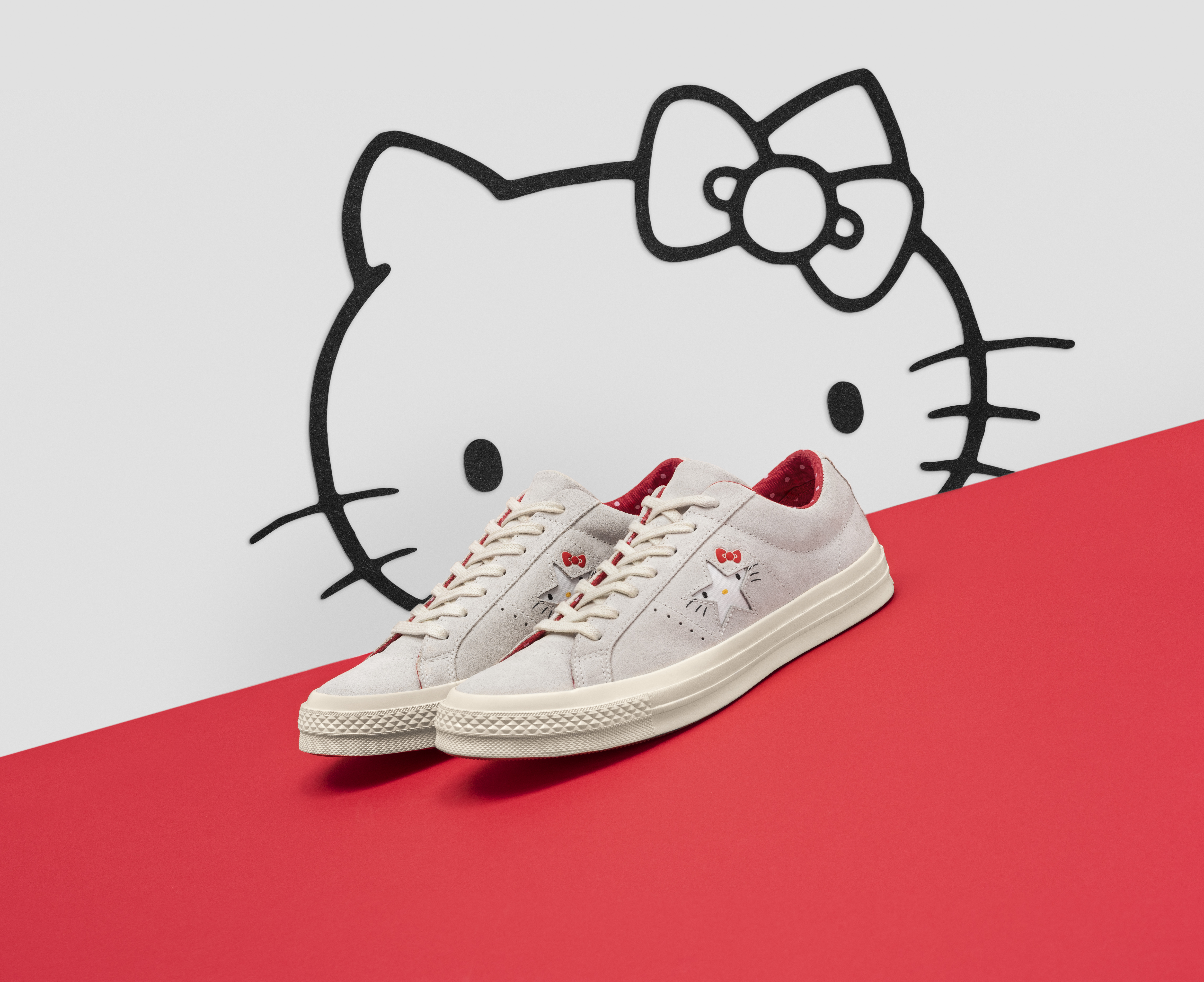 Do you ever feel the pressure of fame?
Hello Kitty: Staying positive is important and surrounding yourself with lots friends helps!
You recently starred in a lyric video by Frank Ocean, a fellow noted Converse fan. Do you have a favorite Frank song other than "Provider"?
Hello Kitty: I love Frank and am happy to be included in his lyric video for such a great song. It's hard to pick a favorite! They are all so good. I enjoy his cover of "Moon River"!
What else is on your summer playlist?
Hello Kitty: Music and sunshine make me so happy. This summer my go-to playlist includes everything from pop to indie to electronic and hip-hop. Today I have "Level Up" by Ciara, "Sugar and Spice" by Hatchie, "One Kiss" by Calvin Harris and Dua Lipa, and "In My Feelings" by Drake on repeat.
You've also got some history with another Converse collaborator, Rei Kawakubo, recently appearing on the runway of her Comme des Garçons show. Do you guys ever hang out in Japan?
Hello Kitty: Rei is so cool! Her designs are out of this world, and it was an honor to be part of her creative vision. We both have super busy schedules, but always try to make time to hang out. You can never have too many friends or see them too often!