premiere: nightspace's 'modern survival' is the rage track queer people need
The queer dreamcore techno artist lays their soul bare in an ethereal new music video.
Photography Orograph
Teetering at the fringe of the now-defunct techno subgenre 'witch house' and taking cues from musicians like Arca and FKA Twigs, New York-based electronic output Nightspace filters ethereal soundscapes through a dark prism. The musical moniker of 22-year-old multimedia artist Bailey Skye, Nightspace's entirely self-produced, minimal beats carry raw, droning vocals periodically pierced by Skye's moans and shrieks.
Premiering today on i-D is the music video for Nightspace's newest "Modern Survival," an aggressively transgressive track written about the current American political climate and what it means to actively fight for survival as a queer person of color. "I knew not to trust them and I have seen who they kill," Skye reveals. "They see us, but we never note their eyes / They are clever." An active participant in Bubble_T, a roving queer Asian dance party and collective that takes its name from the Taiwanese drink, much of Skye's practice seeks to convey their experience as a nonbinary person of color while calling for resistance to dominant and long-held structures of racism.
The Monterey-born and Seattle-raised artist teamed up with hometown photographer Úna Blue to capture the video, which spotlights Skye as they move and sway amidst a haze of red backlighting. Mirroring their sound is a sublimely eclectic aesthetic. Skye dons patchwork garments from their own collection, which debuted at Bubble_T's Lunar New Year rave at MoMA PS1 and is titled ZAH after their Instagram handle, and dresses their face with three large black circles and curlicue waves of baby hair. Describing their look as "a cross between Comme des Garçons and Digimon," their stylistic influences span mythology, traditional Mongolian dress, and Japanese street style.
As Nightspace gears up for a national tour this summer, we caught up with Skye to talk about the making of the video.
What is "Modern Survival" about?
It's about today, how we actively practice self-defense in every moment. It's about the time we're living in and the people we want to protect. Generational trauma evolved into generational consciousness, learning to live with the toxicity of capitalism, the secrets we've inherited, and our collective third eye. Modern survival is adapting to a new battlefield that is our lives in a world that seeks to suppress us. In this age, we have to survive not only physically but emotionally.
How would you describe your music?
Industrial passion. A soundtrack to the revolution. Gracious baby techno and self-titled "dreamcore." It is high vibrational, it's meant to resonate deeply with anyone and everyone listening.
What do you hope listeners will take away from your music? Is your work political?
I want my listeners to find affirmation and comfort in my music. You're appreciated. My work is definitely political. As a non-binary artist of color, anything I do inherently will be. My experiences with racism and transphobia influence me because I pour my emotions into my art. It reflects me, my body, and how my body navigates the terrain of New York, including the experiences of those like and around me. Everything plays a role in what I choose to put out.
You have to hold your ground living under the circumstances of white America, there's danger in being both queer and of color — especially in this political landscape. While that doesn't define or limit my existence, it's integral to my identity and expression. Taking risks, speaking out, and challenging institutions is fundamental to being an artist. Art is resistance and, today, that is what we need more of.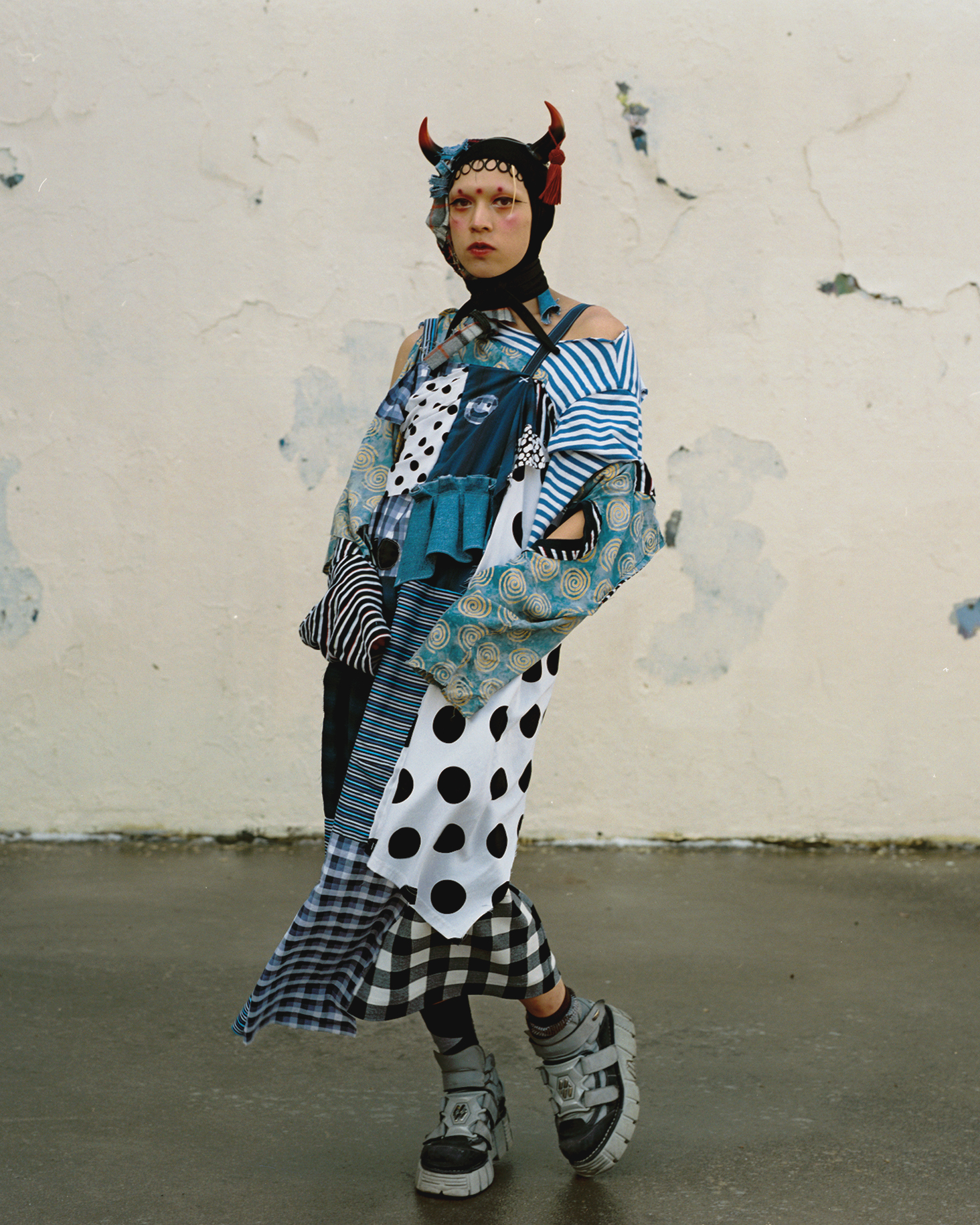 You worked with Seattle-based photographer Úna Blue in making this video. What was that process like?
30 minutes in her garage with red lights and broken glass. Plus another maybe 20 minutes filmed in the wind outside. It was mostly improvised, sometimes that's all it takes to create magic when you're both strong artists. I was in Seattle with my family for the holidays, so it was a very impromptu shoot that we squeezed in before I left.
You recently unveiled your clothing line ZAH at MoMA PS1. How did you begin designing clothes?
I wanted compelling clothes that felt like me, but they didn't exist or weren't affordable. Fashion is expression and I had the revelation that making my own clothes would feel hyper-genuine. It's important for me to be in control of my vision, constructing my own clothing has become an extension of that and my art.
I had the help of my mom to create this first ZAH collection, she had her own clothing line in the 90s and encourages me always. This clothing feels like a manifestation of myself and my people. I'm thankful my mom and family were able to help bring it into physicality.


Who or what are some of your style inspirations?
I've always cherished the Japanese street style magazine FRUITS. I remember flipping through a copy when I was young. It always stuck with me. I'm becoming more and more interested in my ancestors. I'm constantly researching ancient Asian and indigenous garments, learning their symbolism and history. Our ancestry is sacred. At MoMA PS1, my aunt, aka Shamanaki, performed a drum ritual wearing traditional Mongolian robes and tassels. I'm inspired by the structure and meaning of these designs. It's as if they demand power. Making my own modern versions feels like I'm harnessing old power.

Is there anyone you dream of collaborating with?
Personally I imagine Arca, FKA twigs, and Kelela as a holy trinity. I respect them dearly, collaborating with any of them would be major.

You're involved with New York's queer Asian dance party and collective Bubble_T. Could you tell us a little bit more about Bubble_T and why you feel it's important?
It's a revolutionary queer Asian collective and dance party. I performed at the last two, held at MoMA PS1 and Secret Project Robot, both of which have been a few of my favorite and best shows to date. It's important for so many reasons. If you've ever been to a Bubble_T event, you realize the importance of having space to be entirely yourself, surrounded by individuals doing the same. As QPOC we don't get to feel celebrated and validated like our white/cis/het counterparts every moment of every day; the occasion is rare. Bubble_T gives us the space that we have always deserved. These parties aren't just for Asians, they're tailored for all marginalized people, and part of what makes it such a force in NYC is the strength and love of the community itself. We're unapologetic, we revel in the newfound power we claimed for ourselves, and we're sharing it, usually once a month. We are consistently holding space, learning, growing, and celebrating one another.
Tagged: