Jill Scott and Azealia Banks in Love Beats Rhymes. Courtesy of Lionsgate Entertainment.
rza on his new hip-hop coming-of-age film and 90s rap battles
The Wu-Tang Clan's unofficial leader talks to i-D about "Love Beats Rhymes," and working with the film's star, Azealia Banks.
Jill Scott and Azealia Banks in Love Beats Rhymes. Courtesy of Lionsgate Entertainment.
While Ghostface Killah was busy starting a cryptocurrency company, one of the Wu-Tang Clan's other founding members, RZA, was exploring a side project of his own: movie-making. Most recently, his musical and directing talents came together in his new feature film Love Beats Rhymes, which follows a struggling female rapper from Staten Island — where RZA (then Robert Diggs) spent much of his own youth.
The story follows Coco Ford (Azealia Banks), a rapper who is trying to find her voice. While her language is looked down upon by her college literature professor Nefari Dixon (Jill Scott), Coco is discovering the world of spoken-word poetry, thanks to Dixon's handsome teaching assistant (Lucien Laviscount).
The film was shot in every borough of New York. Staten Island is a backdrop for Coco's rehearsals; nightclubs and cafes in the Bronx, Manhattan, and Brooklyn are the settings of rap battles and poetry slams. "The production company wanted to move this to Toronto to get a tax break but I said, 'No, we have to shoot this in New York,'" RZA tells me over the phone from his home in California.
One of his favorite scenes from the film is a shot of Manhattan as seen from the Staten Island ferry. "The city view from the ferry is very different than any other view," he says. "To me, it's a very artistic view. I always saw it as art."
Despite his own experience as a rapper in an all-male group, RZA didn't find difficulty in telling the story of a female rapper in a male-dominated industry. "I thought, 'How can I express my soft side?'" he tells me. "I mean, Wu-Tang Clan ain't nothing to fuck with. We're not known to be soft at all. But everything hard has a soft center. This film gave me a chance to express my soft center and I took the opportunity."
The film starts out by showing a group of young rappers (including Coco) who have nothing to say — they're style over substance — but Coco soon detaches herself from the crew to go her own way. "Wisdom takes time," RZA says. "Fast food fills you up but a good meal takes time to cook. That's a great analogy for what we get sometimes in hip-hop — we get fast food."
Despite that, he still believes in young artists like Banks's character in the film. "Artists need to evolve and we should give them the chance to do that," he says. "I use myself as an example. Wu-Tang started out describing our neighborhood, but as time went on, we talked about the political landscape of the world, the way things shaped our community on a global level. Artists must evolve."
RZA has seen rappers not only develop artistically but also mature as people. "Look at Jay-Z, what an evolved man," he says. "I met him as a kid rapping in the streets of Bushwick, now he's the leading artist of our generation. Being a father, it's an evolution."
Coco's character also has to grow in the film. "She starts off battle rapping, talking shit," he says. "Thinking that poetry is 100-year-old white man shit, then she realizes she has to evolve; she starts one way and ends up another."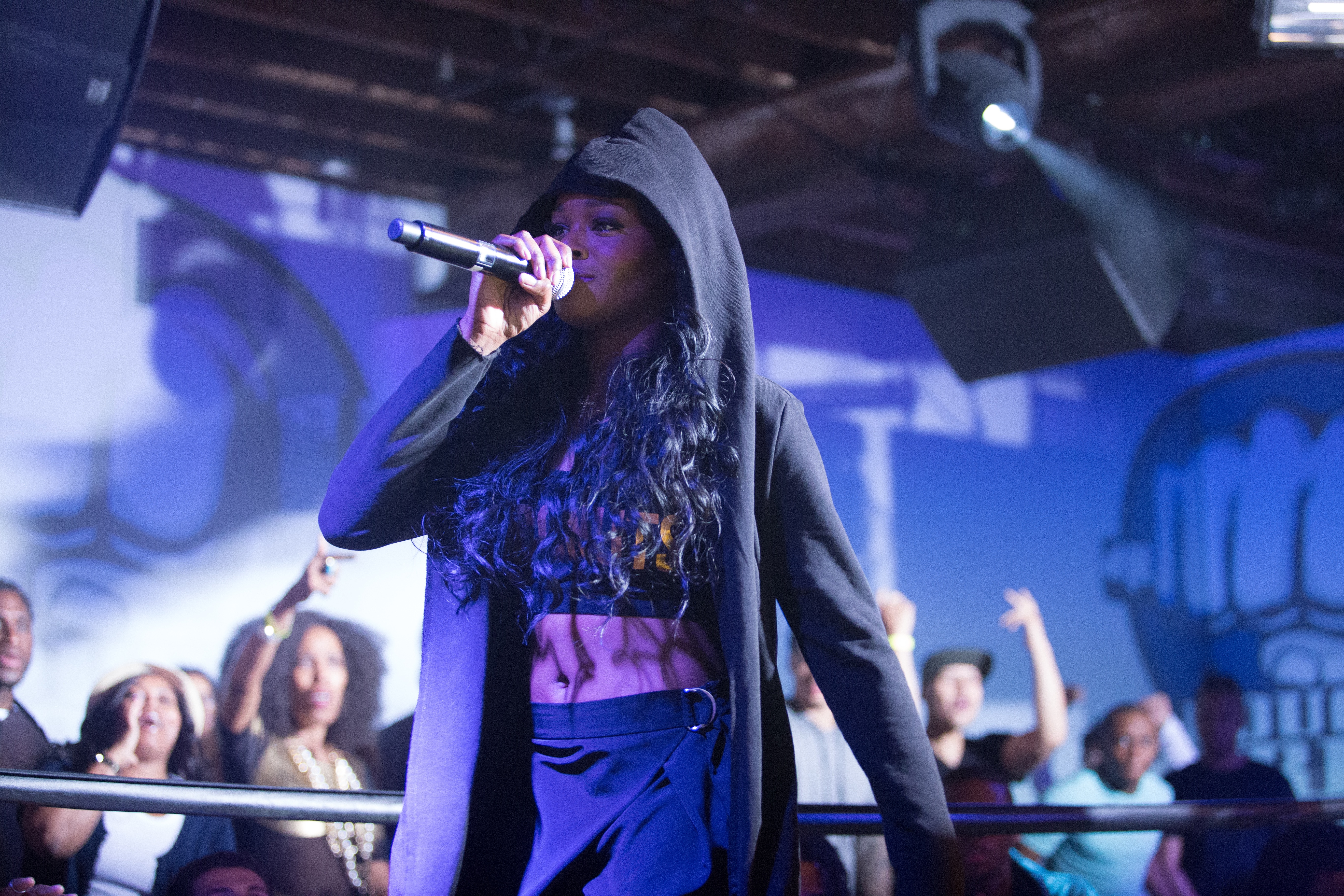 The heated rap battle scenes are the best parts of the film; they're also a throwback to the 1990s, when Wu-Tang was coming up. "It's a sport, like boxing," RZA says of going head-to-head with another rapper. "It's just a verbal confrontation. Like any parliament [with members] yelling at each other, I'd rather see it on the floor of diplomacy or in art than to see it manifesting in a physical act. It's healthy."
Banks freestyles in these scenes with convincing spontaneity and flare. No surprise considering her own high-speed rhymes. But the lyrics were mostly scripted. RZA explains that Banks was working under the guidance of freestyle champion Murda Mook, who accompanied her into the studio to work on the composition.
And the lyrics don't hold back. While Love Beats Rhymes started out as a PG-13 drama, it reached theaters with an R rating. "That's the funniest thing about the film, I set out to make a PG-13 movie," RZA says. "But I let the talent deliver the lines in full, I let them curse. I also shot versions where they don't curse. But we liked the cursing versions better when we were editing, that's why it's rated R, because of the language, not because of anything else."
By keeping it raw, he wanted to connect with a younger audience. "I was hoping Coco would be a big sister to them, to give them some guidance," he explains. "I think rated R is a harsh rating for saying 'fuck you' and 'nigga.'"
In 2008, an interviewer for The Independent asked RZA where he wanted to be in ten years' time. His answer was: "I hope to be an established film director and a positive world figure."
Today, he has two directing credits under his belt (his debut was 2012's martial arts saga The Man With the Iron Fists). And his message for young rappers reflects his own personal enlightenment and wisdom learned the hard way. "Just be conscious of what you do in your youth and how it's going to affect you in your full adulthood," he advises. "One day you might have a daughter — like me. I've seen my daughters come cry on Daddy's shoulder, know what I mean?"
"That's the double-edged sword of it," he says. "What goes around comes around."
"Love Beats Rhymes" is in theaters now.