Photography Monica Feudi, Parsons.
5 designers to know from parsons's outstanding class of 2017
Some bigger NYC names might have flown the coop this season, but the city has no shortage of younger designers to get excited about. Here are five talented Parsons MFA grads to get on your radar immediately.
Photography Monica Feudi, Parsons.
The show notes for the Parsons MFA graduate show took the form of increasingly forceful affirmations: "BELIEVE IN YOUR FUCKING SELF. DON'T FUCKING PROCRASTINATE. STAY UP ALL FUCKING NIGHT." The class of 2017 has been taking those words to heart. As knitwear whiz Zoe Champion told us during the lead-up to what she called "a sort of VIP preview for industry headhunters and select press," most students pretty much start living at the school's studios. Yesterday's outstanding show proved all those caffeine-fueled all-nighters were worth it. The buyer sitting next to me perhaps gave the ultimate endorsement of the students' talents when he turned to apologize for his enthusiastic commentary: "Sorry to keep disturbing you but this is reminding me why I love fashion." From Zoe's next-level knits to classmate Caroline Hu's beautifully embellished tulle gowns, here are five standout new-gen designers to get on your radar now.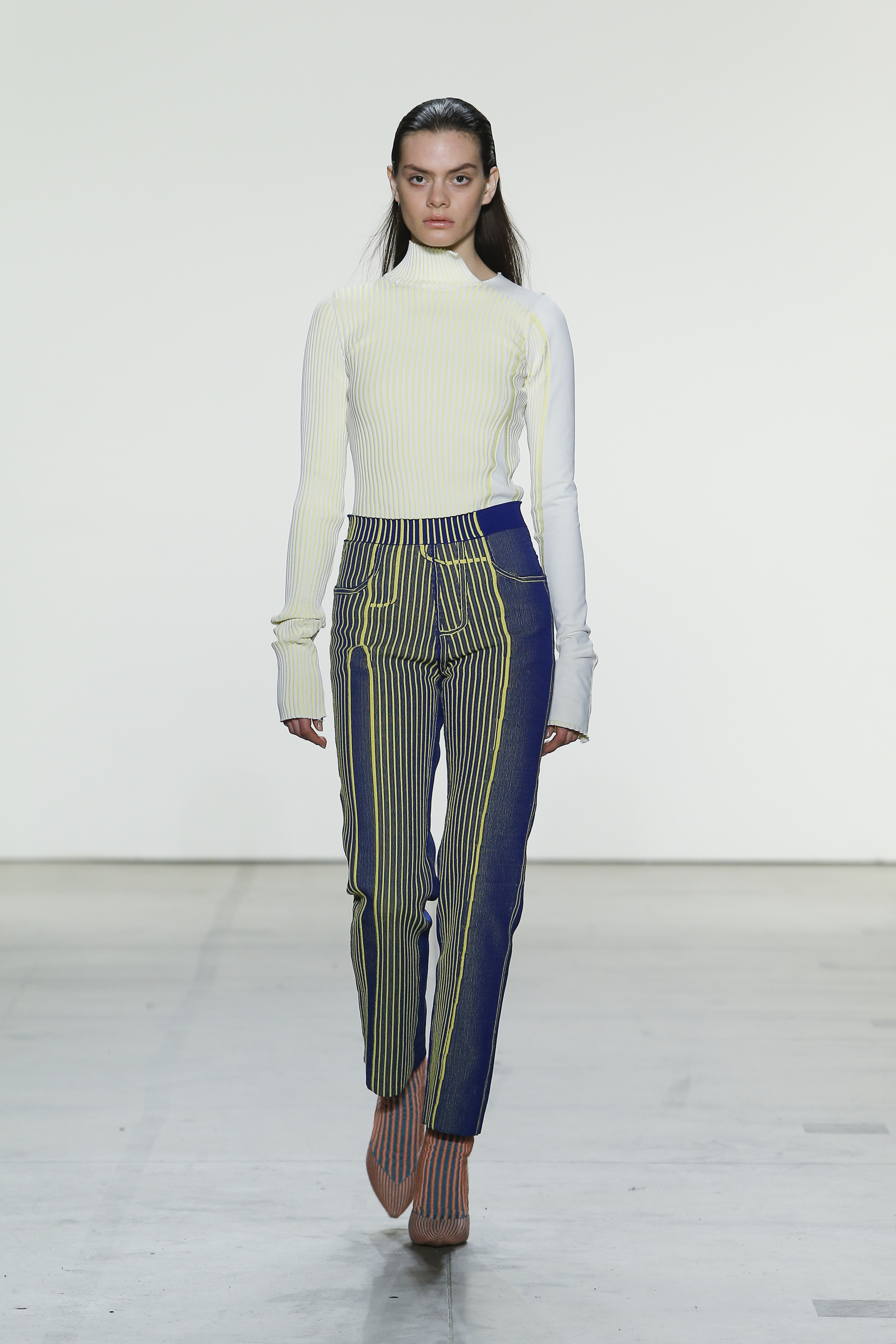 Zoe Champion
Knit queen Zoe Champion told us she dreams of working for Nike, but her talents would be as welcome in a couture atelier as they would a sportswear studio. Her impressive opening look — sleek red trousers paired with a slouchy fuchsia turtleneck top — was followed by pieces so clever they were almost disorienting. One elegant color-blocked coat appeared transparent at the shoulders without losing any of its shape. A pair of navy and neon-striped trousers (worn with matching knitted stilettos) prompted blurred vision in the best way. The translucent yellow slip dress was overlain with a second boxy purple mini one that looked part couture and part cartoon.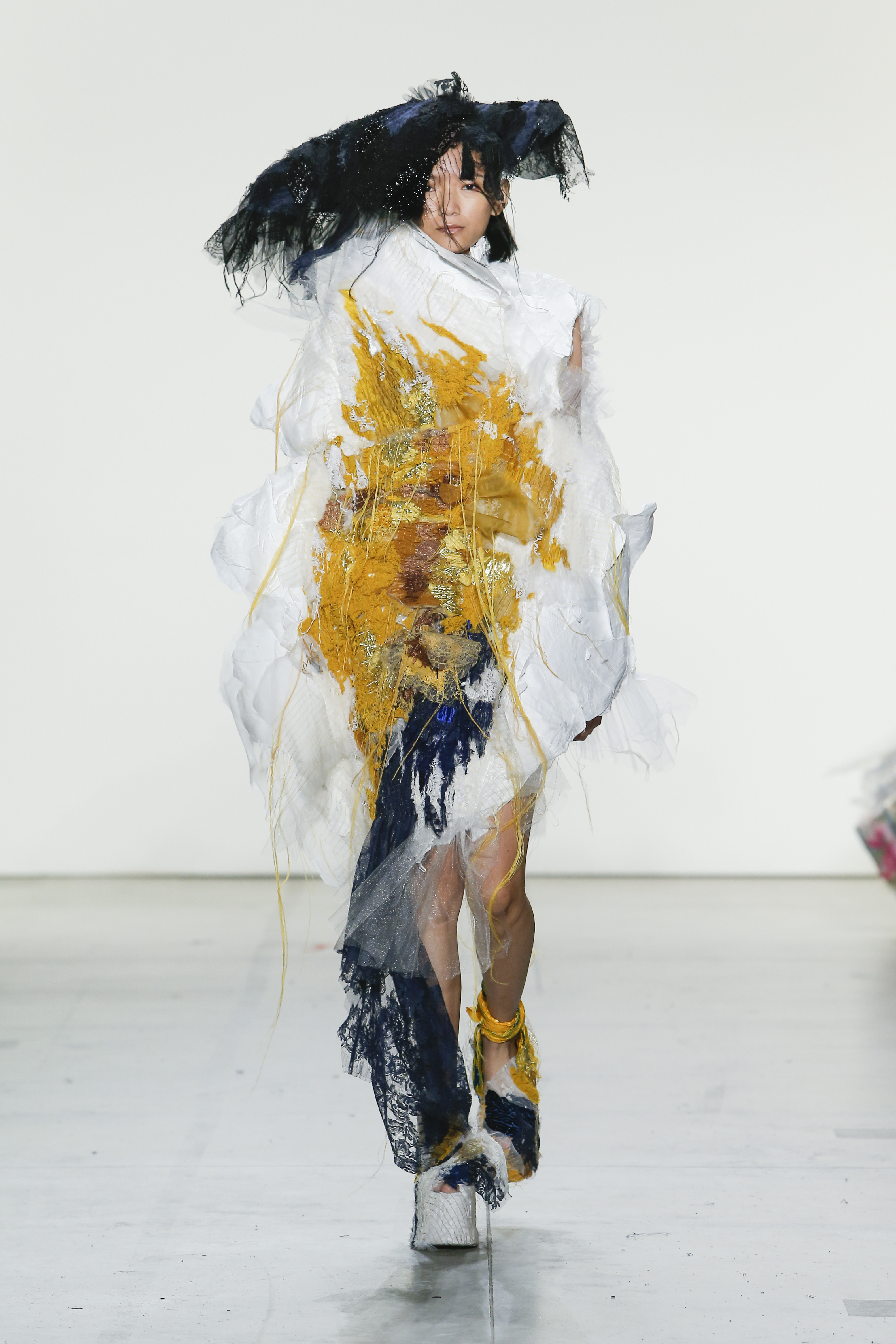 Caroline Hu
Caroline Hu's gowns are like three-dimensional impressionist paintings. Some of them incorporate enough tulle to fill an entire tutu factory, spinning it into wispy bricolage confections topped with fantastical gravity-defying veils. "It's gardens, romance, flowers, and nature," Caroline told us last year. "Lots of brands have very strong attitudes about girls being tough but I think a woman can also be soft and romantic." Most of her dresses would look as at home in a museum than in your wardrobe, so it's not surprising that Caroline wants to find a business partner who can channel her creativity into something wearable, but we're not in any rush.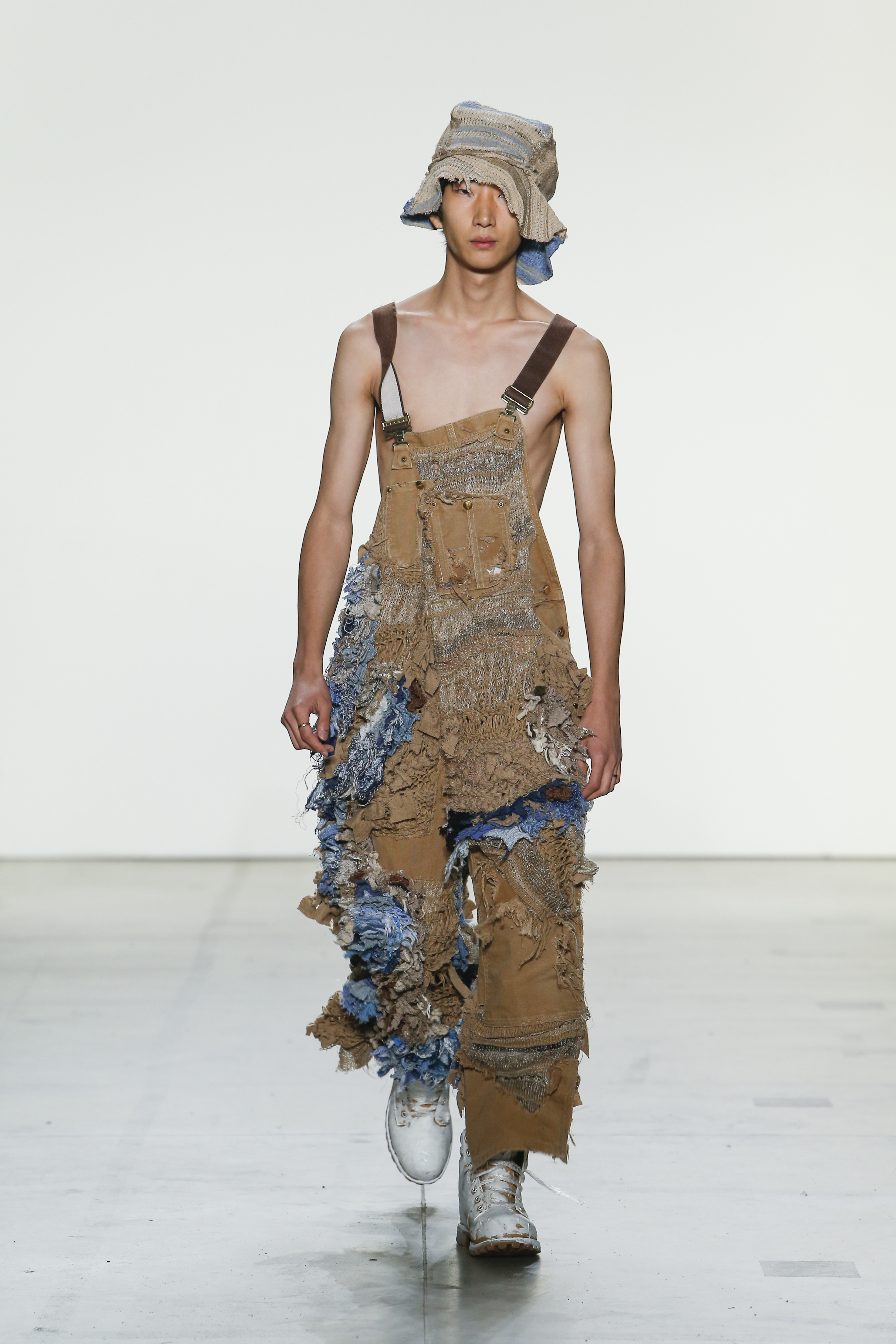 Venus Lo
Venus Lo's souped-up and shredded-to-pieces workwear was inspired by hoarders. One pair of camel Carhartt-esque overalls appeared to be undergoing a Hulk-like transformation into a pair of industrial-strength jeans, while a full-length denim jumpsuit probably weighed at least as much as the model wearing it. That was one of the more outrageous pieces, but with a simple color palette of beige, blue, and white, the collection had a refreshing consistency.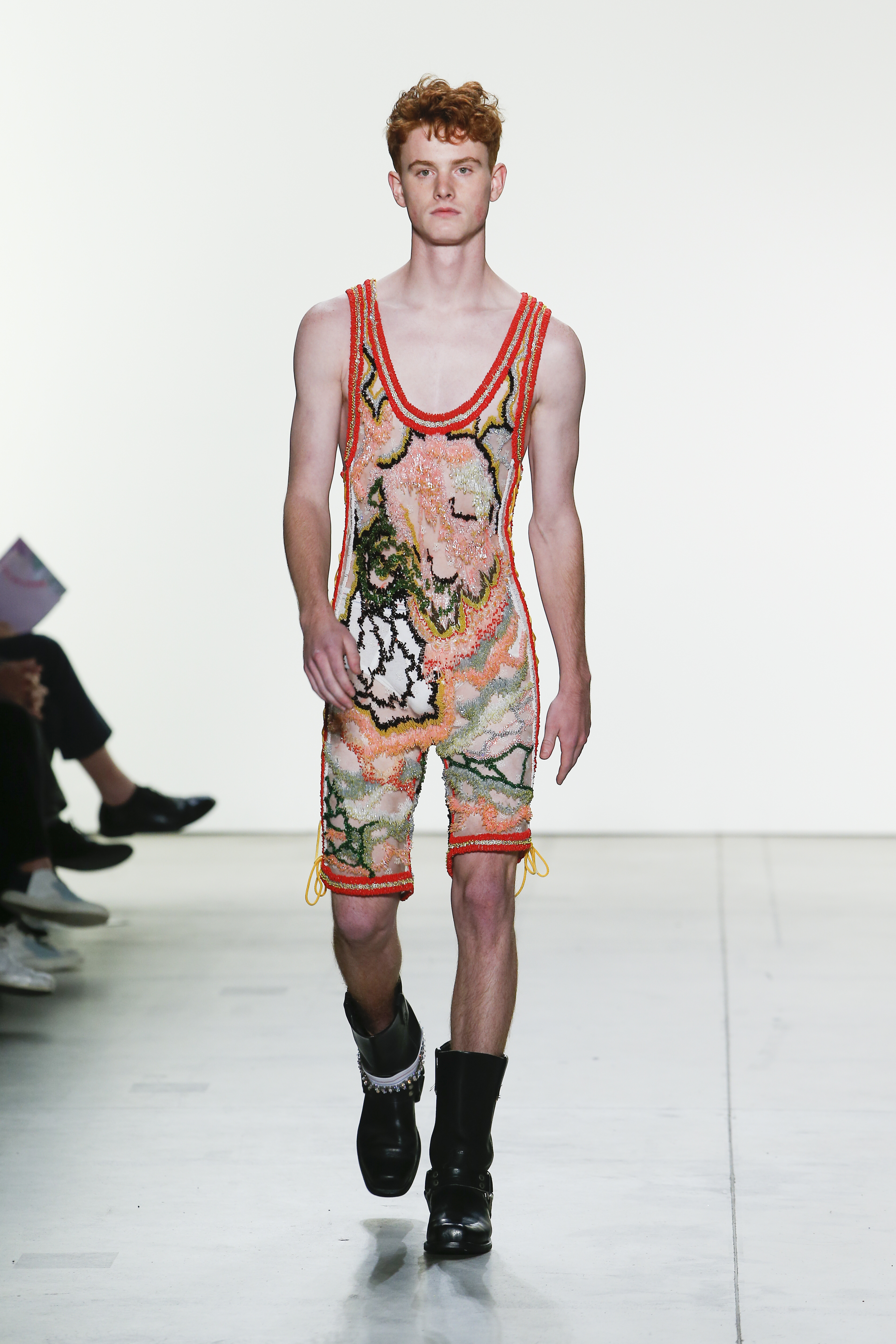 NIHL
The show opened with the special project "Hard Soft, Exterior Interior," featuring 28 looks designed by first year students in collaboration with Swarovski. Neil Grotzinger kept that dazzling theme going strong with an offering of exquisitely embellished menswear. Who said dudes can't wear bedazzled mesh bodysuits and jewel-encrusted chokers at 9am? Those more subversive looks were offset with classically masculine pieces including tailored pinstripe shirts and silk boxing shorts. Neil also put a genius spin on a handkerchief-hem shirt dress, which came gaping at the neck and layered with a beaded suede corset top.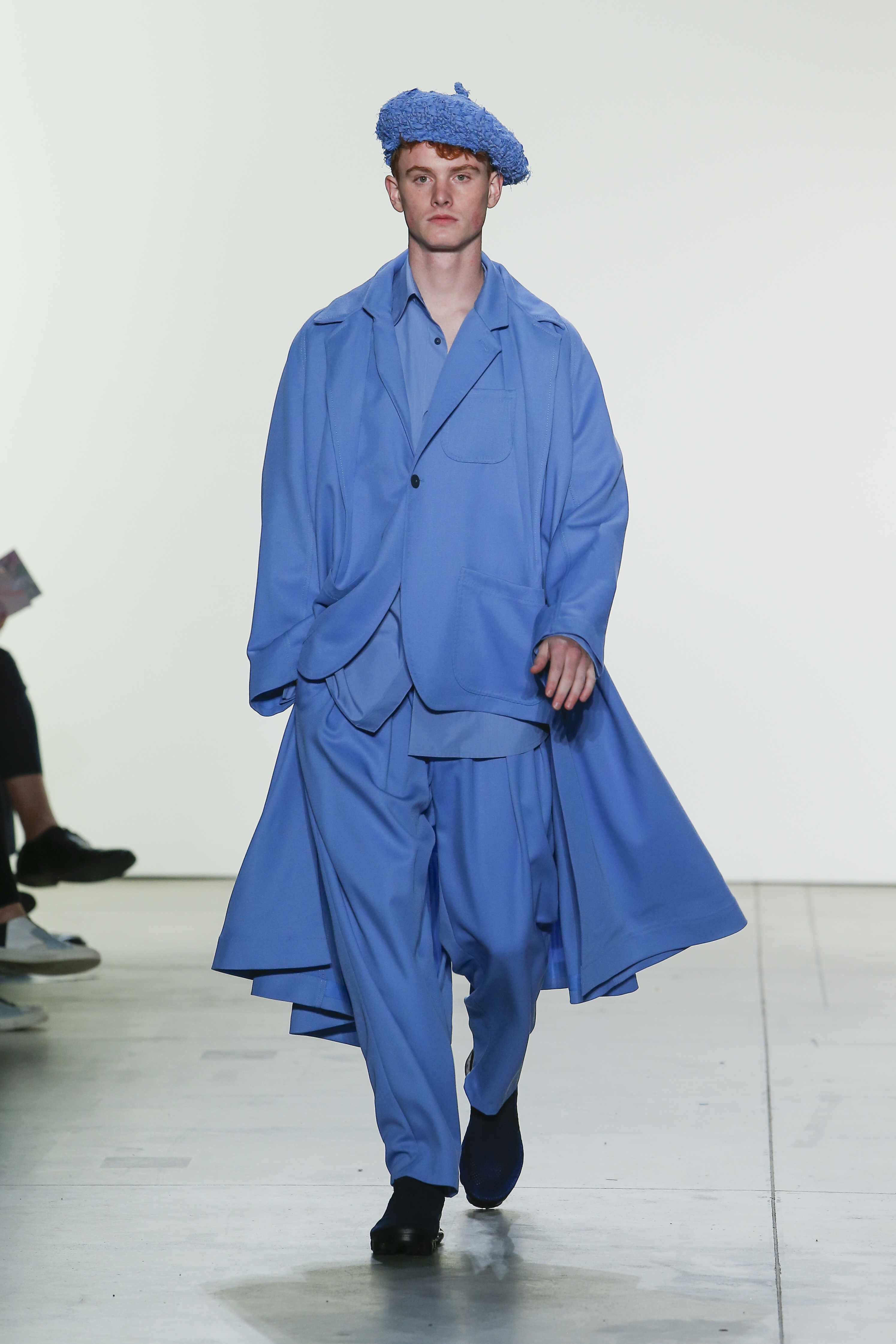 Shizhe He
Shizhe He also looked to workwear — this time generously cut trench coats and slouchy blazers in Bill Cunningham blue. But her collection of artfully tailored menswear had a more introspective, artist-type appeal than what you'd commonly find at a surplus store. One oversized three-piece suit was splattered with a bold combo of red, navy, and gold. Another all-blue outfit was topped with a textured beret that recalled the hat's unpretentious roots. A night-blue boiler suit was paired with elegant slippers, while a couple of outsized trenches almost made the models look like kids playing dress-up in dad's clothes, in the best possible way.