Photography Gerardo Somoza
meet the parsons grads modeling clothes on their own factory workers
Social Work's spring/summer 19 show was held in the designers' very own Garment District factory.
Photography Gerardo Somoza
Founded in 2017 by recent Parsons School of Art and Design graduates, Chenghui Zhang and Qi Wang, Social Work creates items that are statement pieces, literally. Featuring bold sweaters with Orwellian quotes, such as "Censor" and "Thinker," and designs that fuse together 60s western counterculture with contemporary Chinese influence, Social Work is the perfect marriage of fashion and history.
Social Work's spring/summer 19 collection embraces bright colors, captivating patterns, and two-piece sets. It is influenced by the liberal social movements that swept the Western world in the 60s, and the Great Cultural Revolution that was simultaneously occurring in China. China was in a state of political change – moving the country towards a true communist ideology, and viewing its leader at the time, Mao Zedong, as a god. This inspiration taken from the past is especially relevant today, while we are experiencing our own version of a fractured society, one that is nonetheless pushing for positive change.
"We think the contrast between the two is really interesting," Qi says. "In the West people were pursuing freedom and in China there was the Great Cultural Revolution, where people were pursuing Mao as a god."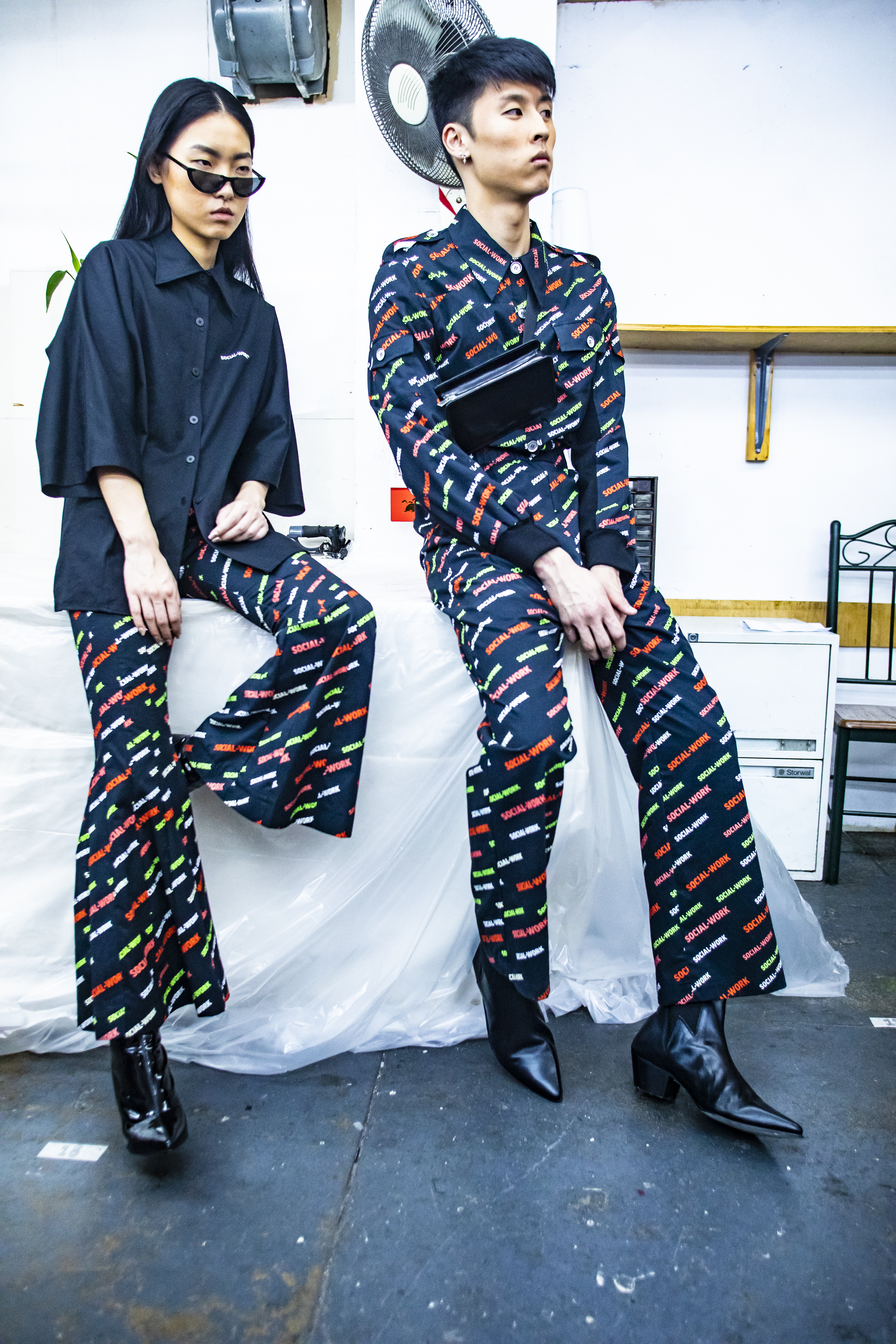 Social Work's innovative designs showcase the inventive manipulation of textiles and silhouettes, colors and patterns. Many of the pieces combine the western 60s mod styles with Chinese workwear uniforms, tying in symbolic colors along the way. For instance, reds call to mind the importance of the hue in China – the color is traditionally associated with happiness and good luck. The designers have also been reading a lot of George Orwell, mainly 1984. "I think the political references are really relevant to nowadays,' Qi says, pointing out the 'Censor' sweater. "In America we say 'freedom and liberation,' but there is not. Our own information is filtered."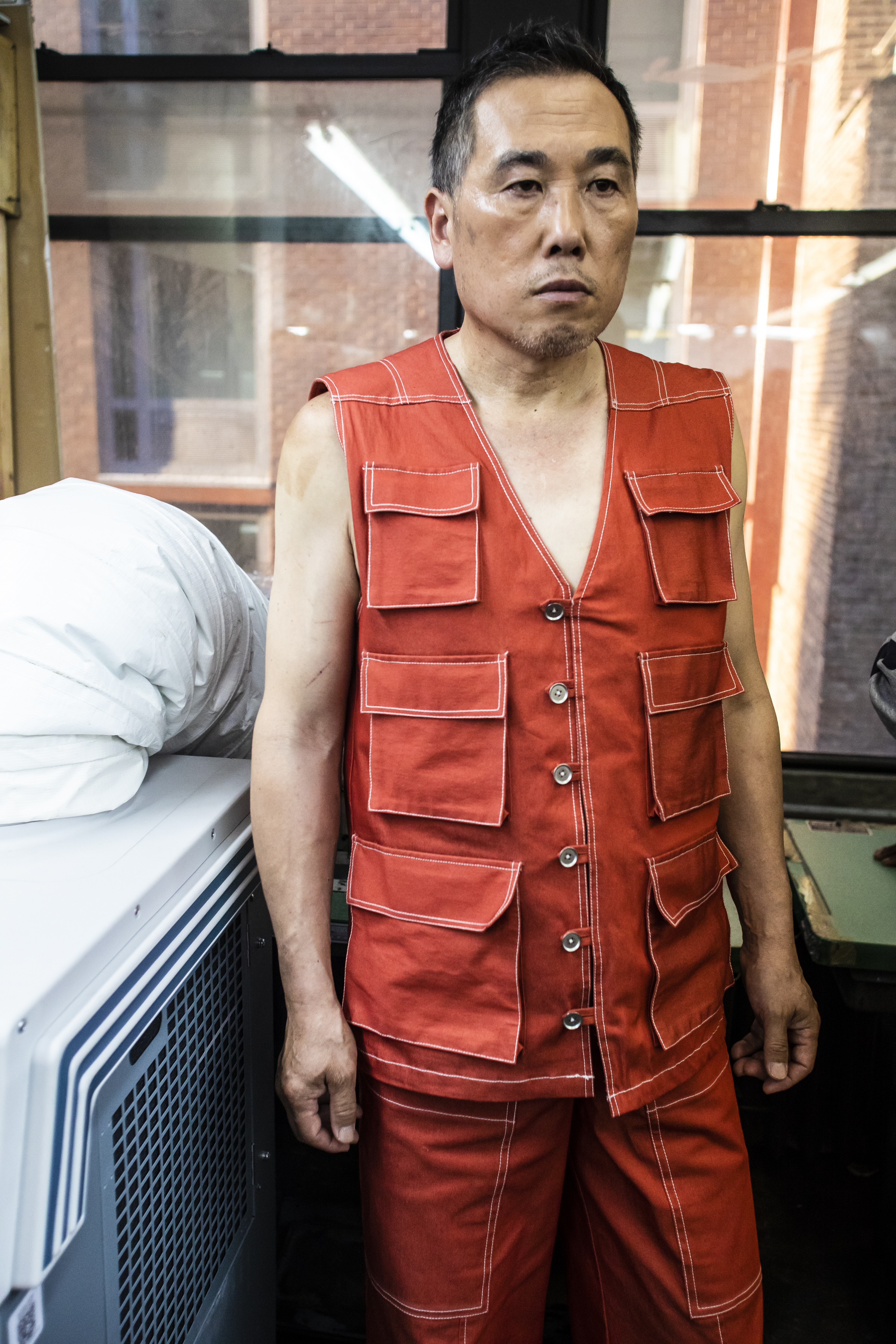 For their spring/summer 19 presentation, a stark white studio space was foregone for a sewing factory in New York City's Garment District where some of Social Work's pieces are made. Models, mostly street-cast and some actual workers from the factory, waled around as music played and showgoers streamed in. The location of the show was a statement in itself – it was chosen to help open up the conversation on who, where, and how Social Work's pieces are made, a topic that commonly gets overlooked or even concealed in the world of garment production. "What we think is so interesting that we wanted to bring into this collection, and also why we chose this location as our presentation space, is that we wanted to embrace workers' rights," Chenghui says, "We always look at references of American and Asian workers and their uniforms, so we thought it would be great to do the presentation at the actual factory."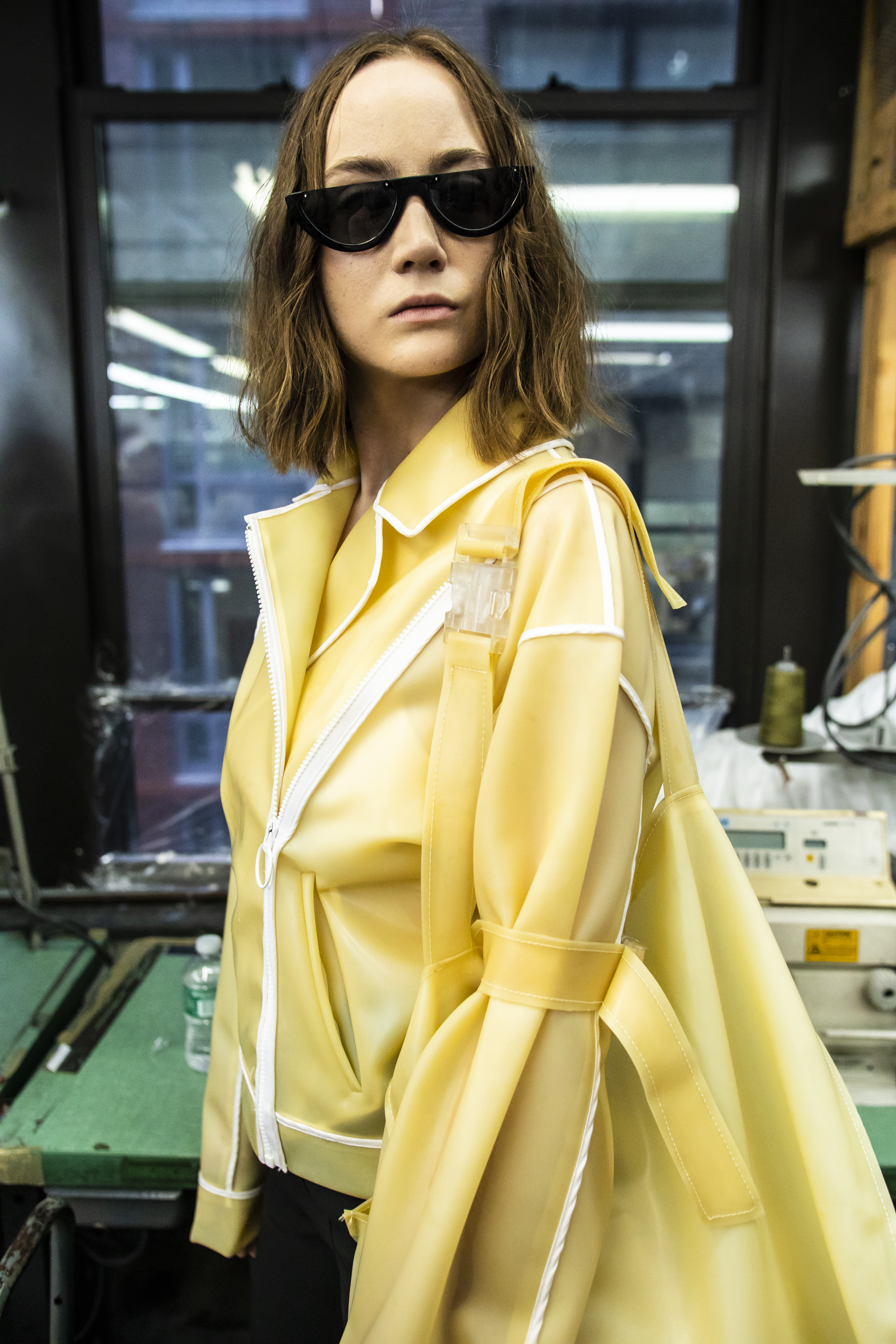 The name Social Work, as they have demonstrated, goes beyond just being a name. It has also become one of the brand's main focuses: striving for transparency and creating a connection between worker and wearer. "We wanted to name our brand Social Work because we always want to remind our customers that we are embracing the workers' rights," Chenghui says.
"We also want to build this cultural bridge between our makers of our garments," Qi adds. For instance, every item of clothing has a unique code located on the tag. The buyer can then search this code in the brand's online database to learn which worker made the item, where the item was made, and how long it took. Each piece tells a story.
More information on Social Work and their pieces can be found online at their website, www.socialworkny.com