noah cyrus is selling a vial of her post break-up tears
If you're interested you'll need $12,000 and to act fast.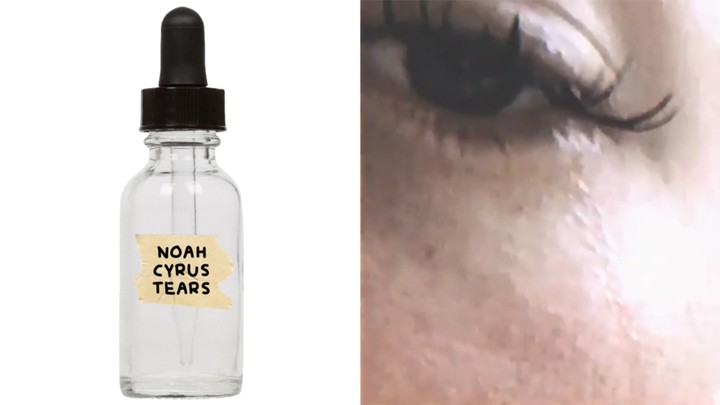 Images via PizzaSlime and Instagram.
Noah Cyrus is well known for sharing her emotions with fans in an extremely open manner. When it comes to Instagram she's fond of posting stories and videos of her straight up crying. Then there's her emotional new EP, released today, that is aptly titled Good Cry. It's all very on-brand.
The next logical step of that brand is merch — and why just make tees and hoodies like everybody else when you could sell the tears your fans love so much. For a limited time of 48 hours Noah's teamed up with PizzaSlime on a merch collab that includes just that: a vial of the singer's tears. It'll contain 12 tears and sell for the reasonable price of $12,000, setting the rate at $1,000 per tear. It really makes you think about all of the tears you've wasted over the years.
While there's no indication that the tears are the same ones Noah shed over Lil Xan after their tumultuous break-up, it is specified that the tears were made as a result of sadness. The most interesting thing though, is that the vial comes with a dropper style top. It suggests that the buyer would want to use the tears in some way. The PizzaSlime page advises against digesting them (a statement that, for the record, we agree with) so what would they be used for? Sounds like a question that's best left unanswered.
This article originally appeared on i-D AU.