exclusive: daisy's new collection is a valentine's day delight
For their latest capsule the cult label draws on long distance love and cybersex. Here, married founders Renee and Gibson Fox tell us their own love stories.
Photography Gibson Fox
The neat significance of DAISY's fourth capsule, Heart Shaped, comes into sharper focus when we look back on the brand's very-ever offering, a sweet provincial collection called Pure Country, enthusiastically received by the international fashion set. That campaign found then-16-year-old model and DAISY muse Hannah Elyse on a scenic farm—she looked like a sister to DAISY designer Renee Fox (at the time, both beauties sported jet-black hair and light brows). Three years later, Hannah is engaged to the Paris-based tattoo artist Louis Loveless, and Renee's a redhead. Their friendship endures, and Hannah and Louis' long-distance-love provided a central inspiration for the Heart Shaped collection, released to coincide with valentine's day. There's a lovely symmetry to it all. Here, we speak to Renee about inspiration, copycats and love.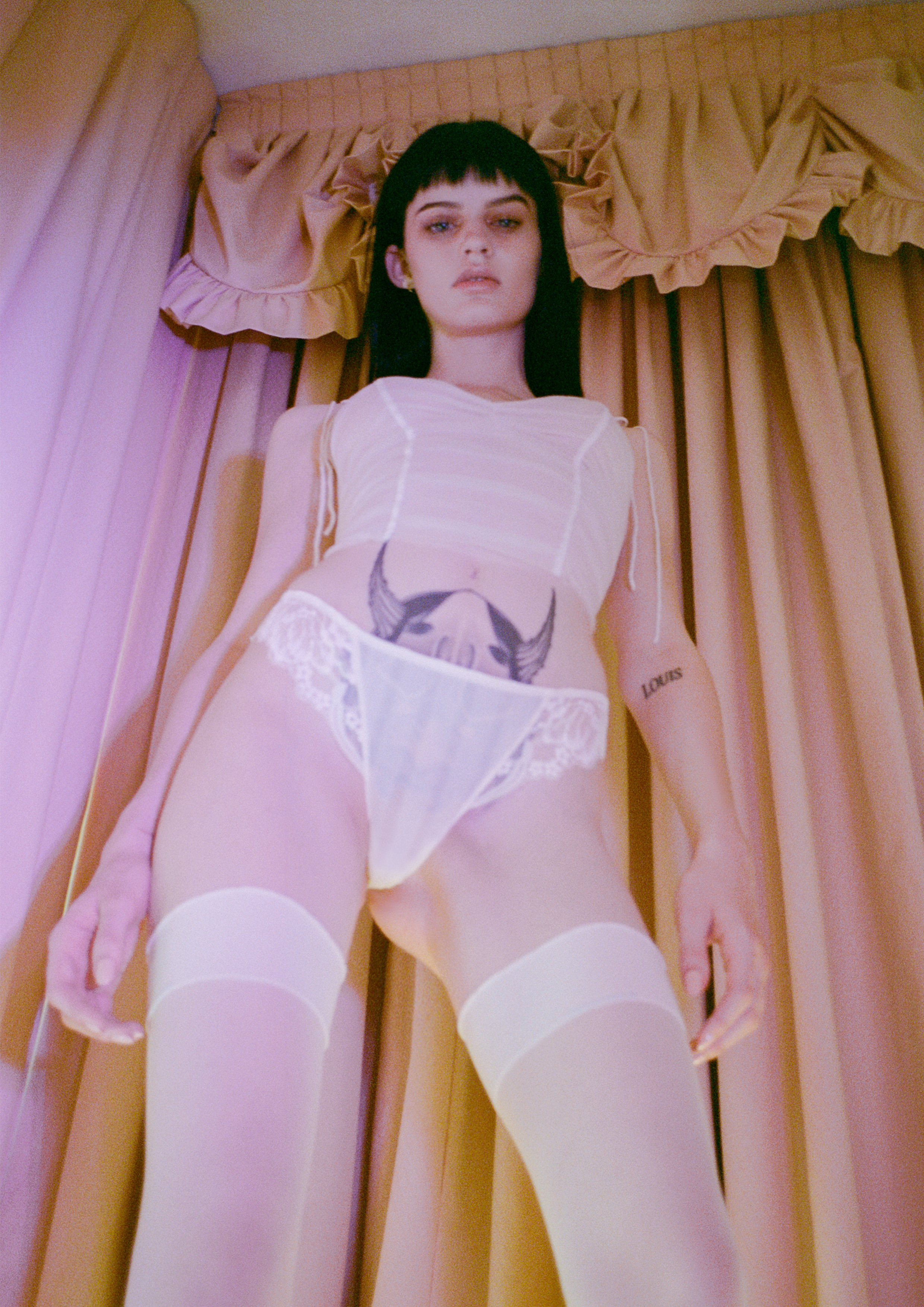 Hi Renee, I've always thought one of the most beautiful parts of the DAISY story was your relationship with Gibson. Can you share some of your own love story?
2018 is our 12th anniversary. When people say opposites attract, that was us when we first met. I'm beyond shy and Gibson is notoriously wild. We must hit some balance of the extremes. We're dependant on each other in different ways, in work and life, and we're inseparable, I don't think we've been apart for more than a few days since we met. We started DAISY hoping we could spend all our time together, that's the dream.
And, speaking of love, what is it about Hannah that makes her the quintessential DAISY girl, season after season?
Hannah's one of our best friends, whenever we're in the same city we feel lucky to get together. The three of us are a constant that ties each collection together. I love how much she changes every time we shoot, it's like we're growing up together.
I think DAISY's international presence often leads people to think you're quite a large team. In fact, DAISY is still a small operation in Sydney, right?
We like to keep our team small and do as much as possible ourselves. It helps us develop ideas in more depth and express things truly. We both spent time working in fashion before we started DAISY so we're able to apply our past experience across the business and creative side, and we work closely with local producers to deliver the collection. We're very devoted and really cherish every step of the process. I hope that dedication is what makes DAISY different.
I know you both have a penchant for luxury, Louis Vuitton especially. Do you have ambitions to move DAISY into that luxury space? Are DAISY leather goods a possibility?
We base DAISY on the way I like to dress. I think of handbags, shoes and jewellery as lifelong investments, which should be complimented with an evolving wardrobe that's seasonal and imaginative. We definitely don't make longterm plans but wouldn't rule anything out, we like to be flexible and spontaneous.
I love these flashes of a hot pink and fluorescent green that pop up in the lookbook and collection imagery. What informed your styling this season? What are you guys reading and watching, being inspired by?
There's references to different romantic touchstones throughout the collection, from the first date to prom night and the honeymoon suite. The neon lingerie is a bit of a nod to Cam Girls and the video stripteases my friends do for their boyfriends when they're apart.
And more broadly, what were you guys reading and watching, feeling inspired by?
We were thinking about long-distance relationships and how the trauma of separation creates a hyperreal sense of connection and devotion that's ultra-romantic.When closeness is limited, couples experience sex through video and performance and we were interested in how they explore fetishism an voyeurism in their intimacy.
Speaking of voyeurism, I always love getting a little peek at what DAISY's got coming up through your personal Instagram -- I get so excited when I see you in an unreleased DAISY dress. This question is a little tired, but I think it's crucial to ask of your brand: What does social media mean to DAISY?
I used to be quite guarded online, but if you don't really open up and be authentic you're missing the opportunity for a genuine connection. #DAISYgirls are an unexpected phenomenon that really changed my perspective on the community and kinship that social media makes possible. It's opened a lot of doors for us and now I think of Instagram as an essential platform, not just for business but for friendship and self-discovery.
On the flip-side of Instagram, I think quite a few people saw your Diet Prada debut. DAISY's rise was swift, so I'm curious if there was a certain point you noticed imitators emerging. What's your perspective on fashion copycats?
It's an inevitable by-product of working with girls like Kim, Kendall, Bella and Selena, bootlegs go with the territory. At first it was a novelty and we still have a sense of humour about it. The most unexpected and probably saddest instance is other Australian companies who have replicated so much DAISY it's at saturation point. Australia is getting a reputation for its knockoff market which is toxic for our domestic industry.
Finally, for a collections that's all about love, can you share a couple whose love really inspires you?
Hannah and her boyfriend Louis were newly engaged but had spent months apart while we were shooting this, on set we would also be shooting videos of Hannah for Louis and she would be messaging him outfits and posing for him -- the sense of heartache in how much they missed each other was so hard but also so sweet.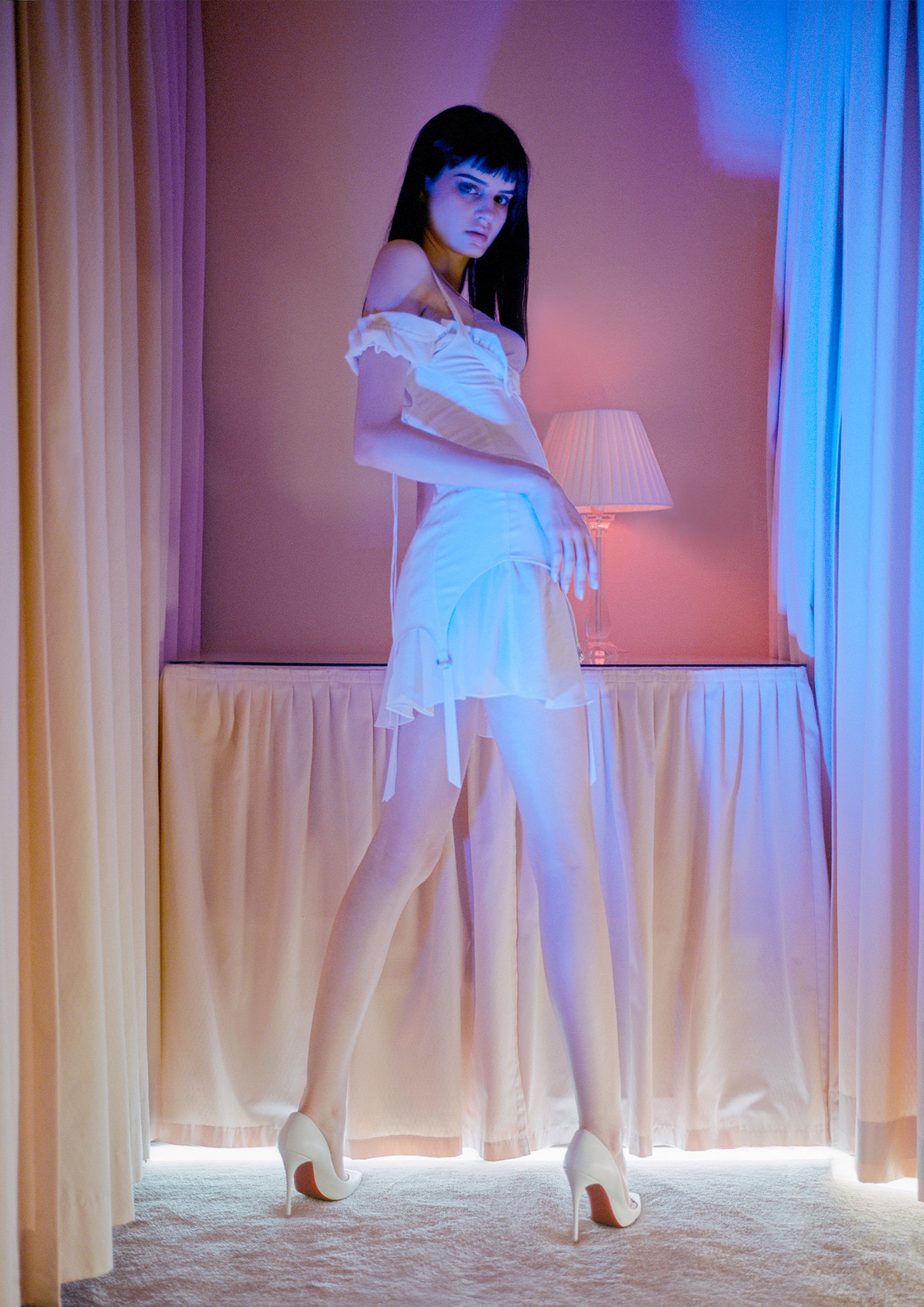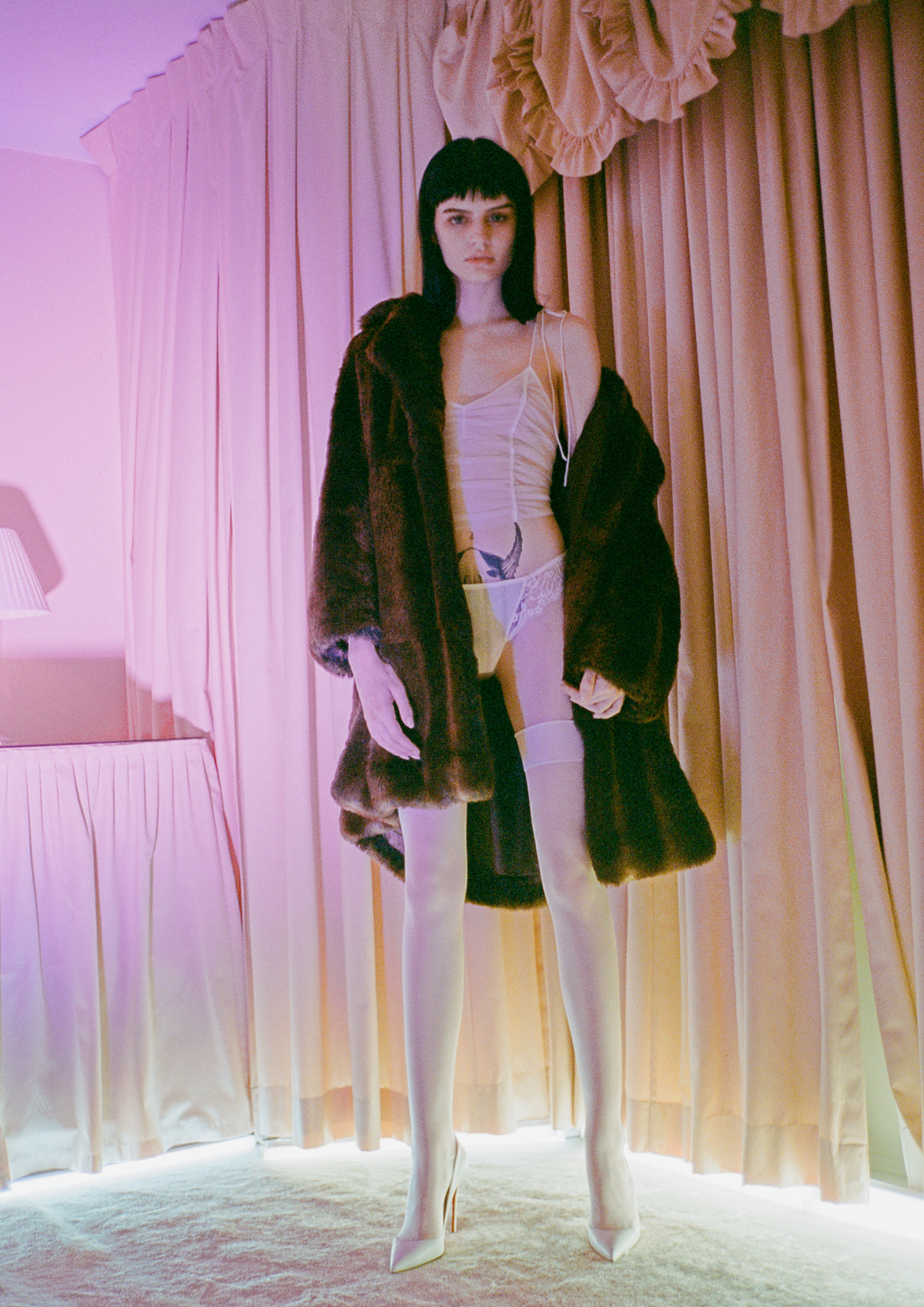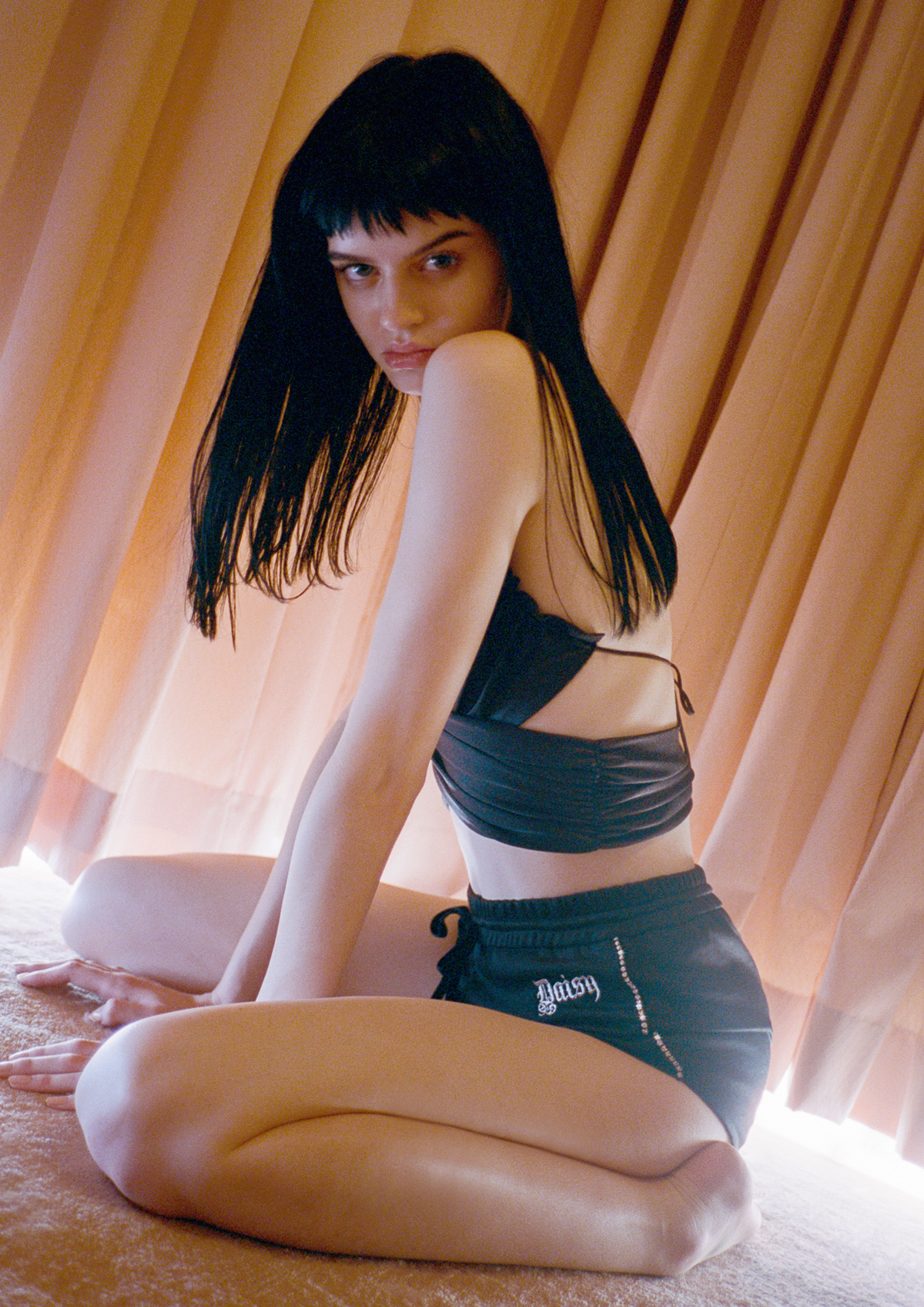 credits
---
Photography Gibson Fox
Hannah Elyse