if you love 'skam' then you need to watch this new facebook show
'Five Points' is an experimental teen drama, told from five different perspectives.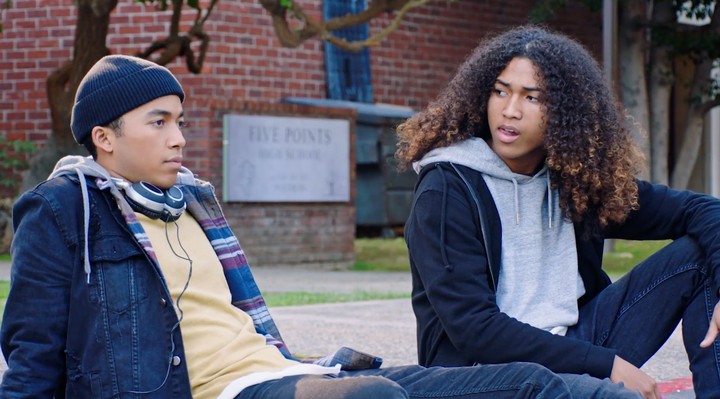 Facebook Watch is reinventing the way we consume television. Shows like SKAM: Austin have helped the format become more interactive and real-time based, the characters receiving their own social media accounts and clips airing at the same time they fictitiously take place. The approach fits perfectly in line with our screen-dominated, like-button era. The latest experimental teen drama from the emerging platform is the Kerry Washington-produced show Five Points. The show seemingly came and went without much fanfare (the five episodes premiered over a period of only two weeks earlier this month). But the show is quietly building up buzz, and you need to watch it before everyone else does.
Five Points tells the story of a single day through the perspective of five different high school students, everything tensely leading up to a tragic shooting incident. The darkness and candor of the show immediately reminds you of 13 Reasons Why. Our first character, C.J., is a touching antihero, spending most of his time breaking into cars and pickpocketing. But it's for a heartbreaking reason — he is trying to prevent his family from getting evicted from their rundown apartment. Then there's Eric, who lost all of his potential football scholarships after getting a concussion. It's powerful narratives like these that make Five Points a riveting watch. And what's even more amazing is how it manages to tell a complete gut-wrenching story through only five clips, each around ten minutes long.
So while you're waiting for the next SKAM: Austin update, binge-watch Five Points to get your heart properly broken. You can watch the series here.