Dries van Noten, Comme Des Garçons, GmBH. Photography Mitchell Sams.
the 9 life lessons from men's fashion you need to follow in 2019
From KonMari-ing your streetwear to walking less and travelating more, these are the messages of self-improvement stitched into autumn/winter 19 menswear.
Dries van Noten, Comme Des Garçons, GmBH. Photography Mitchell Sams.
Beyond shaping what you'll be wearing in six months time, each season of shows is embedded with subtle and not-so-subtle messages. In addition to sharp-shouldered suits, chunky boots, leopard print coats and inspired styling tips, the autumn/winter 19 men's shows were filled with insights, tips and pearls of wisdom to help you live a more fulfilling life in 2019 and beyond.
1. KonMari your streetwear
Yes, they've served you well but it's time to thank your Triple-S sneakers, Gosha tracksuit and Supreme bpgo T-shirt and move on. There's been a seismic shift in the world of menswear, with sportswear usurped by suiting. When the likes of Rei Kawakubo, Raf Simons, John Galliano and Demna Gvasalia talk, you listen. So, after they (and many others too) encouraged us to embrace a modern take on tailoring back in June, streetwear's stranglehold on the industry loosened. There was Miuccia's shirtless suiting and military-infused tailoring, Silvia Venturini Fendi's sartorial love letter to Karl Lagerfeld's personal style, Dries Van Noten's relaxed dandyism, Glenn Marten's twisted-seamed tailoring at Y/Project, Tom Ford's smouldering luxurywear, Kiko Kostadinov's horror-inspired geometry and Kim's couture-infused statues to sartorialism 2.0 at Dior, to name a few examples.
Essentially, the autumn/winter 19 shows continued the movement towards new elegance. Besides Y-3 -- a 15-year-strong collaboration between Yohji Yamamoto and Adidas that constantly clashes sportswear with fashion -- and Vetements' celebration of fuck-the-system internet geeks, we can barely recall a show that featured trainers, let alone a hoodie. So, there's no excuse not to fix up and look sharp. Grailed will need to invest in its servers for all of the incoming sales listings.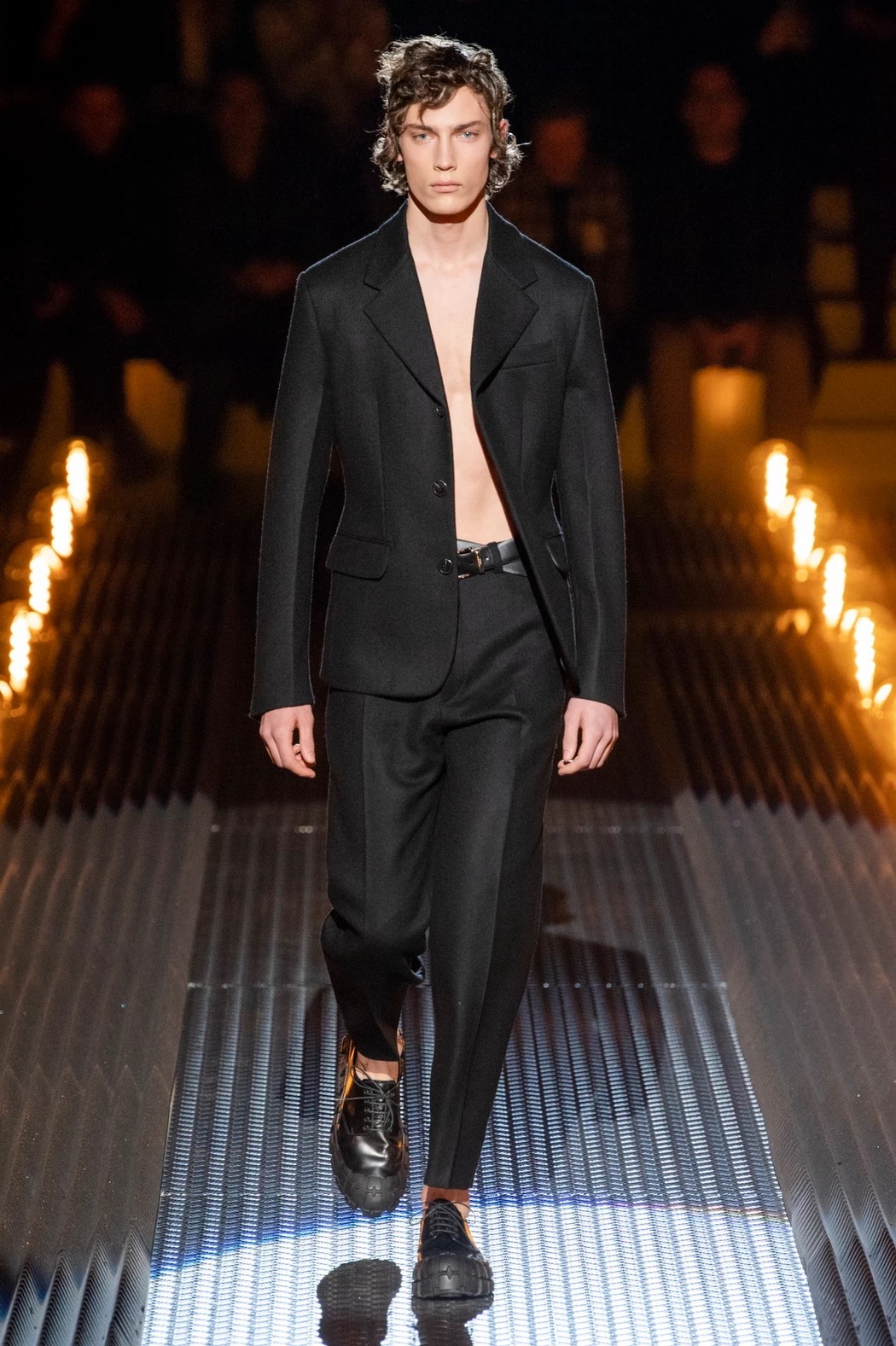 2. Take the shirt off your back
From Brexit to Conservative austerity, the sociopolitical climate in 2019 has made it clear that the powers that be want to take the shirt off of your back. Fortunately, the sexiest shows of the season encourage you to hand your cotton button-down over so do it and free the flesh! Beauty is only skin deep. Just look at Dries Van Noten and Prada. In his show notes, Dries discussed "a step back from nonchalance and sportswear" and as he proposed his defined shoulder, high and narrow waist, wide pleated leg, baggy trousers and double breasted jackets, his new silhouette for a new generation, flashed the flesh. The upside is that you no longer have to iron your shirt. The downside is you might have to renew that lapsed gym membership.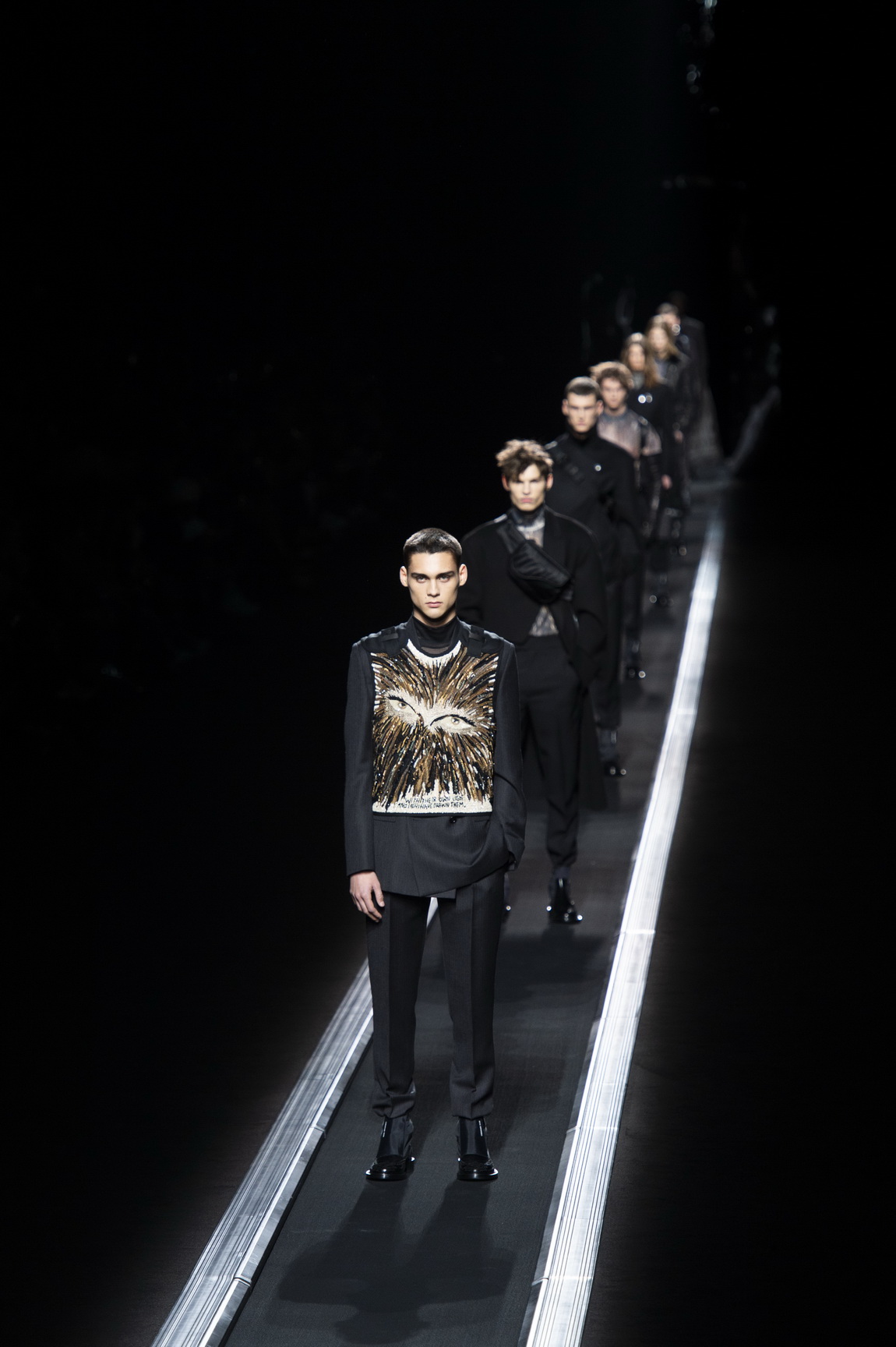 3. Walk less, travelate more
It's time to forget the saying 'why walk when you can run' and embrace 'why walk when you can stand entirely still'. Walking is so last season. While Paria Farzaneh's Black Mirror-eque LFWM catwalk commented on us all being glued to our phones and being trapped on a conveyor belt of consumption, Dior used a 76-metre long travelator to transport his sartorial statues, and Hedi used a conveyor-belt carousel to orbit 70s no wave saxophonist James Chance around a glowing orb. We suggest lobbying your local council or starting a government petition to replace pavements with travelators.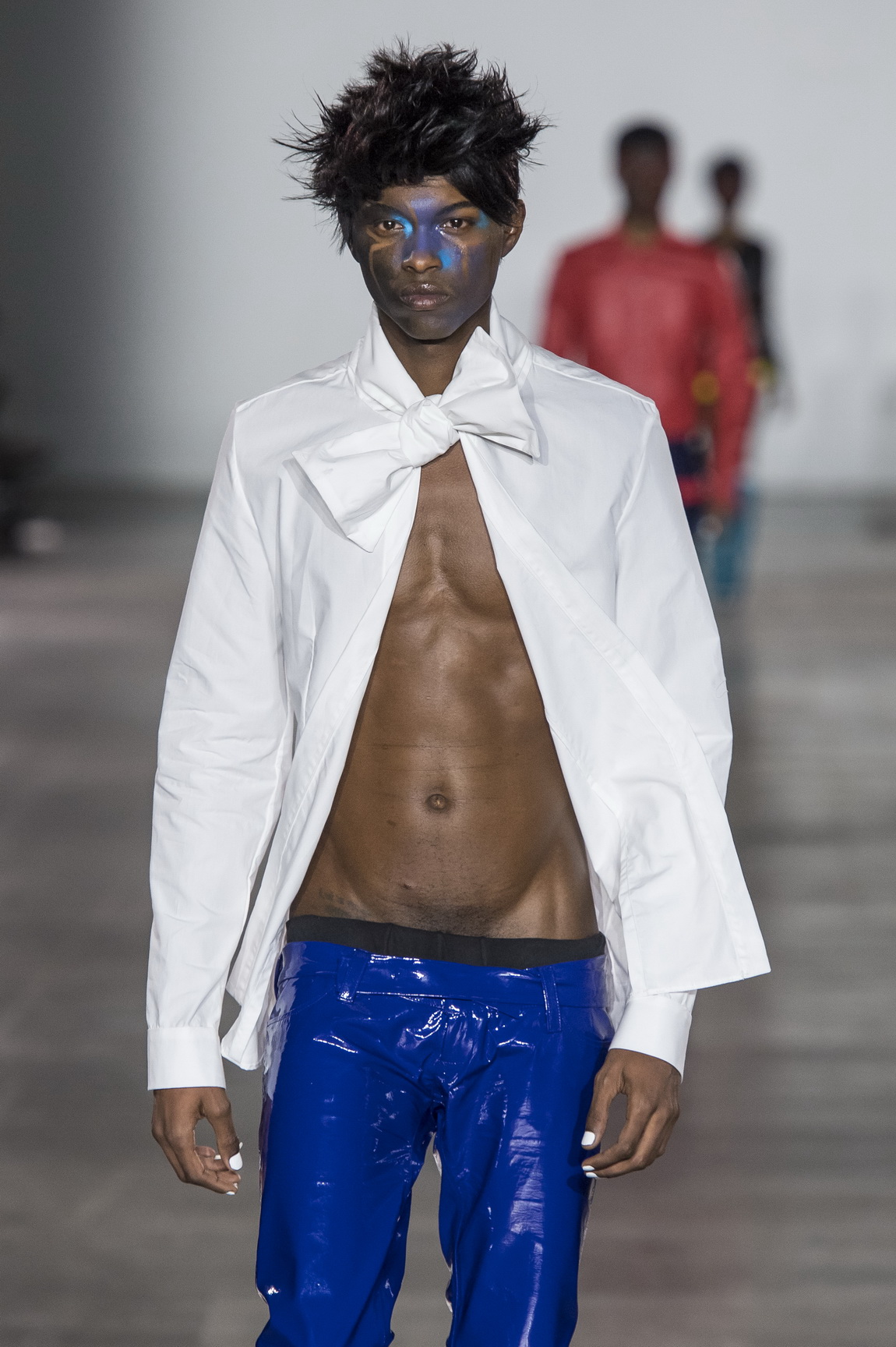 4. Close that incognito tab and wear your Pornhub preferences
According to Pornhub Insight's 2018 year in review, "visits to Pornhub totaled 33.5 billion over the course of the year, an increase of 5 billion visits over 2017." When the world gets dark, people get kinky. With 2019 looking even bleaker, this has been the season of sex searches. From Cottweiler's revival of The Lost Art of Cruising to Versace's ode to Gianni's provocatively iconic autumn/winter 92 show, entitled Miss S&M, and the leather daddy influences at everywhere from Mowalola's low-slung trousers, Tom Ford's chic sexclub-ready suiting, Neil Barrett's bondage-clad modern punks, and Martine Rose's use of anonymous 60s and 70s gay subculture documentation, autumn/winter 19 was a celebration of sexual desires, the darker and weirder the better. Shame is so last season, wear your kinks.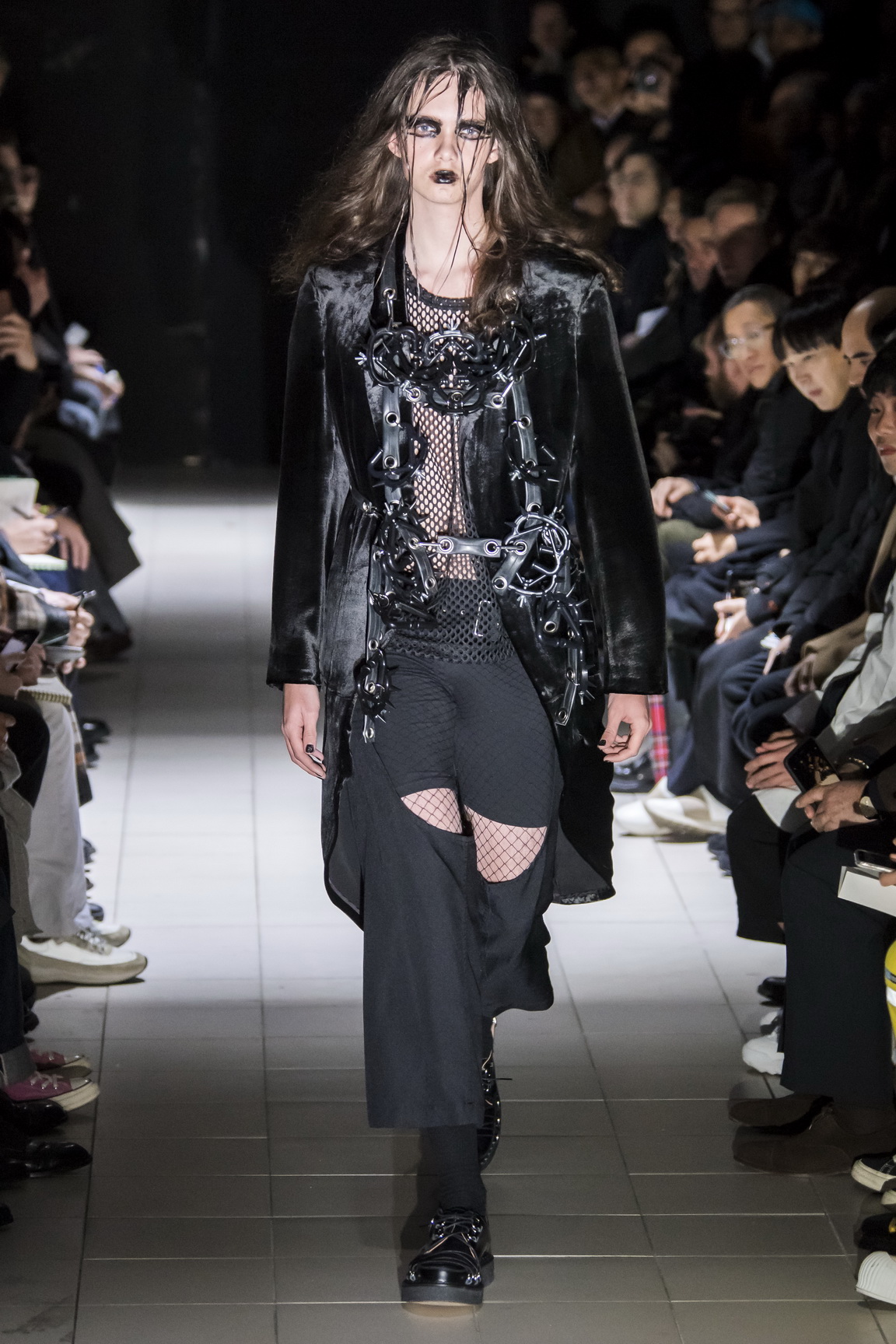 5. Find beauty in the dark, there is no light without dark
When Rei Kawakubo speaks, we listen. And we heed her words carefully. Her Comme Des Garçons Homme Plus autumn/winter 19 show was accompanied by a poetic sentence: "Finding beauty in the dark, there is no light without dark." This was shared after a ferocious frenzy of a fashion show that transformed the catwalk into a swaggering, snarling club dancefloor. 2019 is a dark, dark place. If you're not angry, then you're not paying attention. Rei Kawakubo harnessed the mood of Paris and beyond with a defiant demonstration of creative resistance before reminding us that there's beauty to be found in this darkness. Wear black, find beauty, fight for a better tomorrow.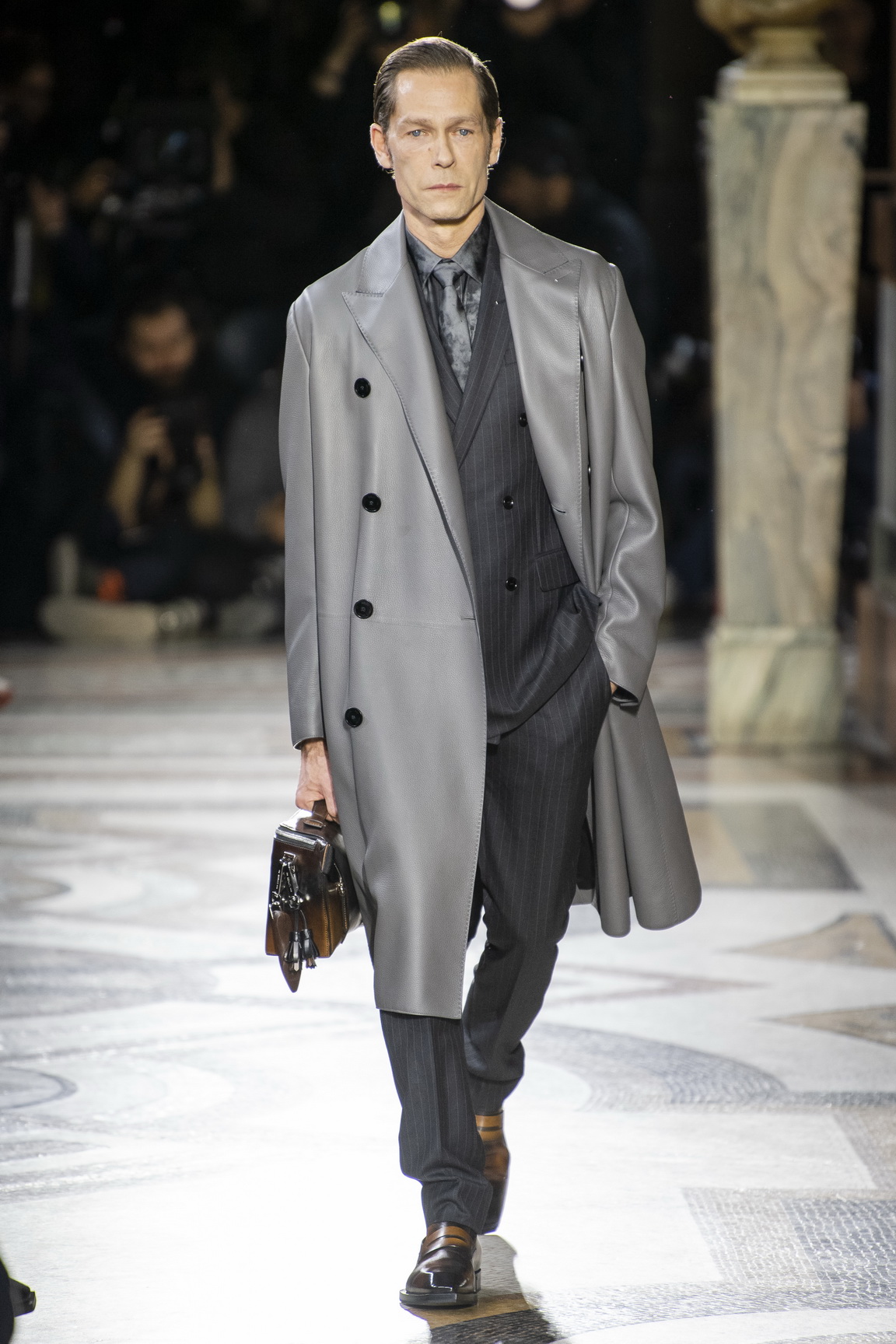 6. Forget dad trainers, embrace dad wear
This was the season that chunky sneakers finally gave way to boots, chunky of course. But as Dad trainers were sent off to the retirement home they deserve, Dad wear reintroduced itself. "Silver swagger" is how Junya Watanabe described his collaged everyday dad-friendly wardrobe of a autumn/winter 19 men's collection. Grey-bearded men sauntered down the catwalk in a workwear-inspired collection, as Watanabe-san reminded us that age ain't nothing but a number. Elsewhere, Kris Van Assche used his Berluti debut to celebrate a cross-generational gent.
7. Support your friends
We're better when we're together. With the world on fire, now is the time for tight knit families, teams, tribes and collectives. From Rick at Raf, Kim and Matthew at LV for Virgil, Virgil at Dior for Kim and Matthew, and Kim and Virgil at Alyx for Matthew, this was the season of fashion friendships. A WhatsApp group message isn't enough, go out and support everything that your mates do!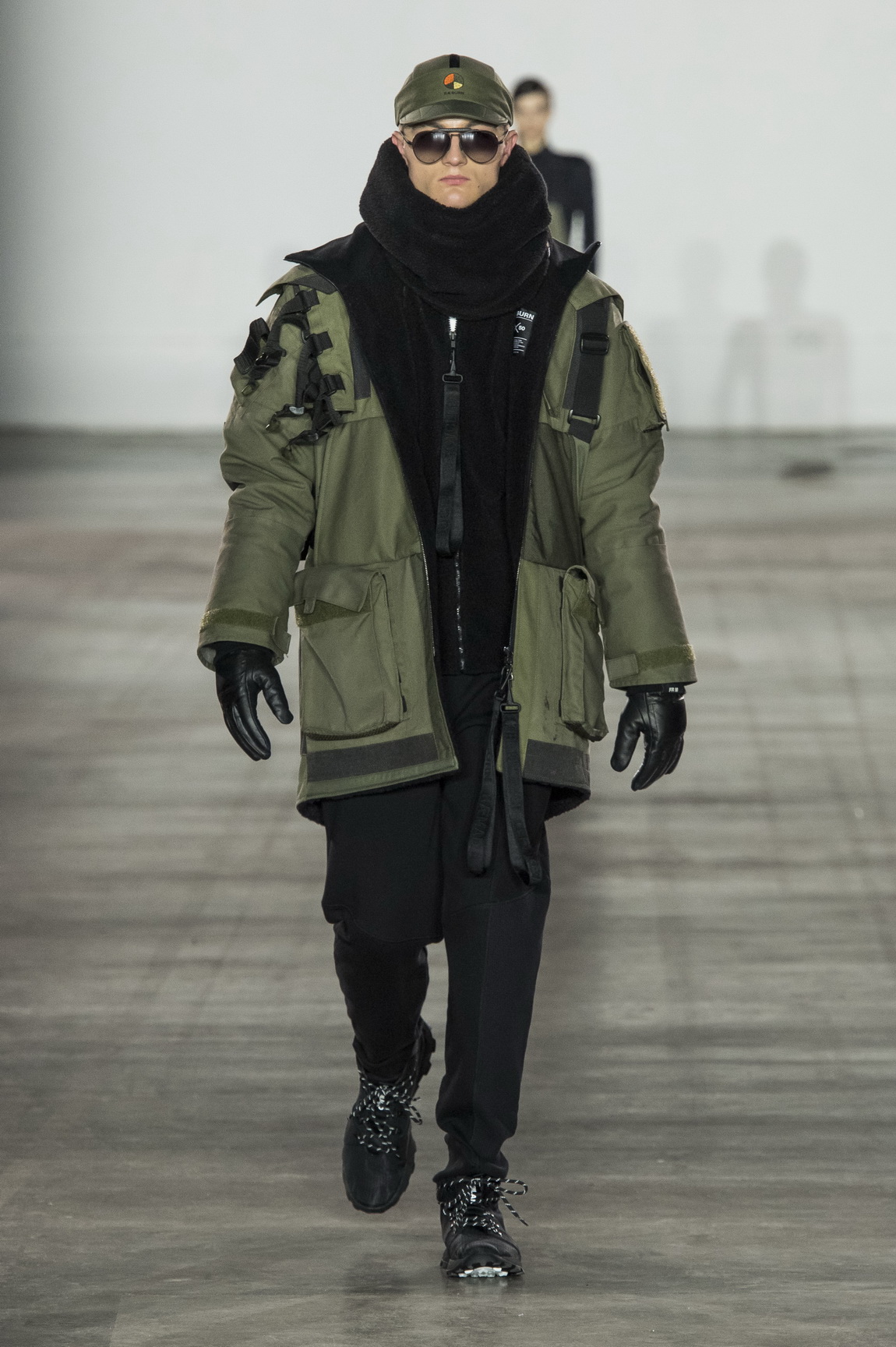 8. It's not too late to save the world
We all know that fashion has a sustainability problem but there are green shoots of hope. From emerging talents like H&M Design Award winner and Adidas Originals collaborator Priya Ahluwalia to 10-year anniversary celebrating, Remade pioneer Christopher Raeburn and 1017 ALYX 9SM's commitment to integrating recycled, reused and regenerated materials into every stage of its processes, designers are challenging the fashion industry on issues of ethics, sustainability and environmentalism. Be the change.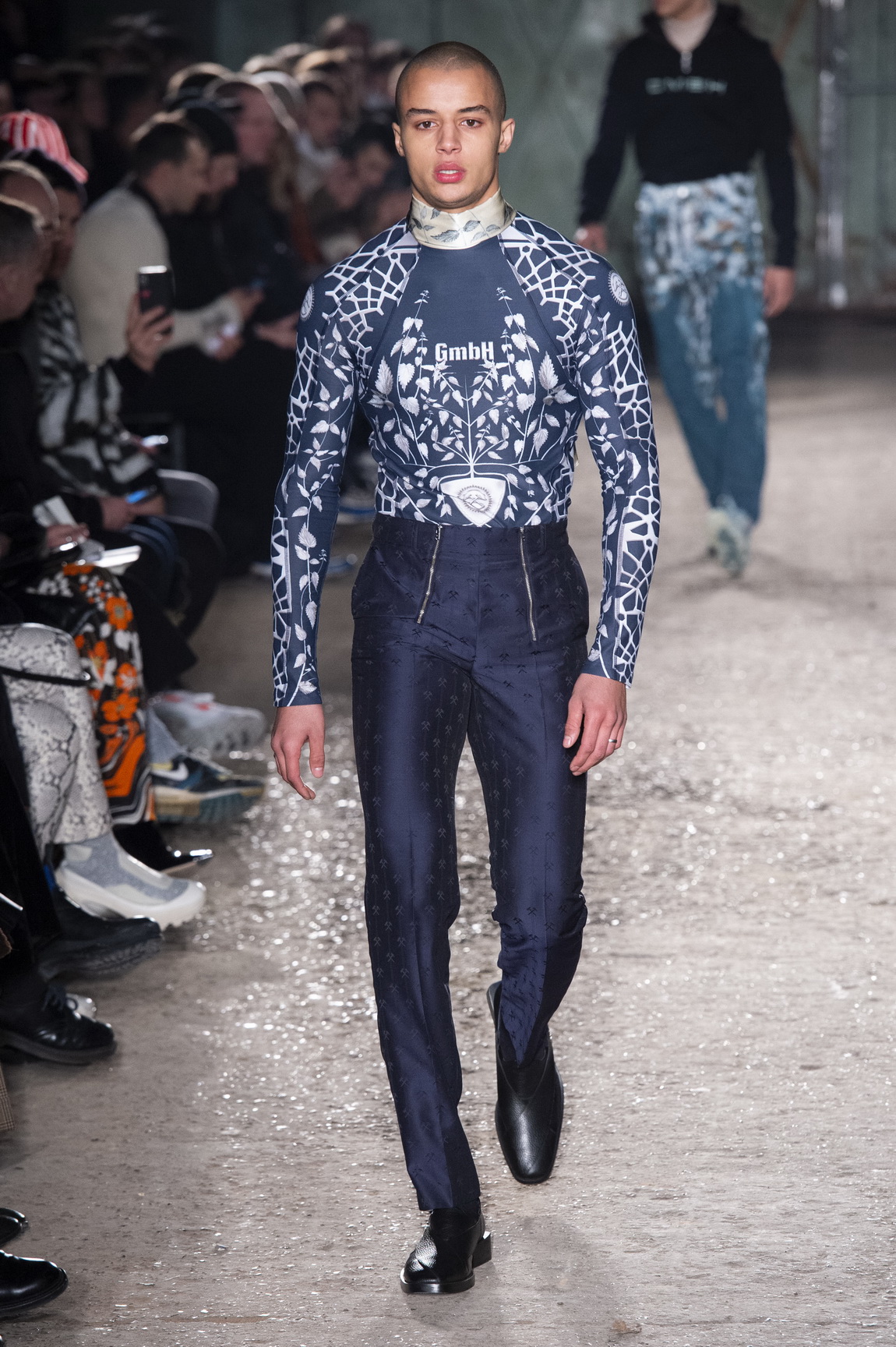 9. (If we lied in 8) Cut your losses and escape to a new world
Ok, so we concede that this is easier said than done but there was a mood in Paris that we could build a new utopia. "There's this melancholy that comes from always being told we've gone past the point of no return," The prevalent mood is so negative, it's this 'the end of the world is nigh' feeling." Benjamin Alexander Huseby explained after his GmbH show. "So our starting point was imagining an escape to a new world, a new civilisation with GmBH being its corporation. Leaving this planet is the ultimate migration, right" co-designer Serhat Isik added. Elsewhere, Matthew Williams turned an existential crises into creative solution. "We cannot conceive of absolute nothingness," the 1017 ALYX 9SM show notes began, "and yet it is from this state, Ex Nihilo, that humans create entire worlds. Alyx embraces imagination and agency; interrogating every origin, and evaluating afresh each object for which we take responsibility." Fashion can save us all after all.
Credits
---
Photography Mitchell Sams
This article originally appeared on i-D UK.
Tagged: