Image courtesy of Eaton House Studio & Nikki Lipstick
is this the most wes anderson house in the world?
We take a peek behind the pink curtains of Essex's Eaton House and meet the eccentric artist behind it all.
Image courtesy of Eaton House Studio & Nikki Lipstick
Eaton House — what was once a standard six bedroom family home has been converted into a pink palace that offers an overwhelmingly unique atmospheric environment and visionary experience. Located on the outskirts of Tiptree in the Essex Countryside, its aesthetic is on par with that of a Wes Anderson film for its visual and narrative style, while its opulence would be fit for queens of extravagance, like Liberace, Gianni Versace or Gemma Collins.
The sitting room looks like the set of a 1980s Playboy magazine feature — just missing the bunnies. Paris Hilton has been shot in The Pink Room, probably the most famous in the house. International publications including Vanity Fair Italia and Vogue Arabia have also used the house for editorials.

California born artist Amy Griffith is responsible for creating Eaton House along with her friend and business partner James Lloyd-Roberts — a fireman and photographer. Griffith credits growing up in California for her distinct vision. "I would say this house represents my childhood and my influences of being a Northern Californian girl in the 70s," she tells i-D. "My childhood was filled with glamorous, fun and very sociable people who loved to create an atmosphere in their stylish homes to invite everyone to come to together on special occasions to party and enjoy life. That part of it is in my blood. The house is my salvation for sure and I'm grateful it is a spiritual home for many that have experienced the "magic"; as people often say."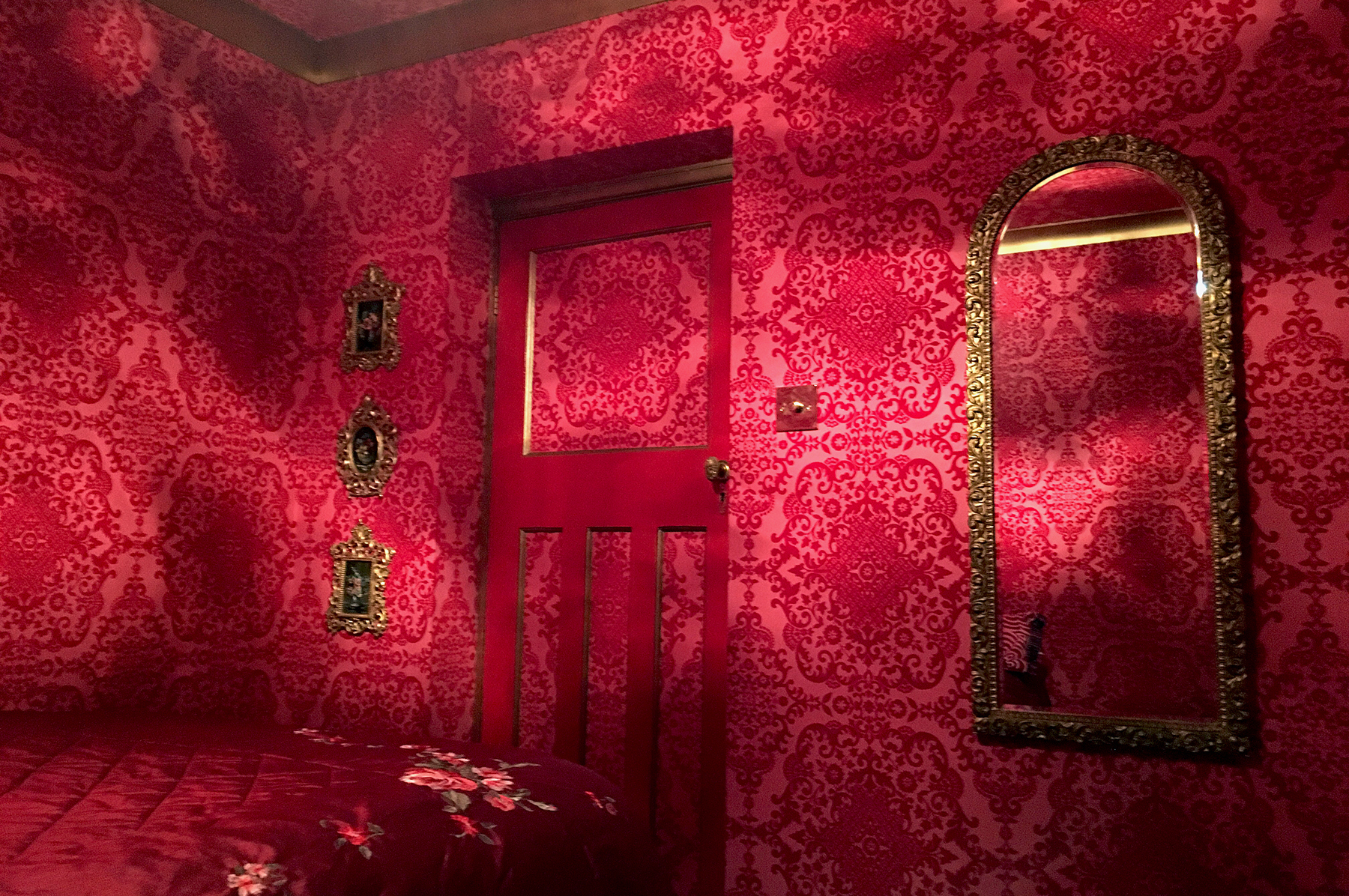 Griffith first moved to London in 1997 to be an artist and quickly found herself working for the (then) small lingerie company Agent Provocateur. By the age of 25, Griffith had worked her way to the top as one of the lingerie brand's first buyers, working alongside businessman and co-founder Joe Corré. "I worked very closely with Corré during my time at the company and am inspired by how he uses his creative ability and business savvy to help save the planet," she says. "To me that is about as inspiring as it gets. I'm very grateful for everything I learnt during my time there." Griffith then worked as a fashion consultant before she made the move to Eaton House in 2010, where she has been for the last eight and a half years creating what she calls her "art piece".
She's right to call it that. While people often use the house for location shoots and events, the house is primarily a work of art. "I painted the inside of house myself," she says. "The first three years I did nothing but paint, sacrificing everything else. The house offers a multi sensory experience where bathroom tiles light up, the backyard saloon bar offers the experience of being in a Clint Eastwood Western while you can also enjoy a drink in the bar, surrounded by photographs of firemen. Everything looks different depending on what time of day it is and what the weather is like. The house is a reflection of all my skills. I'm a nerd, researching all the time. I don't want to produce anything that other people do. I've been thrift shopping since I was a kid and am proud to have a home that reflects my commitment and passion for making everything I do special."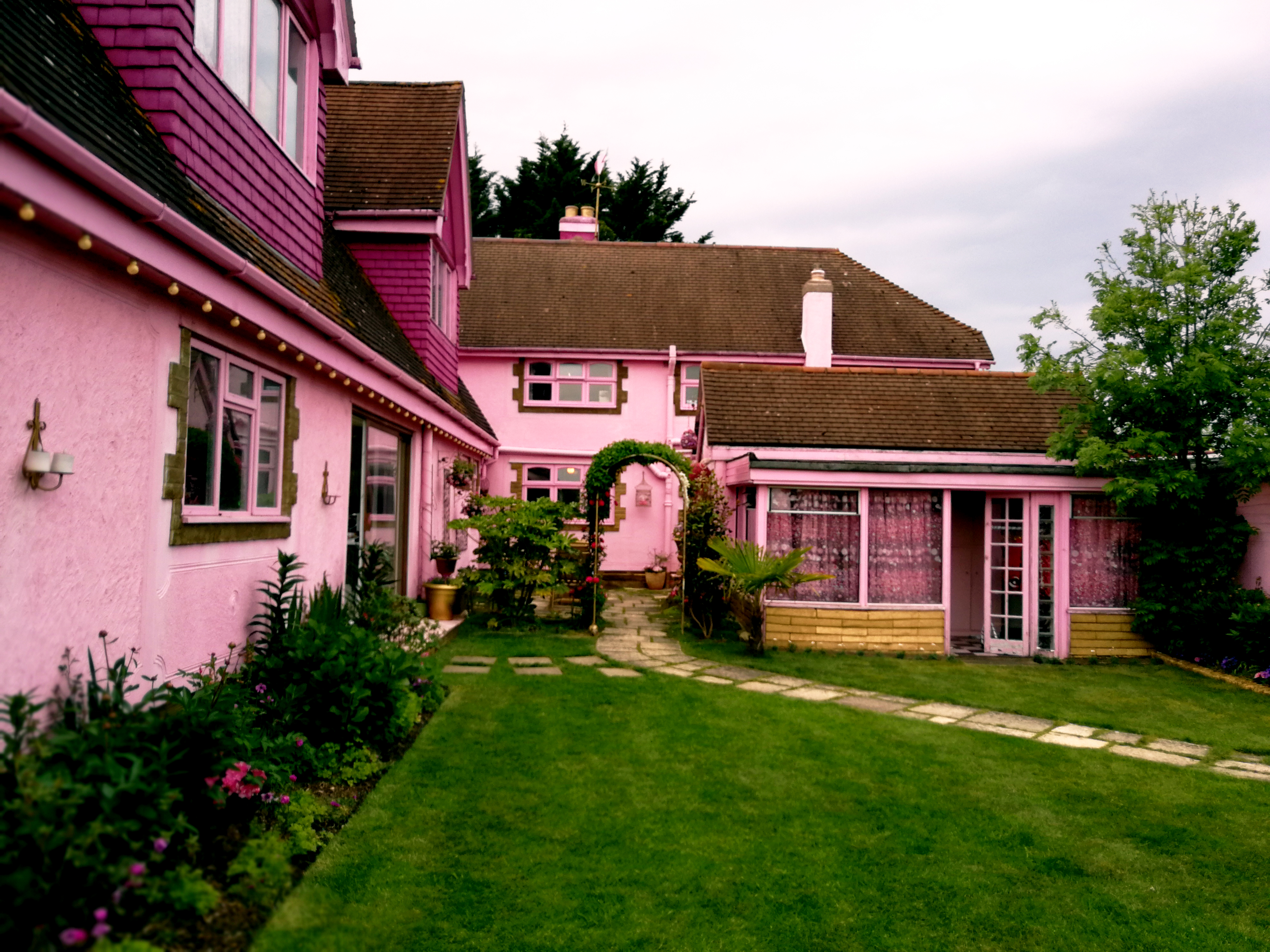 Everything in Eaton House has been curated and strategically placed. There is not one object, piece of art, one stick of furniture, one nick-nack or one shred of wallpaper that does not have a story behind it. "I feel that by being resourceful it allows for more personal stories as I recycle pieces from events I've worked on, or from when I am thrifting and find special pieces I know will work in the house, and by including the works of different artists that I admire and respect."
Griffith points to a framed artwork in the entrance hall as she explains, "this is one of my favorites by Lewis Banister. His Disney dollar signs were included in Banksy's Dismaland exhibition. I wrote to Lewis and asked him if he could create a personalized one that included the postal code of where I grew up and the image of Cinderella."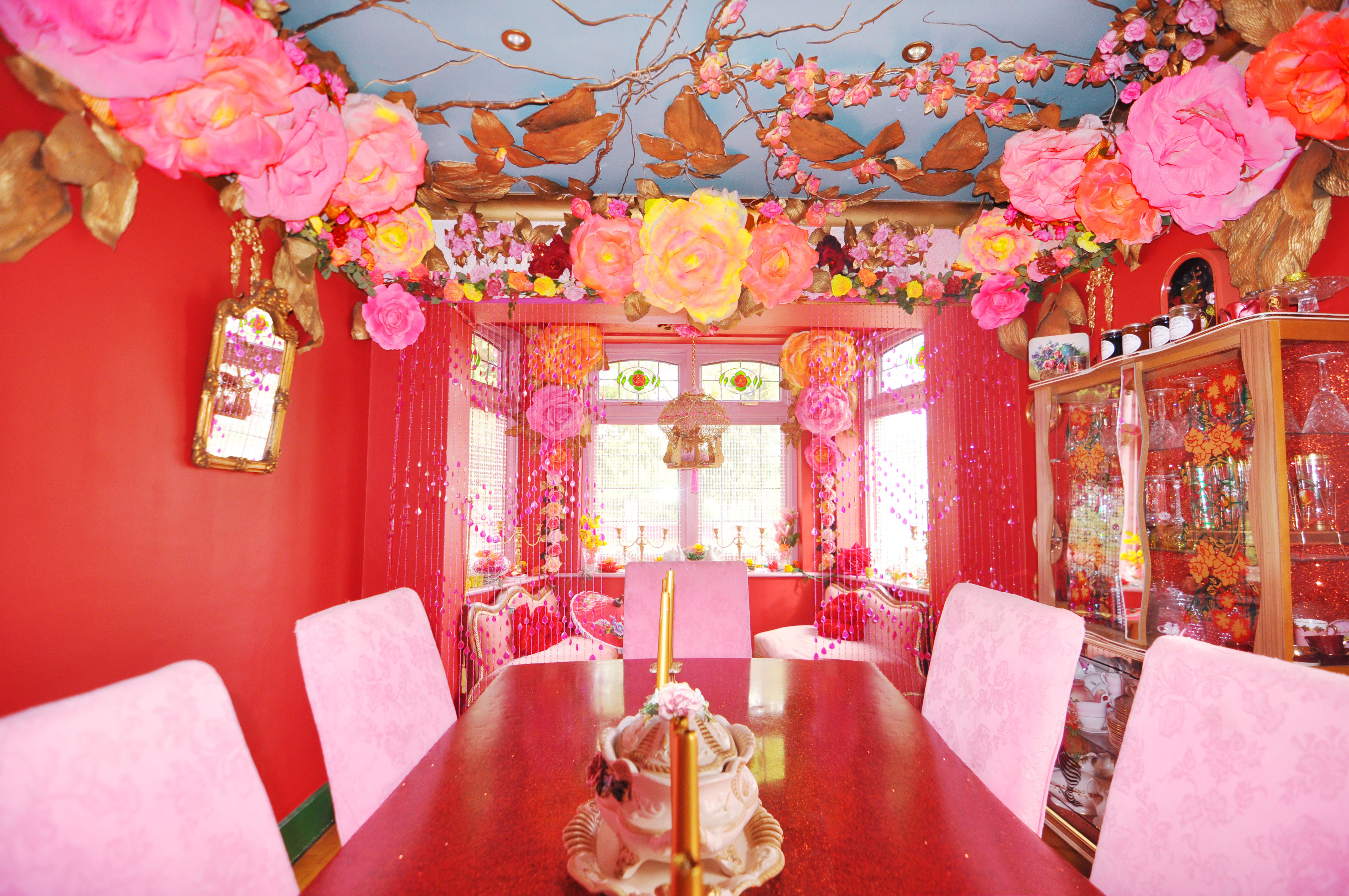 Both glamorous and kitsch, Eaton House reflects the hard work and commitment of two individuals who have managed to transfer their ideas into a dreamworld reality, where it is possible to connect with your inner Playboy Bunny or James Bond -- and experience the "magic" for yourself.
Credits
---
Courtesy of Eaton House Studio & Nikki Lipstick
This article originally appeared on i-D UK.