Photography courtesy Lacey Dorn and The Chimney NYC
lacey dorn could be a stereotypical blonde actress, but she makes art about them instead
In 'Blonde-Demand,' the artist and actress calls out the millennial generation.
Photography courtesy Lacey Dorn and The Chimney NYC
What does Glenn Close in Fatal Attraction have in common with Alicia Silverstone in Clueless? Well, not much, except that both are blonde and have helped shape the stereotypes — from femme fatale to ditzy schoolgirl — associated with fair-haired women. Blonde-Demand, a new performance art series by artist and actress Lacey Dorn, examines the role of blondes in cinema and challenges our notions of them. "The ingénue, the seductress, the charmer, the killer and the [victim] are all archetypes that are associated with the blonde," Dorn explains. "I wanted to explore how these all combined to form this singular perception based solely on hair color."
For the series debut — which was curated by Roya Sachs and took place at The Chimney in Brooklyn last month — the audience placed orders from a menu of iconic blonde films, then Dorn immediately acted out scenes from the selected movies. She became Michelle Pfeiffer in Scarface, Sharon Stone in Basic Instinct, and Gwyneth Paltrow in The Royal Tenenbaums among others, and obliged repeated orders for the orgasm scene in When Harry Met Sally.
In making the audience participate in the performance, Blonde-Demand was as much about the millennial generation's culture of instant gratification as it was about blondes. "Within seconds, we can go from a news clip of bodies exploding in Syria, to a stoner comedy, to a Kurosawa film, all with one smartphone click," Dorn explains. "But being so instant and so portable, we never have to connect with what we're watching. I wanted to confront the audience… without an option of disconnecting. I wanted to force total immersion and human interaction through a system that typically promotes total detachment."
In addition to Blonde-Demand, Dorn just completed a dark comedy short that she wrote, directed, produced, and acted in, and is starring in an opera adaptation of Ingmar Bergman's Persona, as well as in an upcoming Christopher Coppola film. In between roles, Dorn speaks to i-D about her performances and perspective. "I want to make the audience reevaluate what's beneath the surface of their generalizations," she says in the interview that follows.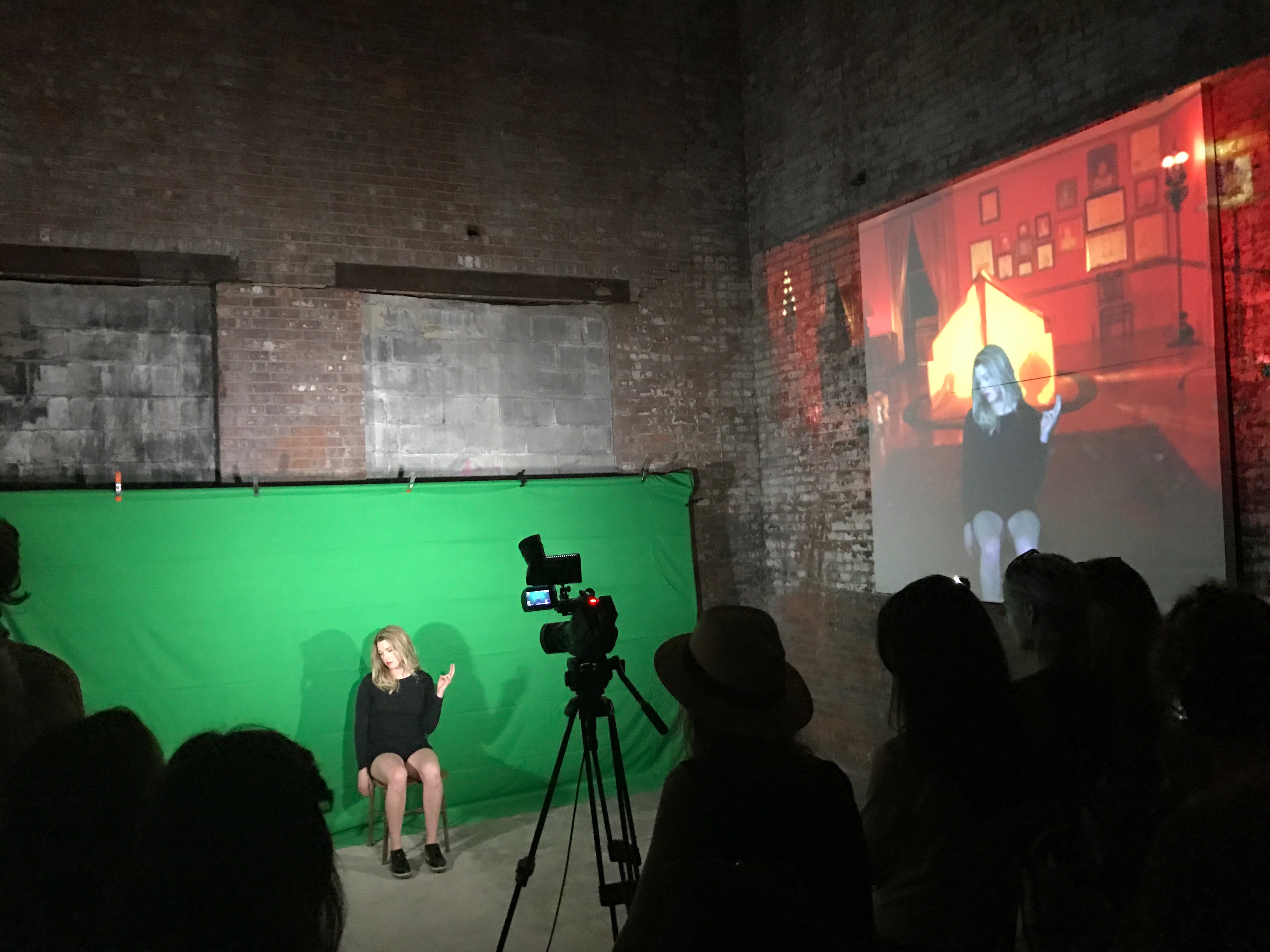 When and why did you first become interested in performance or experiential art?
It's interested me since I was in middle school and first realized how using different media could create a total experience. I've always been a bit of a misfit, so subverting norms or stereotypes interests me most. Paradoxes make for interesting art and fuel all of my experiential pieces. Stanford was an odd place to be a creative person who didn't want to focus her energy towards making the next billion-dollar app. [Performance art] wasn't really culturally acceptable, but I had a few gems of professors who really pushed me to go after it. When I started working with both James Franco and The Telluride Film Festival my senior year, I got thrown into the film fire, which allowed me to explore video as well.
Where did the idea for Blonde-Demand come from?
I suppose it came together while on a plane from L.A., watching Raging Bull. De Niro's character has this sort of sad revue show when he's down-and-out at the end of the film, where he's taking orders for great dramatic monologues. I thought: 'Hmmm, this was the vaudevillian equivalent to Netflix, with an absurdity of having the actor jump through iconic roles, no matter the casting.' Hollywood is all about the typecast, so I still had various voices from the trip ringing in my ear, telling me I could be "The next (insert blonde actress here)," which always makes me laugh, not just because of the silly L.A. flattery machine, but also because Sharon Stone and Reese Witherspoon couldn't be more different as performers. I thought, 'Wouldn't it be absurd to explore that crazy replaceable notion of blondes in Hollywood through a topsy-turvy experiential art piece on-demand?'
How does the performance explore that notion of replaceable blondes?
It's quite disconcerting to be a geek on the inside and a blonde female on the outside. How does my hair color evoke such strong presumptions? How did we get to such a singular place in popular culture? Well, a lot of it is through cinema… Traveling through the Blonde-Demand menu of iconic characters, there's a well-rounded survey of how we got to these generalizations.
How does Blonde-Demand confront the millennial generation?
This piece subverts today's addiction to instant gratification by absurdly translating it back into the flesh. Audience members place orders from a menu of iconic blonde films, as they are accustomed to with any on-demand system, and I instantly create a scene from that film. Performing against a green screen, I'm simultaneously projected onto the walls on either side with backdrops inspired by the original film cut behind me. Trapped inside this 270-degree "live Netflix" immersion, the audience must go from observer to participant. At different points throughout the performance, the audience itself breaks the fourth wall by engaging with my character "inside" the worlds of the films. Chaos ensues when the everyday on-demand experience crosses into the real. Hyper-stimulation and instant gratification force participants to travel quickly between emotions and worlds.
Why is it important to immerse the audience in the performance?
In the most/least pretentious way possible, it's all about Tolstoy. He has this mad text that he wrote at the end of his life, called "What is Art?" Essentially, in true art, the "creator" of the work and the "receiver" of the work are joined as participants in the piece. With all the social media and instant gratification of consumption we've been discussing, it's rare that an audience reaches this level of "receiving" anymore. You walk through the Louvre or the MoMA or The Broad, and people aren't even looking at the art— they're only seeing it through the mirror image of their phone on a selfie stick. I love using some of these contemporary tropes to slap an audience in the face and force them to "receive" or participate the work.
How did the first performance go?
It was as wild and weird and wonderful as I could have hoped for! It was really interesting once people started repeating orders — I did everything on the menu at least once—the orgasm scene from When Harry Met Sally went the most times. Mean Girls, Clueless, Thelma and Louise and Basic Instinct were all big hits as well. True Romance, Wild at Heart and Paris, Texas are three of my favorite films and each were ordered multiple times, as were the ditzy and villainous roles, which I don't play as often. It was so interesting to feel the shift in the energy of the room as we went through these wildly different roles.
Are you planning to do more performances of Blonde-Demand ?
Yes! Blonde-Demand is a series, and I'm looking for its future homes. This show lives through the interaction, so it will be completely different with each audience. I'm excited to tailor the menu of films to each place I bring it — I'd love to do some in France, Germany and Scandinavia, where there are such great canons of native blonde performances. I'm in talks about one in London and one in my hometown, Marfa, Texas. For Marfa, we will add quite a few more Texan blondes to the mix. Los Angeles is another obvious destination on the hit list.