how do we feel about kanye's new yeezys?
The artist revealed his new Yeezy 700 V3 this morning.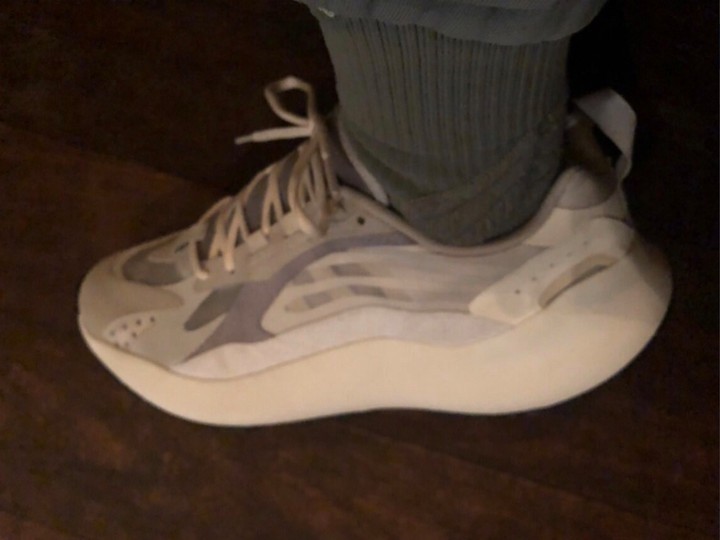 Image via Twitter
In centuries to come, when historians dredge up artefacts from the year 2018 AD, looking to understand humanity at this time, they won't find sarcophagi filled the remnants of humans floating in an unidentified red liquid. Instead they'll find shoebox after shoebox of thick-soled, ugly trainers (perhaps swimming in an unidentified red liquid -- that part remains unclear.)
This ubiquitous style of trainer is, as far as I can tell, the most definitive creation of humanity right now and the advancement we will forever be remembered for. The Romans had aqueducts. The ancient Greeks had democracy. We created the thick-soled, conventionally unattractive trainer. Balenciaga. Gucci. Versace. Givenchy. Prada. Everyone's at it. It's the statement item we want so bad, a crown so long held by handbags.
Set for release in 2019, Kanye West revealed his latest offering to the movement on Twitter this morning. Giving us the first look at his new Yeezy 700 V3, Kanye thanked Vice President, Creative Director of Adidas, Mark Miner, and his team for "killing" the design. The trainer, which Kanye previewed in a crude sketch of upcoming Yeezy releases back in July, features a thick, foamy sole in a signature Yeezy colour palette of off-whites, creams and grays.
Having spent the summer focusing on releasing his long-awaited eighth album, ye, and the menagerie of different seven-track wonders he worked up for other artists in Wyoming, it seems Kanye's back focusing on Yeezy. Earlier in the week he revealed the sole for his 451s, and over the weekend he wore a pair of Yeezy sliders that were two to three sizes too small, which have already sold out after hitting SSENSE yesterday.
This article originally appeared on i-D UK.