solange's fans voted for her to wear a durag to the met gala
The singer used a Twitter poll last night to decide her outfit.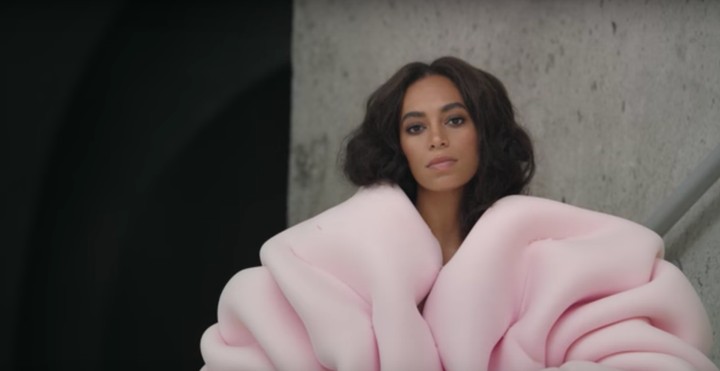 Screenshot via YouTube
Solange has an intrinsic gift for delivering history-making fashion moments. Black pride has been a central tenet of her aesthetic: from celebrating natural hair with a sculptural spider-web constructed out of braids to gleaning inspo from the Le Sape Society of the Congo. But even the best need fashion advice sometimes. Surprisingly, Solange didn't ring up her slew of celebrity friends (which include Kelela and Dev Hynes) or her pop star sister. She turned to her fans, asking them to help her decide what to wear to tonight's Met Gala.
The singer's call for help has since been deleted, but of course fans screenshotted the tweets. She posted a handful of looks, asking users to vote for their favorite on a Twitter poll. Seems like Solange was torn between going for a saintly look or something more devilish (this year's Met Gala theme is Heavenly Bodies: Fashion and the Catholic Imagination). Two of the options were white gowns, while the others were more risque, head-to-toe black looks. One consistent piece was a crown made out of blonde braids, which felt ripped straight out of Black Panther's Wakanda.
Fans are calling for Solange to wear a more simple, DIY headpiece: a durag. She posted a pic of her wearing one with a black dress and they immediately took to the urban look. "Solange in a durag is a powerful visual that I didn't know I needed until tonight," one fan wrote. "God bless." Solange suddenly closed the poll and thanked everyone for their input without revealing her choice, but we seriously hope the durag will be included in whatever ensemble she dons. Wearing a durag to a highly esteemed (and very white) event like the Met Gala would be a truly subversive fashion moment. The historically black garment has long been unfairly associated with criminality and hyper-black masculinity. It would be Solange opening up the durag to new expressions of blackness.
We'll have to wait a few more hours to see what Solange chose to bless us with, but we're sure it'll be something for the gods.
Read More: