Everyone's talking about this "gloriously demented" new film
The trailer for Kleber Mendonça Filho and Juliano Dornelles' Cannes Jury Prize winner Bacurau premieres exclusively on i-D.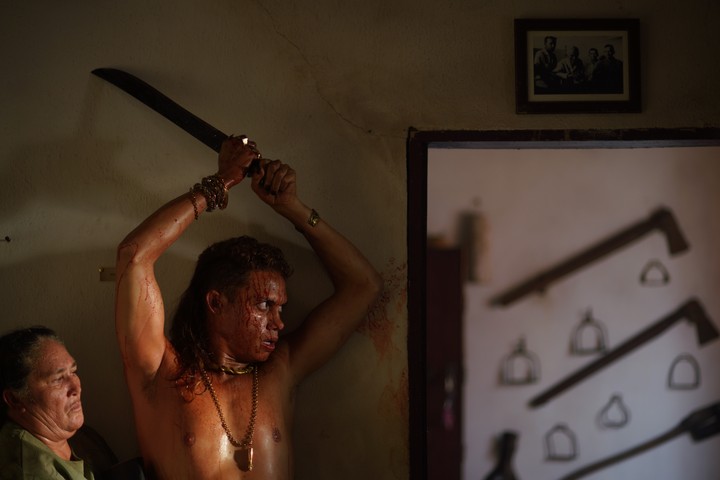 MUBI
If you've got your ear to the ground when it comes to arthouse cinema, you're bound to have heard of Bacurau. The latest film from Juliano Dornelles and Kleber Mendonça Filho, the acclaimed Brazilian director of the 2016 masterpiece Aquarius, has racked up plenty of glowing reviews on the festival circuit. Having premiered at the Cannes Film Festival in May last year, winning the coveted Jury Prize (previous directors to nab that prize include Xavier Dolan and Yorgos Lanthimos), the film is finally about to arrive on our shores. You're getting a first look at the UK trailer here.
Set in a remote Brazilian sertão, or outback, Bacurau follows a strange sequence of events that unfold in the community after the 94-year-old village matriarch dies. Following her passing, the sertão disappears from all maps, and a weird, all-seeing UFO starts to watch the community from afar. Things escalate when an army of guerrilla soldiers arrive and start picking people off in the sertão, forcing the group to band together and fight back.
The film has been a huge box office smash in its native Brazil, celebrated for its subtle social commentary. Critics have called it "demented" and "psychedelic", and have credited Kleber and Juliano for their ability to switch from the lush and sombre settings of Aquarius into something that resembles a high-brow slasher film at times.
Frankly we can't wait to see it. Watch the trailer below to prep for it hitting cinemas on 13 March. After that, it'll be conveniently streamable on MUBI by 27 March.