an art event is paying tribute to gay cruising spots
The Venice Architecture Biennial will look at the queering of bathroom stalls, locker rooms, and saunas.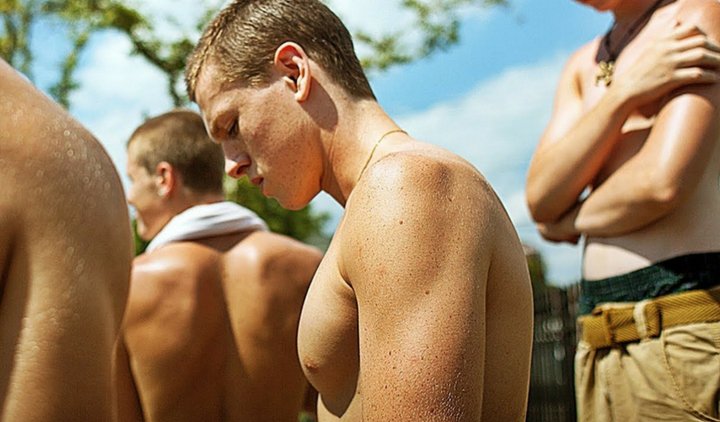 Beach Rats
Cruising culture has always played a large role in queer art. In the 80s, Robert Mapplethorpe discovered many of his subjects at East Village cruising and BDSM clubs. Books like Alan Hollinghurst's 1988 novel The Swimming Pool Library depicts closeted queer men turning dark-lit bathrooms, locker rooms, and alleyways into safe spaces where masculine camaraderie can flourish. And just last year, Tom Bianchi released his collection of Polaroid snapshots of 70s Fire Island, the popular summer locale known for its hedonistic nude sunbathing and cruising spots hidden behind bushes. Now, the art world is exploring this unique facet of queer culture and, hopefully, helping to normalize it.
This summer, the 16th Venice Architecture Biennial will pay tribute to cruising locations around the world and the vital role they have played in queer culture. Cruising Pavilion will see over 20 artists exhibit works inspired by the more seedy activities that transpire in dark rooms, bathrooms stalls, and saunas. Cruising isn't all about sex, though. It is also a phenomena that can help form identities.
The exhibition feels like a retrospective more than an illustration of contemporary queer culture. Grindr has allowed queer men to turn every space — from high school classrooms to work cubicles — into queer spaces. Cruising has now become as simple as opening up an app and seeing all the queer men around us.
"The historical model of cruising is evolving and perhaps even dying," the curators of Cruising Pavillion say in a statement. "The contemporary combination of Grindr, urban development, and the commodification of LGBT culture has emptied established cruising grounds and replaced gay bars with condos. Geosocial apps have generated a new psychosexual geography spreading across a vast architectonic of digitally interconnected bedrooms, thus disrupting the intersectional idealism that was at play in former versions of cruising. Today, class, race, and gender might be as regulated by the erotic surface of the screen as the architecture of the city."
Increasingly, it looks like queer sex is no longer a taboo subject for mainstream culture. Conversations around it are becoming more straight-forward. Troye Sivan released a bubblegum pop track about bottoming, Rita Ora teamed up with Charlie XCX, Cardi B, and Bebe Rexha to record a proud anthem about girl-on-girl action (avoiding the vagueness and performative bicuriosity of "I Kissed A Girl"), and the plotline of Beach Rats centered on a young man anonymously hooking up with men on the beaches of Sheepshead Bay.
These oft glossed-over elements of queer culture are no longer being ignored by the high-brow art world, but memorialized.
Cruising Pavilion will open in Venezia, Italy May 25-July 1. You can find out more information here.
Read More:
Tagged: