The full trailer for Spike Jonze's Beastie Boys Story doc is here
Featuring loads of archive footage. Ch-check it out.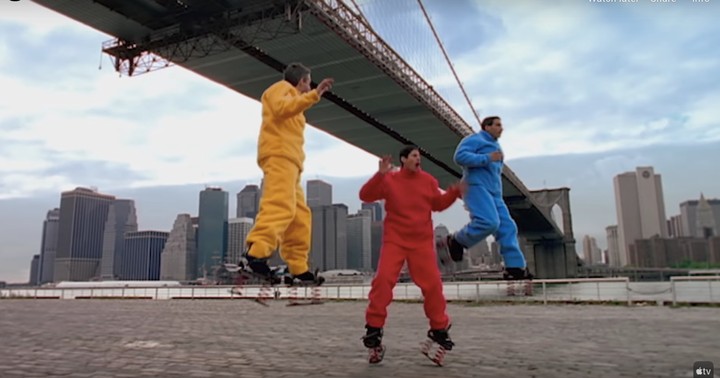 Still from the 'Beastie Boys Story' trailer
"We wanted to be rappers so bad but we were mediocre at best," Adam Yauch, one of the founding Beastie Boys members, says in a new upcoming documentary about the famous hip-hop group. Titled Beastie Boys Story, the film chronicles the unique ascent to fame of three friends wanting to break into a music industry averse to their act. Ridiculed at first, the Beastie Boys would in fact quickly grow to be one of the most spoken about hip-hop formations of the 80s.
The new film is described as a live documentary, pairing archive footage of the rap-rock pioneers together with clips of their 2019 stage production of the same name, which was produced by Jonah Hill. It is said to be based heavily on this stage show, which was also directed by Spike Jonze, and acts as an adaptation of their 2018 memoir, Beastie Boys Book.
Beastie Boys Story is set to arrive on Apple TV+ on April 24, but will first debut across several IMAX cinemas on April 3. Along with the documentary, Jonze will also release a photo book on March 17. This will feature a compilation of over 200 shots from the filmmaker's personal archive, spanning the group's entire career.
Watch the full trailer here: