frank ocean will give you free merch for voting
Locations were chosen to support Stacey Abrams in Georgia, Andrew Gillum in Florida, and Beto O'Rourke in Texas.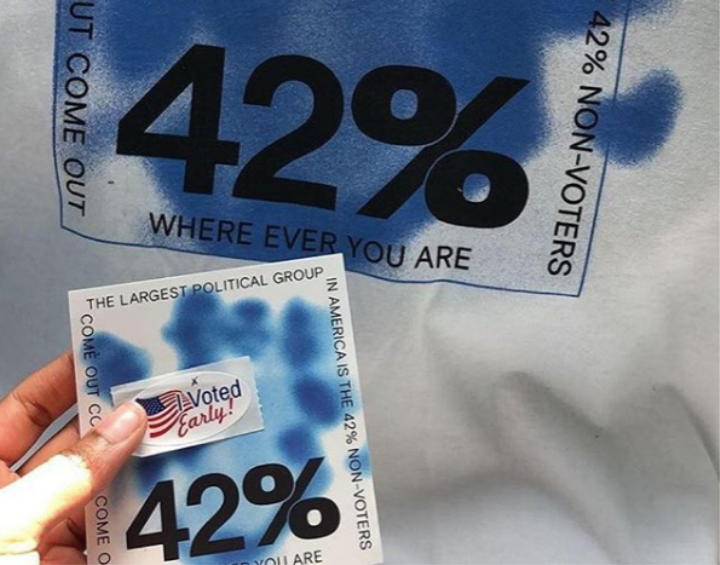 As America waits on the edge of its collective seat for the results of the midterms this evening, we bring good news in the form of fashion. If you've voted in Houston, Miami, Atlanta, or Dallas, you can exchange your ballot stub for Frank Ocean merch. "The 42% Non Voters," the t-shirts read, highlighting the fact that almost half the country doesn't bother to cast a ballot. In a post on his Tumblr, the artist elaborated, "Locations were chosen in states to support specific candidates: Stacey Abrams in Georgia, who if elected would be America's first black female governor, Andrew Gillum in Florida, who would become the state's first black governor, and Beto O'Rourke, who would be the first Democratic Senator in Texas in 24 years." We're sure you're voting already, so if you're around, go get your merch from Frank.

Frank isn't the only one pledging free stuff to voters — Brendan Fowler, the designer behind LA label Some Ware, will be giving away clothes to voters from today, as part of his Election Reform project. If you're at ICA LA tonight from 6-9pm, you could pick up something created by either Fowler or Tremaine Emory, who makes No Vacancy. Anyway, stop reading this, go vote if you haven't already, and listen to the surprise return of Frank's Blonded radio show.
Tagged: