how this k-pop idol became netflix's breakout reality star
'Hyori's Bed and Breakfast' makes us want to move to an island and rescue a pack of dogs.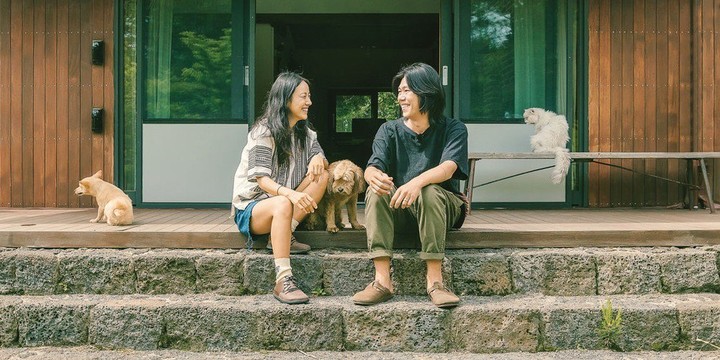 Still from Hyori's Bed & Breakfast
Hyori's Bed & Breakfast isn't the catchiest of titles on Netflix at the moment, but surely it's one of the weirdest. The premise, for the uninitiated, is this: Hyo-ri and her husband Sang Soon live on the beautiful South Korean island of Jeju, where they keep a vacation home. Their days are peaceful, full of dawn yoga, tea drinking (like, a lot of tea drinking), and caring for their five dogs, all of whom seem to have vague personality disorders. Obviously this is the kind of real estate/lifestyle porn we live for, but there's a twist. Firstly, they're about to share their home with a bunch of strangers, opening a bed and breakfast (weird when there's no door on the bathroom). Secondly, Hyo-ri is Hyo-ri Lee, one of the most famous K-Pop stars ever to have strutted across the stage. This fact was entirely lost upon me on second viewing, but since falling into a Wikipedia hole I have discovered that she is dubbed the "Nation's Fairy" in South Korea, and also that she had an album called Stylish (plus the even better It's Hyorish). I am now obsessed, as one would be when faced with such evident TV genius.
Not content with having one megastar in the house, they've also enlisted singer IU to be the part-time help — cooking breakfast and doing the laundry. This is like having Britney open a Bed & Breakfast in her house and Kesha coming to wash the dishes. It's absolutely nuts, and we're so here for an American version — just imagine the pairings. Courtney Love/Lana Del Rey, Mariah/Ariana, Nicki/Cardi B (okay maybe not). The possibilities are endless! I just doubt that any of the aforementioned women have modest holiday homes, they're probably more into that yacht life.
We've written before about Terrace House, and if possible, this show is even more chill. There's endless footage of the dogs doing, well, dog stuff, Hyo-ri's husband Sang Soon looking confused, Hyori doing yoga while looking goddess-like, and the guests being over excited about both their hosts and being in the middle of nature. Key to its appeal, it seems, is watching Hyo-ri and Sang Soon do… couple stuff (as one might say, they are, errm, goals). It's like watching your cool older sister and her boyfriend who plays guitar and has a an awful haircut but you love him anyway. Truly, is there anything more relaxing than listening to beautiful people have a low key argument about breakfast in Korean? We think not. Go watch — as Hyo-ri herself might say, if she were given to puns rather than zen musings, It's Hyorish.