Gilbert Carrasquillo via Getty Images
10 highly specific halloween costumes for fashion freaks
You're not Sexy Fake News — you're Carrie Bradshaw's iconic newsprint Dior dress by John Galliano, duh! From a controversial runway collection to fashion's least expected It Bag, here are 10 timely Halloween costumes for sartorial superfans.
Gilbert Carrasquillo via Getty Images
There are some fashion-inspired looks you're bound to see every Halloween — Audrey Hepburn in pearls and a tiny tiara, maybe Karl Lagerfeld holding a small white cat. But apart from drinking too many Jell-O shots and puking all over your crush's shoes, there's no Halloween nightmare more scary than showing up in the same costume as one of your friends, especially if she has superior DIY skills. Avert that crisis by choosing a more specific fashion costume for 2017. Alternatively, stay in, order Seamless, and say you went as Kanye's Yeezy Season 6 runway show.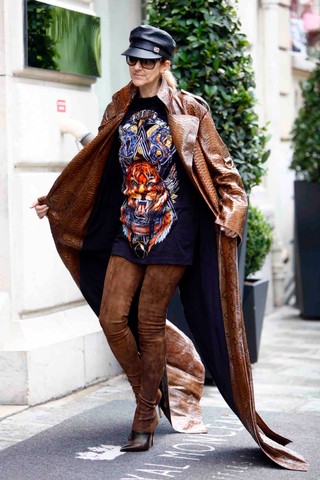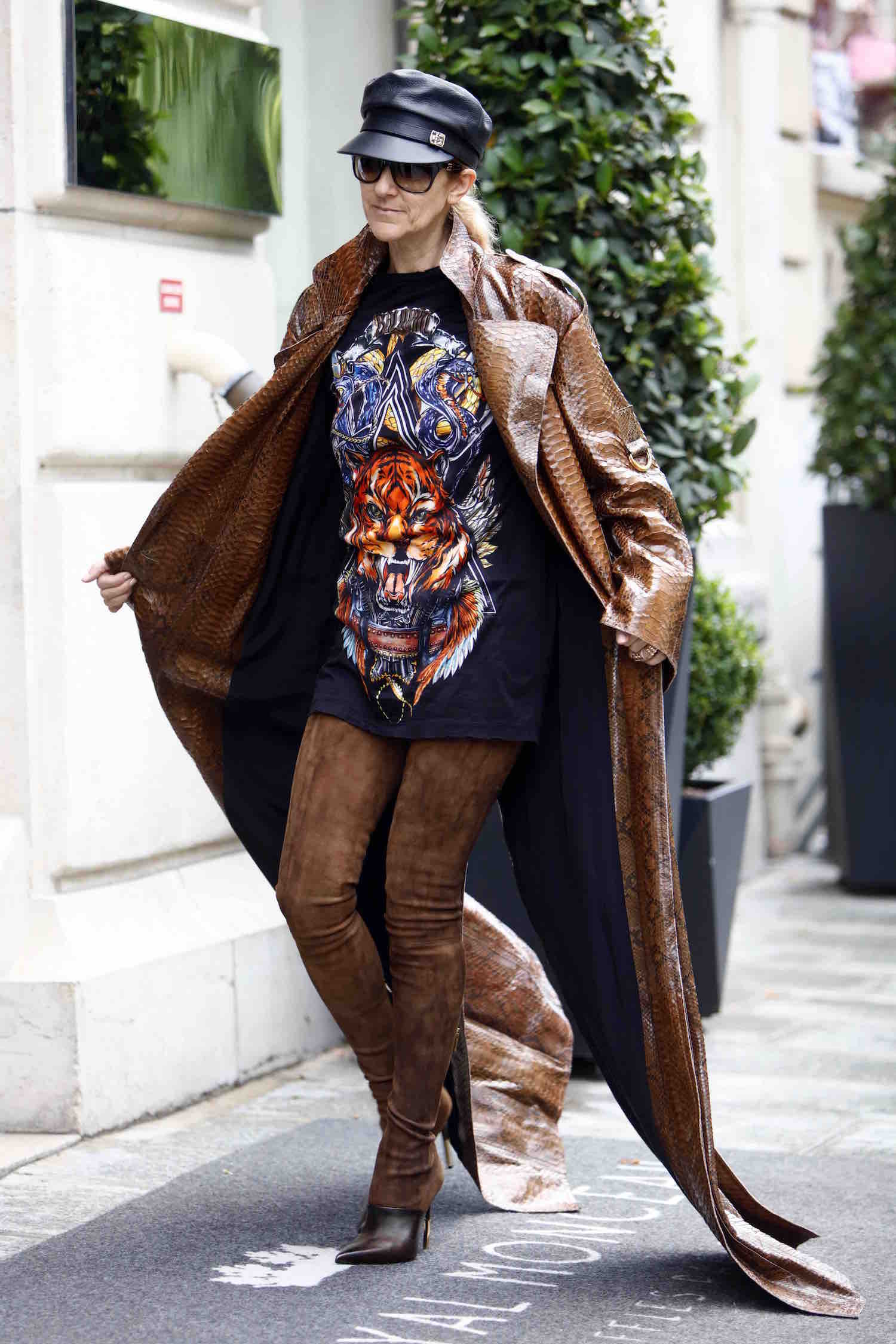 A Céline Dion fashion moment
Who would have thought we'd be dressing as the 90s' best chest-thumping ballad queen in 2017? Céline Dion's fashion moment is less of a moment and more of a revolution. The only question is which look to choose — the uber-meta Vetements Titanic hoodie that first thrust her into fashion's collective consciousness? The floor-length python Balmain jacket and thigh-high suede boots worn on a balmy 75-degree day in Paris? The epic Billboard Awards cloud dress she wore to seduce Drake? Just make sure to arrive hanging out the sunroof of a Mercedes town car while peering dramatically over the top of your sunglasses.
An IKEA Frakta bag
The unexpected It Bag of our time costs $0.99, can be cleaned with a garden hose, and holds more candy than a Party City pumpkin bucket. But don't limit yourself to dressing as a bag. IKEA's Frakta has recently manifested as a custom-created bucket hat, a bondage-style thong, a fanny pack, a gas mask, and a Balenciaga speed trainer. Balenciaga's $2,145 Frakta-inspired tote bag might actually be one of the least covetable takes on the classic, and that's coming from a Demna disciple. If you ever thought about creating some killer streetwear from the eco-friendly totes under your kitchen sink, now's the time.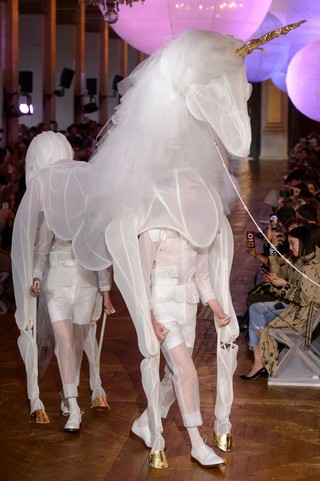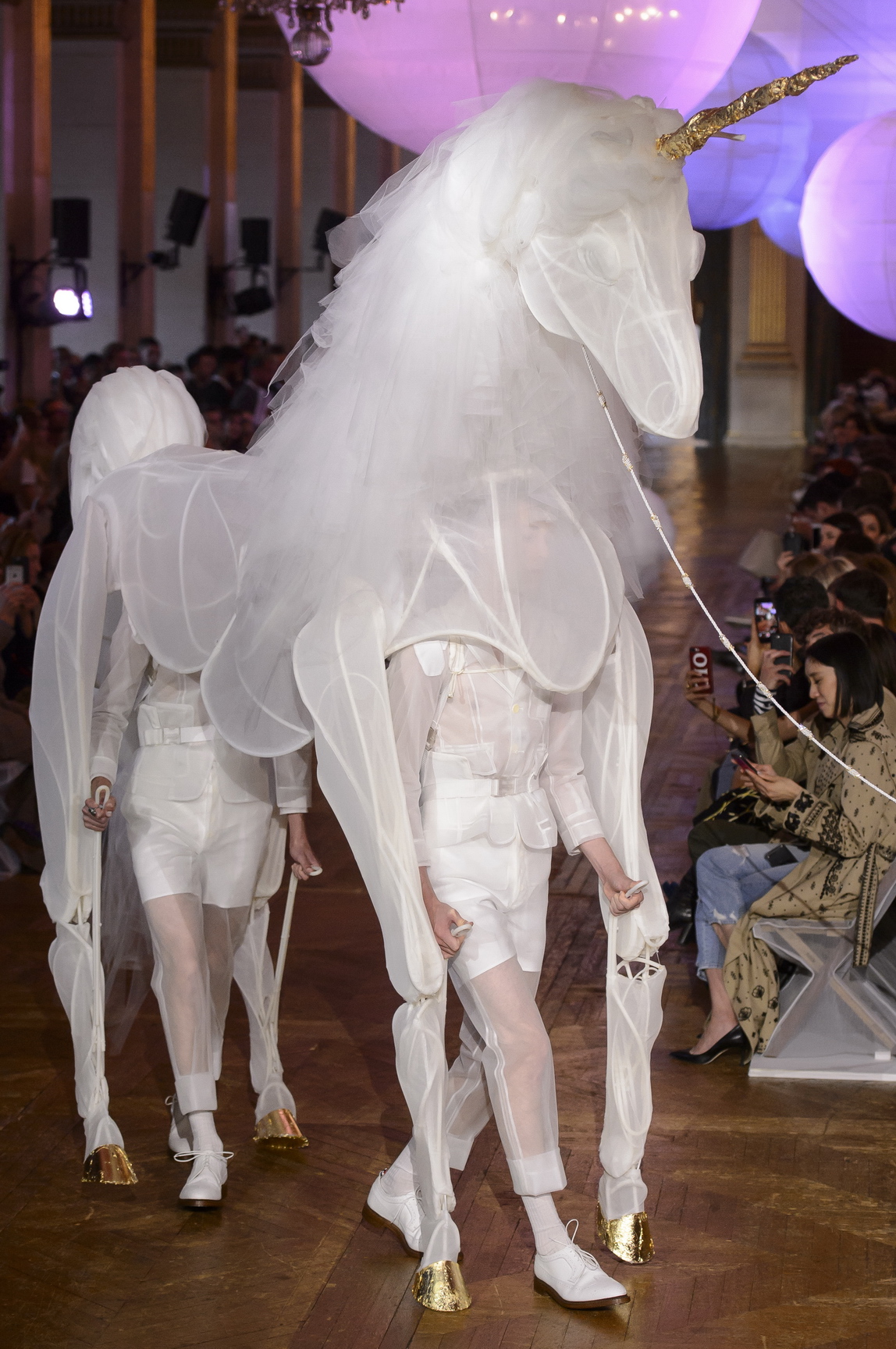 A Thom Browne unicorn
Why be a regular old unicorn when you can be a Thom Browne unicorn? The designer isn't exactly someone you'd picture washing down unicorn toast with a unicorn latte in a unicorn café, but trust Thom to turn the year's most annoying trend into a transcendental dreamscape, closing out his splending spring/summer 18 with a gauzy unicorn "worn" by two models. Actually, forget Halloween — I want to be a Thom Browne unicorn for my wedding.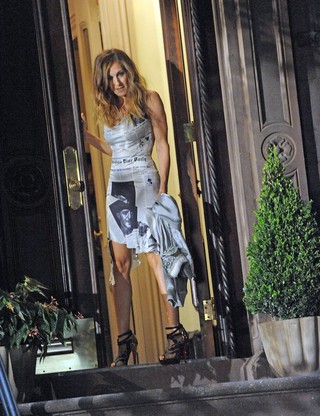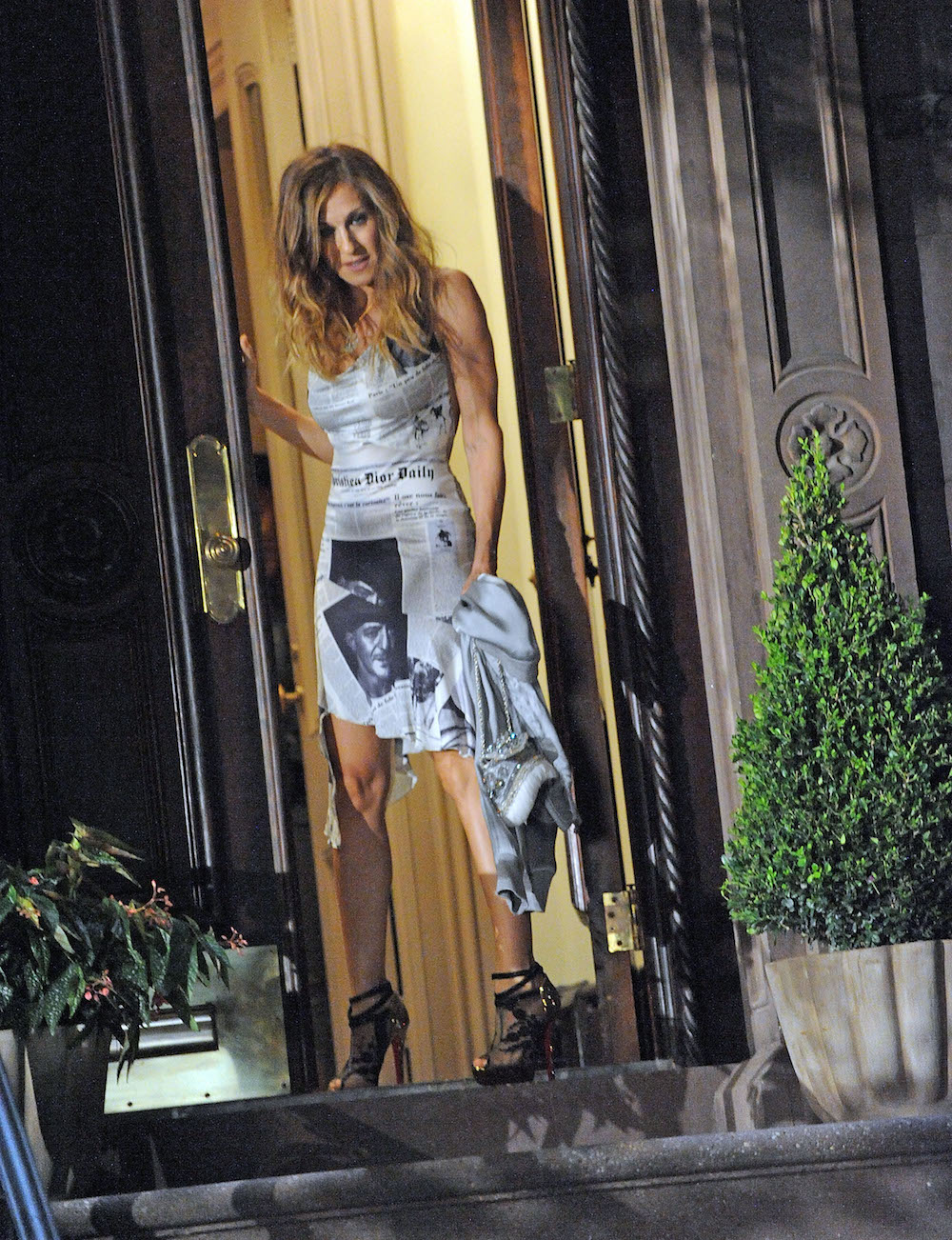 Fashion Fake News
When Fake News gets a sexy makeover courtesy of Yandy, it's time to step up your game. Luckily fashion has been making the media a trending topic since long before Trump was ripping into it. Newsprint has been making headlines, so to speak, in the form of Shayne Olivier's typeface Helmut Lang clutches and Raf Simons's reworking of Warhol's Tunafish Disaster. But the best example is the "passive aggressive thot moment" captured by the excellent Instagram account @everyoutfitonsatc — the "Christian Dior Daily" dress that debuted during John Galliano's infamous 2000 "Hobo Chic" collection and was worn by Carrie Bradshaw. Accessorize with big hair and a tirade about the brazen appropriation of poverty.
Dapper Dan
Gucci's new main man? Legendary Harlem tailor Daniel Day, a.k.a. Dapper Dan. Day was the unexpected FROW superstar of fashion month's spring/summer 18 season, following internet outcry over Gucci recreating one of his most iconic looks — a souped-up Louis Vuitton puffer — on its cruise 18 runway. Day's game-changing "knocked-up" designer looks have taken on new life at a time when fashion is obsessed with riffing on hip-hop and bootleg culture. Pay tribute to the O.G. in a glitzy logo tracksuit, crafted from the finest pre-used Gucci garment bags money can buy, like Day did in the old days.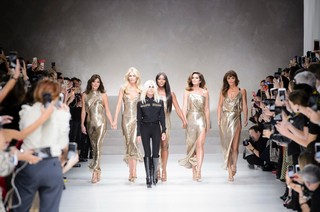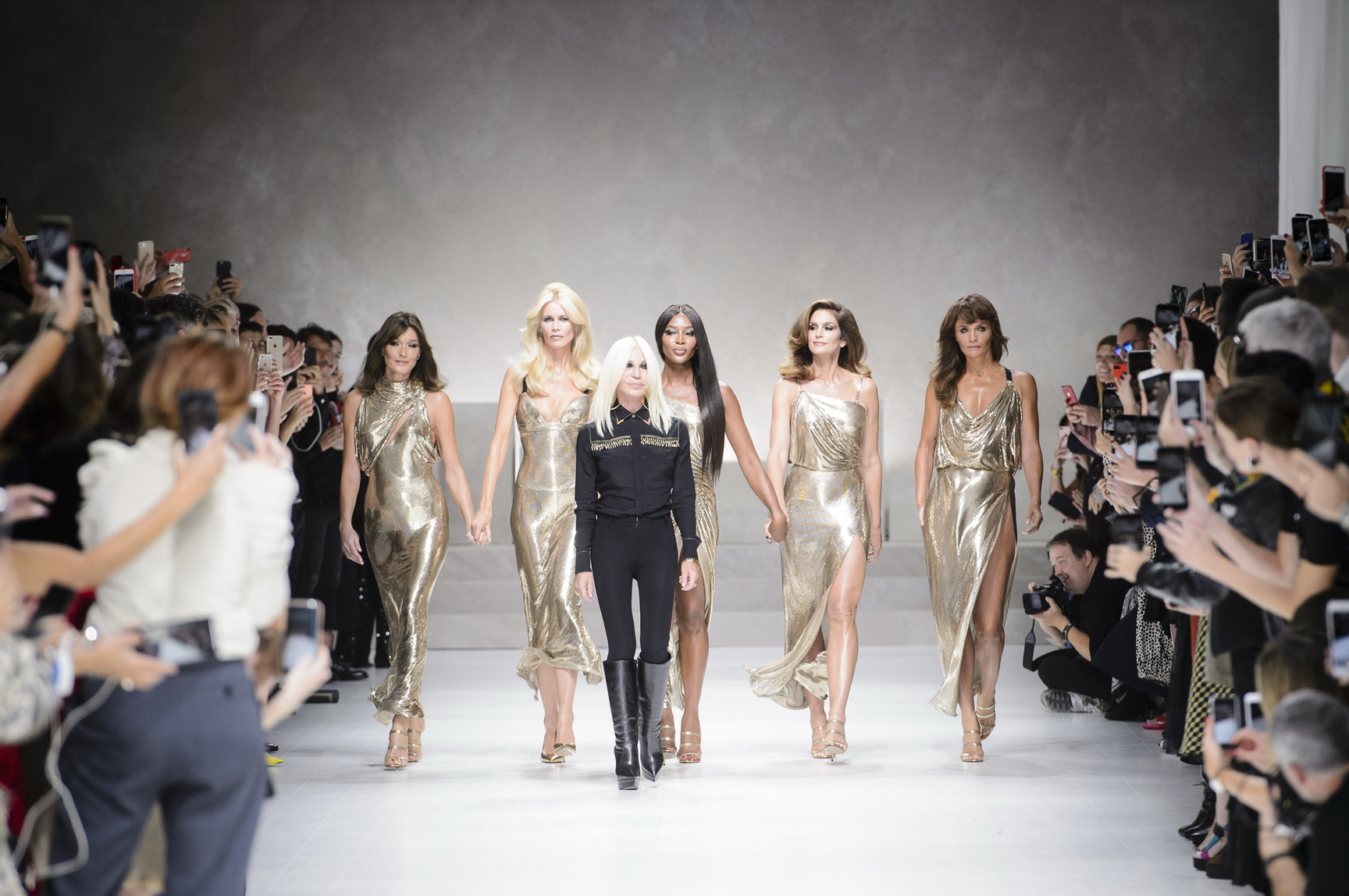 90s Versace models
Name a more iconic spring/summer 18 fashion moment than the original 90s supermodels storming the runway at Versace — we'll wait. Donatella's show recreated the past to honor her brother Gianni with his most legendary collections between 1991 and 1995 — including Vogue, Warhol, My Friend Elton, Icons, Baroque, and Butterflies — after which a curtain fell to reveal Cindy Crawford, Naomi Campbell, Claudia Schiffer, Helena Christensen, and Carla Bruni posing in slinky gold Versace gowns. Bonus points if you can round up a sixth friend to dress as Donatella and get your Halloween host to play George Michael's "Freedom! 90" on repeat.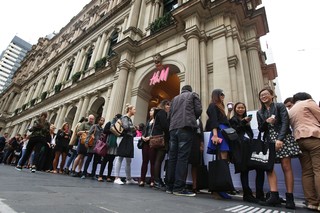 Fast Fashion
What's scarier than ghosts and mummies? Falling into the trap of buying trendy high street "Feminist" t-shirts at suspiciously low prices, duh! Throw on all the Forever 21 and Rainbow threads hibernating at the back of your wardrobe, pair with running shoes and a sweatband, and pledge to shop sustainably whenever possible. There's a 50% chance it'll make you feel better about eating your body weight in fun-size candy bars.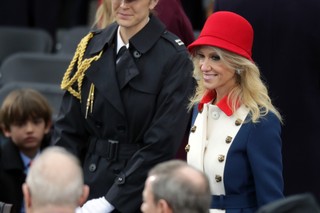 Kellyanne Conway's inauguration look
Alessandro Michele is just one of millions who probably doesn't want to relive Inauguration Day 2017 — when Kellyanne Conway stunned the nation in her finest "Trump revolutionary wear," a.k.a a resort 17 Gucci coat accessorized in the style of Paddington Bear. Don't forget long red gloves, a red hat, and an apology letter to the black-stretch-pants women of America.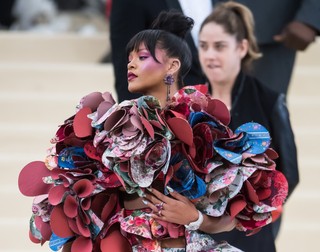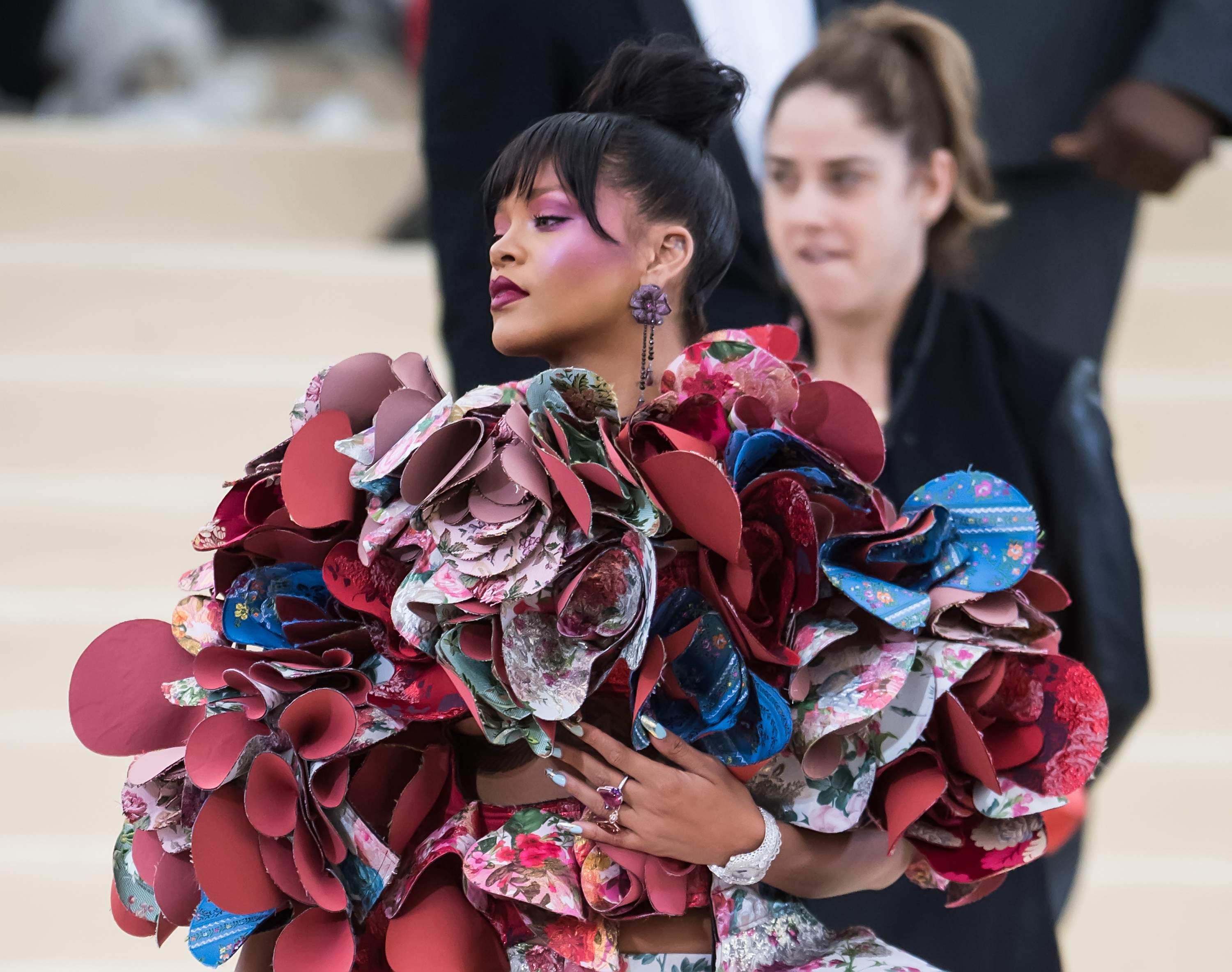 Rihanna's Comme des Garçons Met Gala look
Rihanna took the 2017 Met Gala's Comme des Garçons theme so seriously that she selected a creation from the actual museum exhibition. While you can't cop that bad boy, you can certainly assemble a creative homage to Rihanna and Rei Kawakubo with a little prep work, a lot of textured floral panels, and one dress to staple them to. Just saying, Rei has herself been known to incorporate humble materials like cardboard into her subversive, structured designs. If there's any day it's okay to rock blatant rip-offs of your faves' most iconic looks, it's Halloween. Don't forget to amp up the fuchsia blush and powder à la Comme Des Garçons's spring 1997 runway show.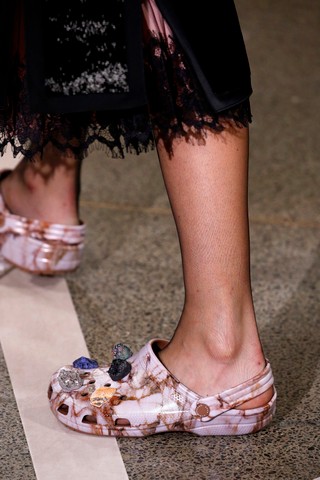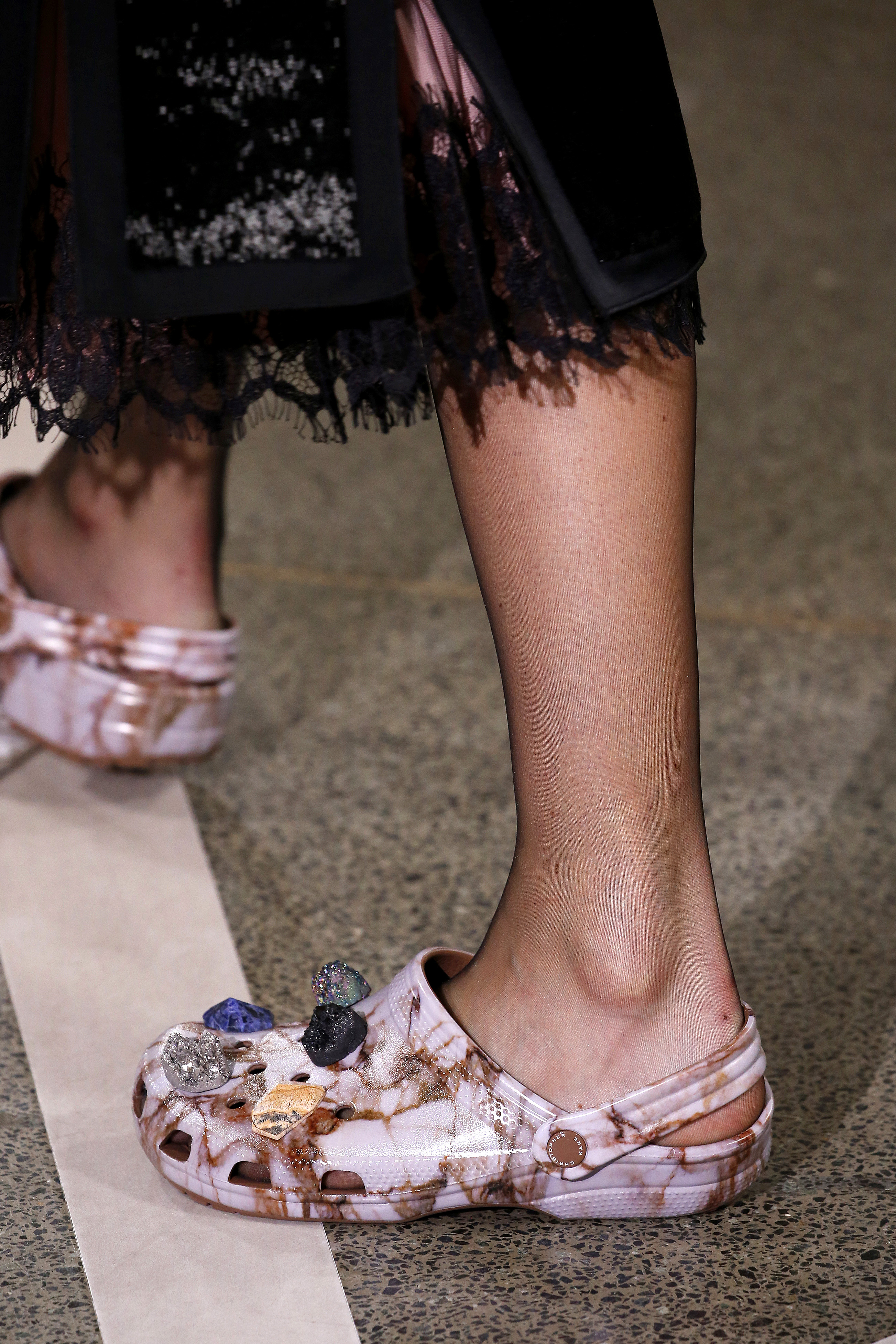 A Croc
What to do with that Friday the 13th hockey mask you've had since Halloween 2012? Plug some Jibbitz in the holes and call it a Croc — fashion's new footwear obsession. Demna Gvasalia and Christopher Kane have both given the maligned brand a runway makeover in recent months, armed with crystal geode accessories and 5-inch platform soles, while model Hanne Gaby Odiele has long been the Mario Batali of fashion week street style. Halloween is all about Finding Your Fun.